Having lived in Nairobi for almost a decade, I can tell you lots about Nairobi hotels.
I've been to each of the places on this list personally. I've even spent the night at quite a few of these places over the years.
I hope you find this post useful when choosing where to stay the next time you are in Nairobi. Enjoy!
Best Hotels in Nairobi #1: Fairmont The Norfolk

Old-world charm near the heart of downtown Nairobi.
Fairmont the Norfolk also features beautiful gardens, award-winning culinary experiences, and a fantastic bar.
Where to Stay in Nairobi Recommendation #2: Nairobi Serena Hotel
One of my favorite hotels in Nairobi (my experience of it spans more than 30 years), the Nairobi Serena Hotel makes me think of one word: excellence.
Beautiful charming décor meets delectable food and efficient, warm staff ready to cater to your every need.
READ ALSO: The Ikki Twins & Palacina Restaurant
Hotels in Nairobi Recommendation #3: Sarova Stanley
Located at the heart of Nairobi's central business district, the Sarova Stanley offers you a way to really get a feel of the pulse of Nairobi.
A historical hotel closely tied to the origins of Nairobi as a city (the hotel has existed since 1902 and was Nairobi's first luxury hotel), the Sarova Stanley offers a lot of old-world charm but also everything you would expect from a modern-day 5-star hotel.
Despite it being so centrally located in noisy Nairobi, the silence achieved in the luxuriously decorated rooms is amazing! I had one of the best night's sleep of my LIFE(!) at the Sarova Stanley.
READ ALSO: Accommodation at Tamasha Joint in Karen
Hotels in Nairobi Recommendation #4: Sarova Panafric
Located right outside Nairobi's central business district, the Sarova Panafric (which has been undergoing renovations for a seemingly long time) offers what you would expect from any standard business hotel.
The rooms are clean and the beds comfortable. The Sarova Panafric is less expensive than the three offerings further up this list.
My favorite part of the hotel is the balcony of its Flame Tree Restaurant, which I've frequented often over the years, even when not staying at Panafric. They serve a mean quick business lunch!
Hotels in Nairobi Recommendation #5: Fairview Hotel Nairobi
When I first stayed at the Fairview Hotel in the '90s, I made a mental note never to do so again. A decade—and a beautiful renovation—later, Fairview Hotel became one of my preferred places for a workday lunch.
Beautiful gardens and several noteworthy eateries to choose from are some of the things that you can expect to find at the Fairview Hotel.
You'll also find cozy spaces and a general feel of historic-meets-contemporary.
The one thing that bothers me at the Fairview Hotel, though, is the heightened security. The hotel is located opposite the Israeli embassy.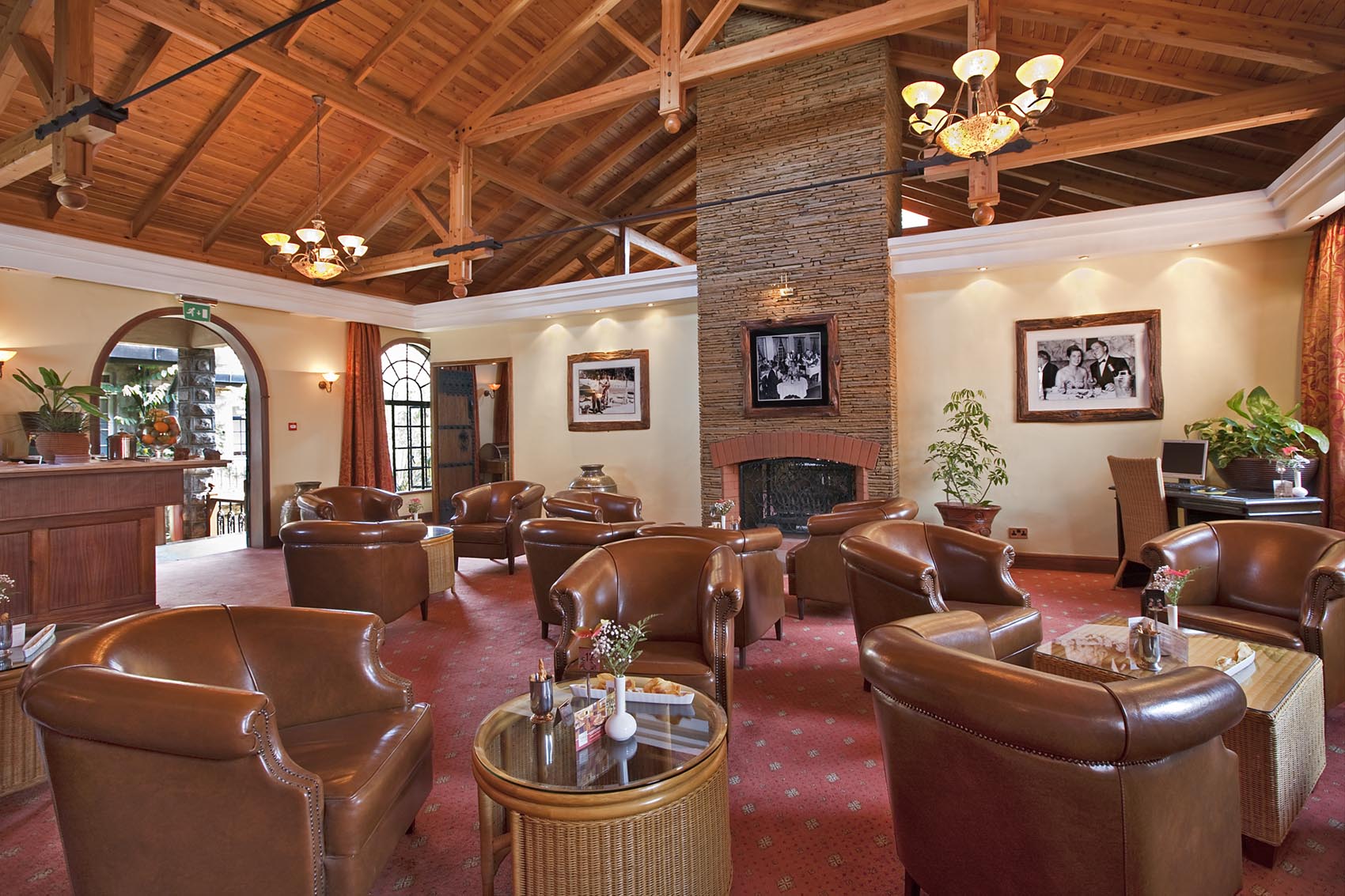 Still, if terrorist attacks while travelling are something you worry about, then this could easily be one of the safest hotels in Nairobi.
Hotels in Nairobi Recommendation #6: Swiss Lenana Mount Hotel
Swiss Lenana Mount Hotel is a mid-range hotel on the edge of a residential area. Close to the central business district. It has a good sauna.
Best Places to Stay in Nairobi #7: Southern Sun Mayfair Nairobi
Run by the South African hospitality group, Tsogo Sun, the Southern Sun Mayfair Nairobi is a good hotel located near the trendy neighborhood of Westlands.
Within close proximity of two major malls and lots of chic restaurants, clubs, and bars, one of the The Mayfair's main attractions is its location.
It's also set on beautiful grounds with lots of greenery and has a Spur steakhouse (that serves amazing ribs) on the premises of the hotel.
That said, it's a little expensive for what it is.

Places to Stay Nairobi Recommendation #8: Silver Springs Hotel
Silver Springs Hotel is a 4-star hotel in the busy neighborhood of Hurlingham.
It's located on the same street as Nairobi Hospital, one of Nairobi's best hospitals. It has beautiful spacious renovated rooms.
The Deluxe Suites are tastefully decorated, spacious, and fitted with a jacuzzi.
Good food. Pretty decor. Great gym and spa.
Hotel in Nairobi Recommendation #9: Jacaranda Hotel Nairobi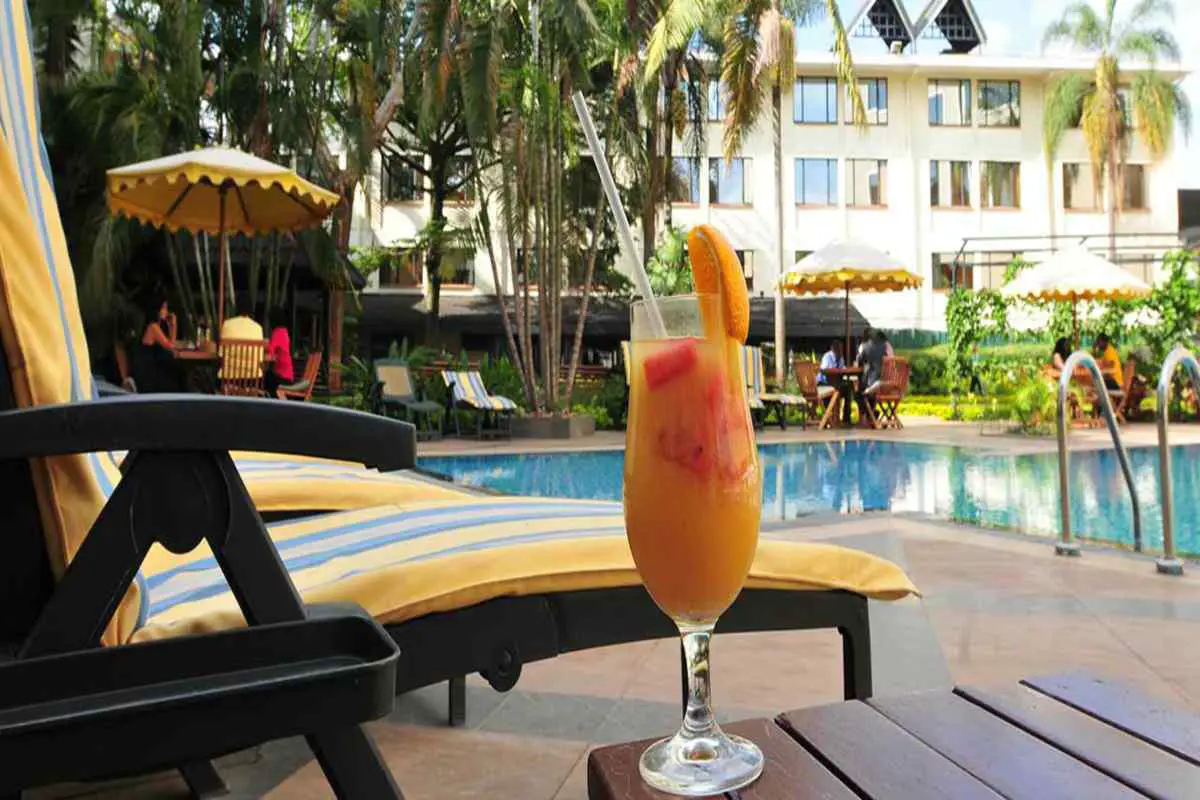 Located on a leafy jacaranda-tree-lined street at the heart of Westlands, one of Nairobi's trendiest neighborhoods, Jacaranda Hotel is a 2-star basic hotel.
When I was last there, I remember feeling that it was somewhat dark. For the price and location, though, it could well be the place for you.
It's in walking distance of malls, markets, interesting stores, services, banks, supermarkets…you name it.
And well, Westlands is known for its chic restaurants, bars and clubs. You get the drift… 🙂
Nairobi Hotels Recommendation #10: Salmiya Place (Cheap Hotels in Nairobi)
This is a personal favorite of mine and one of my preferred places to stay in Nairobi. Why? Because it offers AMAZING value for money.
For as low as $65, you can get a room in a luxuriously decorated apartment near Valley Arcade (a small shopping center with many eateries and some basic services).
The service at Salmiya Place, in the form of its caretaker Pauline, is outstanding!
The decor is beautiful; the beds super comfortable.
For me, the location is very prime because most things I usually want to do in Nairobi are an easy, inexpensive Uber ride away.
If you are looking for a great budget place to stay in Nairobi, I HIGHLY recommend Salmiya Place.
READ ALSO: Kiloran House Nairobi & 4 Other Places to Stay in Nairobi for $50 or Less
Hotels Nairobi #11: Methodist Guest House & Conference Center
As its name suggests, the Methodist Guest House is a Christian facility (and therefore serves no alcohol).
When I think of the Methodist Guest House, the three words that come to mind are basic, safe, and no-frills.
If that is what you are looking for, this could be the place for you (though I think it is expensive for what it is).
Well-located at the edge of Lavington, an upscale neighborhood, the 100-room Methodist Guest House is particularly well-suited for large groups.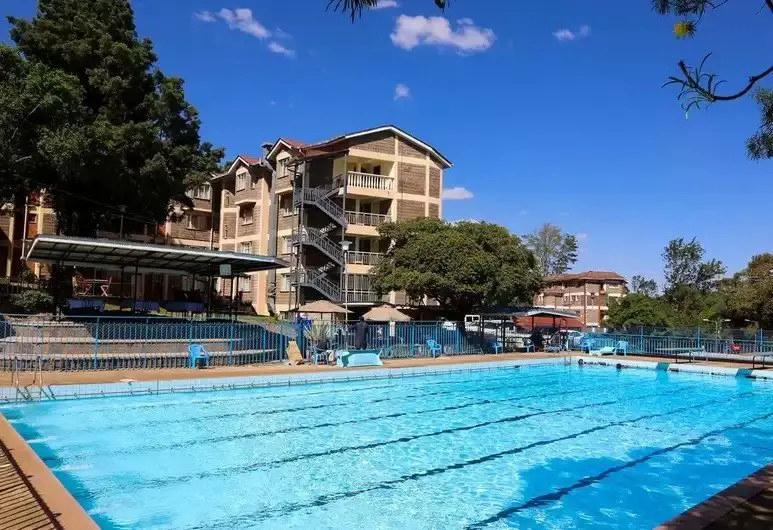 Despite my description of the guest house as basic, it does have a 25-meter outdoor swimming pool and nice green grounds.
The Methodist Guest House is close to a bus stop and so is convenient if you plan to navigate Nairobi by public transportation.
Nairobi Hotels Recommendation #12: Safari Park Hotel
Located further away from central Nairobi than any other establishment on this list, Safari Park Hotel is still worth a mention because it's a great establishment that's a world unto itself.
Safari Park Hotel may be the choice for you if you don't have much business in central Nairobi or if your business happens to be close to where the hotel is located (for instance anything to do with the United States International University – Africa).
Built on 50 acres off Thika Road, Safari Park Hotel feels very much like a resort with an emphasis on "safari chic".
Beautiful woodsy decor and animal print meet beautifully landscaped outdoor spaces complete with water features and a host of restaurants, events & conference rooms, a casino, a nightclub and more.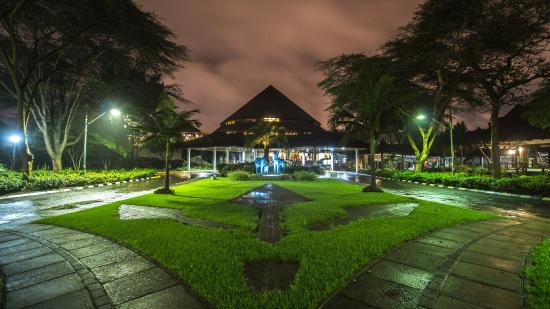 Safari Park Hotel serves good food in several restaurants offering different cuisines.
One of the highlights of the Safari Park Hotel experience is the nightly 9 p.m. stage show at the Nyama Choma Ranch restaurant.
This is worth experiencing even if you don't stay at the Safari Park Hotel.
Nairobi Hotels Recommendation #13: Town Lodge Upper Hill
When I think of Town Lodge Upper Hill, the words that come to mind are compact, super-clean, neat, and efficient.
Located next to the more upscale Fairview Hotel and owned by the same hospitality group, Town Lodge is really a 2-for-1 deal: you get to use the services of both establishments at the lower price of Town Lodge.
The rooms are very small but have everything you need.
Town Lodge is somewhat no-frills but the services provided are done so perfectly.
Just like at the Fairview Hotel, the security at Town Lodge is tight because of the interconnectedness of the two establishments and their proximity to the Isreali embassy.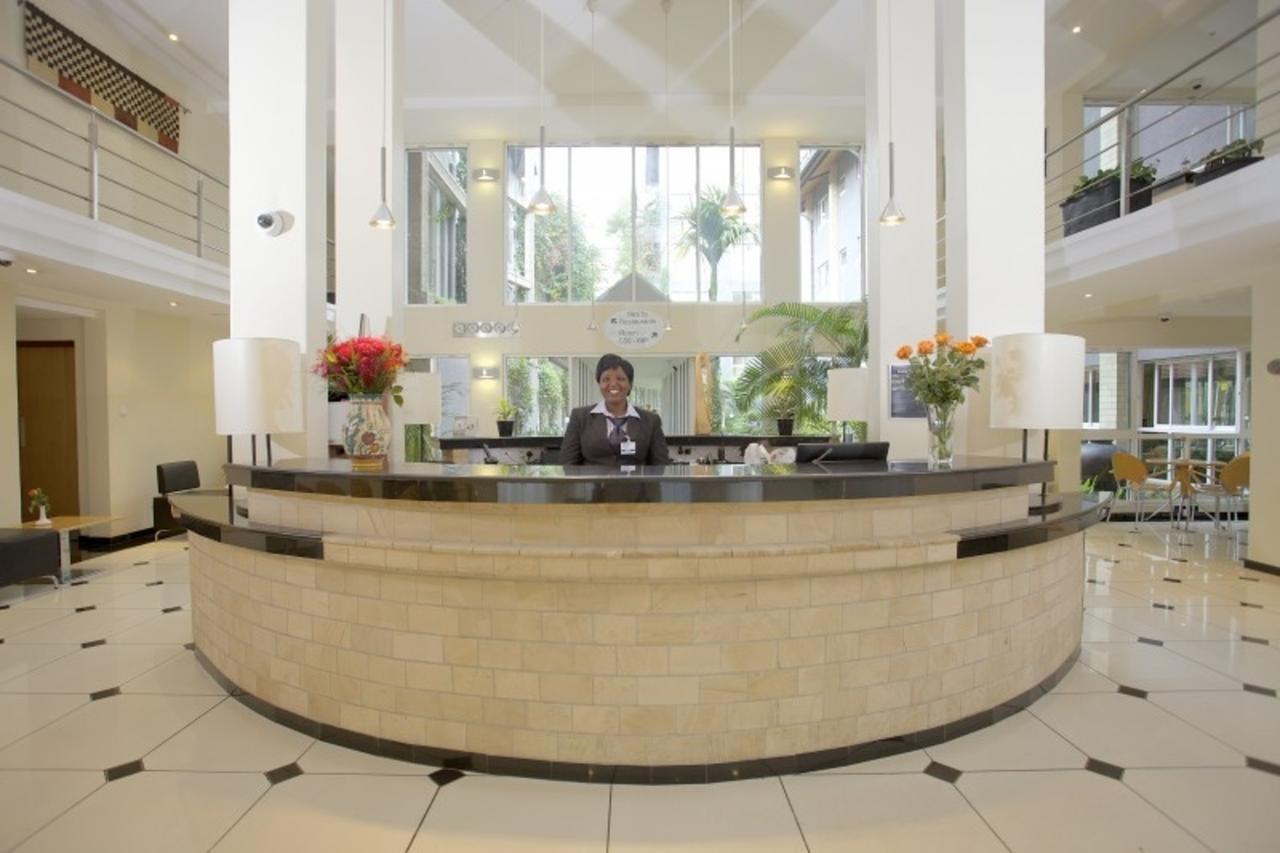 Town Lodge is close to several good medical facilities in Nairobi, namely Upper Hill Medical Center and Nairobi Hospital.
It's also quite close to Nairobi's central business district.
So…Where Is the Best Place to Stay in Nairobi?
Frankly, there is no one-size-fits-all answer to that question. A lot of it depends on your budget, on your travel style, which part of the city you have business in and lots more.
If you want a specific recommendation for your personal situation, feel free to ask me in a comment below, and I will do my very best to give you a personal recommendation based on what I know of the city.
See you in the comments section!
Biche
Hotels Near Wilson Airport Nairobi
Will you be coming into Nairobi from out of the country and transferring out of the city to another part of the country on a flight departing from Wilson Airport?
If so, are you particularly interested in getting accommodation near Wilson Airport so that you are in good time to catch your flight? Then, here is a list of good places for you to stay all within 1.3 kilometers of Wilson Airport:
Because Wilson Airport is in an area that is primarily residential, there aren't many good hotels close to it. That's why many of the suggestions above are apartments that are rented out for short term stays.
Casino Skin Hospital Nairobi
The Special Treatment Center (STC) Casino is a clinic on Latema Road (downtown Nairobi) that focuses on skin conditions and sexually transmitted infections. Learn more about the clinic in the video below.
Photo Credit: KenyaPoa, African Mecca Safaris, Sarova Hotels, Gamewatchers Safaris, African Mecca Safaris, Air Freshener, Hotels.com, TripAdvisor, Booking.com