Silver Springs Hotel (Nairobi)
Booking.com rating: 8.1/10 – "Very Good"
Check price or book your stay here!
---
Are you a Nairobian, i.e., someone who lives in Nairobi?
If so, how often do you pass Silver Springs Hotel without giving it a second thought?
Do you even know where Silver Springs Hotel is located?
To make sure we are talking about the same place, the Silver Springs Hotel is located off the roundabout where Valley Road meets Argwings Kodhek.
The main entrance of the hotel is located on the road leading to Nairobi Hospital, immediately on your left after coming out of the roundabout.
Have you noticed the hotel before?
Have you been inside it?
READ ALSO: 5 Places to Stay in Nairobi for $50 or Less a Night
I worked for many years close to the hotel and used to pass it every day on my way to and from work, but only entered its gates for the first time recently after 3 years of passing it daily.
I first entered the hotel gates to attend a salsa class, taught by a friend of mine, at The Silver Spa, the gym attached to the hotel (which is a great gym by the way!), but because the gym is in a wing separate from the hotel, I never got to enter the main hotel.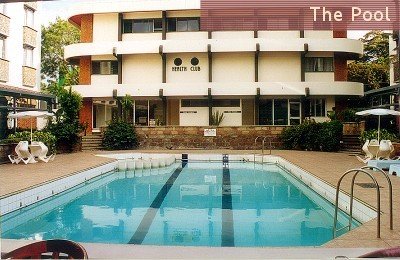 A year later, some friends of mine and I decided to throw a surprise party for another friend of ours who was turning a significant age. We held one of our planning meetings at the Silver Springs Hotel because of its proximity to our workplaces. I was very impressed with what I found at Silver Springs.
We met on the poolside terrace to discuss the oh-so-important details associated with throwing a surprise party. I was surprised that there was such a nice place to socialize so close to my office, and yet, I had never been.
Accommodation at Silver Springs Hotel
The third time of note that I went to the Silver Springs Hotel occurred two months ago.
A friend of mine, who was organizing a conference at the Silver Springs Hotel, invited me to partake in some of the privileges that came along with bringing the hotel that kind of business.
He was given a particularly nice room and was being treated as a VIP.
One night, he invited me to hang out with him and have dinner at the hotel. I was simply wowed by all that I saw and experienced that night!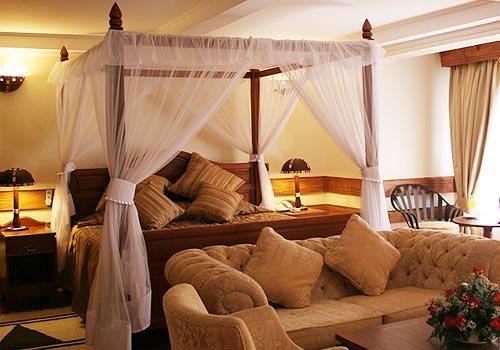 His room was located in the new wing of the hotel.
The first thing that grabbed my attention was the lobby of this new wing.
It was tastefully designed and decorated, with mood-setting lighting and artwork that really made one stop and look.
My friend's room, which was a deluxe room, was impressive.
To begin with, it was spacious.
On top of a big canopy double bed (I can no longer remember whether it was king sized or queen sized), the room had three different sitting sections – a 5-seater salon, a small desk area, and a cozy tête-à-tête area for two.
The bathroom, not only had a glass-enclosed shower, but also a Jacuzzi for two.
The room was tastefully decorated in browns with Maasai accents and had enough lighting to set any mood necessary.
With a lot of light, the room could easily be used to transact business; with a little less light, the room felt as cozy as a home.
As I mentioned earlier, my friend and I were meeting up for dinner, so we decided to take full advantage of the spacious environment and order some room service.
We ordered a variety of dishes in order to sample as much of the menu as we could. My verdict: the chicken drumsticks and the honey basted pork spare ribs are to die for!
I have no idea what this particular room cost, but I am almost positive that it wasn't as expensive as the ridiculously priced double room, which I had reserved for friends a week prior at The Stanley (for more information about the room rates at Silver Springs Hotel please click here ).
Although the ratings of these two hotels are not the same, I was more impressed with this room at The Silver Springs Hotel than I was with the room at The Stanley, especially after finding out the per-night cost of the latter.
I asked at the beginning of the post if you were a Nairobian, and if your answer to this question was yes, then you might never have reason to make a hotel booking in your own city.
Sometimes, fact is stranger than fiction though, and you never know what could cause you to stay in a room in the same city in which you live. Since information is power, just remember that there's a good hotel in this city that many of us ignore. (Book your stay at Silver Springs Hotel here.)The information might come in handy when you have friends visiting you from out of town, or at some other opportune moment. Whatever the case, I thought I would share my unexpectedly pleasant discovery.
If you ever have a chance to take a tour of the Silver Springs Hotel, I am sure you would also be pleasantly surprised. If you happen to stay there, then even more.
I hope this information comes in handy one day.
Why overlook something so good that is right there in front of you?
If you have any thoughts to share on the subject, please drop me a comment.
I look forward to hearing what you have to say.
Biche
Photo Credit: silversprings-hotel.com