Local Guide Program
The Local Guide program is a Google crowdsourcing program which allows Google users to share information with others about the world around them.
Local Guides is a global community of explorers who write reviews, share photos, answer questions, add or edit places, and check facts on Google Maps.
Millions of people rely on contributions from the Local Guide Program to decide where to go and what to do.
These guides are then given certified levels to reflect how much they have contributed to the Local Guide program.
I, myself, am currently a Level 6 local guide.
READ ALSO: Beaches in Rwanda & Burundi
---
Think of a 'paradise vacation', and almost inevitably a blissful image of a sun-drenched beach will spring to mind.
Few things could be better than wandering along a sandy shore fringed with gentle turquoise wavelets while the sun bathes you from a deep blue sky.
Or gazing out over the might of the Ocean from the safety of the soft sands.
Or even just lying back, closing your eyes, and letting the sun's warmth and the sound of the waves wash over you.
It's even said by those in the know that visiting a beach can bring considerable health benefits with it. 
Visitors to East Africa do not have to miss out on this experience. East Africa is blessed with some of the most fantastic beaches in the world.
Here are just a few of them:
East African Beaches #1. Watamu, Kenya
Watamu Beach is part of the Malindi Marine National Park – a protected area of coastline which provides a vital haven for some of Kenya's most wondrous and endangered wildlife.
Not only is this beach an absolute stunner, with a long white-sand strand and crystalline waters, it's also a vital breeding ground for hawksbill and green turtles.
Wildlife and bird watching tours are available if this interests you.
If the underwater world is more your thing, Watamu is home to some of the best coral formations in the world, making snorkelling a must-do activity for many visitors to the area.
Of course, if this all sounds a bit too much like hard work then you can simply take advantage of the warm sands and exquisite climate, and relax in this little chunk of paradise!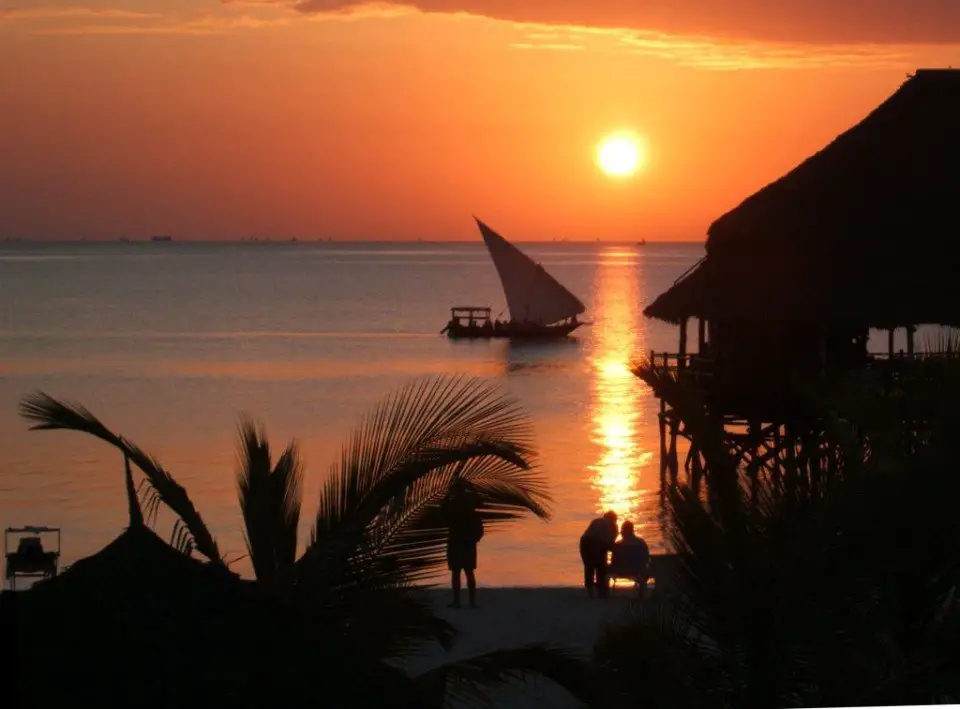 East Africa Beach #2. Nungwi, Zanzibar
Almost the entirety of Zanzibar could be reasonably counted as a paradise on Earth, making it extremely difficult to pick its 'best' beaches. They're all wonderful!
Not for nothing does this island draw tourists from all over the globe.
Zanzibar is a particularly popular spot for cruise ships, which love to allow their passengers the opportunity to bathe in the cerulean seas and scrunch their toes into white sands.
Nungwi, once on the fringes of a traditional-style fishing village, provides a typical example of a Zanzibari beach.
The beach and the sea meld together in shades of white and turquoise, and palm trees wave gently against the backdrop of a brilliant blue sky.
The sunlit seas are perfectly clear, and, at sunset, dhows with beautiful white sails head from the boatyard like a flock of swans and amble across the horizon. It's so picturesque that it almost hurts! There are few places in the world this relaxing!
READ ALSO: Mount Kilimanjaro Pictures & 18 Other East African Photos
3. Ssese Islands, Uganda
The Ssese Islands are a tropical archipelago in Lake Victoria. Remote, but well worth the journey. If a laid-back atmosphere and total relaxation are what you're after, then Ssese is for you. The beaches are long, and fringed with tropical forests. The lake is simply glorious (although probably not the place to go if you want to swim…), and – despite the location of the islands – there are some very serviceable facilities for those who like a little luxury! All in all, these islands are the perfect place to be marooned!
Photo Credit: Fanatic; amaniafrika.com;  hobbs_luton
This post was written by Sally Fallon.