Did you come to this post wondering about the word kanga in English? If so, you are in the right place.
Let's begin with what to call the East African fabric kanga in English. 
Table of Contents
Kanga (Fabric) in English/Khanga in English
Quite simply, the East African fabric kanga/khanga remains kanga/khanga in English too.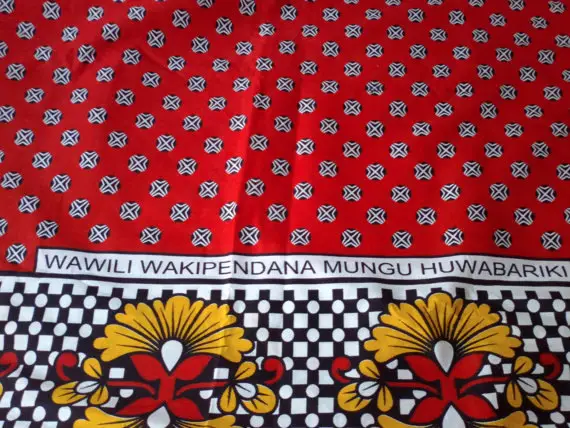 READ ALSO: Swahili Architecture & Design Style
Kanga Ndege in English/Kuku Kanga in English/Ndege Kanga in English
If you are looking for a translation of the Swahili word kanga, and you don't mean the fabric but the bird, then the word you are looking for is guineafowl.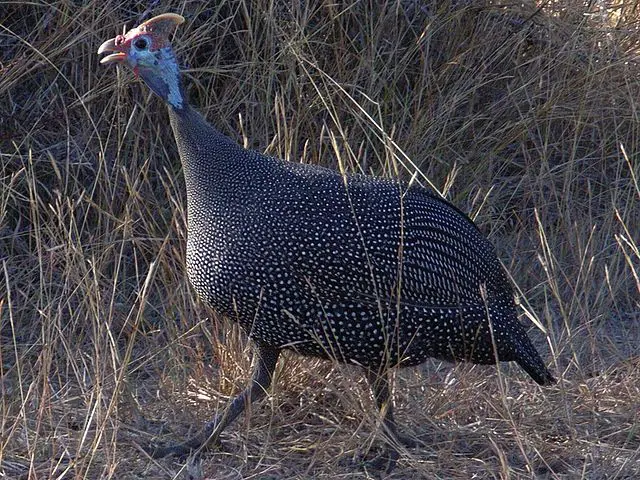 Do these two Swahili meanings of kanga have any connection? Absolutely! The fabric kanga got its name from the guineafowls that were (and still often are) printed on it.
Now you know!
Kanga Animal
Shanga in English
Shanga is both the singular and plural word for 'bead' in Swahili.
Depending on the context, shanga can also be used to refer to strings of beads worn around the waist, also known as waist beads.
What Is a Kanga?
Kanga is an East African cotton fabric with bold designs, bright colors, and a Swahili saying, aphorism, or slogan printed along its bottom border (see the first two images at the start of this post).
Kitenge in English
According to Collins English Dictionary, kitenge in English remains 'kitenge'. It is, therefore, correct in English to speak of 'a kitenge dress' for instance.
In popular culture, kitenge is often referred to as 'Ankara' cloth/fabric in English. This is what the fabric is called in Nigeria, and this has seeped into mainstream anglophone speak.  
Kanga Meaning in English
Other than the East African fabric, kanga in English can mean a couple of other things. 
Kanga Animal in English
In Australia, the word kanga is used informally to mean kangaroo.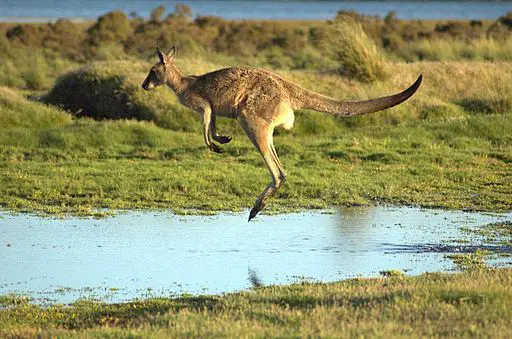 Kanga is also another word for a prison warder.
कंगवा in English
कंगवा is the Marathi word for comb.
Njiwa in English
Would you like to know what njiwa another bird name in Swahili means? If so, it would be my pleasure to tell you. Njiwa is the Swahili word for both pigeon & dove. 
The rest of this post is about kanga, the fabric.
---
For as long as I can remember, I have always been a great lover of kanga, the popular Swahili fabric.
How to Wear a Kanga
If you've ever seen children wearing kanga wrapped around their bodies and tied behind their necks, then you have a perfect picture of me as a child.
If you were to drop by my house unannounced today and I didn't have a chance to run and change into something "decent", then chances are you would find me in a kanga, though this time worn in the kifua style (wrapped around my body, passing under my arms), rather than tied behind my neck.
Why?
For several reasons.
First of all, there's nothing quite as comfortable as a soft, well-worn, 100%-cotton kanga.
Not sweats.
Not a boubou.
Nothing!
In the Dar es Salaam heat, how better to keep cool? (To be honest, though, it's not really about the heat. Even in the dead of Canadian winter, I'd crank up the heat so that I could wear a kanga at home. 🙂 )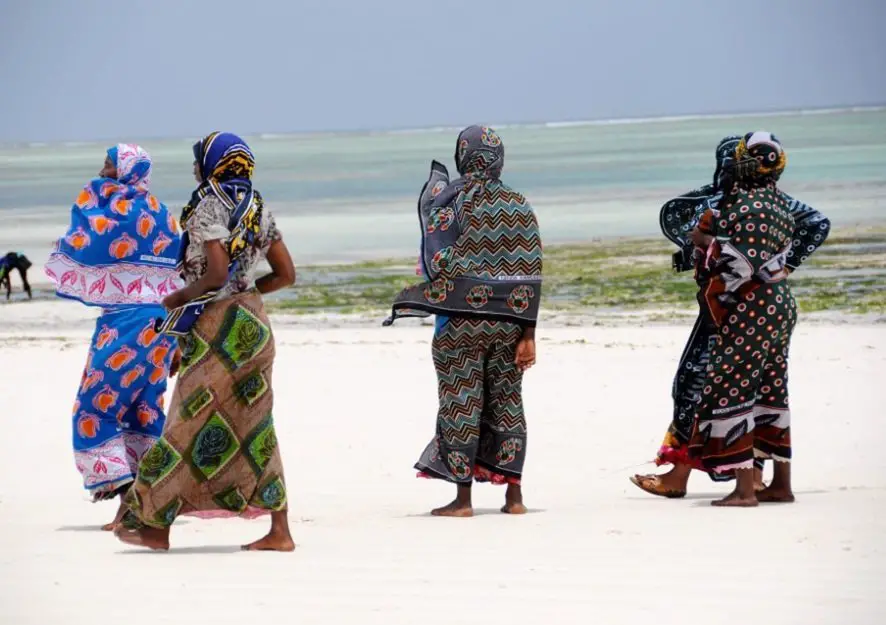 Also, the bright colors and ornate patterns of kanga somehow always manage to give me an instant mood lift.
Kanga Jinas
Recently, my love for kanga has taken on a new dimension.
Beyond the reasons mentioned above, I've now also come to appreciate kangas for their jina ('name' in Swahili), which is what the writing on a kanga is called.
Care to know how that happened?
Here goes.
Some years ago, I found that I greatly enjoyed wearing a green and white kanga that I had nipped from my mother ;-).
This was unusual for two reasons: first, I don't generally like green (especially on clothing) and second, the kanga's design was rather plain.
My pleasure in wearing this kanga came from what was written on it, its jina, which read: Mlisema hayawi mbona yamekuwa? (Translation: You said it doesn't/wouldn't happen, so how come it did?).
Although this didn't point directly to something that had already taken place in my life; at the time, I was living an unconventional life, working towards seemingly impossible goals.
I hoped, of course, that I would one day achieve these goals and then be able to ask this question to all the naysayers I'd met along the way.
The kanga's jina was feisty…and I LOVED it!
From then on, kanga for me ceased to be just about aesthetics and became, too, a form of expression and communication like they have been for countless Swahili-speaking women since the early twentieth century.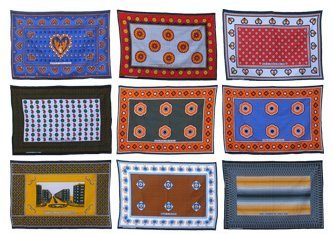 Swahili Kanga Sayings Today
A short while ago, I found myself on Uhuru Street, which arguably has the widest selection of kanga in Dar es Salaam.
Although I wasn't really kanga shopping, I decided to look around and see what was new in the world of kangas.
After discovering some shocking jinas the last time I was kanga shopping, that's what I decided to focus on this time.
The first thing I noticed was an unusual number of kangas with Islamic jinas, such as Mungu tuzidishie imani tufunge mwezi wa Ramadhani (translation: God, increase our faith so that we fast during the month of Ramadan).
I then remembered my brother telling me, the night before, that the next day would be the first day of Ramadan. (On that note, I wish a successful and spiritually-rich month of Ramadan to all my Muslim readers!). Other jinas that caught my attention were:
Sibora kitu bora utu (Being humane is better than material things)
Ukijua kupokea ujue na kutoa (If you know how to receive, then know too how to give)
Usiniwekee majungu bahati kanipa mungu (Don't spread rumors about me, my luck is God-given.)
Njama nimezisikia nangojea vitendo (I've heard the evil plans, now I await the actions)
Msemaukweli ni mpenzi wa mungu (A person who tells the truth is God's darling.)
Niko kwangu yanini majungu (I'm in my own home, so why all the nasty rumors?)
Tuliza roho yako mimi ni wako (Calm your spirit; I am yours)
Mema na mabaya yapo lakini tusamehane (The good and the bad exist, but let's forgive each other)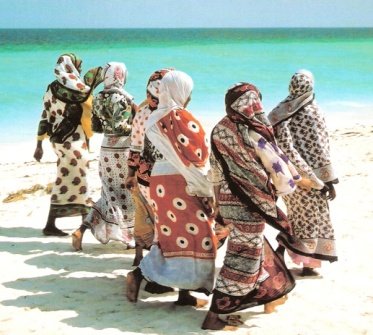 My Personal Collection of Kangas & Their Swahili Sayings
This got me curious about what my own current collection of kangas had to offer in terms of sayings.
Checking when I got home, I found that my kangas say:
Siri si umbeya (A secret isn't gossip)
Mungu ndiye kimbilio letu (God is our refuge)
Nemekuja kutembea sikuja kwa umbea (I have come to visit, I didn't come to gossip)
Kuomba si kupata mungu akipenda atakupa (To ask is not to get; if God wishes, he will give you)
Muumbaji ni mmoja njoo tuishi pamoja (The Creater is one; come let's live together)
Upendo ni nuru ya maisha (Love is the light of life)
Maisha ni kutafuta siyo kutafutana (Life is about seeking not going after each other)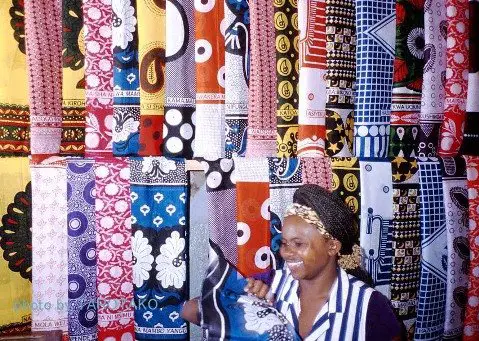 Tell me, do you have a favorite kanga saying?
If so, what is it, what does it mean, and why do you like it so much?
If you are an avid kanga wearer but never pay much attention to the words written on them, how about checking now (and sharing) what's written on your favorite kanga?
Does this saying in any way reflect something that's going on in your life?
Let me know by leaving a comment below.
If you would like to know more about kanga, its history, or kanga sayings in general, then check out the following links: List of 254 Sayings on Khangas.
Otherwise, that's it from me.
I wish you a great weekend and, as always, look forward to hearing what you have to say.
Until the next time,
Biche
Photo credits: Wikipedia; Tanzania Blog; PanBK at the English-language Wikipedia, eboy, jamiiforums.com; Miwani for Mwanza Mission