Would you like to know what the distance from Arusha to Mwanza is if you travel through the Serengeti?
If so, you are in the right place. Let's get right to it!
Table of Contents
READ ALSO: Mwanza Accommodation
Arusha to Mwanza KM/ Mwanza to Arusha KM/Distance From Mwanza to Arusha/Arusha Mwanza Distance: How Many Kilometers From Arusha to Mwanza?
The distance from Arusha to Mwanza via the Serengeti is roughly 616 km.
Technically, you can drive it in a single day, but since there are such wonderful things to see on this route, I wouldn't recommend that you do so.
Instead, I would recommend breaking up the journey into several days to, at the very least, visit something or other in the Ngorongoro Conservation Area and be able to stop and see game while driving through the Serengeti.
If you would like to keep costs down as you travel from Arusha to Mwanza, plan your overnight stays in Karatu (before you enter Ngorongoro) and/or right outside the Serengeti, say at Balili Mountain Resort (though there are plenty of other places to choose from).
READ ALSO: Things to See in Arusha, The Local Guide Program & More
Arusha to Mwanza Flights
There are no direct flights from Arusha Airport to Mwanza and vice versa.
If your aim is to travel from Arusha town to Mwanza, though, click here for information about flights to Mwanza from Kilimanjaro International Airport, which also serves Arusha.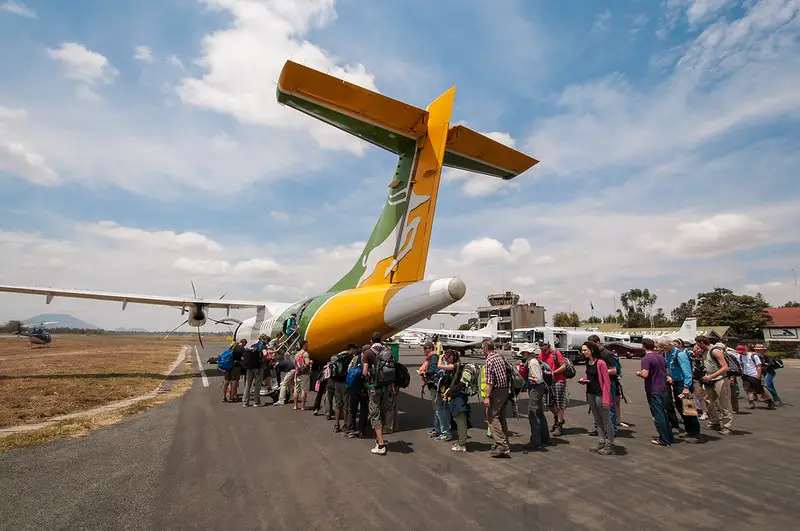 Arusha is only about an hour's drive away from Kilimanjaro International Airport (KIA), and there are regular inexpensive shuttles  between KIA and Arusha town.
READ ALSO: Serengeti Safari Operators & Nugumu
Distance From Arusha to Serengeti National Park/Arusha to Serengeti Distance
The distance between Arusha and Naabi Hill Gate, the entrance to the Serengeti National Park from the Ngorongoro Conservation Area, by road, is around 255 km.
Note that the Serengeti is quite large though so depending on where in the Serengeti you want to go, you might still have quite a distance to travel from the entrance of the Serengeti.
For instance, Seronera, the central part of the Serengeti and a popular part of the Serengeti to visit, is another 50 km from the entrance of the Serengeti.
Also, because the roads in the Serengeti are mainly dirt roads, there's only so much speed you can pick up. Therefore, the 50 kilometers from Naabi Hill Gate to Seronera can take about an hour's drive if you don't stop to watch game.
READ ALSO: 3 Places to Stay in Arusha, Tanzania
Serengeti to Arusha
To get from the Serengeti to Arusha, you can either take a short transfer flight or travel by road in a 4×4 vehicle.
By Air
You can fly from one of the Serengeti's seven airstrips to either Arusha Airport (ARK) or Kilimanjaro Airport (JRO), both which serve the city of Arusha.
All flights are operated by local airlines such as Grumeti Air or Coastal Aviation.
If you are travelling from one of the private airstrips, owned by some of the more exclusive lodges in the Serengeti, a scheduled or private charter flight is the way to go. These can be arranged through whichever lodge you are staying at.
By Road
The journey from the Serengeti National Park to Arusha is an 8-hour journey.
It can be done in a single day, but an overnight stay at one or more wildlife sites on the way is usually the more comfortable way to go.
How to Reach Serengeti by Road from Arusha
So how about getting from Arusha to the Serengeti by road?
Serengeti Self-Drive Safaris
Although not recommended, especially for those visiting the Serengeti for the first time, the Serengeti National Park is accessible when travelling by rental or personal vehicle.
Please keep in mind that careful planning is necessary when driving by yourself through the Serengeti National Park.
A 4×4 vehicle is required to be able to access all roads throughout the year.
Petrol is sold at Seronera in the Southern Serengeti.
I have participated in two self-drive safaris through the Serengeti, myself–I am Tanzanian–and I found it both easy enough and quite enjoyable.
Photo Credits: Google Maps