Did you come to this post looking for more information about Tulia Spa, the award-winning luxury spa in Mombasa. If so, you are in the right place.
Let's get right to it!
Table of Contents
Spa Hotels in Mombasa #1: Sarova Whitesands Beach Resort & Spa (Tulia Spa – Best Spa in Mombasa)
Let me start this list with Tulia Spa Mombasa, an award-winning spa.
Tulia Spa Mombasa, the spa at the Sarova Whitesands in Mombasa, is not only one of the best spas in Mombasa, but also in the whole of Kenya.
In 2018, Tulia Spa Mombasa took two categories in the World Luxury Spa Awards.
It won both the awards for best luxury beach resort spa in the whole of Kenya, and best luxury Ayurveda spa in the whole of Africa.
Massage Spa Near Me/Luxury Spa in Mombasa: Tulia Spa Mombasa Menu
Click anywhere on the menu to expand it in a new page.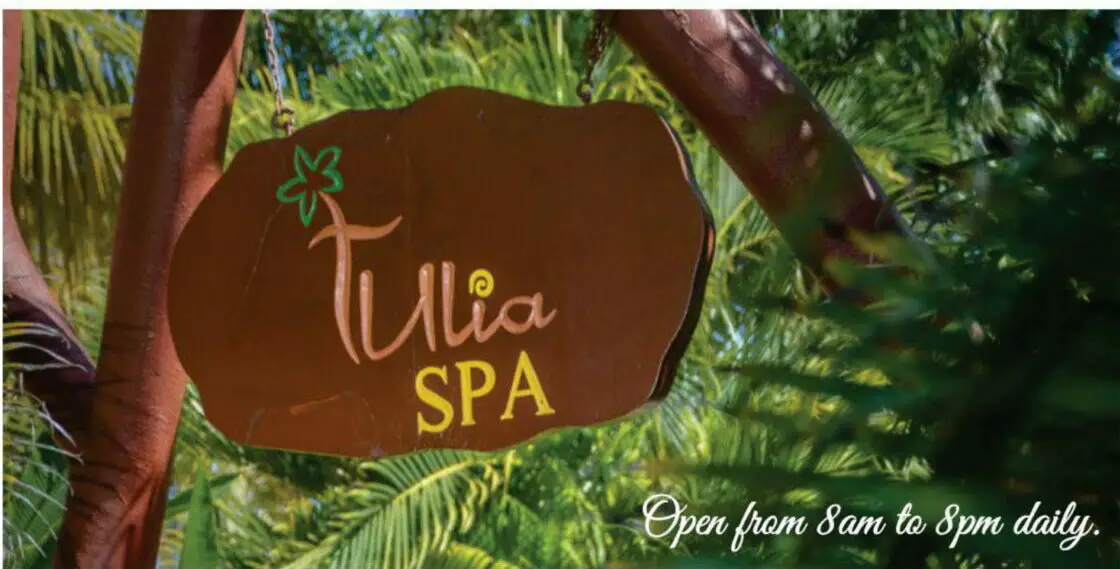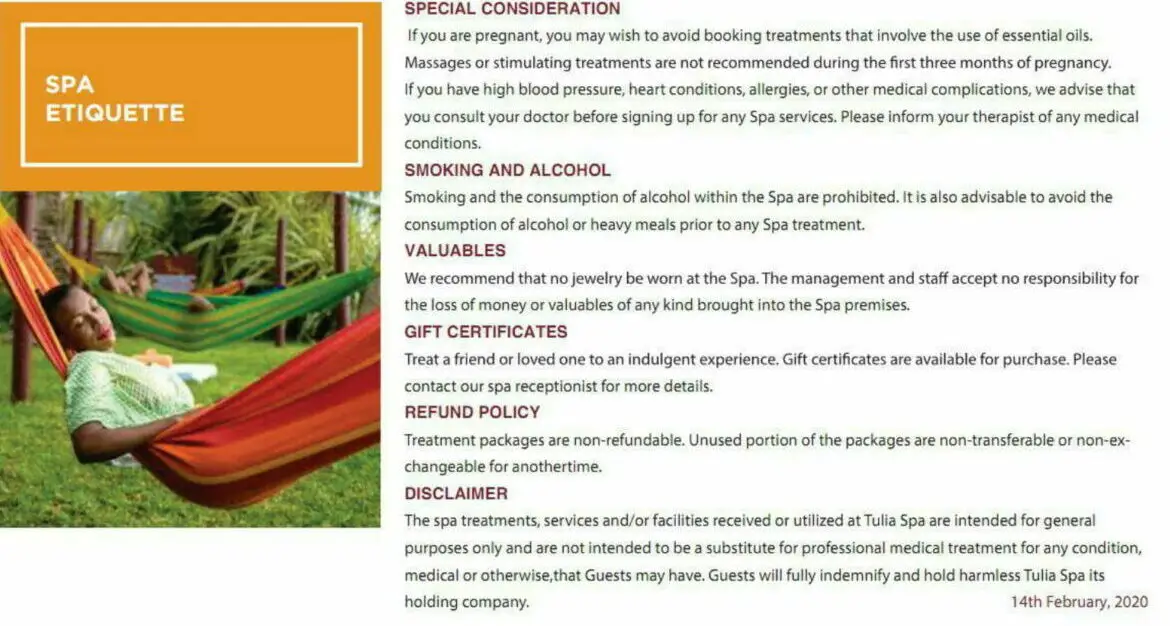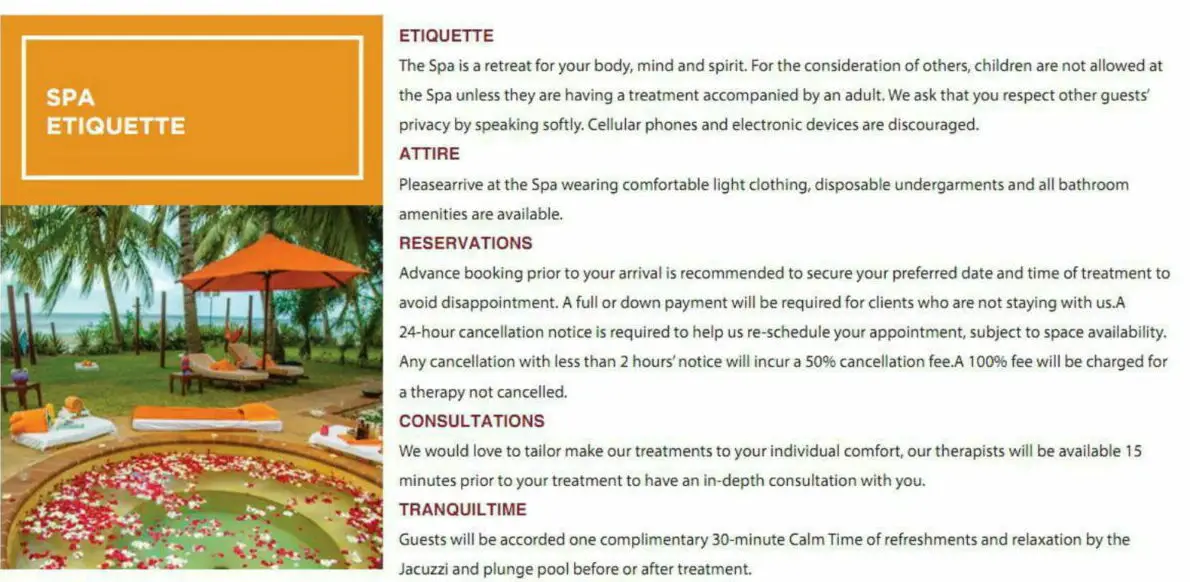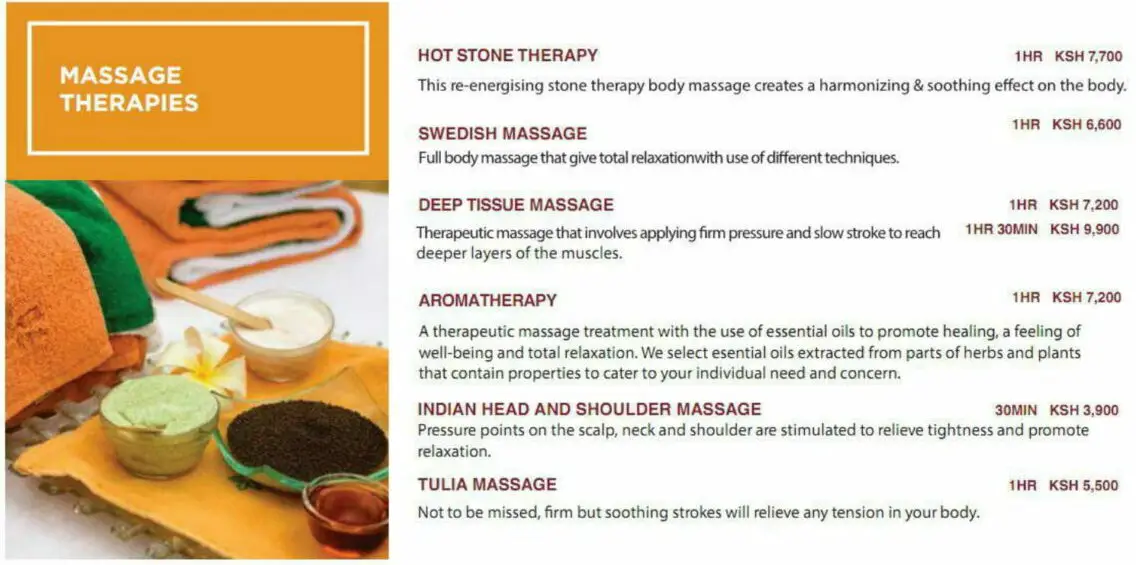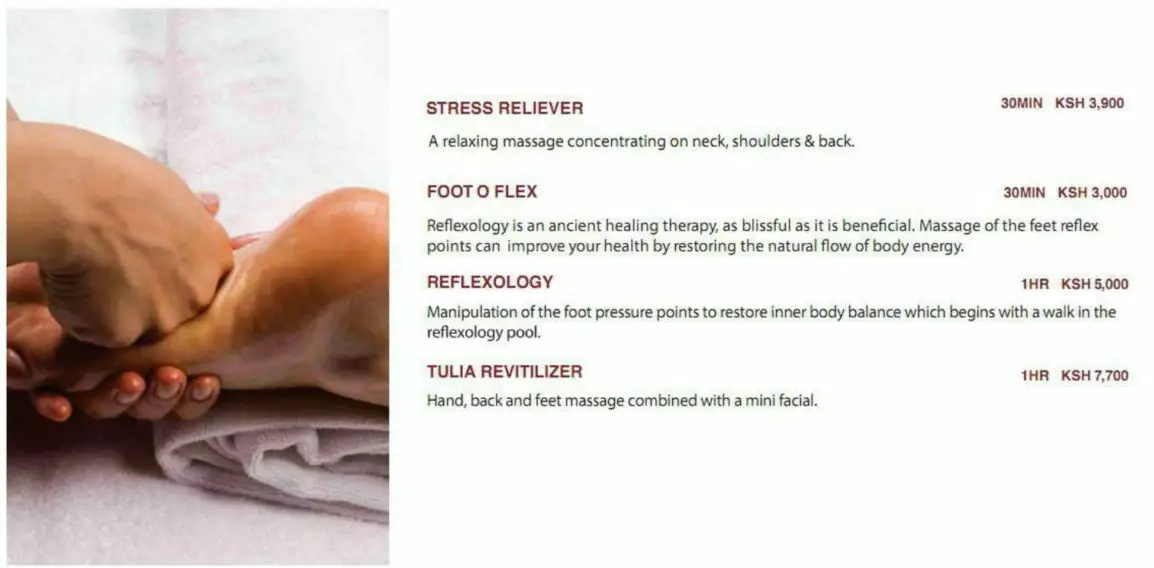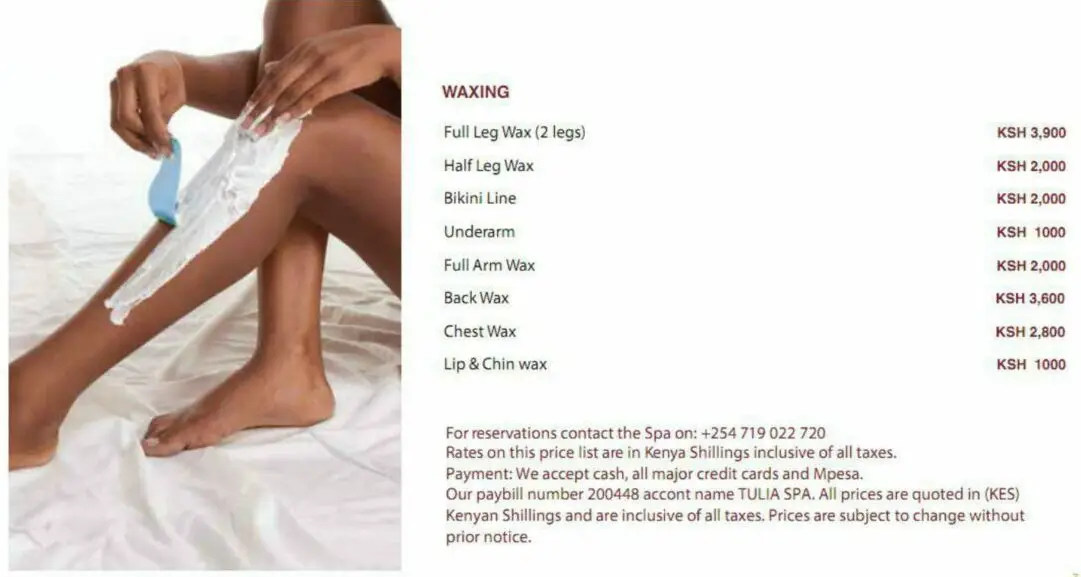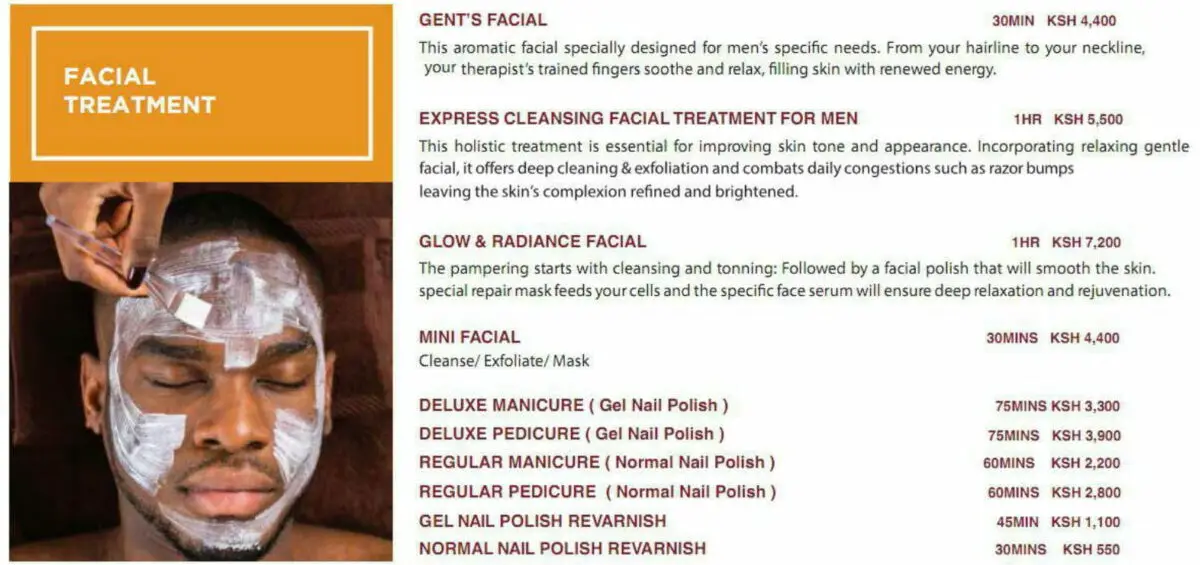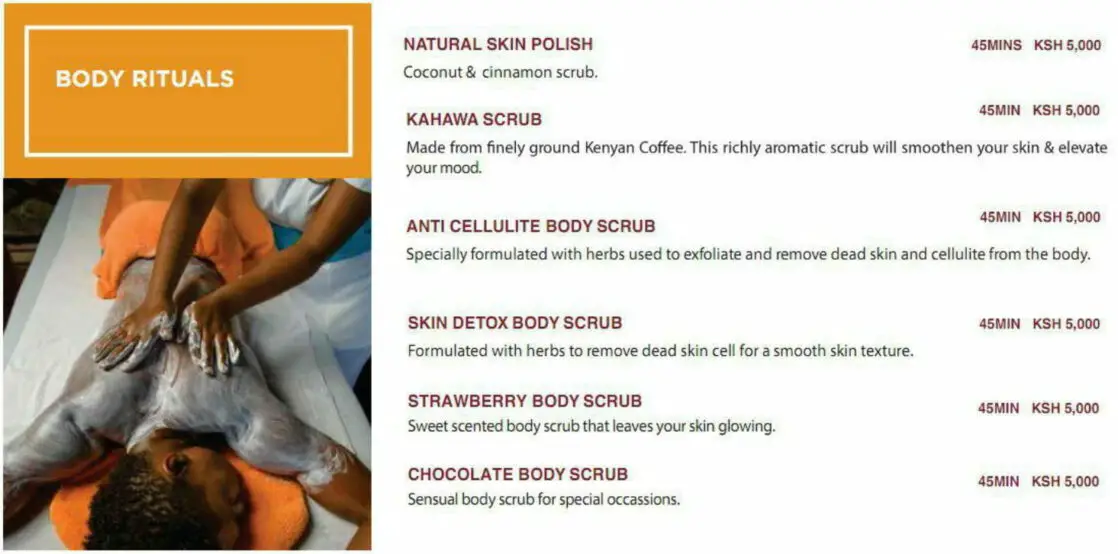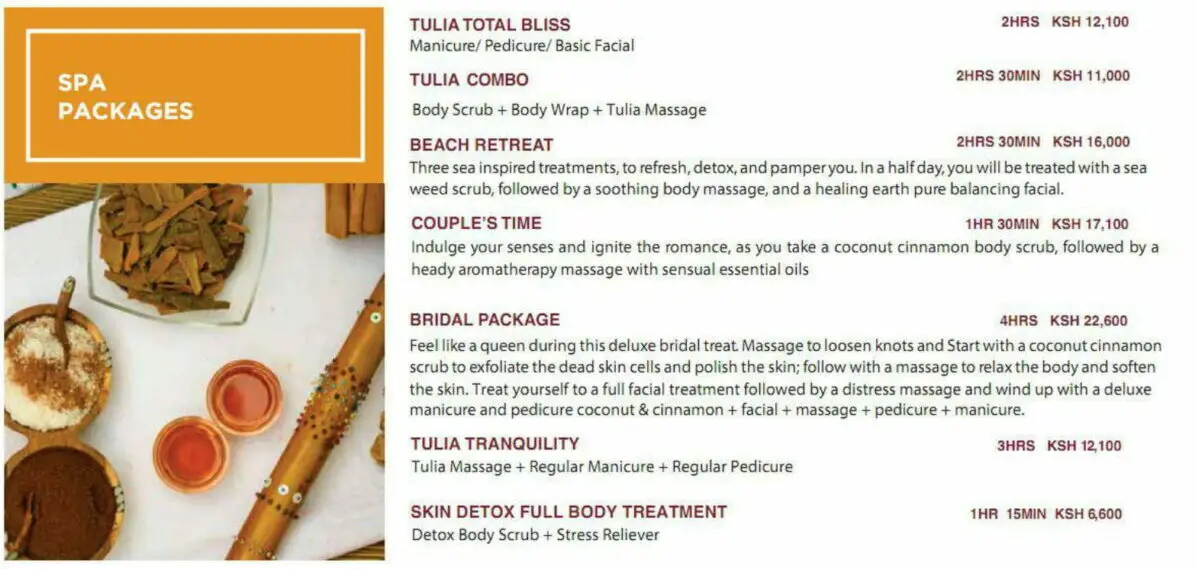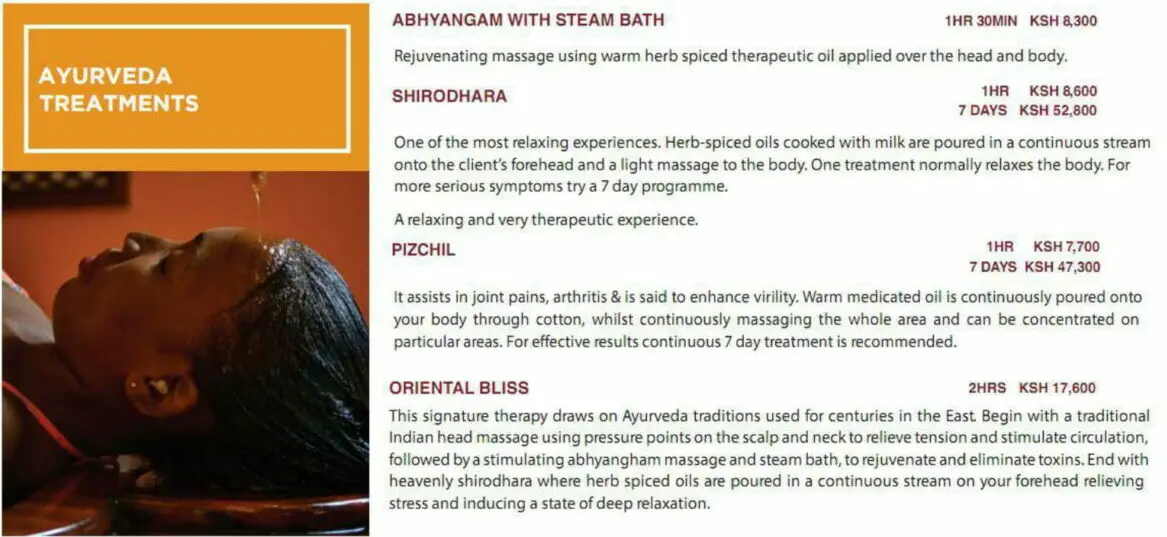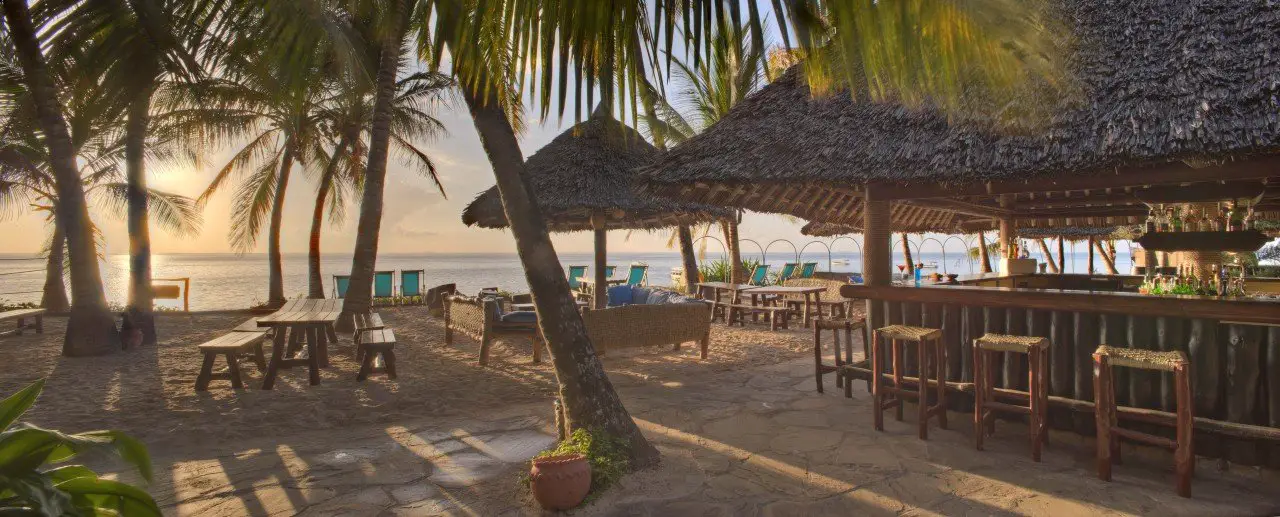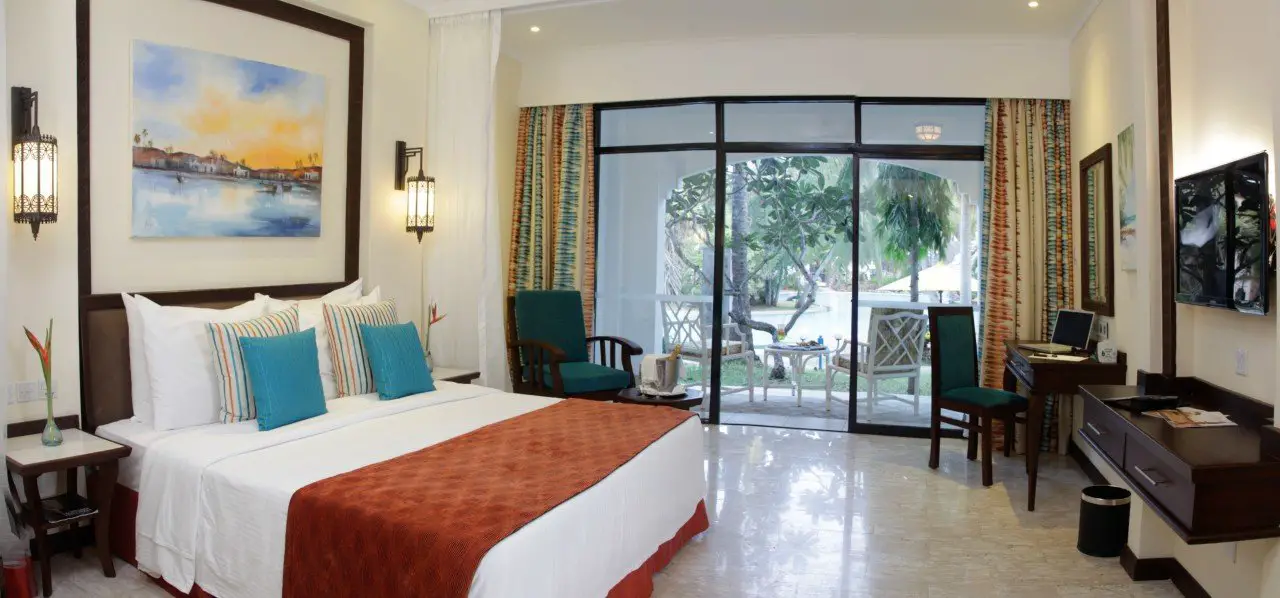 Massage Spa in Mombasa: Serena Beach Resort & Spa — Hotel With a Spa in Mombasa #2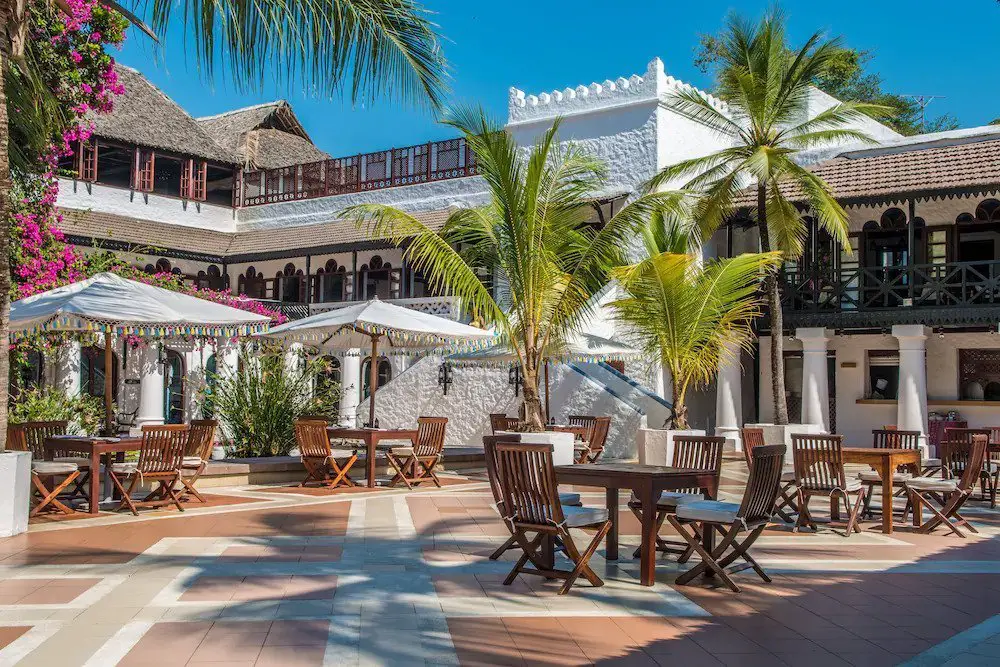 The Serena Beach Resort & Spa is my favorite hotel in Mombasa. Why? To begin with, because it has the cleanest beach and the whitest sand that I have ever seen anywhere in Mombasa.
Also, everything about the hotel, including its architecture, serves to remind you that you are on the charming Swahili coast.
The Serena brand, which I must admit I am partial to, lives up to its promise of great food and amazing service at this establishment too.
Another thing I particularly like at the Serena Beach Resort & Spa is the quiet calm at the establishment.
The only thing that could be a bit of an issue here is that the Serena Beach Resort & Spa, located on Shanzu Beach, is about a 20-minute drive from the livelier parts of Mombasa.
This may or may not be a problem depending on what kind of Mombasa holiday you have planned.
READ ALSO: Mombasa Activities: Mombasa Marine Park
Hotel EnglishPoint & Spa — Mombasa Spa Hotel #3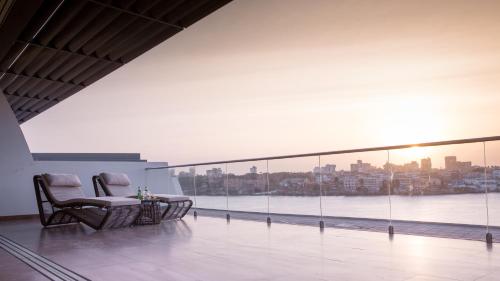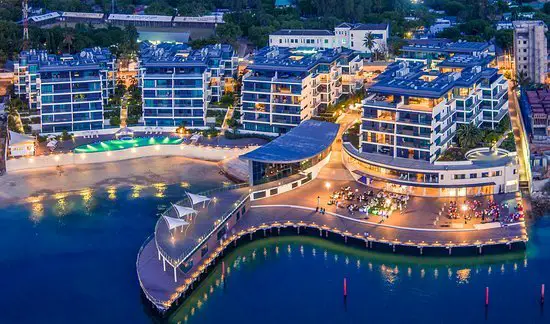 PrideInn Flamingo Beach Resort & Spa —Hotel With a Spa in Mombasa #4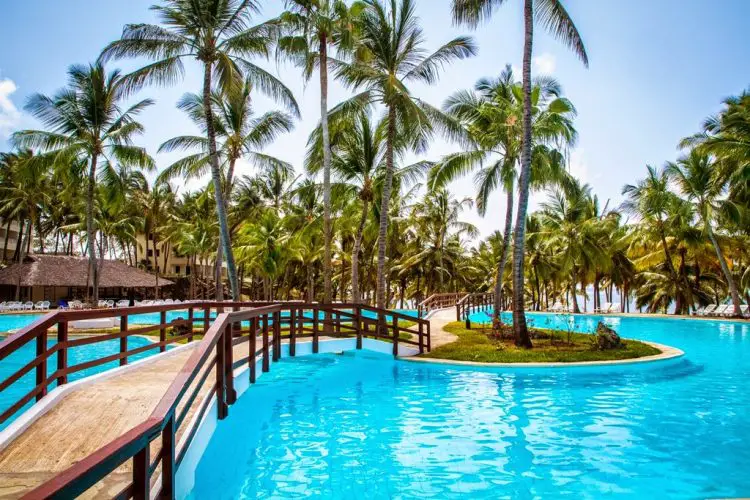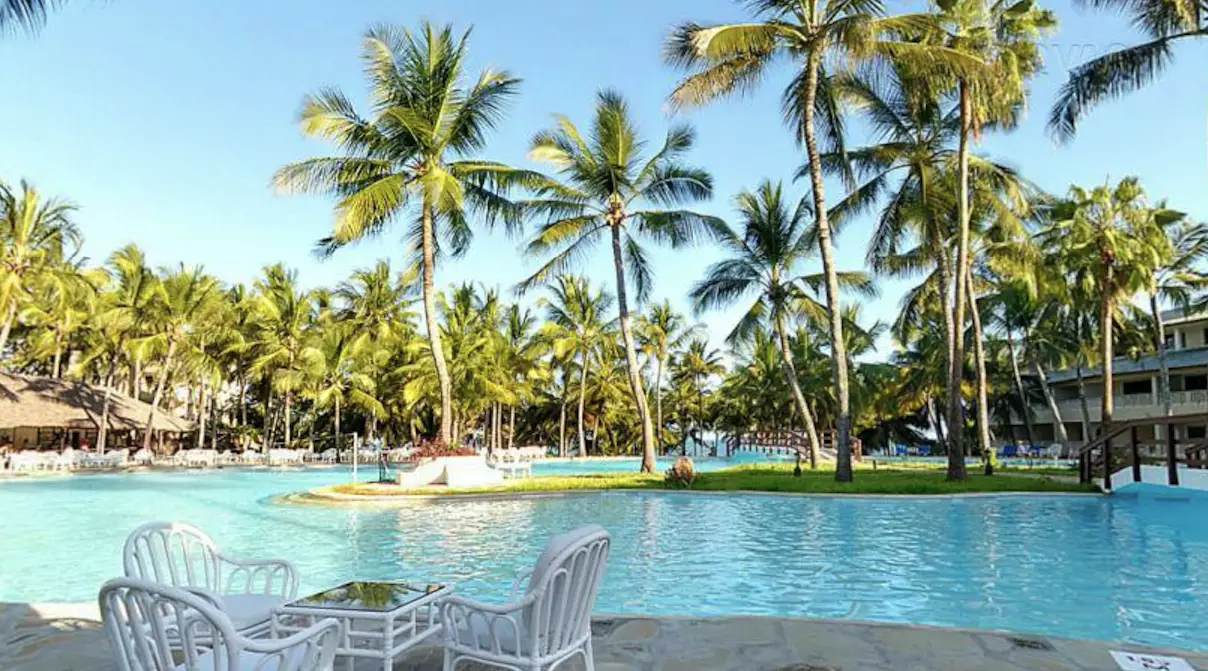 Travellers Beach Hotel & Club — Hotel With a Spa in Mombasa #5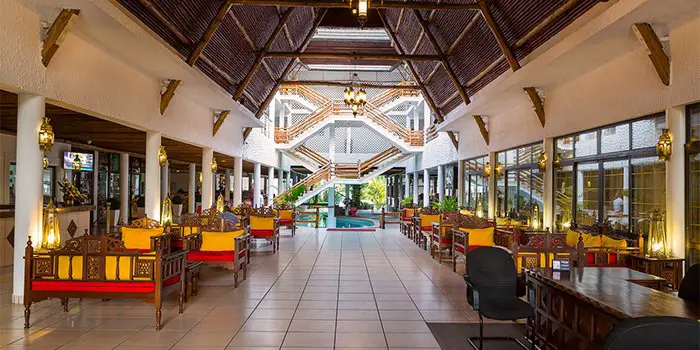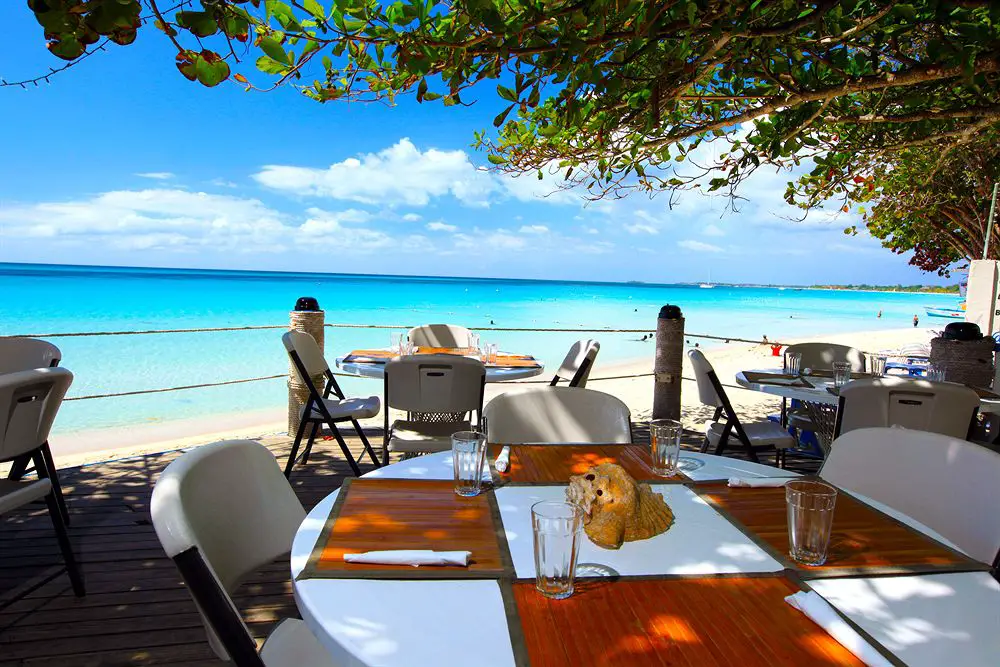 Bahari Beach Hotel — Hotel With a Spa in Mombasa #6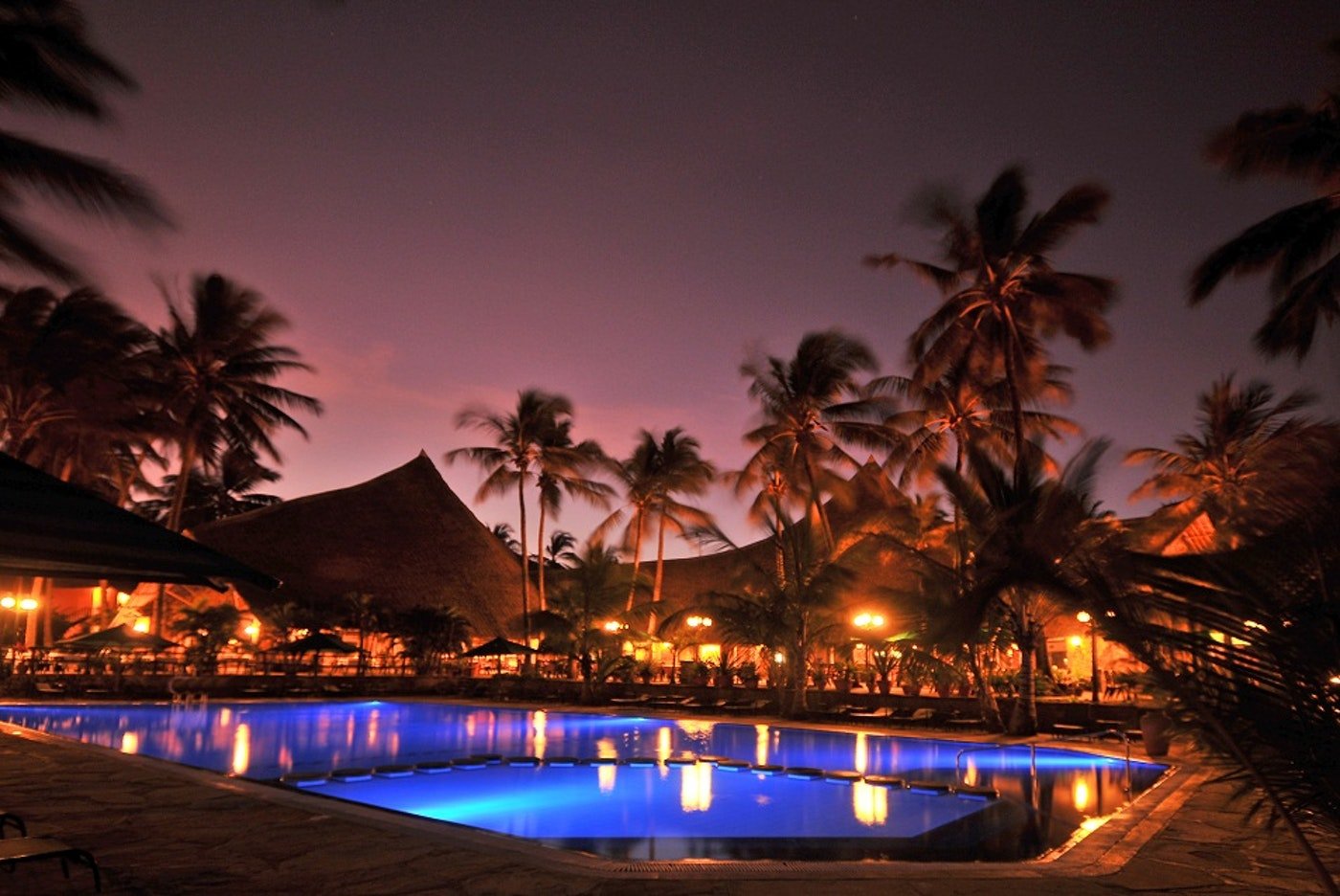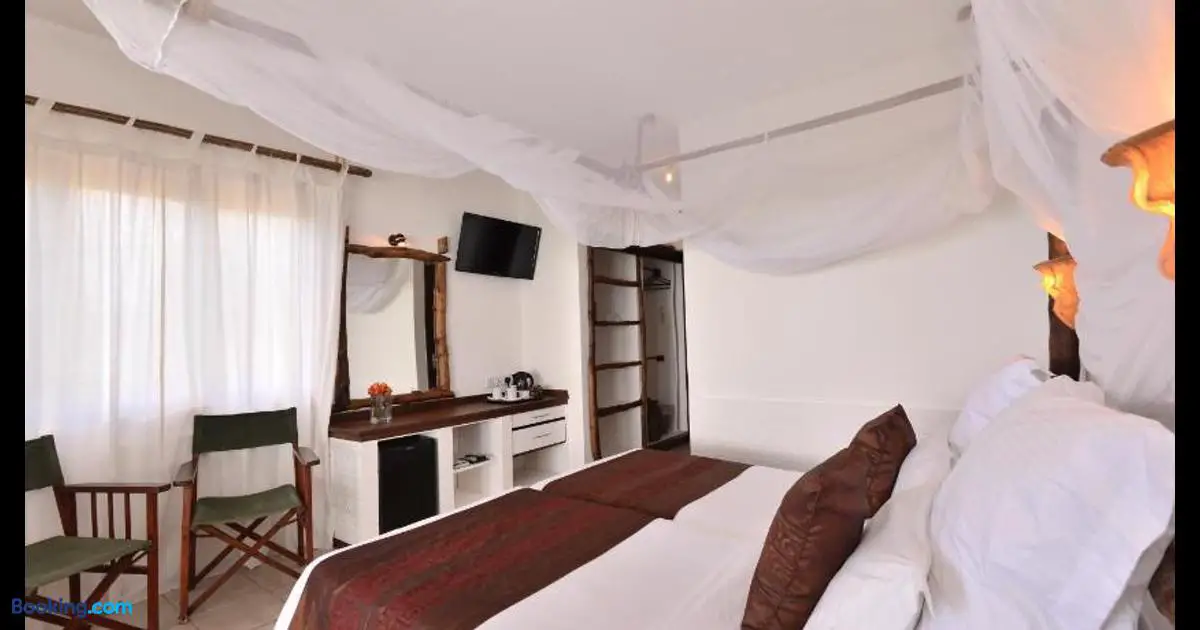 Severin Sea Lodge — Hotel With a Spa in Mombasa #7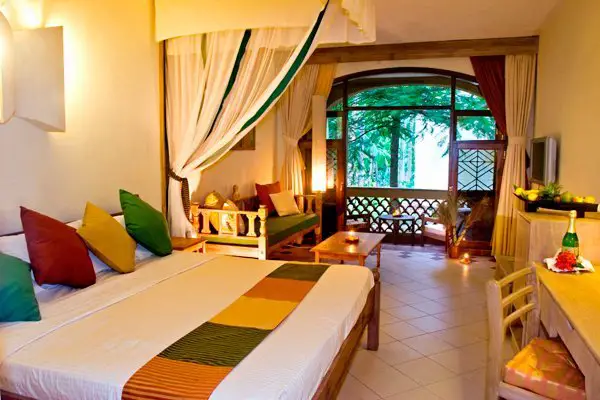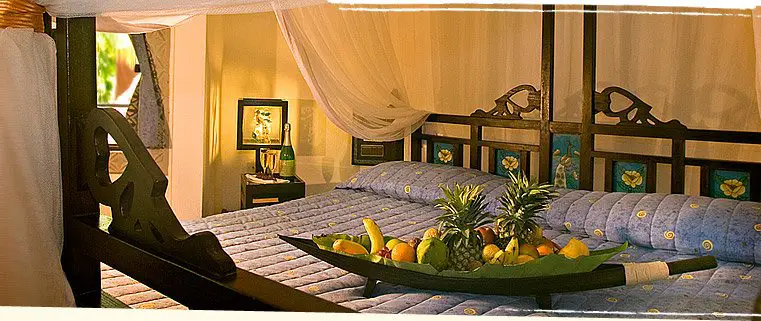 Massage Nyali: Nyali Sun Africa Beach Hotel & Spa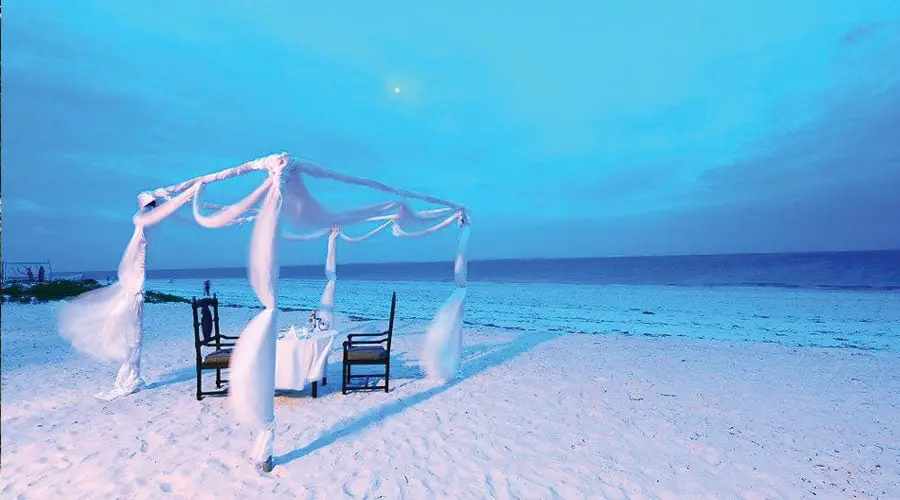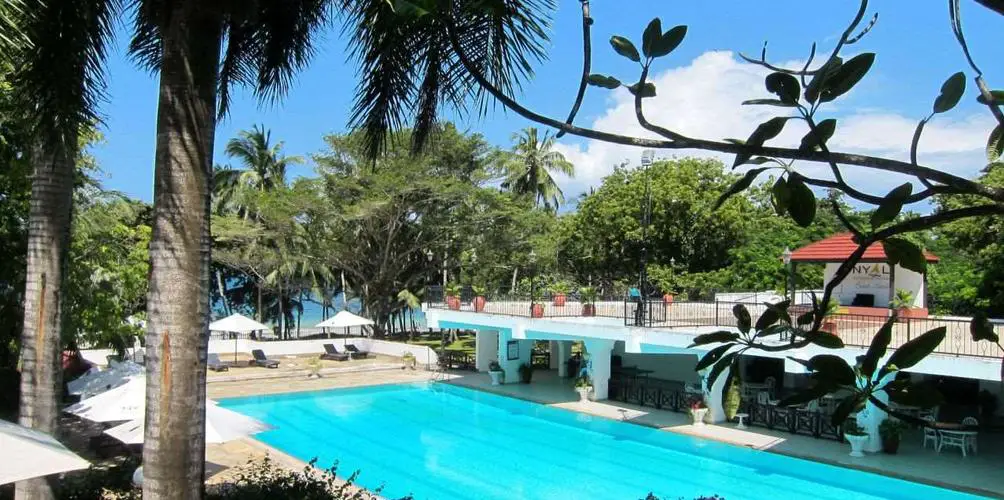 Baobab Holiday Resort — Hotel With a Spa in Mombasa #9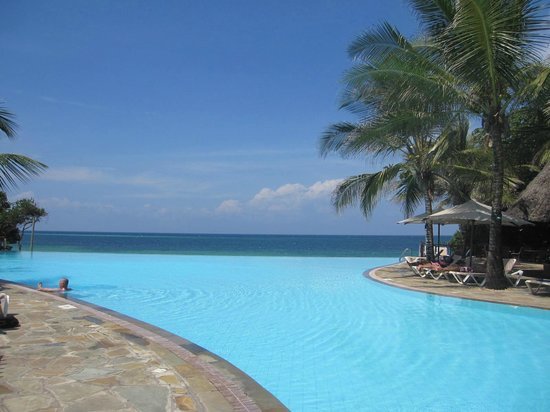 Luxury Body Spa Kenya
Luxury Body Spa is a Kenyan based body spa that specializes in using non-Invasive lipo treatment and body contouring procedures (Cool Sculpting technology) to freeze and destroy fat cells with radiofrequency technology which kills fat cells & reduces unwanted fat bulges.
Luxury Body Spa does not accept walk-in clients, so if you want to use their services, you have to call and book an appointment. Their telephone number is +254-705-090148.
Best Spas in Kenya
If you are interested in spas, other than the ones mentioned here so far, here are 4 more of the best spas in Kenya:
Entim Sidai Sanctuary and Wellness Spa in Karen, Nairobi
Aromatics Spa in Lavington, Nairobi
Serenity Spa in Gigiri & Kitisuru, Nairobi
Ayush Holistic Center in Parklands, Nairobi
Luxury Hotels in Mombasa
If you are wondering what the best luxury hotels in Mombasa are, here are the 5 best (several of these I have already mentioned in this post):
Armaan Suites & Restaurant
The Planet Apartments
Luxury Spa Nairobi
If you are looking specifically for a luxury spa in Nairobi, try Kempinski The Spa at the Villa Rosa Kempinski Nairobi.
Mombasa Massage Sanctuary Point
Mombasa Massage is an East African massage service in Sanctuary Point, New South Wales, Australia.
To find out more about the massage services that Momba Massage provides, click here.
---
Will you be travelling somewhere in (East) Africa soon and are wondering where to stay while you are there?
Well, that's something my readers ask me about often, so I thought I'd put together a resource page for anyone who might be interested.
The recommendations on this page fulfill two requirements: 1) I have been to each of these places myself, and 2) they each have an average user rating of at least 8.0, or "Very Good", on Booking.com (no need to take  just my word for it!)
The establishments listed under each city or town are ordered in a sort of value-for-money ranking, with the high-end options that offer the best value for money at the top of the list and the less expensive establishments that offer good value—or more high-end ones that don't quite offer as much value—at the bottom.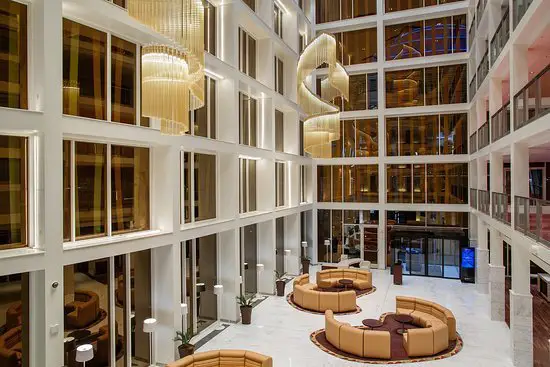 I will continue to add more recommendations as I discover other great places across the region.
If you would like to find out more about each establishment, simply click on its name to be redirected either to a page on my blog that will tell/show you more about it, or a page off my blog where you'll not only be able to learn more about the establishment but also make a booking there.
Can't Find What You Are Looking For?
If you don't find what you are looking for among these recommendations, please feel free to send me an email at [email protected].
It would be my pleasure to help you find something better suited to you.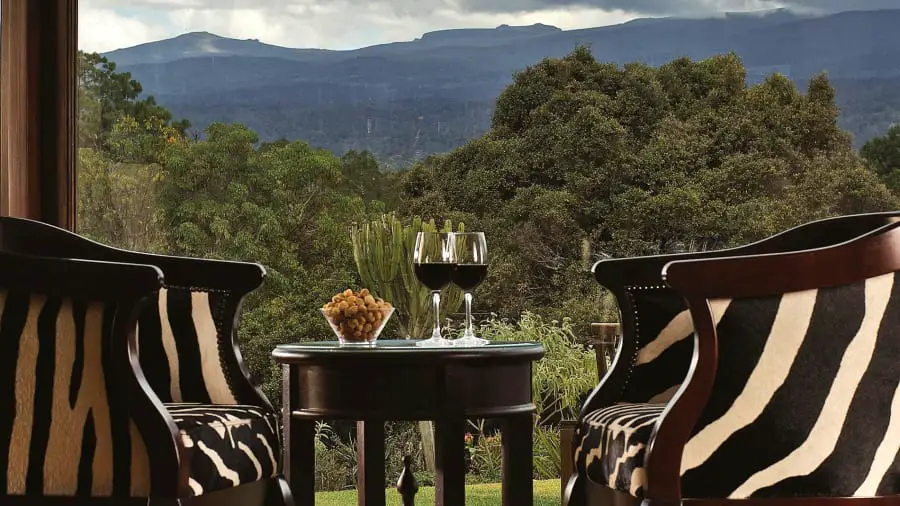 If you do end up staying at any of these establishments, please let me know what you thought in a comment below. (If you have other establishments that you would like to recommend to me and others, also please let me know by leaving a comment below.)
I hope you find my recommendations useful.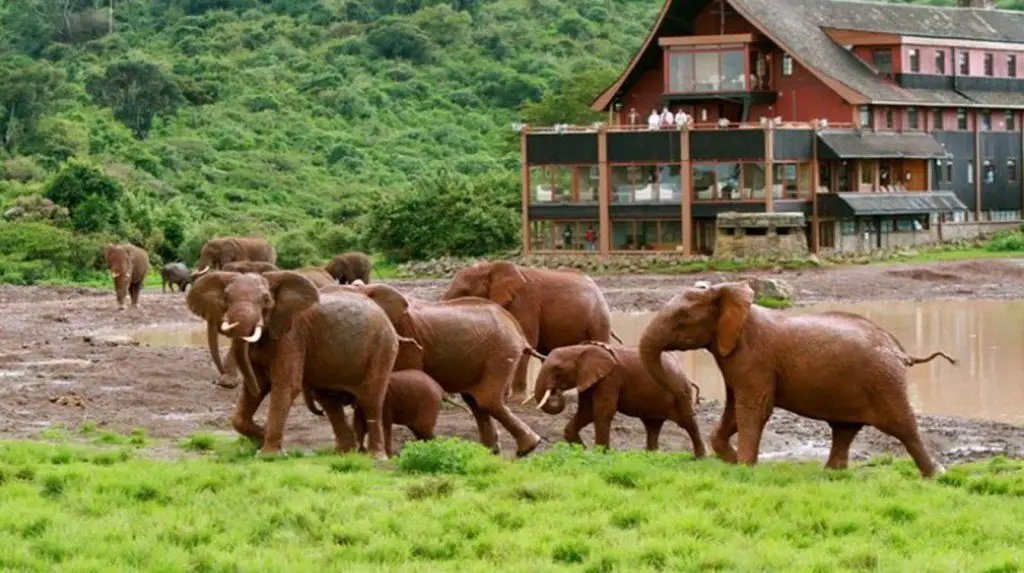 UPDATE: Ever since I first wrote this guide, I have developed individual pages dedicated to hotels in particular cities and moved my recommendations to those pages. I have therefore edited the links in the table of contents below to link to those pages.
Table of Contents
Botswana
Kenya
South Africa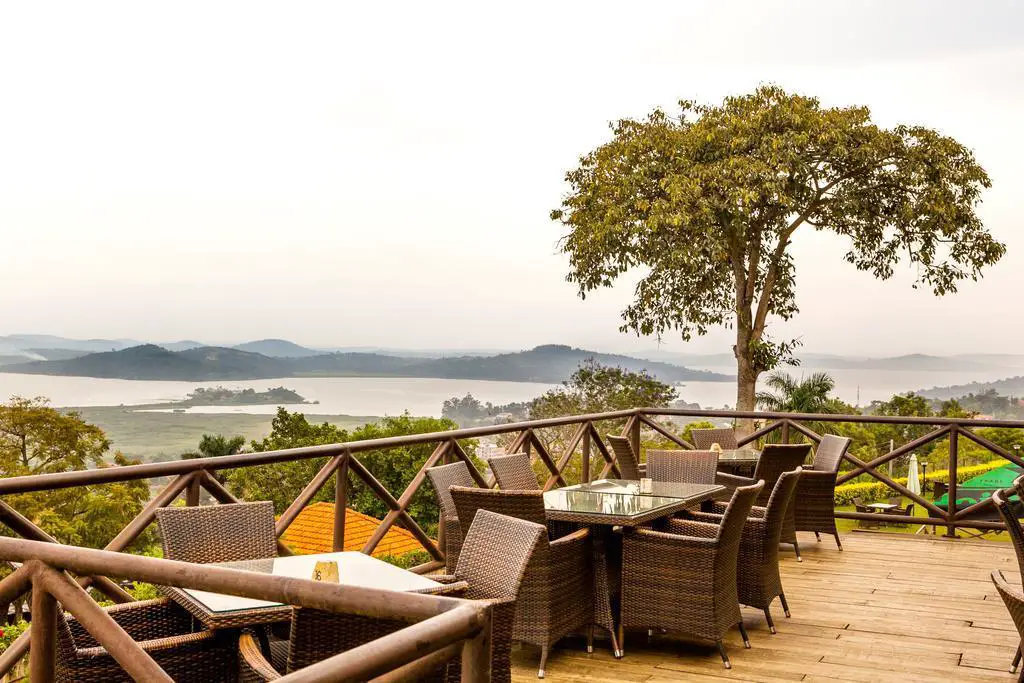 With no further ado, here are great places to stay when you are in….
Côte d'Ivoire (Ivory Coast)
Hotels in Abidjan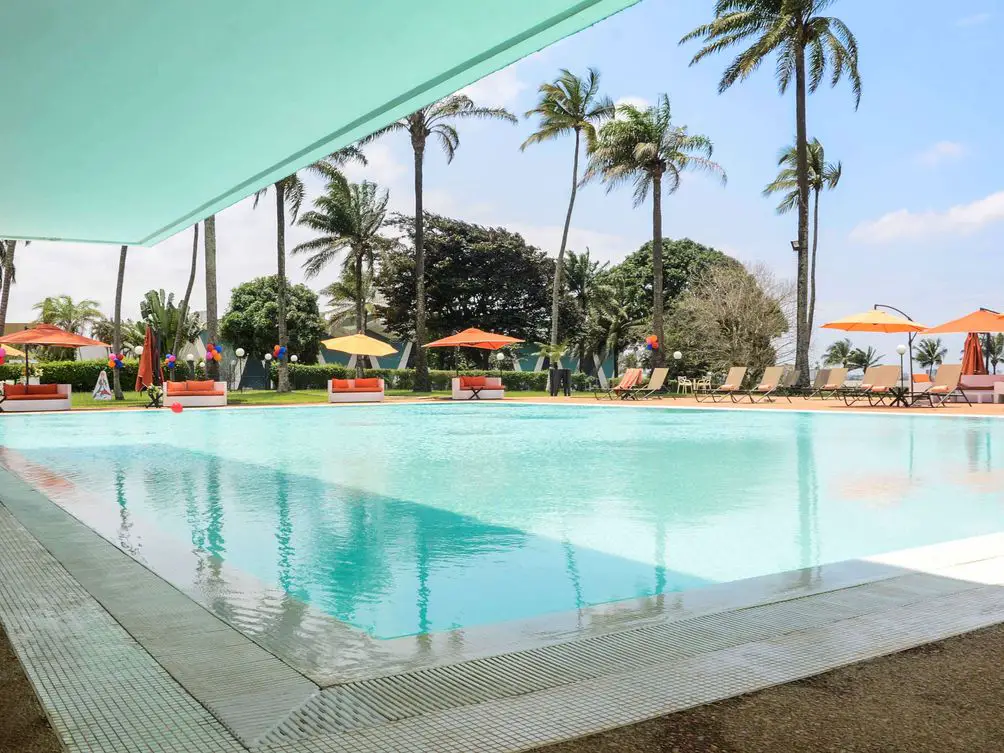 Sofitel Abidjan Hôtel Ivoire – Historically one of the best hotels in Abidjan, Hôtel Ivoire has been renovated relatively recently. The hotel overlooks the Ebrié Lagoon, has beautiful water features, a choice of bars and eateries, and stunning views of downtown Abidjan.
Hotel Tiama – Good business hotel in the center of downtown Abidjan
Ethiopia
Addis Ababa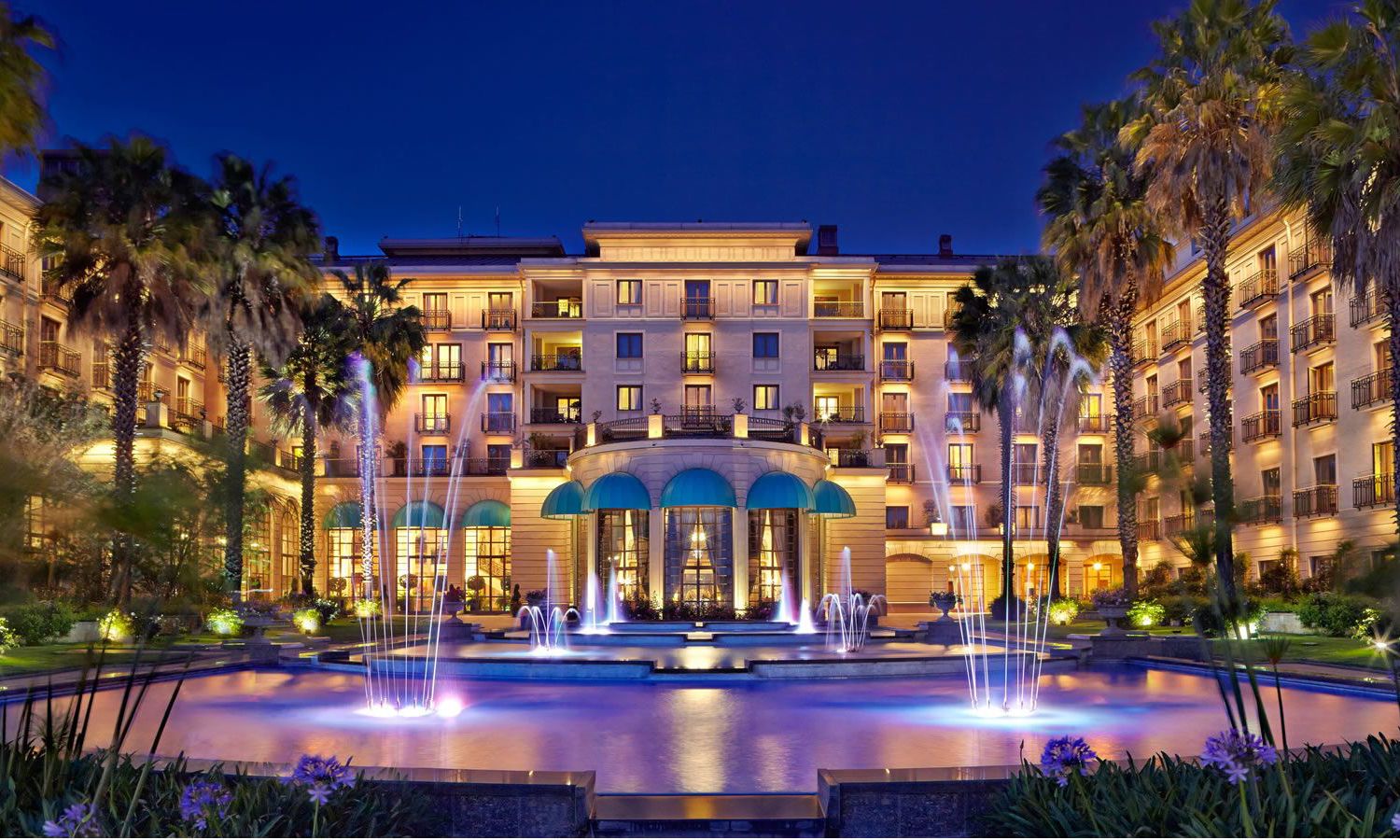 Sheraton Addis – A beautiful grand hotel in the heart of Addis Ababa
Rwanda
Karongi (Kibuye)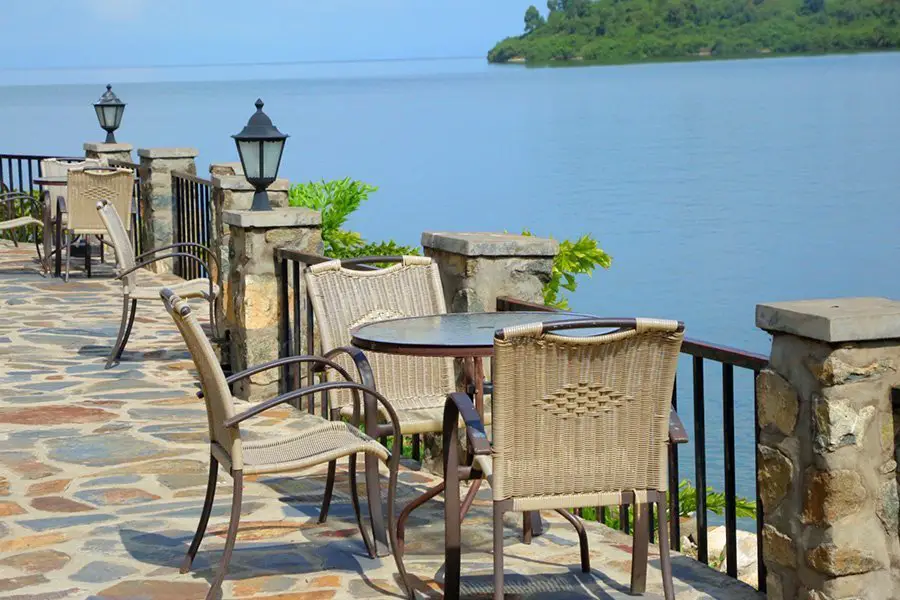 Moriah Hill Resort – One doesn't normally think of beautiful water experiences when they think of Rwanda—especially that it is landlocked—but Lake Kivu, in Western Rwanda, is one of the most beautiful bodies of water I have ever seen. Karongi/Kibuye (new name/old name), an easy 3-hour drive from Kigali, is one town from which you can enjoy Lake Kivu. Moriah Hill Resort, on the shores of Lake Kivu, is one of the best properties in the area. From there, you can arrange excursions to tour the lake by boat or simply enjoy lake views from the privacy of your room.
Musanze (Ruhengeri)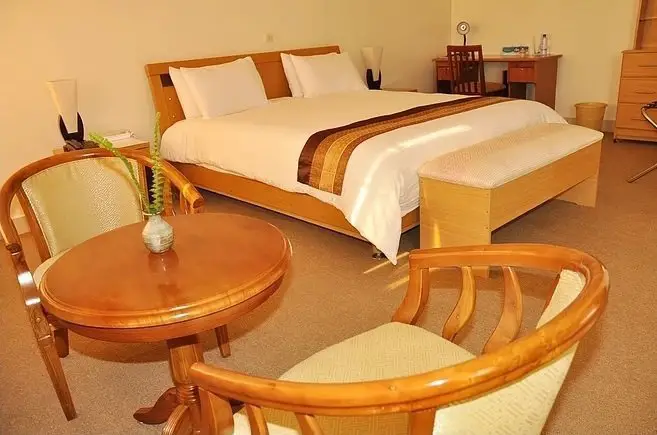 Virunga Hotel – If you are in beautiful Musanze/Ruhengeri (new name/old name), chances are you are on your way to Volcanoes National Park to see Rwanda's famous gorillas. That's sort of what took me there. Virunga Hotel is a good hotel in Musanze town. It's neat and clean. The beds are comfortable. The bathrooms have nice hot water. The Wi-Fi's great. The food is good and, above all, the service is very friendly.
Tanzania
Bukoba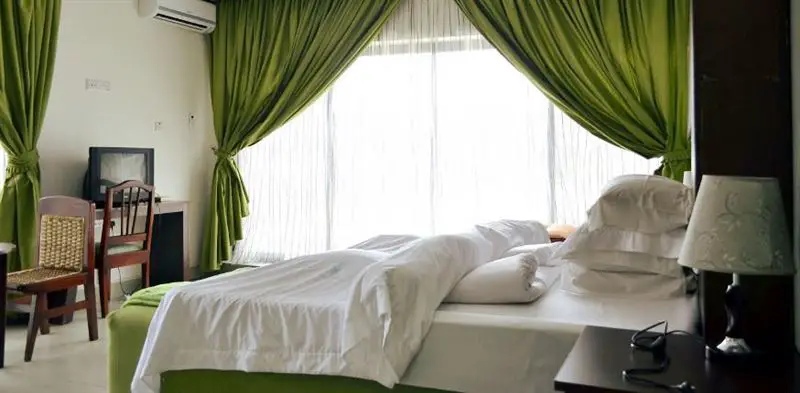 The Walkgard Transit Hotel – If you will soon be visiting my hometown Bukoba, then a reliable place to stay is The Walkgard Transit Hotel. An easy walking distance from many parts of town, including the main bus stand, which is a 10-minute walk away, The Walkgard Transit Hotel, has spacious clean rooms, beautiful outdoor spaces, and good food (though that may take a while to come). The Walkgard Transit Hotel can help you organize tourist activities in and around Bukoba.
Bunda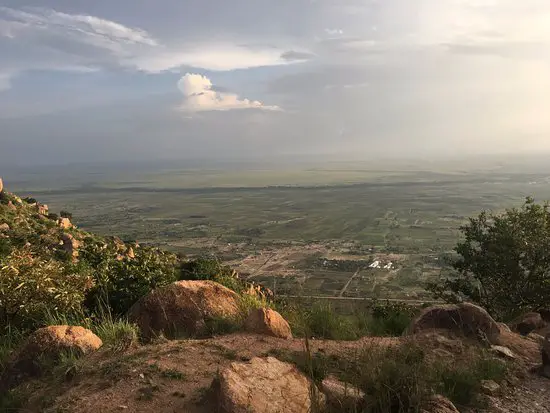 Balili Mountain Resort – You are probably wondering where in the world Bunda is and why you would want an accommodation recommendation for it, so let me start there: Bunda is a small town about a two-and-a-half hour drive from Mwanza, but more importantly, Bunda is a 20-minute drive from the Ndabaka Gate of the Serengeti's Western Corridor. Balili Mountain Resort is one for adventure lovers! It lies at the top of Balili Mountain in Bunda. You can hike up and down the mountain, but you can also drive there (warning: the drive is scary but safe!). Once there, you will see beautiful views of the Serengeti, Bunda town, and Lake Victoria. If you hike to the viewpoint at the very top of the mountain, you'll see a 360° view that is one of the most beautiful I have seen in Tanzania. The accommodation at the resort itself, is simple but very clean. The staff at Balili Mountain Resort have a great passion for their establishment and go out of their way to make sure their guests have a great time.
Hotels in Lake Manyara National Park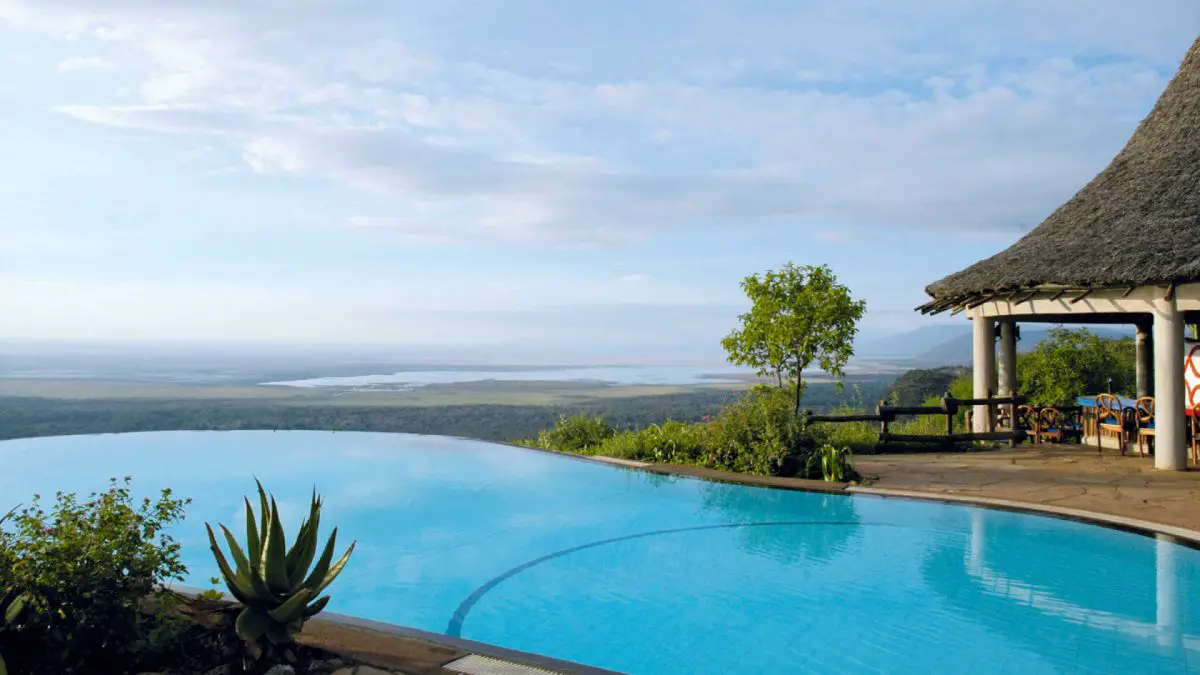 Lake Manyara Serena Safari Lodge – You may recognize the "vanishing horizon" swimming pool of Lake Manyara Serena Safari Lodge from Instagram— it's one of those Instagram-worthy places—and that is probably one of the things that would take you there: the stunning vistas seen from this lodge. When you are visiting Tanzania's northern tourism circuit—Lake Manyara National Park & Ngorongoro Crater/Conservation Area to be precise—Lake Manyara Serena Safari Lodge is a splurge option. And oh, what a breathtaking splurge it is!
Lushoto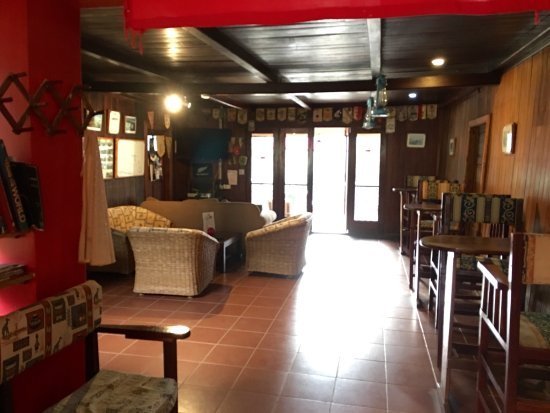 Lawns Hotel – If you are planning a trip to the beautiful mountainous district of Lushoto, and want to stay in Lushoto town, then a place I recommend is the Lawns Hotel, which is over a 100 years old and has been owned and run by a Cypriot-Tanzanian family for three generations. The hotel's early 20th-century architecture is charming; the views of the Usambara Mountains from the hotel are mesmerizing; but, above all, the service from the staff and owner who will stop at nothing to give you what you want while you are a guest of the hotel will be sure to have you leaving the Lawns Hotel with a smile on your face. The Lawns Hotel is also very pocket friendly.
READ ALSO: Lushoto, Tanga, Tanzania
Mikumi Hotels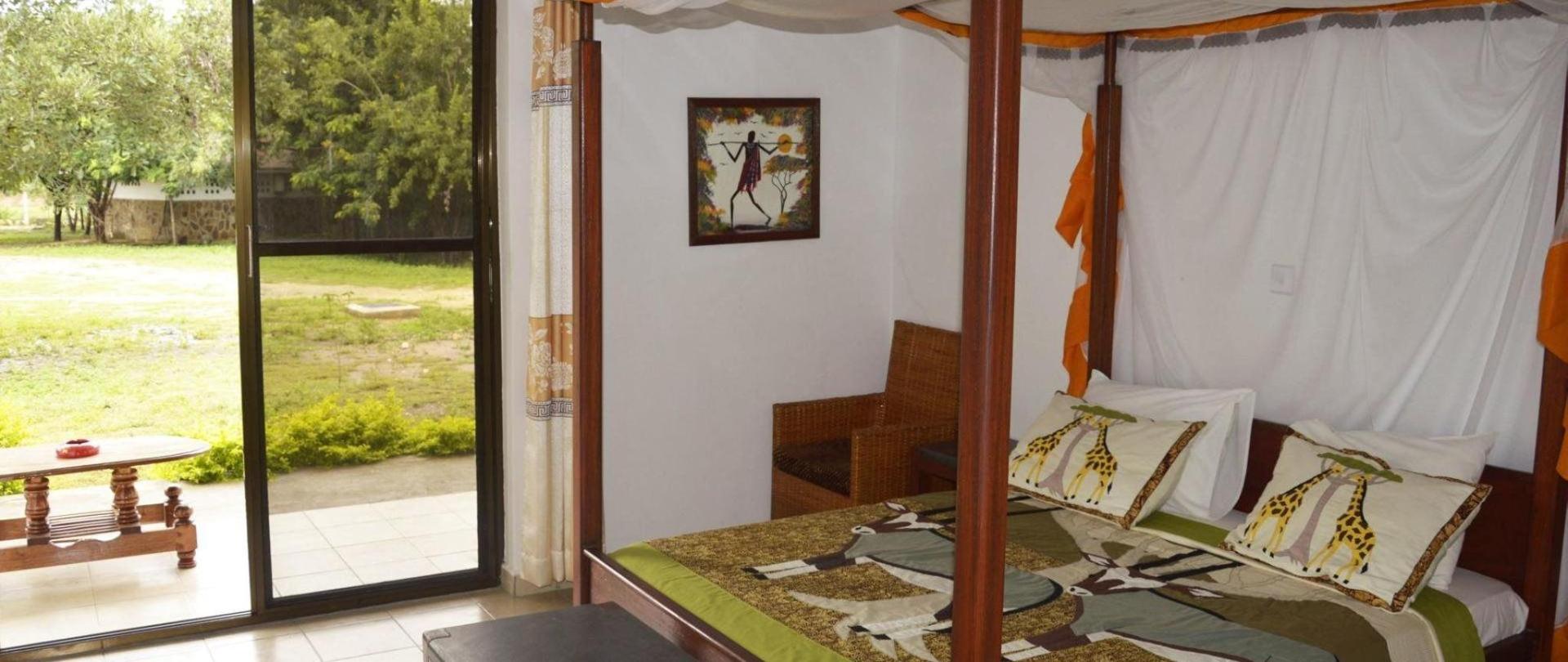 Tan-Swiss Lodge –  If you are headed to Mikumi National Park and are looking for fairly priced accommodation right outside the park, then one place you should consider is Tan-Swiss Lodge. I wrote about Tan-Swiss Lodge extensively here, but to give you some highlights: Tan-Swiss Lodge is neat, clean, and colorful. It is well-priced, with spacious rooms, good bathrooms, a kids' play area, and a big swimming pool. It's very close to the entrance of Mikumi National Park, and serves unexpectedly good food. For more details, click here.
Morogoro Hotels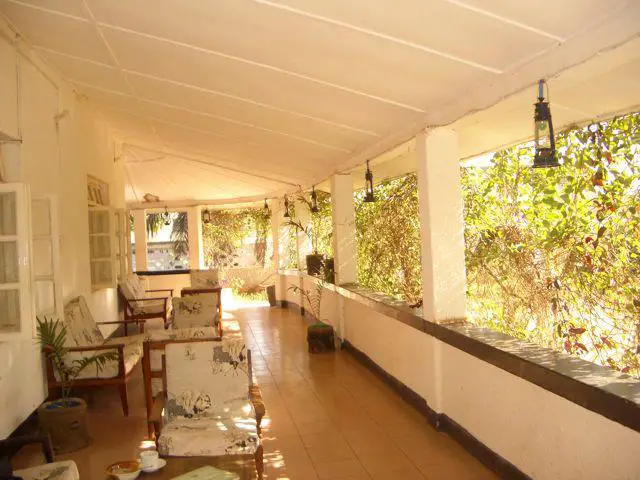 Mama Pierina Restaurant and Annex – If you are headed to Morogoro, and are looking for an easy, inexpensive laid back place (think: backpackers or hostel style), then the charming, quaint Mama Pierina Restaurant and Annex is a place to consider. The owner and staff are very friendly. The food is unexpectedly-for-Morogoro delicious. Mama Pierina Restaurant and Annex is in the compound of a converted home and feels very safe.
READ ALSO: Rock Garden, Morogoro (Things to Do in Morogoro Town)
Photo Credits: Haute Grandeur, Flamingo by PrideInn, Orbitz, Sarova Whitesands Beach Resort & Spa, Agoda, TripAdvisor, TiCATi, MarketPlace by DPO,  SOMAK Luxury Travel, Dana Safaris, Timbuktu Travel, Kayak, Airline Staff Rates, ROOMS DIVISION By Onyx Wagumba K'Obonyo, Flexible Tours & Car Hire, HotelsCombined, TripAdvisor, HospitalityNet, TripAdvisor, CNN Travel, Innov8tiv, Kayak, Philippine Tatler, OnlyOne Africa, Virunga Hotel, BeachAndCity.com, TripAdvisor, Bravo Expedition & Safaris, TripAdvisor, Tan-Swiss Lodge.