Update (January 12, 2016): Groovy Cup and Funkys are no longer open for business.
READ ALSO: Uber Launches in Dar es Salaam, Tanzania & Uber, the Holiday Season, and Dynamic Pricing
Groovy Cup
Funkys
Plot 1397 Mwayo Street (click to see map)
Masaki, Dar es Salaam
Open every day 10.30 a.m.–9.30 p.m.
Tel: +255 784 786 688 · Email: groovycup@gmail.com
I don't have any children…which is why when I first noticed Funkys in Masaki (despite its looking very interesting), I knew I'd probably never visit it much. Then one day, I received an email from a reader telling me about her café, Groovy Cup, located within Funkys.
The flyer she sent me in her email was, well…groovy (for lack of a better word :-)), and that's how I found myself at Groovy Cup, for the first time, the following Friday for a late lunch.
Funkys is an impressive complex with lots of outdoor/sports activities for kids and adults alike. Walking through Funkys for the first time set the tone for my expectations of Groovy Cup. When I finally reached the café, I spent a moment looking at its colorful front wall with its coffee-related quotes, e.g., "Everybody should believe in something. I believe I'll have another coffee." I didn't stay outside long before a waiter came to welcome me inside.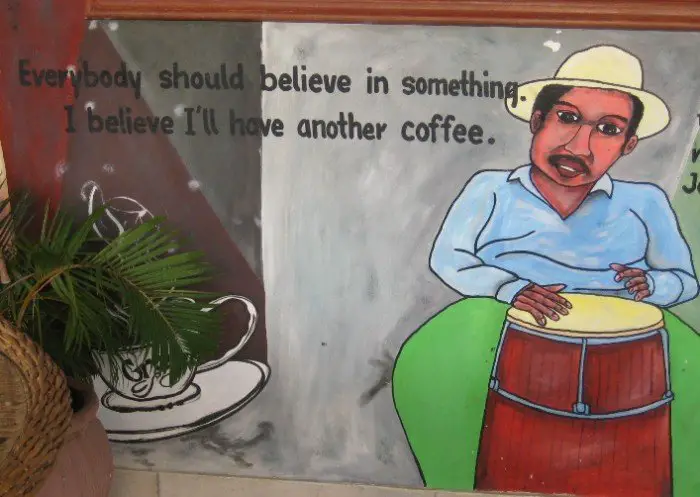 Stepping into the café was a delight. I loved its bright orange walls and the delicious-looking confections on display. The staff greeted me cheerfully as I scanned the chalkboard menu on the wall behind the counter. There were books strewn on the tables, and I noticed a round hole-in-the-wall bookshelf, which I later discovered was full of great titles. Humorous placards on sale had me smiling to myself as I went in search of a place to sit.
As soon as I sat down, a waiter brought me a menu and waited to take my order. Because I wasn't too hungry, I settled for the Zesty Feta, Prawn, and Chicken Salad (TSh. 10,000), which was surprisingly hearty and as delicious as its name sounds. To drink, I ordered a Lemon Iced Tea (TSh. 3,000), which came in a glass filled to the brim with ice (just the way I like it!) and was most refreshing after I'd been in the sweltering midday heat of Dar es Salaam. To end my meal, I ordered a Brownie (TSh. 3,000), which I was told had been baked earlier that day that turned out to be the perfect chocolate fix for my sweet tooth.
READ ALSO: The Hidden Gem That Is Tarangire National Park
I have been to Groovy Cup again a couple of times since that first day and have tried a number of other things on its menu (click here for the complete menu). My favorite offering to date are the Crepes with Chocolate Sauce (TSh. 7,500), which remind me of the ones I used to eat every Saturday morning as a child growing up in Abidjan. Luckily, Groovy Cup serves breakfast all day, so I can enjoy these crepes whenever I visit the café, not only in the morning.
For those of you who like to read or work at cafés, you'll be pleased to know that Groovy Cup offers free wireless internet to all its customers. The books on the tables and the bookshelf that I mentioned earlier? Well, those are not only for customers to read while at Groovy Cup but can also be borrowed as part of a free book exchange program run by the café.
If you are in the mood for something on the Groovy Cup menu but can't make it to the café in person, don't worry: Groovy Cup delivers within Masaki, Msasani, and Oysterbay. For deliveries, call +255 784 786 688.
As I said at the start of this post, I don't have any children. It's therefore not natural for me to notice places that would be enjoyable for both adults and kids alike. Still, even I can't help but notice that Groovy Cup (and Funkys) would make for an excellent family outing: the adults could enjoy the cozy, perfectly air-conditioned ambiance of the café inside while the children play outside and enjoy some of the activities that Funkys has to offer.
READ ALSO: 6 Tips for Taking Care of Your Natural Hair
But…I think I've said enough. All that's left is for you to visit Groovy Cup for yourself and tell me what you think. As always, I look forward to hearing what you have to say!
Until the next time,
Biche
P.S. If you haven't yet done so, subscribe to this blog to be alerted whenever I publish a new post.
This post was sponsored by Groovy Cup. To find out more about sponsoring a review of your establishment, product, service or event, visit my Advertise page.

READ ALSO: Celebrating the Life & Music of Uganda's Mowzey Radio
Photo Credits: Mama J2 Blog