This post was originally about how I discovered different types of Bacardi rum, namely Bacardi dark rum, Bacardi Black, and Bacardi Gold.
I've since reorganized it to include a lot more information about Bacardi rums and rum in general, for instance information about gold rum vs dark rum, e.g., Bacardi Black rum vs Gold.
Let's start with Bacardi Black, Bacardi dark rum.
Bacardi Black, i.e, Bacardi Dark Rum
According to Bacardi's website, Bacardi Black is…
"the flavorful, premium and elegant face of Bacardi. With a smooth and rich taste, Bacardi Black…[appeals] to more mature, stylish and sensual consumers…[Its] distinctive dark appearance and rich body makes it especially suitable for nighttime consumption in bars and clubs by those who enjoy partying until the early hours."
More factually (and less market-y)…Bacardi Black is one of the richest spirits produced by Bacardi.
Bacardi Black, Bacardi dark rum, first begins as a blend of select rums which then undergoes ageing for periods up to four years.
Charcoal-filtered for smoothness before mellowing in oak barrels, this rum retains the rich flavor and full body of the original blend without any harshness in taste.
According to its makers, the flavors of Bacardi dark rum, Bacardi Black, are of sweet, tropical fruit, buttery caramel and vanilla notes that then give way to a smoky liquorice and molasses finish.
Bacardi recommends that Bacardi dark rum be drunk as a shot or with intensely flavored mixers such as coffee liqueur.
Personally, I love my Bacardi Black with Coke and lime, or with tropical fruit juice.
But…let's stick with the coffee liqueur suggestion for a minute.
As an example, Bacardi recommends a cocktail called The Nocturno.
Here's the recipe:
Nocturno Cocktail Recipe
Ingredients
2 parts Bacardi Select (or Bacardi Black) Rum
1 part coffee liqueur
Orange peel
Directions
Fill a tumbler glass with ice cubes and pour in the coffee liqueur.
Slowly pour in the Bacardi dark rum and stir briefly.
Cut a round "coin" of orange peel and hold a lit match just above the drink.
Hold the orange peel (colored side down) above the lit match, and squeeze the peel over the flame.
Finish up by dropping the twist into the drink.
That's it: drink and enjoy!
What Is Bacardi?
Bacardi is a West Indian rum originally produced in Cuba.
First sold commercially in 1862, by 2014, Bacardi was the best-selling rum in the world (it has since lost and regained this position several times in the past few years).
Bacardi Limited, the company that produces Bacardi rum, is the largest privately held, family-owned spirits company in the world.
Originally known for Bacardi white rum, which was innovative in its use of charcoal as a filtering agent and was arguably the first clear, white rum in the world, Bacardi Limited now has a portfolio of more than 200 brands and labels, including Havana Club rum (in the US), Grey Goose vodka, Patrón tequila, Bombay Sapphire gin, Dewar's Scotch whiskey, Martini & Rossi vermouth, and Martini Prosecco (a sparkling wine that I love!).
READ ALSO: Konyagi & 3 Other East African Spirits That Pack a Punch
What is Bacardi Gold?
Bacardi also makes a gold (or amber rum) called Bacardi Gold.
According to the Bacardi website, Bacardi Gold is a…
distinctive, smooth, and mellow golden rum that delivers subtle flavor and classic Bacardi quality. It is the perfect Bacardi rum for those who enjoy the relaxed, good fun, and fine times that being with friends is all about.
Again, steering clear of the marketing messages and sticking to the facts, Bacardi Gold is a rum made with the same blend of light spirits as Bacardi white rum, but that is aged for up to two years and is not filtered again after its time in oak casks. The result is a smooth, amber-colored rum with a fuller body and a pleasing wood flavor.
Comparing Bacardi Black and Bacardi Gold, from the information in the sections above, you can see that Bacardi Black goes through the aging process for four years while Bacardi Gold goes through aging for only two.
Types of Bacardi Rum
Bacardi makes many more rums than the ones I have mentioned in this post so far.
Here is an extensive list of Bacardi rums: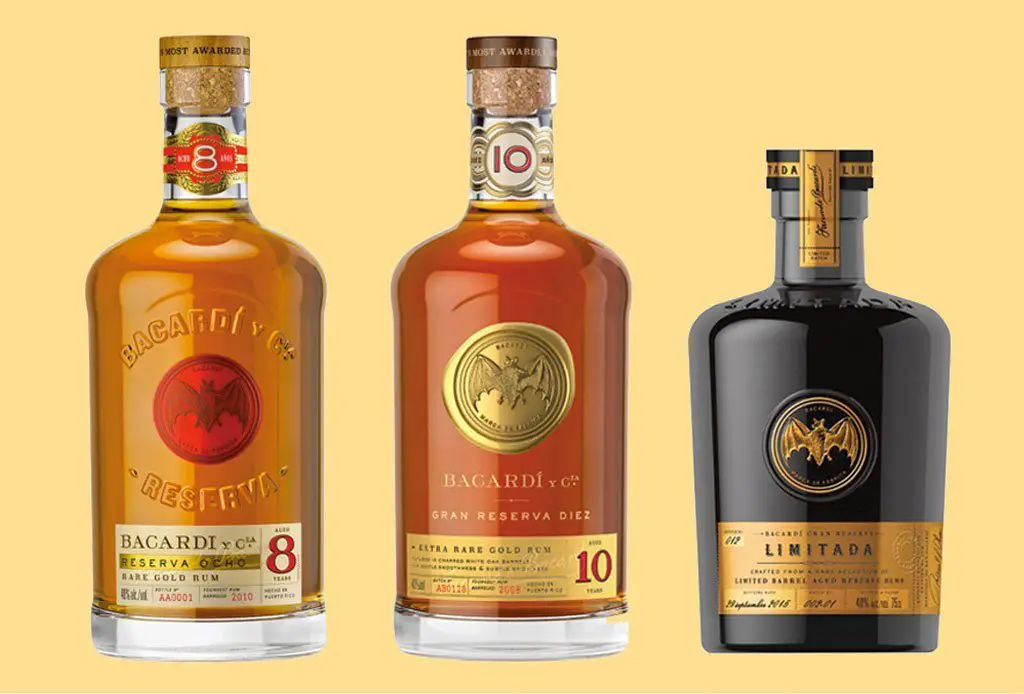 Bacardi Black Rum vs White
In case you are wondering what the difference between white rum and dark rum is, here are 5 important ways in which these two types of rum differ:
White rum is aged in stainless steel barrels, while dark rum is aged in charred oak barrels.
The ageing process is shorter for white rum than for dark rum.
Dark rum has a stronger taste and stronger overtones than white rum.
Caramel may be added to darken rum, while filtering is often used to make rum lighter, as in the case of white rum.
Dark rum is more often drunk straight and used for cooking, while white rum is often used in cocktails and mixed drinks.
Gold Rum vs Dark Rum (e.g., Bacardi Black vs Gold)
To understand the difference between these two types of rum, let's look at each of these rums individually.
Gold Rum vs Dark Rum: What is Gold Rum?
Gold rum, also known as amber rum, is a medium-bodied rum which has usually undergone aging.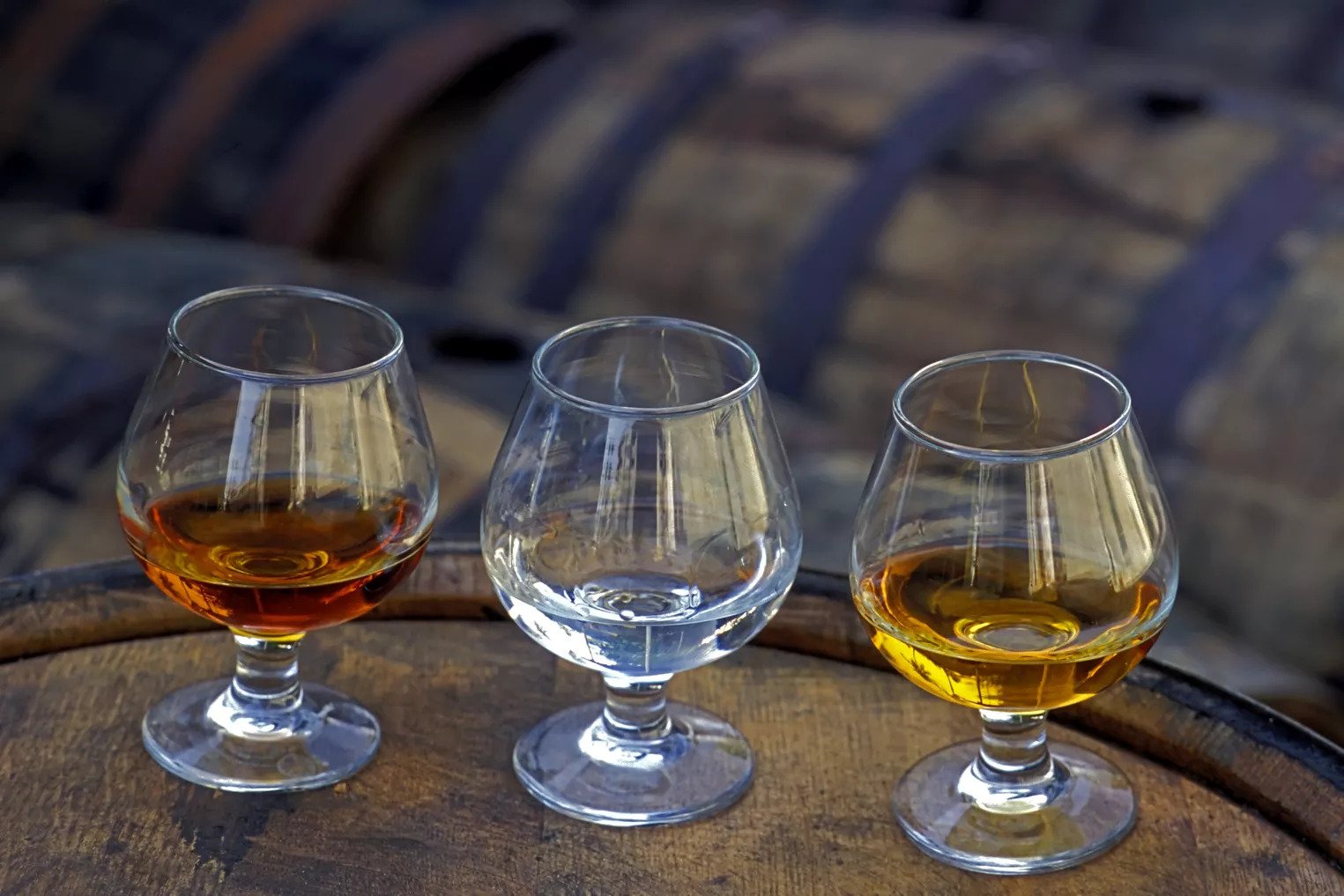 These rums gain their dark color from aging in wooden barrels (usually the charred, white oak barrels that are the byproduct of Bourbon whiskey production).
They have more flavor and are stronger-tasting than white rum.
Gold rums can be thought of as being halfway between white rum and dark rum.
Gold Rum vs Dark Rum: What Is Dark Rum?
Dark rum, also known as black rum, undergoes aging longer than any other type of rum.
The extended time it spends in wooden casks gives it a dark color and deep, smoky-sweet flavor.
The most common brands of dark rum are Gosling's Black Seal Rum, the iconic spirit in a Dark & Stormy, and Myer's Dark Rum (one of my favorites!), used in many tiki drinks.
Bacardi Gold vs Superior (i.e., Gold Rum vs White Rum)
What Is Bacardi Superior?
Bacardi first gained its fame from the white rum it produces: the very popular Bacardi Superior.
The Bacardi website has this to say about Bacardi Superior:
…classic Bacardi rum, the soul of the Bacardi brand—youthful, high-quality, sociable, sensual and passionate…[it] is the main bearer of Bacardi's authenticity, origin and craft; it has carried the Bacardi Bat Device as its symbol since 1862. Its personality is that of the Latin Caribbean…which provides the Brand with a unique point of view on life.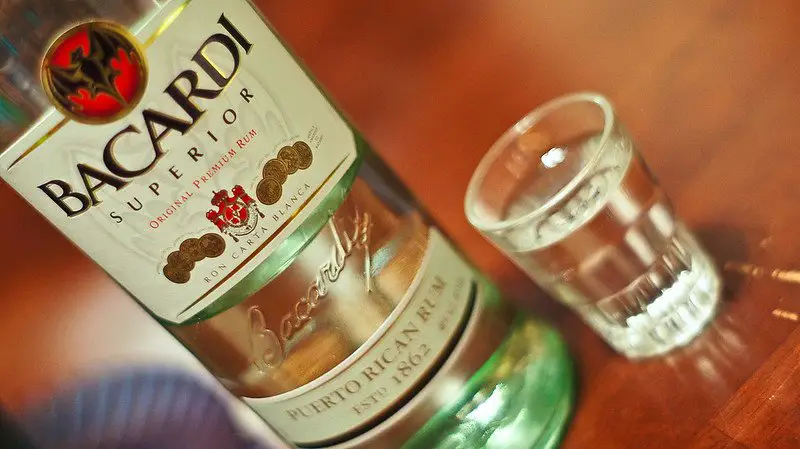 In terms of how it is made, Bacardi Superior, is blended, charcoal-filtered, aged for at least one year, then charcoal-filtered again to produce a subtle, delicate rum that is clear in color, light in body and dry in flavor.
Spelled out succinctly, here are some similarities and differences between Bacardi Gold and Bacardi Superior that go beyond their very obvious difference in color:
Bacardi Gold and Bacardi Superior start off as the same blend of light spirits.
Both these rums then undergo filtering and ageing.
Bacardi Superior undergoes ageing for only one year while Bacardi Gold does so for twice that amount of time: up to 2 years.
After aging, Bacardi Superior undergoes filtering again while Bacardi Gold does not.
Best Bacardi Rum
So what is the best Bacardi rum?
Hmmm…that's a bit difficult to answer.
Aged for 17 years, Bacardí Gran Reserva Limitada, is the rarest and most luxurious Bacardi rum. On each bottle of this rum, you will find its blending batch, bottling date, and bottle number in order to capture the specific moment that it achieved blending perfection.
Although Bacardí Gran Reserva Limitada is technically the best Bacardi rum, its price tag is prohibitive to the average consumer. More affordably, a very good Bacardi sipping rum is Bacardí Reserva Ocho. Bacardì Reserva Ocho is a gold rum that goes through the aging process for 8 years.
For everyday usage, Bacardi Superior is ideal for mixing into cocktails where you don't want an overpowering rum taste and would prefer a lighter flavor, such as in piña coladas or mojitos.
Which do you think is the best Bacardi rum? Please let me know in a comment below!
Is Bacardi Gold Dark Rum?
No, Bacardi Gold is not dark rum but rather gold rum.
Bacardi Black vs Gold vs Superior: A Summary
Clearly, the distinguishing factors between Bacardi white, Bacardi dark rum, and Bacardi Gold are 1) how long they are aged, 2) what they are aged in, and 3) whether or not they are filtered again after aging.
Bacardi white rum is aged less than Bacardi gold rum, which in turn is aged less than Bacardi dark rum.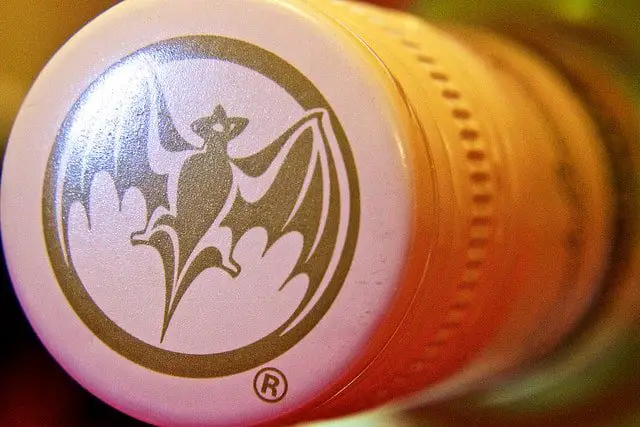 Since age is usually an indication of the sophistication of an alcohol, we can also conclude that Bacardi Black is finer than Bacardi Gold, which in turn is finer than Bacardi white.
Looking at my own experience with rum, I now understand why I prefer Myers's Rum to Captain Morgan's Spice Gold to white Bacardi rum.
Image Credits: FoodBev Media,The Spruce Eats, FredPix, iRubén, Paste, Bacardi on LinkedIn, Forbes; The Happening, Dale Moore; Drinks Zone Kenya, Charanjit Chana