This post was originally about how I discovered different types of Bacardi rum, namely Bacardi Black and Bacardi Gold.
I've since reorganized it a bit to include a lot more information about Bacardi rums and rum in general. Let's start with some general information about Bacardi Black.
Bacardi Black
According to Bacardi's website, Bacardi Black is…
"the flavorful, premium and elegant face of Bacardi. With a smooth and rich taste, Bacardi Black…[appeals] to more mature, stylish and sensual consumers…[Its] distinctive dark appearance and rich body makes it especially suitable for nighttime consumption in bars and clubs by those who enjoy partying until the early hours."
More factually (and less market-y)…Bacardi Black is the richest spirit produced by Bacardi.
It is made from a blend of selected rums aged for periods of up to four years.
Charcoal-filtered for smoothness before mellowing in oak barrels, this rum retains the rich flavor and full body of the original blend without any harshness in taste.
According to its makers, the flavors of Bacardi Black are of sweet, tropical fruit, buttery caramel and vanilla notes that then give way to a smoky liquorice and molasses finish.
Bacardi recommends that their dark rum be drunk as a shot or with intensely flavored mixers such as coffee liqueur.
Personally, I love my Bacardi Black with Coke and lime, or with tropical fruit juice.
But…let's stick with the coffee liqueur suggestion for a minute.
As an example, Bacardi recommends a cocktail called The Nocturno.
Here's the recipe:
Nocturno Cocktail Recipe
Ingredients
2 parts Bacardi Select (or Bacardi Black) Rum
1 part coffee liqueur
Orange peel
Directions
Fill a tumbler glass with ice cubes and pour in the coffee liqueur.
Slowly pour in the Bacardi dark rum and stir briefly.
Cut a round "coin" of orange peel and hold a lit match just above the drink.
Hold the orange peel (colored side down) above the lit match, and squeeze the peel over the flame.
Finish up by dropping the twist into the drink.
That's it: drink and enjoy!
Bacardi Gold vs Superior
Other than Bacardi Black, Bacardi also produces a gold (or amber rum) called Bacardi Gold as well as the very popular white rum, Bacardi Superior.
According to the Bacardi website:
Bacardi Gold is a "distinctive, smooth, and mellow golden rum that delivers subtle flavor and classic Bacardi quality. It is the perfect Bacardi rum for those who enjoy the relaxed, good fun, and fine times that being with friends is all about".
Bacardi Carta Blanca (or Bacardi Superior), the white Bacardi rum that is most popular, is "classic Bacardi rum, the soul of the Bacardi brand—youthful, high-quality, sociable, sensual and passionate…[it] is the main bearer of Bacardi's authenticity, origin and craft; it has carried the Bacardi Bat Device as its symbol since 1862. Its personality is that of the Latin Caribbean…which provides the Brand with a unique point of view on life."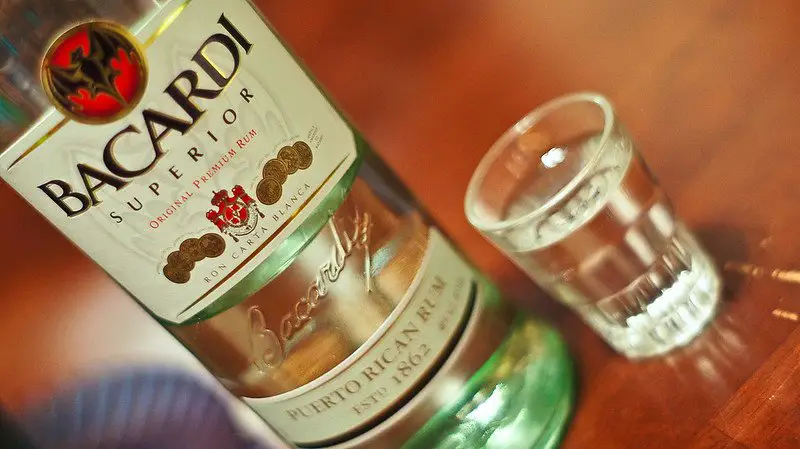 Again, steering clear of the marketing messages, and sticking to the facts…
Bacardi Gold is a rum made with the same blend of light spirits as Bacardi white rum, but that is aged for up to two years and is not filtered again after its time in oak casks. The result is a smooth, amber-colored rum with a fuller body and a pleasing wood flavor.
Bacardi Superior, on the other hand, is blended, charcoal-filtered, aged for at least one year, then charcoal-filtered again to produce a subtle, delicate rum that is clear in color, light in body and dry in flavor.
Bacardi Black vs Gold
From the previous two sections, you already know what Bacardi Black and Bacardi Gold are. Comparing the two, you can see that Bacardi Black is aged for four years, whereas Bacardi Gold is only aged for two.
Difference Between White and Dark Rum (e.g., Bacardi Superior vs. Bacardi Black)
More generally, you might wonder what the difference between white rum and dark rum is.
Here are 5 important ways in which these two types of rum differ:
White rum is aged in stainless steel barrels, while dark rum is aged in charred oak barrels.
The ageing process is shorter for white rum than for dark rum.
Dark rum has a stronger taste and stronger overtones than white rum.
Caramel may be added to darken rum, while filtering is often used to make rum lighter, as in the case of white rum.
Dark rum is more often drunk straight and used for cooking, while white rum is often used in cocktails and mixed drinks.
Types of Bacardi Rum
Bacardi produces many more rums than the ones I have mentioned above.
Here is an extensive list of Bacardi rums (starting with the three I have already discussed in this post):
Bacardi Black (or Bacardí Carta Negra)
Bacardi Gold (or Bacardí Carta Oro)
Bacardi Superior (or Bacardí Carta Blanca)
Bacardi Spiced
Bacardí Reserva Ocho
Bacardí Flavours Range, i.e.,

Bacardí Limón
Bacardí Lime
Bacardí Coconut
Bacardí Dragonberry
Bacardí Pineapple
Bacardí Raspberry
Bacardí Banana

Bacardí Añejo Cuatro
Bacardí Gran Reserva Diez
Bacardí Gran Reserva Limitada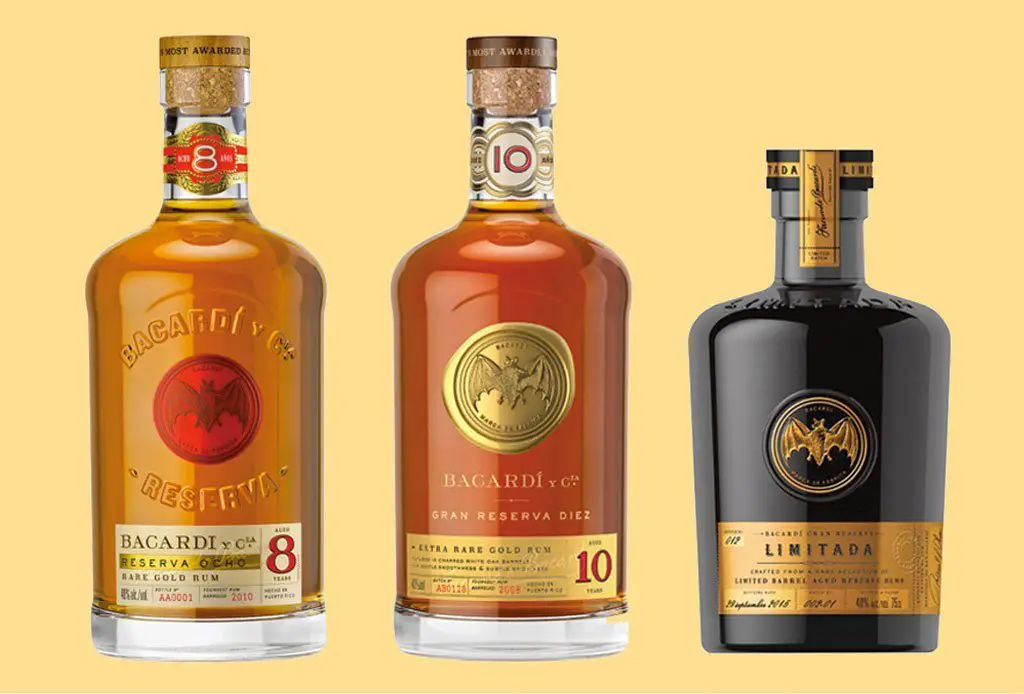 Best Bacardi Rum
So what is the best Bacardi rum?
Hmmm…that's a bit difficult to answer.
Bacardí Gran Reserva Limitada, aged for 17 years, is the rarest and most luxurious Bacardi rum. Each bottle is individually marked with its blending batch, bottling date and bottle number, to capture the specific moment that it achieved blending perfection.
Although Bacardí Gran Reserva Limitada is technically the best Bacardi rum, its price tag is prohibitive to the average consumer. More affordably, a very good Bacardi sipping rum is Bacardí Reserva Ocho. Bacardì Reserva Ocho is a gold rum that has been aged for 8 years.
For everyday usage, Bacardi Superior is ideal for mixing into cocktails where you don't want an overpowering rum taste and would prefer a lighter flavor, such as in piña coladas or mojitos.
Which do you think is the best Bacardi rum? Please let me know in a comment below!
Gold Rum vs Dark Rum
Gold rum, also known as amber rum, is a medium-bodied rum which has usually undergone aging.
These rums gain their dark color from aging in wooden barrels (usually the charred, white oak barrels that are the byproduct of Bourbon whiskey production).
They have more flavor and are stronger-tasting than white rum.
Gold rums can be thought of as being halfway between white rum and dark rum.
Bacardi Gold vs Superior vs Bacardi Black: A Summary
Clearly, the distinguishing factor between Bacardi white, Bacardi dark rum, and Bacardi Gold is how long they are aged.
Bacardi white rum is aged less than Bacardi gold rum, which in turn is aged less than Bacardi dark rum.
Since age is usually an indication of the sophistication of an alcohol, we can also conclude that Bacardi Black is finer than Bacardi Gold, which in turn is finer than Bacardi white.
Looking at my own experience with rum, I now understand why I prefer Myers's Rum to Captain Morgan's Spice Gold to white Bacardi rum.
What Is Bacardi?
Bacardi is a West Indian rum originally produced in Cuba.
First sold commercially in 1862, by 2014, Bacardi was the best-selling rum in the world (it has since lost and regained this position several times in the past few years).
Bacardi Limited, the company that produces Bacardi rum, is the largest privately held, family-owned spirits company in the world.
Originally known for Bacardi white rum, which was innovative in its use of charcoal as a filtering agent and was arguably the first clear, white rum in the world, Bacardi Limited now has a portfolio of more than 200 brands and labels, including Havana Club rum (in the US), Grey Goose vodka, Patrón tequila, Bombay Sapphire gin, Dewar's Scotch whiskey, Martini & Rossi vermouth, and Martini Prosecco (a sparkling wine that I love!).
Interesting Bacardi-Related Tours Around the World
Visit Casa Bacardí in Sitges, Spain
If ever you are in Sitges, Spain, a town located 30 minutes outside Barcelona, famous for being the birthplace of Don Facundo Bacardi Masso, the founder of the Bacardi brand, you can visit Casa Bacardi, a space dedicated to the history of Bacardi rum and to rum-based mixology.
Click here for a tour starting from Barcelona that includes a visit to Casa Bacardí in Sitges.
Learn About Bacardi Black vs Gold & Rum Making in General at the Bacardi Distillery in Santiago de Cuba
Although Don Facundo was originally from Spain, he only started to experiment with the distillation of rum once he emigrated to Cuba.
If ever you find yourself in Santiago de Cuba, Cuba's second-largest city, you can visit the Bacardi distillery there and learn not only about the Bacardi family history but also about the ins-and-outs of making rum.
Click here for a popular Santiago tour that includes a visit to the Bacardi distillery.
Ok, now let's move on to my original post…:-)
---
When I say 'Bacardi rum', what image comes to mind?
If you are like I was until very recently, you pictured a bottle of clear liquid with the words Bacardi emblazoned across it.
Is that what you visualized?
Well, you wouldn't be very wrong if you also envisioned a bottle of dark Bacardi rum or one with a light gold-colored liquid.
What?! Yes. Let me tell you a bit more.
Discovering Bacardi Black
Until very recently, my drink of choice was a Myers's Rum with ginger ale.
Four months ago found me in Dar es Salaam, the city of my birth, at the Protea Hotel.
---
(If you will be travelling soon, you can find great flight and hotel deals online. Simply enter your desired travel route and dates below, and check out what's available!
---
On the evening in question, I was in the mood for some Myers's.
Upon ordering, the waiter duly informed me that they didn't have any in stock.
Not sure what else to drink, I walked up to the bar to see what else could satisfy my craving.
First, I looked for dark rums.
After all, that is what I was in the mood for.
They had Captain Morgan and…Bacardi Black. No, that is not a mistake. I did indeed say dark rum and then mention Bacardi.
Much to my surprise there existed a Bacardi dark rum called Bacardi Black!
My curiosity won over, and I decided to give Bacardi Black a try.
I won't lie: I didn't think it was anything to write home about.
I found it less fragrant than Myers's Rum and very similar to Captain Morgan.
Perhaps, I have a bias towards Myer's Rum.
I still haven't made up my mind on Bacardi Black yet.
Nonetheless, I was happy to find out about this new drink.
Bacardi Gold vs Superior: Discovering Bacardi Gold
A few weeks later, I found myself sitting at the bar at Martini's Lounge, on Ngong Road. I had already had a few drinks that evening so was taking it slow in the drinks department.
As my friends (and I) chatted away, I had time to take stock of Martini's extensive bar: I liked what I saw!
I hadn't seen that well-stocked a bar in ages!
Martini's had all sorts of liqueurs and countless whiskies.
There were bottles of all shapes and sizes.
For some, I couldn't even identify what type of alcohol they contained.
Then I saw a Bacardi rum that was neither the usual clear Bacardi nor the Bacardi dark rum that I had discovered a few weeks earlier.
This Bacardi rum, Bacardi Gold, was of a light gold color.
The manager at Martini's was gracious enough to let me taste a shot of it.
Honestly though, there's little I could tell about Bacardi Gold's flavor from drinking it neat.
Was Someone Trafficking Rum Using the Bacardi Name?
In hindsight, I first thought this must be illegal rum, falsely using the Bacardi name.
I felt there was no way that all these different types of Bacardi could exist without me having a clue until then.
Off to the Internet I went to do some research.
First stop: The official Bacardi website.
I found out: not only were all these Bacardi products genuine, but Bacardi also had a slew of other products beyond the three I've mentioned so far.
READ ALSO: Konyagi vs. Uganda Waragi
Is Bacardi Gold Dark Rum?
No, Bacardi Gold is not dark rum but rather gold rum.
White Rum vs. Dark Rum: Hangovers
I hope you now understand a little better what the difference is between these Bacardi rums.
Before I go, I would like to share one more tidbit with you that might be useful in selecting when and how to drink each of these three rums.
Generally, the darker an alcohol, the worse the hangover it gives. (Of course, that assumes you drink comparative amounts of each alcohol.)
Believe it or not, whiskey will generally give you a worse hangover than gin, and red wine will give you a worse one than white wine.
I read somewhere that this is because the lighter alcohols are more filtered.
They, therefore, contain fewer impurities for the body to get rid of.
For that reason, when you are drinking in large quantities, you might just want to stick to the clearer rums. Might that be why Bacardi White is more common than Bacardi dark rum and Bacardi Gold?
Let me go do more first-hand research. 🙂
Until the next time,
Biche
P.S. If you enjoyed this post, please share it with your friends and followers on social media using the buttons below—I'd greatly appreciate it. Haven't subscribed to Chick About Town yet? You can go ahead and do that here. You can also connect with me on Facebook and Twitter. See you there!
P.P.S. Are you a blogger who wants to earn more from display ads on your blog? If so, take a look at this free service from a Google Certified Publishing Partner that helps you do just that.
Image Credits: FredPix, htaringa.net; Paste, Bacardi website, Bacardi on LinkedIn, Protea Hotels, fredpix; Forbes; The Happening, Wallpaper Flare; Dale Moore; Haskells.com, Drinks Zone Kenya, Charanjit Chana