Last night found me at one of my old hangout spots: The Cellar restaurant. I hadn't been for a while but being back reminded me of why it was a place that was well worth going to.
The Cellar restaurant, located diagonally opposite from The Methodist Guest House in Kileleshwa, is a quiet, classy bar and restaurant. It takes on so many different characters depending on where you sit, what you do there, and what company you are in, that I barely know how to describe it to you. Let me try to describe it by telling you what the Cellar restaurant has been to me over the years.
Have you ever been to the historical Thorn Tree Cafe in downtown Nairobi? If not, check out my review of it in Thorn Tree Cafe, Nairobi.
My First Experiences at The Cellar Restaurant
I first discovered The Cellar in 2001 when my cousin was visiting Nairobi. At the time, she was staying at The Methodist Guest House and The Cellar was the closest entertainment spot to her. The first time I went there, it seemed to me to be a pool bar filled with many yuppies (in no way do I mean that derogatorily). I immediately took a liking to The Cellar restaurant because it seemed so fun and full of life.
A few years later, I used to go to The Cellar mostly to dine. I would go there often with my mother, with whom I used to live in Lavington. The Cellar restaurant, therefore, was one of the closest places where we could get good food (note: not great food but good food.) You can always depend on The Cellar restaurant for good food! A friend of mine recently told me that he considered it the best restaurant in Nairobi (I imagine he meant within a certain price range and location). Another friend says it serves the best fish fingers she's ever had in Kenya (I concur!). I have eaten full meals at The Cellar restaurant as well as had snacks to accompany drinks. I have rarely been disappointed. The one time I remember being disappointed by food at The Cellar was when I was going through a vegetarian phase and had their vegetable curry. It was such a let down!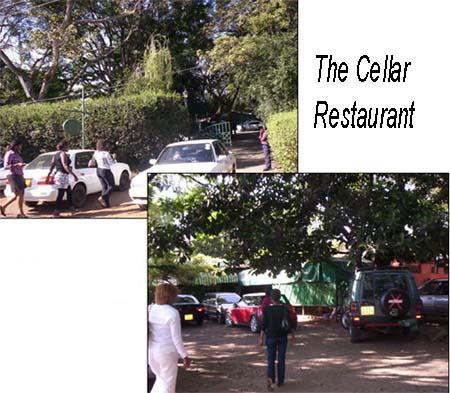 What I Recently Learned about The Cellar Restaurant
Back to last night – last night, I experienced the bar side of The Cellar. It wasn't the first time, but it was the first time that I was at the bar for a long time and had a jolly good time. Usually, I go to The Cellar restaurant to meet up with my mellower friends for a couple of drinks and/or dinner. Last night made me realize that you could go to The Cellar to actually hang!
I sat in the interior section of The Cellar, in the bar area (the outside terrace and the garden tables are more geared towards dining). The bar is well lit, has few tables (so rarely gets too noisy or crowded), and is very well stocked. As I sat at The Cellar, I wondered why I don't go there more often. Maybe it's because I usually like to sit outside, something that Nairobi's often-cold weather doesn't easily permit, or maybe I just haven't been hanging out as much with my mellower friends. 🙂
Still, last night made rethink The Cellar as a place that I could go to with friends and have a good time in a not-entirely-mellow way. Have you ever considered it that way?
If you've been or decide to try it out, please let me know what you think. If you live in (or frequent) that part of town and have never been, I definitely recommend that you check it out. I am sure it will be well worth your while.
Biche
P.S. To be sure not to miss future posts on ChickAboutTown, sign up to receive posts directly by email or subscribe to ChickAboutTown in a reader.
Photo Credits: thecellar.biz;