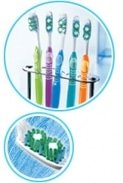 Today, I would like to tell you about a product that I truly enjoy. It's something that we all use, but rarely think about—a toothbrush. I am in love with a particular Oral-B toothbrush known as the Oral-B Advantage Artica (see it here on Amazon)! Let me tell you why.
What Goes into Choosing a Toothbrush?
What does a toothbrush mean to you? How much thought do you put into choosing your toothbrush? Until very recently, choosing a toothbrush was a one-minute affair for me: 10 seconds to choose a reputable brand, 25 seconds to choose a firm toothbrush (I love it when my teeth feel squeaky clean), and another 30 seconds to choose the right look and color.
The last time I went toothbrush shopping, I surprised myself by spending 15 minutes looking for the right one. I kid you not! I spent 15 whole minutes looking for a toothbrush. Comically, the toothbrush I was looking for was located on the bottom shelf of the toothbrush section. In order to search for my beloved toothbrush, I had to squat as I sprayed toothbrushes left, right, and center looking for that one special one.
The toothbrush I was looking for is the Oral-B Advantage Artica. To me, it was well worth the fuss. The Advantage Artica is purported to have been clinically proven to whiten teeth, which was the main reason I first decided to buy it. Still, I never truly believed that the differentiation of toothbrushes was anything more than a mere marketing gimmick. My first use of this Oral-B toothbrush made me think otherwise.
Discovering This Oral-B Toothbrush
To this day, I can recall the moment when I realized this toothbrush was different. I was in Kampala, Uganda for the Christmas holidays and realized that I had forgotten my toothbrush at my last destination. Without skipping a beat, I simply walked to the nearest supermarket and bought a new toothbrush. When I got home and started to brush my teeth, I had to stop after the first scrub to take a closer look at the brush. It felt as though the toothbrush was simultaneously scrubbing and wiping my teeth, as though the middle of the brush was made of solid sponge. On closer inspection of the brush, I noticed that this effect was caused by two circles of compact bristles located at the center of the toothbrush. These bristles, which are shorter than the surrounding ones, are said to help hold toothpaste more effectively for a whiter smile. That makes sense!
That's not the only advantage to using the Advantage Artica. This Oral-B toothbrush also has blue bristles on the edge of the brush, known as Indicator™ Bristles, which serve to indicate whether or not the toothbrush needs replacing. When these bristles fade halfway, it means it's time to replace your toothbrush. How cool! No more need to guess when your toothbrush needs replacing!
Maybe this is a bit too much attention to pay to a toothbrush. Still, I find that brushing my teeth has never been the same since discovering the Oral-B Advantage Artica. My teeth are whiter (although this may also be due to the whitening toothpaste that I use) and above all, the clean feeling that I experience after brushing with the Advantage Artica is simply exquisite.
Want to know about another product I am completely in love with? Read more at Fisherman's Friend: The Ultimate Breath Mint.
In my corner of the world, you can find the Oral-B Advantage Artica at most supermarkets (the last one I bought in Nairobi cost me about US$ 4), but you can also buy it online here from Amazon.
If the experience you have when brushing your teeth means little to you, then maybe you shouldn't rush out and buy one of these toothbrushes. If on the other hand it does, you just might want to try it. If you do, I would love to hear what you have to say!
Until the next time,
Biche