Table of Contents
Kazuma Lookout Point
The best part of my trip had nothing to do with game, though.
At some point in the drive, our guide told us to be particularly attentive to something that was coming up.
I noticed that the vegetation changed from woodland to open savanna so I thought that was it.
The guide quickly assured me that that's not what he was talking about.
We drove on in the savanna until the guide told us to stop the car and get out. (Unlike many other national parks in East Africa, the whole of Lake Mburo National Park is open to walkers as long as they are accompanied by a park ranger.)
READ ALSO: Lake Mburo, Lake Nakuru & Nairobi National Parks
We got out of the car and began to climb a steep hill.
We huffed and puffed up the hill, with some of us threatening to stop halfway.
The guide assured us, though, that it would be well worth our while.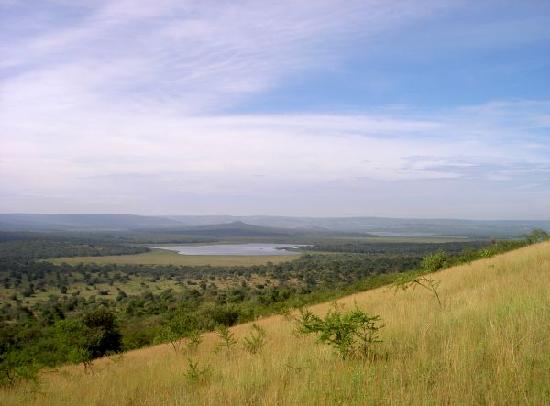 As we approached the top of the hill, we began to understand why.
At the top of the hill was Kazuma Lookout Point, from where we could see Lake Mburo and eight other nearby lakes. The view was breathtaking!
We took some time to enjoy the reward of our effort and take group photos, after which we got back into the car and once more made our way to the park's headquarters.
There, we dropped off our guide and thanked him for the wonderful tour he had given us.
We found our way to the park's exit and began our journey back home.
Conclusion
Moral of the story? If you ever get the chance to visit Lake Mburo National Park, don't dismiss it because it is one of Uganda's smaller parks.
Personally, I enjoyed it a lot more than I did Queen Elizabeth National Park (which I have been to twice).
I saw a lot of animals that I had never seen before, and I learned a lot.
Although, I didn't get to go for a boat ride on Lake Mburo itself, that's what's going to take me back. (Update: I am happy to share that I did go back to do this at a later date, and it was as awesome as I expected!)
Have you ever been to Lake Mburo National Park? If so, what did you think?
As always, I look forward to hearing what you have to say.
Until the next time,
Biche
African Island Entrance Fee
Here are the current entrance charges for Africa Island Beach Resort in Schoemansville, South Africa.
Off Peak Days
Off-Peak days are all the days in the year excluding December 16, 25, and 26, and January 1.
|   | Ages Under 10 | Ages Over 10 |
| --- | --- | --- |
| Entrance Fee | R 50.00 | R 80.00 |
Peak Days
Peak Days are December 16, 25, and 26, and January 1.
|   | Ages Under 10 | Ages Over 10 |
| --- | --- | --- |
| Entrance Fee | R 80.00 | R 100.00 |
Special Rates For Schools
The rate for schools will be calculated at R 50.00 per student for a group of more than 50 students, if accompanied by teachers and arranged by the school.
Pooper´s Video Game Store Kampala
Pooper's Video Game Store is a video game and electronics store located on Nkrumah road in Kamwokya.