Does the name Kunta Kinte mean anything to you? How about this scene: "Your name is Toby. I want to hear you say it!….What's your name? Kunta…Kunta Kinte.", as a whip comes down hard on a young black man's back? If you are around my age or older, you'll probably easily recall this poignant scene from the 1977 Roots Miniseries (no, I was not yet born in 1977 but I grew up in Africa so we got American movies and TV shows 10 years late). As one of my favorite bloggers reminded me recently in a post about Beyoncé's new album Lemonade, there's a whole generation of young adults for whom this reference will mean nothing. For those of us who have vivid memories of Roots, as well as for those of you who are too young to remember, I think we are all in for a treat this June as Roots comes back to television in a new Roots miniseries on the HISTORY® channel. Read on to find out more, but first take a look at the scene I was talking about.
(To be honest, the dialogue I recall for this scene is…
– Je m'appelle Kunta Kinte.
– Tobey! Tu t'appelles Tobey !
– Non ! Kunta…Kinte !
– Tu t'appelles Tobey !
– Kunta…Kinte.
– Fouettez-le!
….because I grew up in Abidjan where television is in French, so the dialogue and accents in this video sound so strange to me. 😆 Anyways, back to my main point…)
New Roots Miniseries Developed by the HISTORY® Channel
Making its debut on the HISTORY® Channel (DStv 186 if you are watching from Africa) is the highly-anticipated television event Roots, the four-part, eight-hour series developed by the HISTORY® channel and produced by A+E Studios. Based on the best-selling novel by Alex Haley, Roots recounts the journey of one family's will to survive, endure, and ultimately carry on their legacy despite enormous hardship and inhumanity.
"Nearly 40 years ago I had the privilege to be a part of an epic television event that started an important conversation in America," said LeVar Burton, co-executive producer and the actor who played the lead role of Kunta Kinte in the original 1977 Roots miniseries. "I am incredibly proud to be a part of this new retelling and start the dialogue again, at a time when it is needed more than ever."
Spanning multiple generations, the lineage begins with young Kunta Kinte, who is captured in his homeland of The Gambia and sold into slavery. Throughout the series, the family continues to face adversity that reveals powerful truths about the universal resilience of the human spirit.
Starring in the 2016 Roots miniseries are Academy Award® winners Forest Whitaker ("Fiddler") and Anna Paquin ("Nancy Holt"); Academy Award® nominee and Emmy Award® winner Laurence Fishburne ("Alex Haley"); Golden Globe Award® winning and Emmy Award® nominated actor Jonathan Rhys Meyers ("Tom Lea"); Tony Award® winner Anika Noni Rose ("Kizzy"); Grammy Award® winner Tip "T.I." Harris ("Cyrus"); Emayatzy Corinealdi ("Belle"); Matthew Goode ("Dr. William Waller"); Mekhi Phifer ("Jerusalem"); James Purefoy ("John Waller") and introduces Regé-Jean Page ("Chicken George") and Malachi Kirby ("Kunta Kinte"), originally played by LeVar Burton who is co-executive producer of the new Roots miniseries.
In Africa, to mark this TV event, HISTORY®, which is usually available only to DSTV Premium subscribers, will be opened to DStv's Compact subscribers across the continent from Monday, June 13 to Monday, July 11. During this four week open-window, the HISTORY® channel will broadcast new and exclusive shows, along with top-rated return titles that Compact subscribers will not have had access to previously.  The 2016 Roots miniseries will also be repeated on Lifetime on Sundays at 8 p.m. (DSTV Time) from June 19 following its debut on the HISTORY® channel.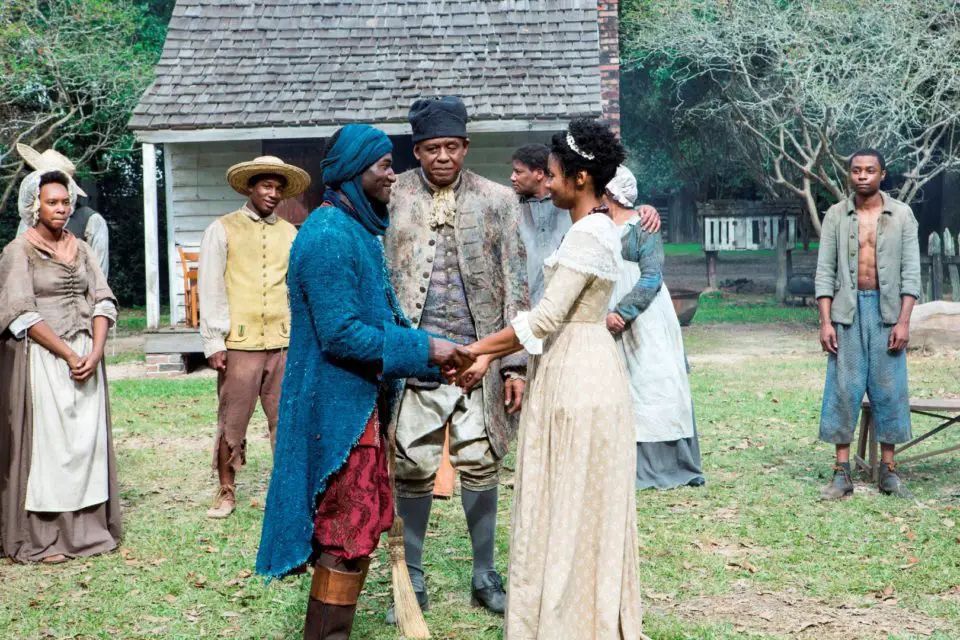 Says Anthea Petersen, Regional Director at A+E Networks Africa: "We are proud that HISTORY® will be able to bring new life to this incredible story that remains as important today as it did when the original Roots first premiered. It is a powerful portrayal of the resilience of the human spirit that we know is going to resonate strongly with all…''
So there you've got it. I'll be glued to my screen this June and July to watch the new Roots miniseries. How about you? If you would like to watch the original 1977 Roots Miniseries, or  to read the Alex Haley book on which both miniseries are based, you can purchase them on Amazon here.
Until the next time,
Biche
P.S. Haven't subscribed to Chick About Town yet? Then do so by entering your email in the form below and clicking subscribe. Think others would like to know about this new remake of Roots? Then please share this post with your friends and followers on social media (or just link back to it from your own website). As always, I truly appreciate it!