Several years ago, I had the pleasure of attending the 15th edition of the Zanzibar International Film Festival (ZIFF).
Although I enjoy films, I wasn't sure how much I'd enjoy an event that consisted of movies, night after night.
I should have known better. I had a great time!
Not only were the movies deep and engaging, but there were also musical performances and a slew of other activities to offer enough variety.
If you will be in Zanzibar this July and are looking for interesting things to do there, ZIFF might be just what you are looking for.
The selection of movies to be shown this year has already been made.
Continue reading to find out more.
ZIFF is the longest running film-festival in East Africa, with global credibility and instant Pan-African recognition.
ZIFF 2015 will take place on July 18-26, 2015 in Stone Town.
The Festival is proud to announce the films in the official selection based on a record 419 submissions.
The list contains 25 feature films, 44 shorts and 27 documentaries from over 30 countries across the globe.
Festival Director Dr. Martin Mhando had this to say about the submissions and selections for ZIFF 2015: "We would like to congratulate and thank all those who submitted their films. With so many films to choose from the selection process was especially difficult. This has been the largest number of films received to date. We are also pleased to say that the online submission process was a success, with 90% of all films being submitted online through the FESTHOME platform."
The entries came from 38 countries with the largest number of entrants coming from Germany. The Dominican Republic has its first entry this year.
READ ALSO: Verde Hotels & Tanzania's Bakhresa Group to Build Zanzibar's Greenest Hotel
Speaking about this year's edition of the Zanzibar International Film Festival, Mandy Roger, Zuku's TV director, noted, "We have in the past 2 years of our sponsorship witnessed significant growth in content development rising from the festival. As a broadcaster, Zuku is deeply invested in the growth and success of East Africa's creative and content industries. It is therefore with pride that we continue to partner with the Zanzibar International Film Festival, which has for the last 15 years been instrumental in celebrating and enabling film making from the region and around the world."
The selection committee also noted a clear growth in the quality of short films from Africa revealing a refreshing creative input and experimentation with film language.
East Africa is well represented at the Zanzibar International Film Festival 2015 with 7 films from Tanzania to compete in the general competition.
Within the official selection, Kenya leads in the region with 9 films, while Uganda has 3, Burundi 2 and Rwanda 1.
South Africa has 7 films in competition this year.
Selected films for the Bongo Movies competition, which is backed by the satellite TV channel Zuku, will be announced at a later date.
Zuku is also the event sponsor of the festival.
It has also been announced that the Academy Award- and Golden Globe Award-winning film Selma will officially open the Zanzibar International Film Festival 2015 on the evening of July 18.
READ ALSO: Selma: Movie Suggestion for Martin Luther King, Jr. Day.
As in previous years the Zanzibar International Film Festival will welcome dozens of professional and aspiring film directors, producers from across Africa, and the world for 8 days of film, music and cultural celebration.
Zanzibar International Film Festival Official Selection
Feature Films
| | | |
| --- | --- | --- |
| FEATURE FILMS | DIRECTOR (LENGTH IN MINUTES) | COUNTRY |
| Algun lugar/On the Road Somewhere | Guillermo Zouain (70) | Dominican Republic |
| Beautiful Tree , Severed Roots | Kenny Mann (70) | Kenya |
| Diamond Tongues | Brian Robertson and Pavan Moondi | Canada |
| El mal trato/Maltreatment | Daniel E.V. Yudin (68) | Chile |
| Fievres/Fevers | Hicham Ayouch (90) | France |
| Habibie and Ainun | Faozan Rizal (121) | Indonesia |
| Jongo Love | Emma Roger (98) | Kenya |
| Kutakapokucha | Simon Mwakifwamba | Tanzania |
| Munnariyippu/ The deadline | Venu N (114) | India |
| Mr Kadamanja | Adam Kuambiana (164) | Tanzania |
| Nightrunners | Rowan Nielsen (89) | Kenya |
| Pishu | Leah Mwendamseke (83) | Tanzania |
| Pride | Matthew Warchus (119) | UK |
| Selma | Ava DuVernay (128) | USA |
| Single Zero | Timoth Conrad (62) | Tanzania |
| Strength of a Woman | Gilbert Lukalia (91) | Kenya |
| Sugarcane Shadows | David Constantin (84) | Mauritius |
| Superstition | Paresh Gondaliya & Zziwa A. Alone | Uganda |
| The Gods of Water | Pablo Caesar (115) | Argentina/Ethiopia/France |
| The Last Drive-in Theater | Iberê Carvalho (98) | Brazil |
| Wazi?FM | Faras Cavallo (62) | Kenya |
| Timbuktu | Abdrehmanne Sissako | Mali |
| Morbayssa | Cheick F. Camara | Guinea |
| City of Violence | Jerome Salle | South Africa |
| Price of Love | Hermon Hailay (99) | Ethiopia |

Zanzibar International Film Festival Documentaries
| | | |
| --- | --- | --- |
| DOCUMENTARIES | DIRECTOR (LENGTH IN MINUTES) | COUNTRY |
| 21 Icons – A Journey to Democracy | Adrian Steirn (45) | South Africa |
| Abasezi (The Nightdancers) | Aemile Dinneen (78) | Ireland/Uganda |
| Bintou | Simone Catharina Gaul (68) | Germany |
| Croc in a Museum | | Rwanda |
| Daddy's Wedding | | U.A.E |
| Dancing With Maria | Ivan Gergolet (75) | Italy/Argentina/Slovenia |
| Grandma Knows Best? | Tamara Dawit (16) | Ethiopia |
| Life In Progress | Irene Loebell (99) | Switzerland |
| Life is Waiting: Referendum and Resistance in Western Sahara | Lara Lee (60) | Western Sahara |
| Low Season | Madeleine Dallmeyer (41) | Germany |
| Maramaso | Ashley Beckett (53) | Kenya |
| Mbwa Mwitu | Farid Uwezo (20) | Tanzania |
| Moussa Diallo: The Man and the Music | Helle Toft (72) | Denmark |
| NAPPS- Memoire Of An Invisible Man | Tami Liberman (31) | Germany |
| Obohozi | Caroline Odongo & Gitura Kamau (98) | Kenya |
| Papa Machete | Jonathan David Kane (11) | U.S.A. |
| Prisoner 467/64: The Untold Legacy of Andrew Mlangeni | Lebogang Rasethaba (53) | South Africa |
| Red Over the Rainbow | Baumont Vincent (27) | Vietnam |
| Shadeism: Digging Deeper | Nayani Thitagarajah | Canada |
| Shadow Fighters | Josefine Heimburger | Denmark/Tz |
| The Beauty That I Saw | Benjamin Abrams (51) | U.S.A |
| The Broken Heart | Fabian Püschel | Germany |
| The Hustle | Ashraf Said Mswaki (25) | Turkey |
| The Rwandan Genocide: Reunited Through Polaroids | Colin Crowley (5) | Rwanda |
| The Springboard | Joseph Ndayisenga (63) | Burundi |
| Twende! Let's go! | Silvana Zancolo (52) | Italy |
| Ady Gasy | Nantenaina Lova (81) | Madagascar |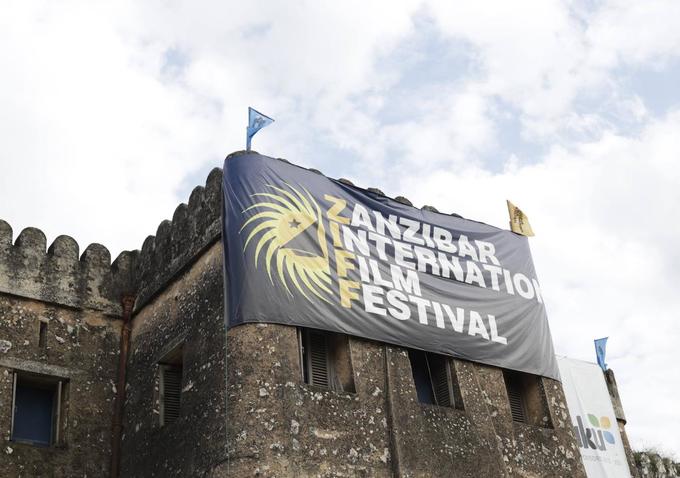 Shorts
| | | |
| --- | --- | --- |
| SHORTS | DIRECTOR (LENGTH IN MINUTES) | COUNTRY |
| 92 Dreamin' (animation) | Escarla Abreu (4) | United States |
| A Coeur Ouvert | Ayekoro Kossou (16) | France |
| A Promised Rose Garden | Lisa Violetta Gaß (Gass)(33) | Germany |
| Agi / Elegy | Yousef Kargar | Iran |
| Amor a Primera vista/ Love at first sight | Mark Playne (14) | Spain |
| Angles of my Face | Manu Maina (22) | Kenya |
| Artificio Conceal | Ayoub Qanir (16) | U.S.A. |
| As I Am | Sihle Hlope (14) | South Africa |
| Bahar in Wonderland | Behrooz Karamizade (16) | Germany |
| Camouflage | Andreas Kessler (8) | Germany |
| Castillo y el Armado (animation ) | Pedro Harres (13) | Brazil |
| Detour | Michael Leong-Huat Kam Kam | Singapore |
| Ella | Kim Münster | Germany |
| Every Day is a Small Life | Lou-Brice Léonard (27) | France |
| Faraja | Nasir Al Qassim | Tanzania |
| Green Gold/ Gruen Gold (animation) | Barbara Marheineke (13) | Iran/USA |
| Harsh | Danilo Baracho (8) | Brazil |
| Intellectual Scum | Njue Kevin (14) | Kenya |
| Islands | Tajinder Hayer (16) | United Kingdom |
| Italian Standoff | Marcel Becker-Neu (12) | Germany |
| Jaya | Puja Maewal (18) | India |
| Kilimo 2 (animation) | Neema Reed (6) | USA |
| King of Guangzhou | Quester Hannah (14) | China |
| Lahza | El Waleed Gamal | Egypt |
| Lami (animation) | Christophe and Olivier Defaye (2) | Japan |
| Mousse | John Helberg (41) | Sweden |
| Prelude to a Torn House | Carlos Esteban Godoy Acosta (29) | Colombia |
| Ram | Miransha Naik (25) | India |
| Red Card | John Rabaud (3) | Mauritius |
| Routine | P. Sam Kessie (14) | South Africa |
| Samaki Mchangani/Fish of the Land | Amil Shivji (30) | Tanzania |
| September | Mark Wambui (5) | Kenya |
| Shehnai | Haroon Habib (16) | Pakistan |
| Soko Sonko/The Market King | Ekwa Msangi (22) | Tanzania |
| Taweez- The Talisman Writer | Ali Hakin (20) | Germany |
| The Dinner | Aylin Basaran (15) | Germany |
| The Girl | Shashwati Talukdar (8) | India |
| The Last Will | Dustin Loose (21) | Germany |
| The Legacy of Rubies (animation) | Ebele Okoye (28) | Germany |
| The Road we Travel | Aidan Belizaire (37) | Uganda |
| Tjitji the Himba Girl | Oshosheni Hiveluah (22) | Namibia |
| Oritsha's Journey | Abdul Ndadi | USA |
| Uthando | Tulanana Bohela | South Africa |
| With Best Regards | Bernhard Wenger (5) | Austria |
Photo Credits: Joe Lukhovi; Mtoto wa Kitaa; Peter Bennett / ZIFF, via Wikimedia Commons; Peter Bennett/ZIFF; blogs.indiewire.com