Yaya Centre
Argwings Kodhek Rd., Kilimani
Tel: +254 (20) 2713360/1
Email: [email protected]
Website:www.yaya-centre.co.ke
When I first saw Yaya Centre's new slogan a couple of years ago, I thought: How pompous! No, there really is reason to go elsewhere.
That was back when the revamping of Yaya Centre had just begun, and Yaya's greatest claim to fame, at the time, was that it had been one of Nairobi's first shopping malls.
A couple of years later, I see where Yaya Centre was coming from with its slogan – Y go anywhere else?.
I guess the management at Yaya Centre already knew what Yaya was about to become though it took us, its customers, a little longer to find out.
It's easy not to notice how much has changed at Yaya if you go there regularly and never take the time to take it all in.
I recently had to stop and think about it all after a visit I made to Yaya in search of a Christian book that I desperately wanted to read.
As usual, I was in a bit of a rush and had squeezed this errand between a number of other items on my to-do list.
I drove to Yaya, found parking easily enough, then quickly rushed to the Christian bookstore, on the ground floor, that I had been to many times before.
I did all this absentmindedly, focusing entirely on the task at hand while paying very little attention to my surroundings.
That is…until I noticed…the Christian Bookstore I was rushing too had been replaced by a Nairobi Java House!
Wow! I was really surprised.
Granted, I hadn't been to Yaya in a while, but when had all this change taken place?
I took a little more time to walk around Yaya, paying close attention to all that had changed (did I say I was in a rush? :-)).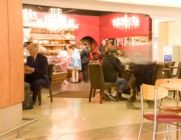 Although some of the changes at Yaya seemed to me to be simply superficial changes – stores that already existed at Yaya had just taken up new locations in the shopping mall – a lot truly had changed at the shopping complex.
Even the oldie-but-goodie stores had become newer and improved versions of their former selves.
Yaya Centre was truly becoming bigger and better!
READ ALSO: Community Shopping Guide: Menswear, Electronics, and More
Are you a regular visitor of Yaya Centre? If so, what keeps taking you back to Yaya?
For me, it's a long list of things that just keeps getting longer every time I visit the shopping mall.
To give you an idea of the range of things that one can do at Yaya, let me share with you, floor by floor, what keeps taking me back to Yaya Centre.
On the ground floor, I buy airtime; I go to the hardware store; I check out new phones; I deal with my Kenya Airways reservations. I bank; I buy medication and toiletries; I buy really good baguettes; I shop at the supermarket; and occasionally, I buy gourmet meat cuts when I am entertaining.
When I am pressed for time, I meet friends at one of the coffee houses on the ground floor. I buy all my fresh produce almost exclusively at Yaya.
On Yaya's first floor, I gaze longingly at beautiful gold jewelry, which I buy on very rare occasions.
I take my clothes for dry cleaning; I take passport photos and make photocopies; I take care of my stationary needs (and buy emergency gifts). I buy clothing of all kind—wardrobe staples and dress-up items. Sometimes, I look around just for the pleasure of the eye without really buying much.
On this floor, I take care of some makeup and cosmetic needs not only for me, but for my Mom who often sends me to buy a particular brand of facial products which she has a hard time finding anywhere else in East Africa.
Yaya's second floor, for me, is a lot less about running errands and a lot more about socializing and relaxing.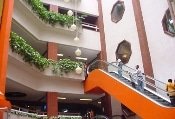 I often catch a meal at one of Yaya's many second floor eateries. When I need to get online but don't intend to do so for too long, I surf the net on Yaya's second floor. When looking for a book to read, I make sure to stop by one of my favorite bookstores, which is also located on this floor.
When in need of fitness related items1, that too I take care of here.
READ ALSO: Chimamanda Ngozi Adichie: Americanah & Half of A Yellow Sun
These are some of the things that keep taking me back to Yaya again and again.
I haven't mentioned any floor above the second floor because I rarely have business there (those floors mostly house offices) though I have on occasion visited doctors' offices and the Yaya Centre management office for the purpose described in this post, on those upper floors.
What keeps taking you to Yaya over and over again? How well do you feel Yaya Centre is living up to its slogan of "Y go anywhere else?"?
As usual, I look forward to hearing what you have to say.
Wishing you well,
Biche
Photo Credits: Maro-Designs.com