Lake Mburo National Park is a compact gem, located conveniently close to the highway that connects Kampala to the parks of western Uganda.
It is the smallest of Uganda's savanna national parks.
It is home to 350 bird species. It's also home to zebra, impala, eland, buffalo, oribi, Defassa waterbuck, leopard, hippo, hyena, topi and reedbuck.
Together with 13 other lakes in the area, Lake Mburo forms part of a 50 km long wetland system linked by a swamp.
Five of these lakes lie within the park's borders.
Here is how I came to visit Lake Mburo National Park for the first time and what I experienced while I was there.
A little after publishing my last post about the Kenya Wildlife Service Marine Park Tour, I found myself in Uganda for a late end-of-year holiday.
I believe I have mentioned on this blog before that I am part Ugandan.
Like many other Ugandans, the end-of-year season for me usually includes a trip to the village to bond with family and just relax—a  very common way to celebrate the holiday season in East Africa.
I hadn't done this at Christmas for a couple of reasons, but in January, I thought: better late than never.
This late end-of-year break, however, came with a little something extra.
I got to do some tourism near my hometown in Kiruhura District for the first time.
Today, I'd like to tell you a little bit about visiting Lake Mburo National Park.
READ ALSO: 48 Instagram Photos from Rwanda, Uganda, and More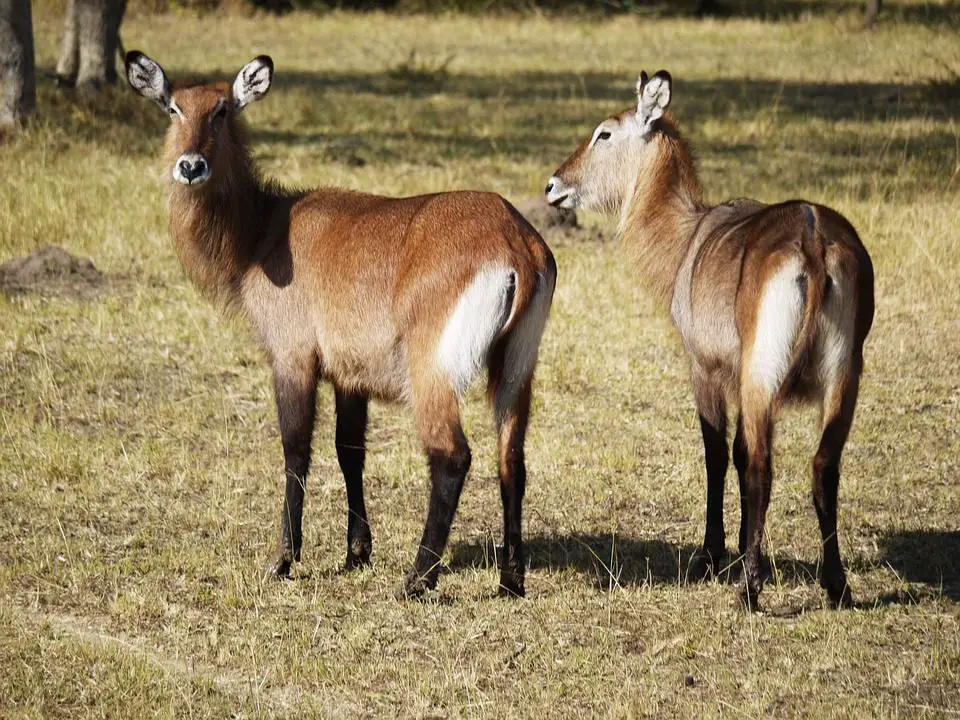 Uganda Tops Lonely Planet's Top Countries to Visit List
In 2011, when I realized that Uganda had been named Lonely Planet's top country to visit in 2012, it suddenly dawned on me that though I had often been to Uganda, I had never really viewed it as a tourist destination.
Rather, the time I spent in Uganda was usually about spending time with my extended family.
That, I thought, needed to change.
Deciding to Explore Uganda as a Tourist
So…that year, as I found myself spending long days chilling in the village, I decided to do something touristy.
I would take a trip to Lake Mburo National Park.
Trust me, that wasn't much of a stretch: Lake Mburo National Park is also in Kiruhura district. Yet, for all the years I had been going to Kiruhura, not once had I thought of visiting the park.
Keeping with the theme of family bonding, I loaded my mother's car full of relatives, and off we went to discover what Lake Mburo National Park had to offer.
In less than two hours, we found ourselves at Lake Mburo National Park's Sanga gate, where we stopped to pay park entrance fees.
The fees were quite low since everyone in the car was East African.
We paid Ush. 10,000 per person and Ush. 30,000 for the car and proceeded into the park for the 9 km drive to the park's headquarters at Rwonyo.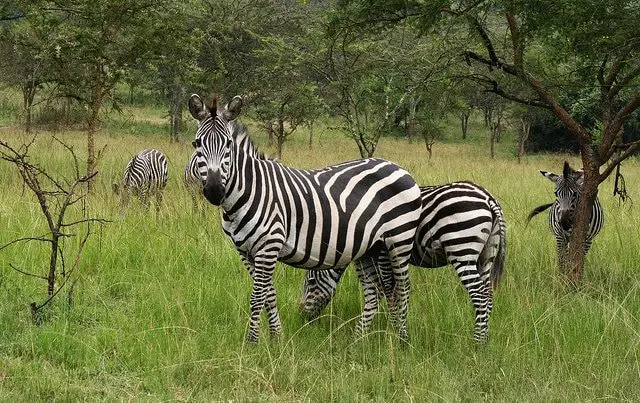 Entering Lake Mburo National Park
As soon as we entered the park, we began to see animals (but then again, in Kiruhura, it's not at all uncommon to see zebra during the course of everyday life).
We saw antelopes, zebra, warthogs and baboons.
This was all very exciting for my younger cousins, none of whom had ever been to a national park before.
In no time, we made it to Rwonyo, the park's headquarters.
As I learned from my disastrous trip to Tarangire National Park, it is not advisable to tour a national park without an experienced guide.
At the park's headquarters, we paid US$20 for a guide to show us around.
The guide made all the difference.
All of a sudden, what I had been calling antelope became more specifically impala, reedbuck, and bushbuck.
We learned many interesting facts about the animals we saw. Then, we reached a clearing where there were parked cars, tents, and the most beautiful, placid lake.
We had reached Lake Mburo.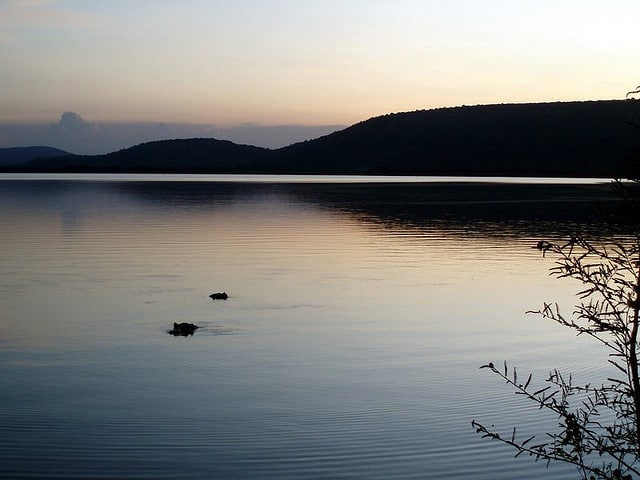 Lake Mburo
Lake Mburo, from which the park gets its name, is the biggest lake in the 50-km long wetland ecosystem that includes 13 other lakes.
Only 5 lakes, Lake Mburo included, lie within the boundary of the national park.
We got out of the car to take a closer look.
It was early afternoon and the lake shimmered from the sun reflecting in its gentle waves.
Maybe it was the fact that Lake Mburo was surrounded by hills, but I was immediately reminded of Lake Bunyonyi, which I had visited more than a decade prior. Both were simply stunning!
As we stood on the lake shore, I could see boats nearby with people preparing to board them.
At the information center, I learned that it was possible to go for a boat ride on this beautiful lake, with boats departing every two hours.
I was almost ready to forgo the game drive and simply go for a boat ride, but the members of my party were not having any of it.
Not to be a party pooper, I continued on with them as planned.
I am happy to share: the game drive did not disappoint!
What Animals Are There to See at Lake Mburo National Park?
With 350 bird species and 68 mammal species living within it, Lake Mburo National Park, like some of the better national parks in East Africa, is full of animals to see.
Unlike a recent trip to Mikumi National Park, in Tanzania, we didn't have to drive long stretches to find game.
I could enumerate all the animals we saw that day, but I don't think that would tell you much.
Rather, I would like to characterize the kind of game that we saw: we saw lots and lots of antelopes.
Yawn, you might think, but actually that was not the case. We saw a wide variety of antelopes. I even saw a couple that I had never seen before (and I have been to quite a few national parks across East Africa).
My favorite was the weird-looking topi which I was seeing for the first time.
I also particularly enjoyed seeing the biggest antelope of them all, the eland (though the kind found in East Africa is smaller than the giant eland found elsewhere in the world) which was remarkably huge!
Did you know that Lake Mburo National Park is the only place in Uganda where you can see impala?
That's quite strange given that Uganda's capital city, Kampala, is named after the impala.
To find out how Kampala got its name (from which you'll quickly figure out why impala are no longer abundant in Uganda), click here.
READ ALSO: Uber, the Holiday Season, and Dynamic Pricing
Kazuma Lookout Point
The best part of my trip had nothing to do with game, though.
At some point in the drive, our guide told us to be particularly attentive to something that was coming up.
I noticed that the vegetation changed from woodland to open savanna so I thought that was it.
The guide quickly assured me that that's not what he was talking about.
We drove on in the savanna until the guide told us to stop the car and get out. (Unlike many other national parks in East Africa, the whole of Lake Mburo National Park is open to walkers as long as they are accompanied by a park ranger.)
We got out of the car and began to climb a steep hill.
We huffed and puffed up the hill, with some of us threatening to stop halfway.
The guide assured us, though, that it would be well worth our while.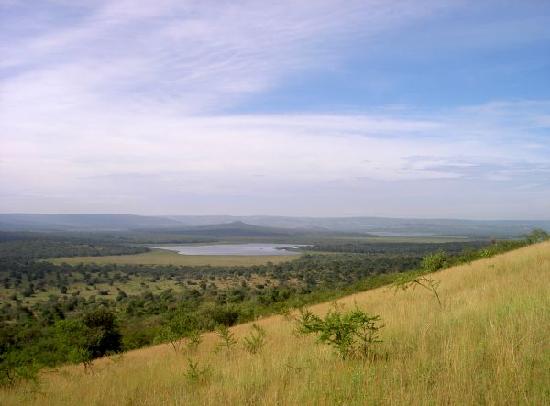 As we approached the top of the hill, we began to understand why.
At the top of the hill was Kazuma Lookout Point, from where we could see Lake Mburo and eight other nearby lakes. The view was breathtaking!
We took some time to enjoy the reward of our effort and take group photos, after which we got back into the car and once more made our way to the park's headquarters.
There, we dropped off our guide and thanked him for the wonderful tour he had given us.
We found our way to the park's exit and began our journey back home.
Conclusion
Moral of the story? If you ever get the chance to visit Lake Mburo National Park, don't dismiss it because it is one of Uganda's smaller parks.
Personally, I enjoyed it a lot more than I did Queen Elizabeth National Park (which I have been to twice).
I saw a lot of animals that I had never seen before, and I learned a lot.
Although, I didn't get to go for a boat ride on Lake Mburo itself, that's what's going to take me back. (Update: I am happy to share that I did go back to do this at a later date, and it was as awesome as I expected!)
Have you ever been to Lake Mburo National Park? If so, what did you think?
As always, I look forward to hearing what you have to say.
Until the next time,
Biche
Photo Credits: tour.red, Snarglebarf, Shiraz Chakera, Arturo de Frias Marques, www.sntourtravels.com.