I've mentioned on this blog before that I am part-Ugandan.
I am sure, therefore, that it won't come as much of a surprise to you then to learn that I spend a lot of time there, though I don't write about it that often.
My Instagram photos, on the other hand, are a whole different story.
There, I share lots of pictures from my time in Uganda, be it when I'm hanging out in the city, indulging in touristic travel, or simply attending to family- or friend-related business.
Today, I'd like to share some photos, posted since my last Instagram roundup post, that received the most likes on Instagram.
With one exception, all these photos were taken in Uganda.
I hope you like them!
Also check out 48 Instagram Photos from Rwanda, Uganda, and More.
8. Stalactites at the Amabeere ga Nyina Mwiru Caves, near Fort Portal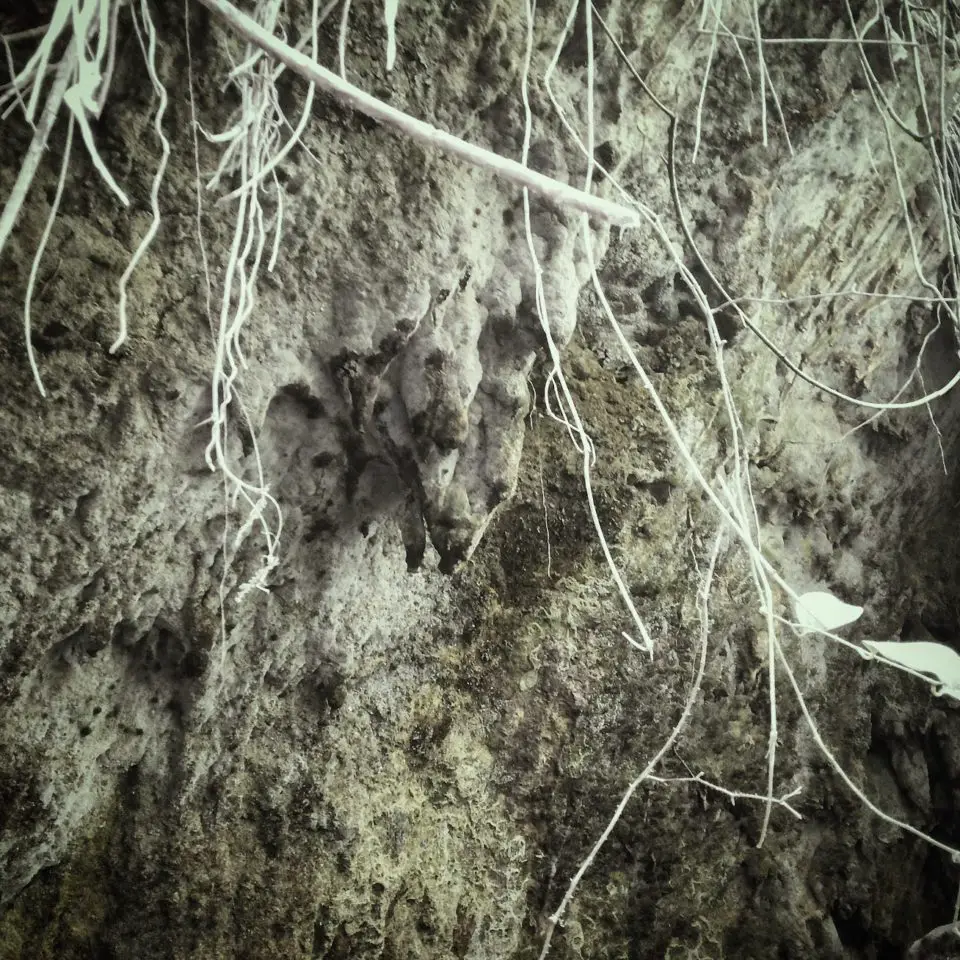 Amabeere (or Amabere) means 'breasts' in the language spoken by the people who live around the Amabeere ga Nyina Mwiru caves. Amabeere ga Nyina Mwiru means "the breasts of Nyina Mwiru"– and the name in the local tradition and Toro folklore has it that the caves acquired the name after King Bukuku of Toro chopped off the breasts of his daughter Nyina Mwiru and had them thrown inside these caves, following a prophecy that his daughter would one day get married and have a son, Ndahura, who would kill the king and take over his throne. According to local legend the prophecy came true.
In reality, the scientific explanation is that the so-called breasts are stalactites and are made up of calcium carbonate which when blended with water drip down and form the stalactites that you see in this picture. The water dripping made to look milky by the calcium carbonate is called "breast milk" by the local people who live near the Amabeere Caves.
Caption credit: kabiza.com
7. The Lake on the  20,000 Ugandan Shilling Note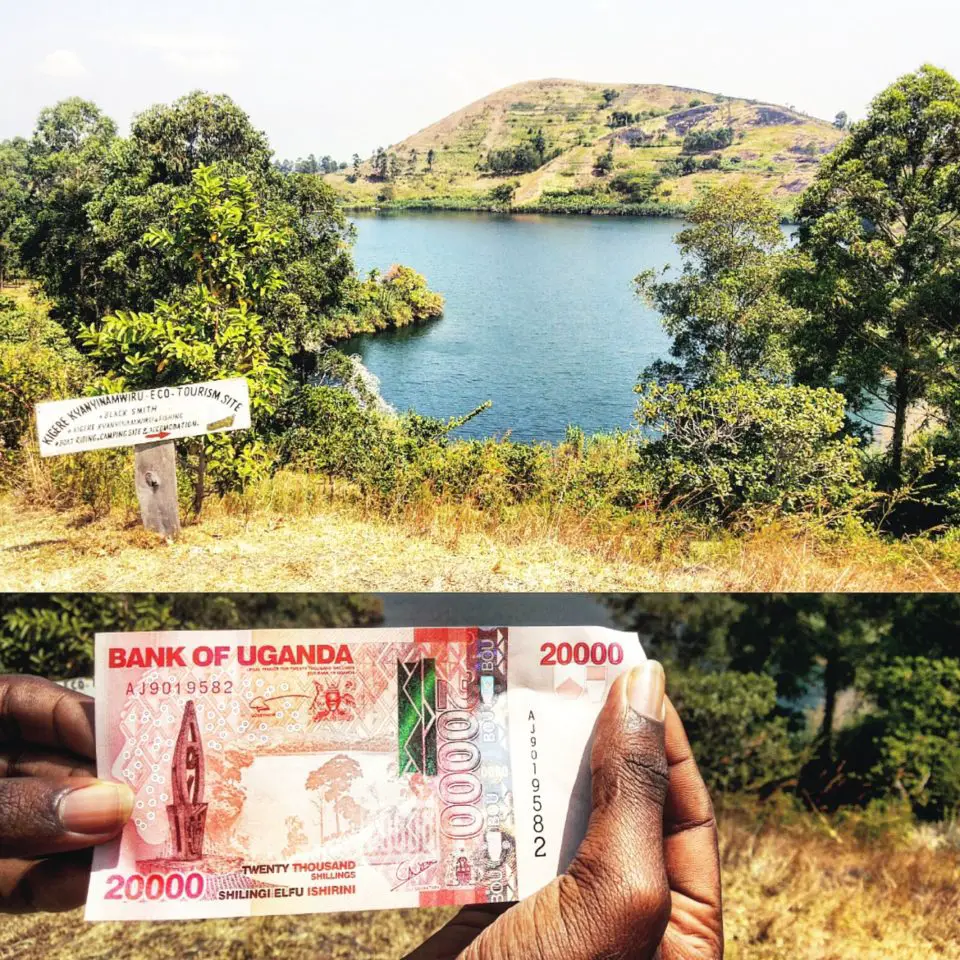 The 20,000 shilling note is the second largest bank note printed in Uganda (and boy were we happy when it was finally introduced!). Ever wondered what the imagery on the 20,000 shilling note is? I finally spotted it here. It's Kigere Lake ('Foot' Lake) outside Fort Portal. Whose foot? More on that in this picture.
(See more pictures of lakes in Uganda in Instagram Recap: 20 Photos from Uganda & Tanzania.)
6. Rock Salt & Lake Katwe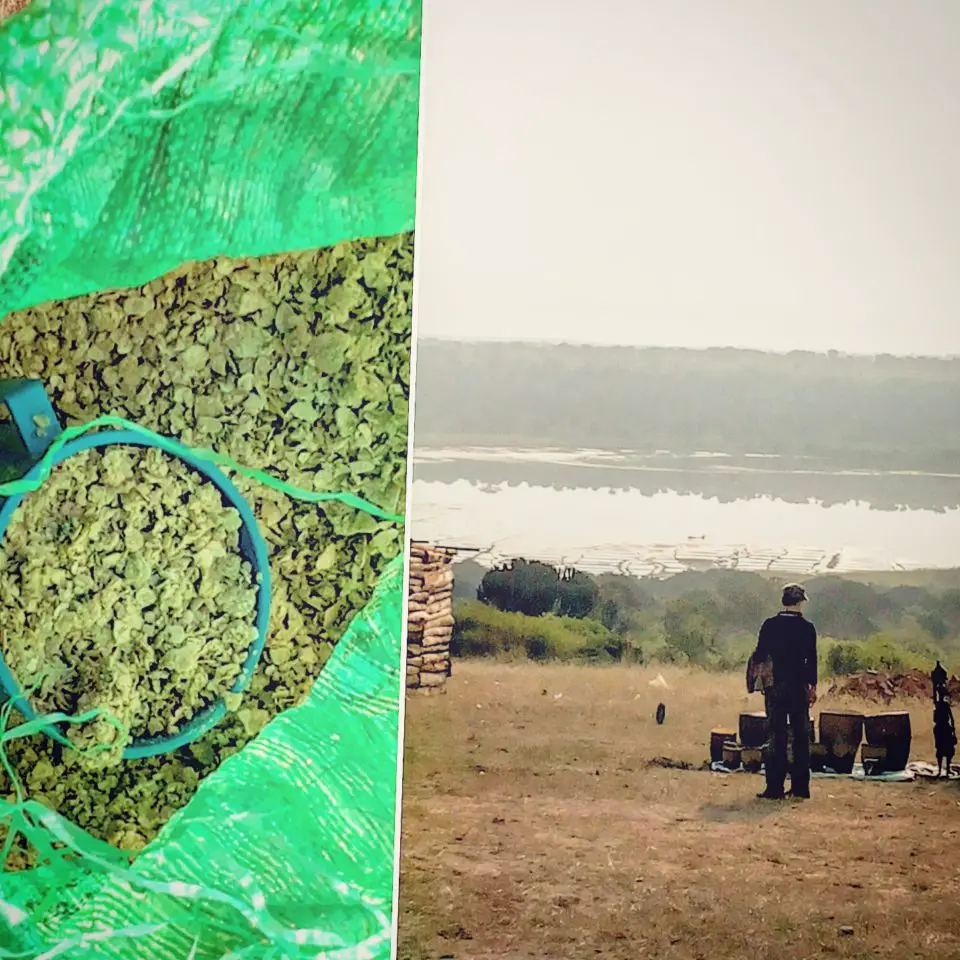 Lake Katwe in Queen Elizabeth National Park, Uganda juxtaposed with rock salt, one of the types of salt harvested from it. Rock salt is an essential ingredient for some of the local delicacies from around this region, e.g., eshabwe, a delicious(!) white sauce made from ghee, rock salt, table salt and water. Rock salt is also used in cooking to soften beans and pumpkin leaves. Do you (or your people) cook with rock salt? If so, how? Please let me know in the comments below.
READ ALSO: 19 Sky, Water, & Sunset Photos and More Taken in Dar es Salaam, Kampala, Kigali and Elsewhere
5. A Dusty Path in Fort Portal, Uganda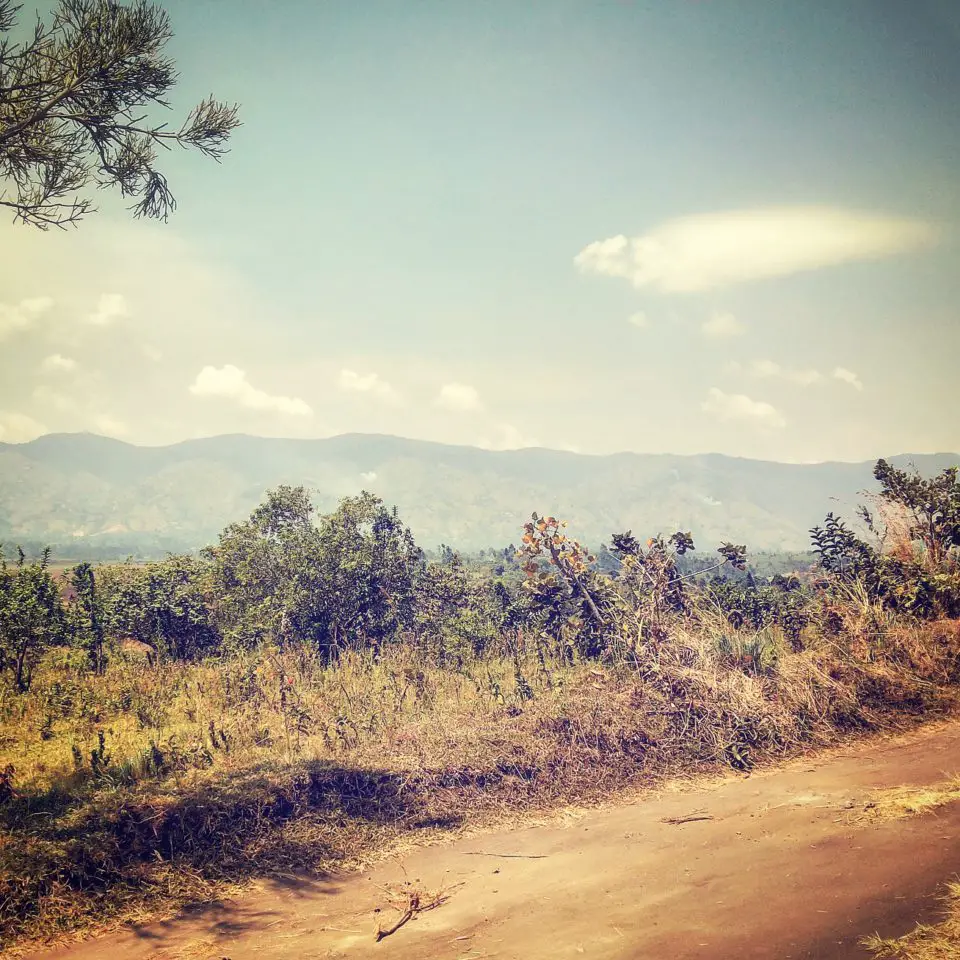 Taking a walk around some of the crater lakes of Fort Portal, Uganda. Anywhere you go in Fort Portal, the backdrop of mountains—the Rwenzori Mountains (a.k.a the Mountains of the Moon)—are never too far behind.
4. A Cave at the Amabeere Ga Nyina Mwiru Caves near Fort Portal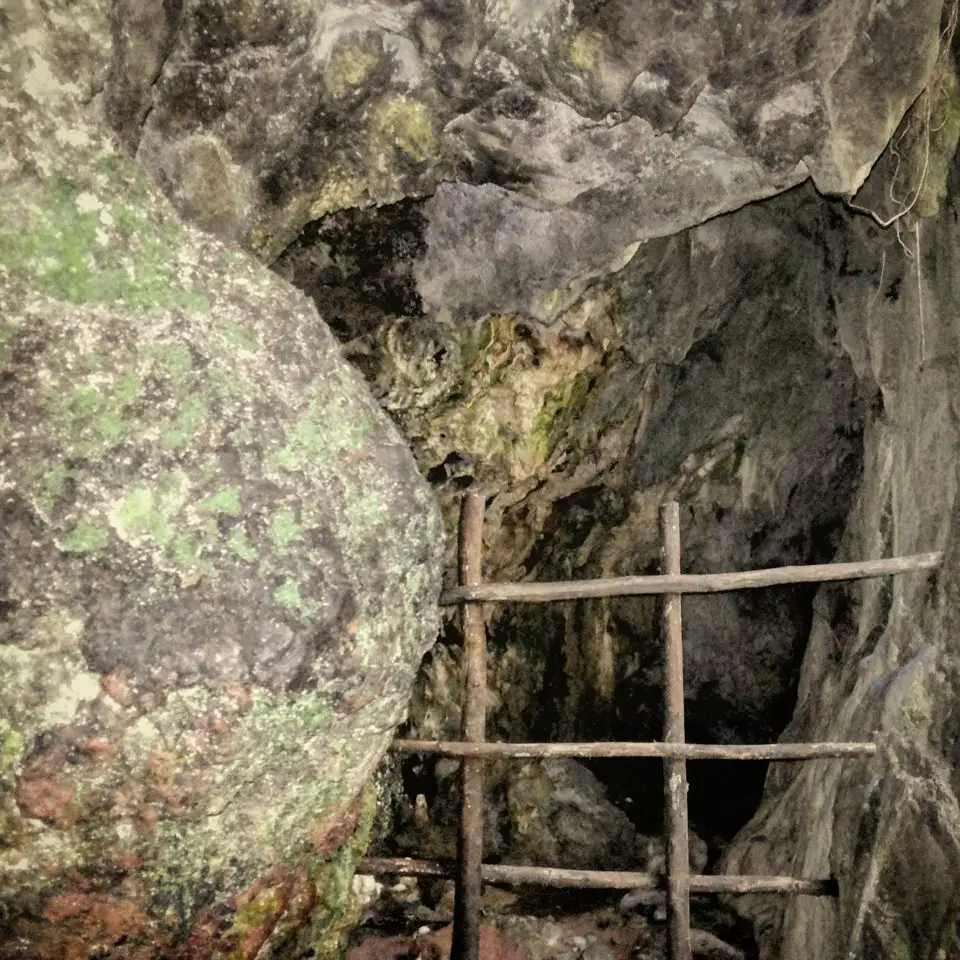 A cave at the Amabeere ga Nyina Mwiru caves outside Fort Portal, Uganda. See the caption from picture no. 8 for more information.
READ ALSO: 5 Ways to Keep Your Skin Glowing While Traveling
3. Koozi, the Black Calf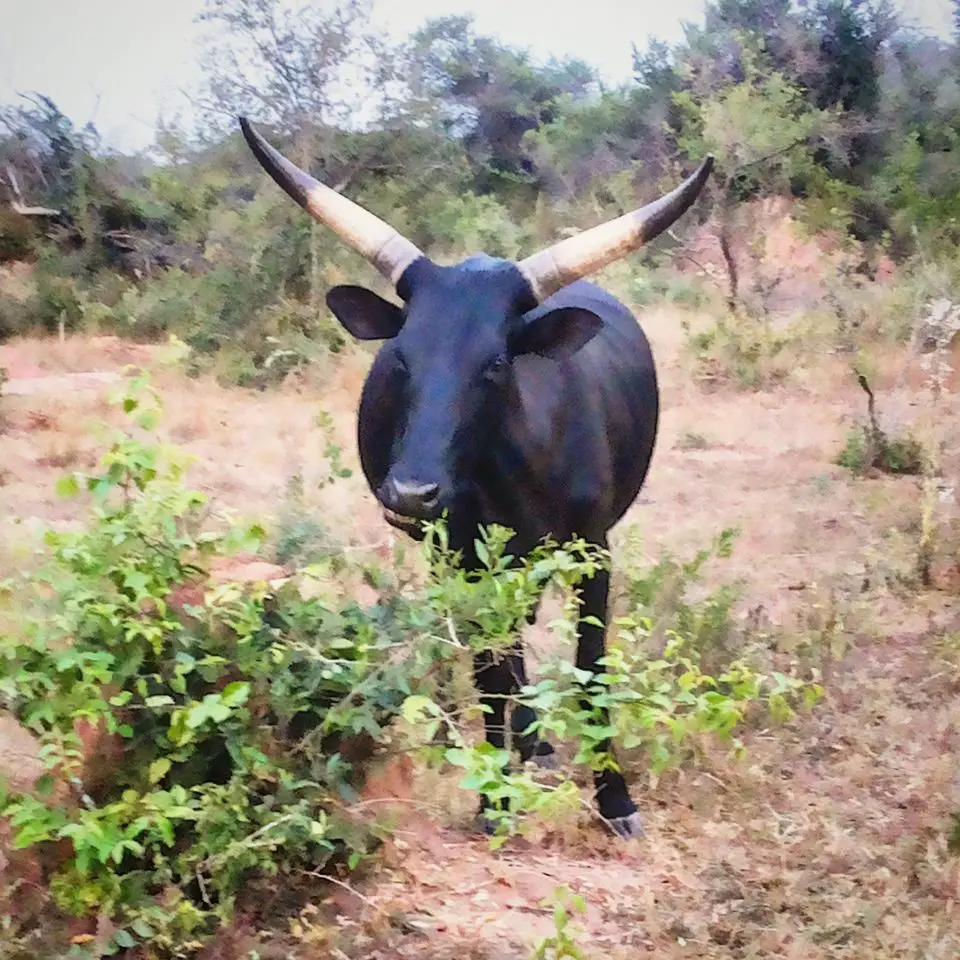 Among the cattle-keeping Bahima people of the former kingdom of Nkore (Ankole) in Western Uganda, each cow is named and yes, its lineage traced. A cow's name is derived from its distinguishing characteristics, a big part being color. This calf from my parents' herd is called Koozi because of her all-black coat. When she one day gives birth, her name will change to Kyoozi to indicate not only her all-black coat but also the fact that she has offspring.
2. A Ugandan Kob, Queen Elizabeth National Park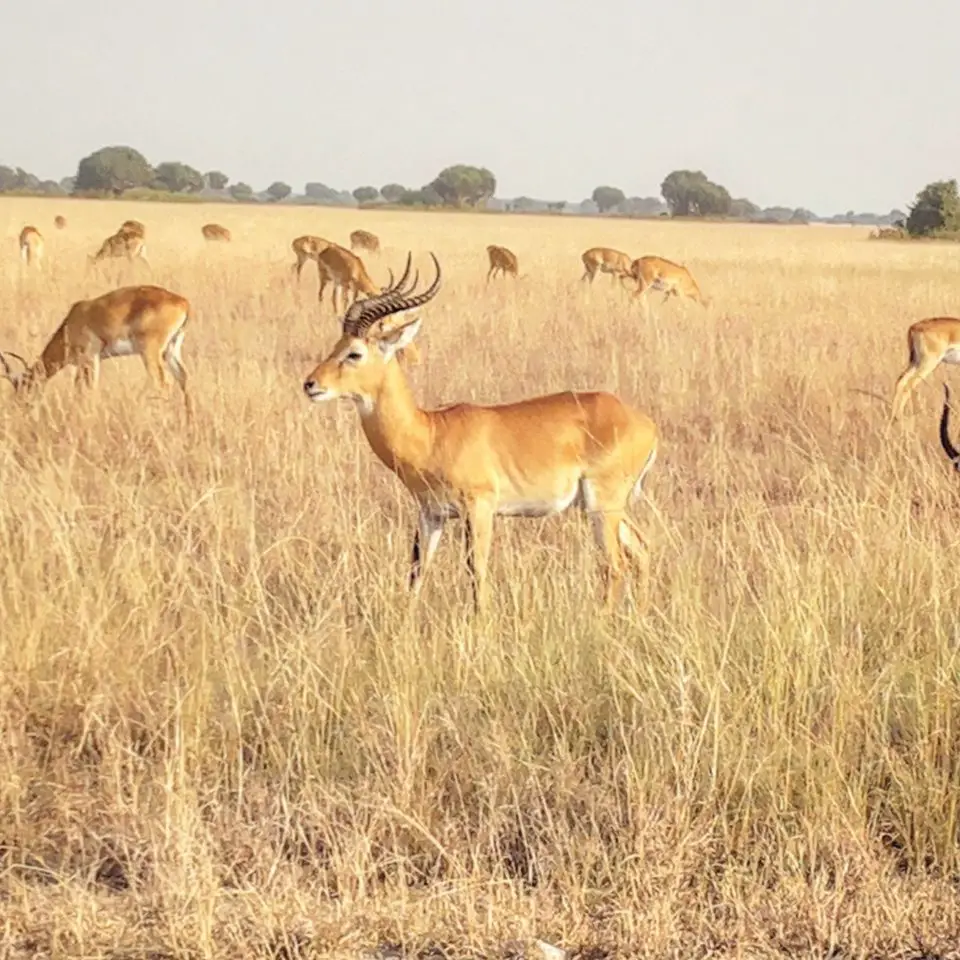 If I doubted that the antelope in my last picture was a Ugandan kob, I have no doubt about this one with its characteristic reddish-brown coat and curly horns. A Ugandan kob in all its glory!
READ ALSO: Where to Stay in Stone Town, Zanzibar For Every Budget
1. First Instagram Roundup Post: 36 Instagram Photos with the Most Likes on Instagram – Tanzania, Uganda, South Africa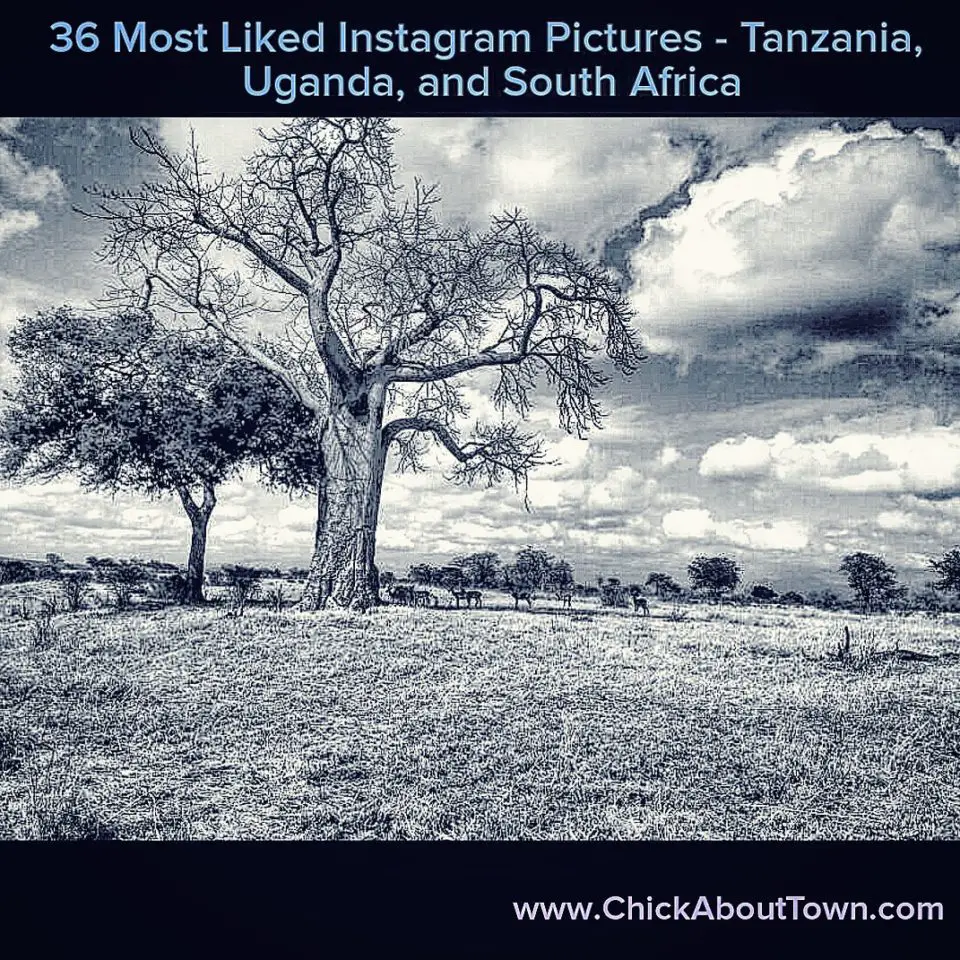 New post on the blog…Instagram: 36 Most Liked Pictures—Tanzania, Uganda, and South Africa.
In celebration of my two month Insta-anniversary, I've shared a roundup of pictures I posted that received the most likes on Instagram. Some of them surprised me, and it seems you guys didn't like some of my personal favorites.
Thank you all for an awesome 2 months. It's been fun getting to know you and interacting with you. Special thanks to @RichieWallStreet and @Muhaya_Fulani for convincing me to give Instagram a go. This one is for you! ???? Read more about my Instagram photos that received the most likes on Instagram in the past 2 months. 
There you have it, those are my Instagram photos that received the most likes on Instagram since my last roundup post. I hope you enjoyed them.
If you haven't yet subscribed to Chick About Town, you can do so using the form below. Enjoyed this post? Then please share it with your friends and followers on social media. Want to use any of these pictures? Go ahead, but please link back to this post.
Until the next time,
Biche
P. S. This post is dedicated to @FreeBaleja and @travelogues_africangirl. I hope these Instagram photos warm your heart. 🙂