Every February, Zanzibar hosts Sauti za Busara, nicknamed the "The Friendliest Festival on Planet Earth".
I can understand how Sauti za Busara earned that name.
Hanging out in Stone Town, Zanzibar on any random day would make you feel loose and irie, ready to open up to strangers, so how much more so then when the island's everyday activities come to a grinding halt to host the biggest music festival in East Africa, featuring not only Swahili music but also music from the rest of Africa and beyond?
I lived in Dar es Salaam for five years before I attended my first Sauti za Busara.
Each of those years, friends and family encouraged me to attend with them, but somehow, the logistics were never quite right.
Finally, in February last year, having only been back in Dar es Salaam from Kampala for 10 days, and having just started a new job, I bought a ferry ticket to Zanzibar and decided to go to Sauti za Busara on my own.
I could do that because I knew half of Dar e Salaam would be at the festival.
Not literally, but half of the Dar es Salaam I live in, i.e., folks in the arts and culture scene and (young) adult Tanzanians whose primary language is English (quite a small group in Dar) would all be in Stone Town for the weekend.

Arriving in Stone Town, Zanzibar
So this is how I found myself arriving on the shores of Stone Town at 3 p.m. on a Friday afternoon.
If you've never taken the ferry from Dar es Salaam to Zanzibar, approaching Stone Town feels like stepping into a storybook.
The colorful facade of 19th century buildings and the dhows milling about are all it takes to make you feel like you're entering another world.
First things first, I met up with a friend who I knew was working on Sauti za Busara's technical crew, sorted out accommodation, and then freshened up.
I was back at the Old Fort a little after nightfall and as I lined up to get in, as expected, I bumped into people I knew from Dar es Salaam.
A 3-day festival pass for Tanzanian citizens costs only Tsh. 10,000, and with that paid for, I was all set to discover and enjoy the festival.
READ ALSO: Verde Hotels & Tanzania's Bakhresa Group to Build Zanzibar's Greenest Hotel
I'd been to the Old Fort many times before, mostly during the day, and had even attended the Zanzibar International Film Festival there the previous year.
Although the amphitheater was set up a lot like it had been at the Zanzibar International Film Festival, with movies showing on a large screen, the hive of activity just before the amphitheater as well as the crowd gathered in the grassy courtyard of the Fort made it look like I'd never seen it before.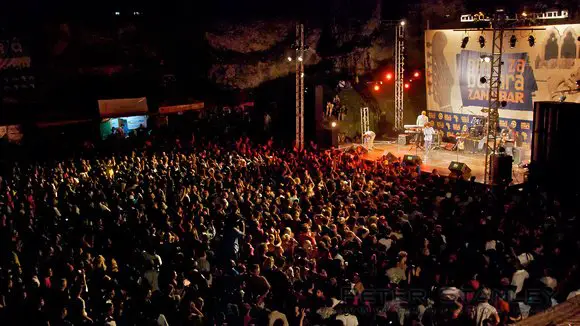 After greeting a few people I knew—as I said, half of Dar es Salaam moved to Stone Town for the weekend—I dove right into the crowd.
A Swahili music (music that developed along the Swahili Coast merging African, Arabic, and Indian influences) performance was in progress.
On stage, a mystical looking woman with white facial painting played a lute while her beautiful, graceful backup singers sat on the floor in a line swaying back and forth.
It sounded to me like they were singing in Swahili but my ear couldn't quite make out what they were saying.
I could have sworn they were Zanzibari.
Consulting my program, I realized I had walked in on a performance by Nawal & les Femmes de la Lune, from Comoros, an island-nation not far from Zanzibar.
I was amazed at how much they sounded like Zanzibari taarab (the most popular style of Swahili music) singers!
In the excitement of getting to Sauti za Busara, I had completely forgotten to eat.
My body let me know it was time to grab a bite.
Although, I would normally have crossed the street and bought some delicious Zanzibari street food from Forodhani Gardens, across the Old Fort, I didn't want to deal with the crowd of people at the Fort's entrance.
Since there were similar food vendors right there at the venue, I thought I'd give that a try.
They served the same delicious fare I would normally expect, but the prices were quite a bit higher.
I settled on some seafood and headed back to the Fort's courtyard just in time to catch part of Guinean N'Faly Kouyaté's performance.
READ ALSO: Coller La Petite Lyrics, Meaning of 'Sanga La Petite' & More
Nicknamed the Jimi Hendrix of the kora for his dexterity on it, N'Faly Kouyaté played haunting tunes and got the whole crowd at Sauti za Busara to sing along with him…in French.
Next up was Nathalie Natiembe, from Réunion Island, with rock-sounding music.
Although people I talked to after the show said she was one of their favorite performers from the festival, her punk rock sound was not for me, especially after the rich distinctly-African sounds I'd heard from the last two acts.
Her set passed quickly enough and it was back to more fascinating-for-me music.
The next performance was from a group that seemed like an eclectic mix even at first sight.
In the middle of the stage sat a man in traditional Luo attire, nyatiti in hand.
All but one of the band members around him (who played the African drums) were white Londoners.
The man and his band couldn't have been more different from each other than night from day, and this continued to be true even as they played.
They played in different styles, they moved differently, and their vocals were representative of the different worlds they came from.
And yet, there was something groovy when the two came together.
I couldn't stop bobbing my head or tapping my feet.
The group's name? Owiny Sigoma Band.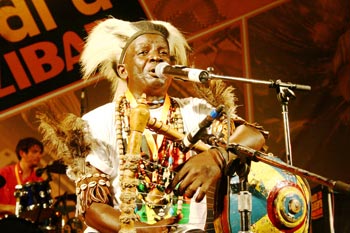 That's something I've come to love about Sauti za Busara.
To see groups billed as coming from Kenya/U.K., e.g., the Owiny Sigoma Band; or Austria/Burkina Faso like the fast-paced energetic Burkina Electric; or from Senegal/Sweden like my favorite act from the festival, Sousou & Maher Cissoko, is the norm.
When I first noticed this in the program, I was upset.
Couldn't the festival simply feature African music, unadorned and unadulterated? Did African musicians need to collaborate with European or American musicians to be palatable to festival goers?
After 3 days of such cross-culture collabos, I had to take back these sentiments. It was delightfully refreshing to see how musicians from starkly different cultures and musical heritages could collaborate to create entirely new sounds while respecting their various backgrounds and with no musical style dominating the other.
In fact, it is this cross-cultural aspect of Sauti za Busara that I am most looking forward to experiencing again the next time I attend.
READ ALSO: Franko – Coller la petite : paroles & traduction de « sanga la petite » et autres.
Local Acts: Swahili Music & More
The music at Sauti za Busara was far from all foreign.
There were local acts from Zanzibar playing various styles of Swahili music, such as the 56-year-old legendary taarab orchestra, Culture Musical Club, and the centenarian queen of taarab and unyago, the now-deceased Bi Kidude (Bi Kidude died two months after this performance).
There were also many performances from Tanzanian mainland performers, who although most used the Swahili language performed genres that would generally not fall under the umbrella of Swahili music.
These included the stellar Wakwetu Jazz Vibes, traditional musician Msafiri Zawose, and the erotic underground music and dance of  Super Maya Baikoko.
By the third day of the 10th edition of Sauti za Busara, I was reveling in my 3-day immersion in not only Swahili music, as I'd expect from a music festival held in Zanzibar, but also in world music.
I began to wonder when my taste in music had become so myopic.
I made a pact with myself to expand my musical horizons and so far, so good.
Before getting to the festival, I was familiar with only four of the twenty-three artists or groups on the program.
At Sauti za Busara I was exposed to amazing musicians from across Africa and the world, that I can firmly say I would probably never have encountered elsewhere in life.
I feel so much richer for the experience.
Sauti za Busara takes place every February in Stone Town, Zanzibar. For more information, visit www.busaramusic.org.
Until the next time,
Biche
Photo Credits: Sousou & Maher Cissoko (Link Reuben); Sauti za Busara Crowd (Peter Stanley); Owiny Sigoma Band (Masoud Khamis)