Stantech Motors
Shimo la Tewa Rd. (off Mombasa Road)
Tel: +254-(20)-530662 )(pilot line)
+254-(20)-558460-1
+254-(20)-555249
+254-(20)-552107
Website: www.stantechmotors.co.ke
Hi, reader. How are you today? Allow me to deviate from my usual subject of places to go and products to buy and instead tell you about a great auto garage that consistently gives me great service. Today, I'd like to tell you about Stantech Motors, an auto garage located off Mombasa Road (before the turnoff to South B), near Marshalls.

Before I get into why I recommend Stantech Motors, allow me first to tell you a little bit about why you should or shouldn't listen to what I have to say. 🙂 First and foremost, allow me to tell you that I drive a 20-year old car. Furthermore, I am the quintessential girly-girl. (Some might disagree with this last statement, but trust me, I know myself best. 🙂 ) All this together means that I visit auto garages a bit more frequently than the average driver and that I derive very little pleasure from these visits. What I look for when I take my car to an auto workshop is reliable, well-priced service that solves my problem effectively with as little input from me as possible…every time! 🙂 Now let me tell you about Stantech Motors.
I first went to Stantech Motors after bashing my car in two successive road accidents (yes, believe it or not)! My then-insurers would only pay for repairs performed at a reliable garage, so they gave me a list of names to pick from. I had never heard of any of the garages listed but settled on Stantech Motors based on advice I received from a knowledgeable friend. This was the beginning of my long relationship with this outstanding garage. My car was pretty badly damaged when I first took it to Stantech Motors but it came back as good as new.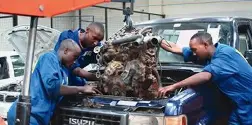 I inherited my car from my parents, who bought it brand new when I was 8 years old. The secret to keeping a car in good condition for that long, according to my father, is to always take the car to the authorized dealer for the make of car. I tried to honor this time-tested secret when I first inherited my car, but I very quickly realized that my pockets weren't quite as deep as my parents'. 🙂 After once paying a fortune to service my car at the authorized dealers for the make of my car, I very quickly started looking for another alternative. Remembering my good experience with Stantech Motors, I decided to next service my car there. Again, I was very pleased with the service they gave me.
In the five years that I have driven my car, I have ever since only serviced my car elsewhere once. I immediately decided to go back to Stantech! If you are wondering what's so great about Stantech Motors, let me spell it out for you.
First of all, I keep going back to Stantech Motors because no matter what state I take my car to them in, they always give back to me "purring like a new baby". Secondly, the systems in place at Stantech give me exactly the ease and peace of mind that I look for when dealing with an auto garage. Stantech Motors tags itself as 'The Auto Body Work & Vehicle Service Professionals'. I couldn't think of a better word to use: Stantech Motors is professional about motor care.
So I am now shopping for a new car, and I've got a couple of cars on my horizon. Read more about it at: Vitz: Toyota Vitz Review.
This professionalism begins when I drop my car off for service or repair. At that time, Stantech Motors gives me a job card which details the particulars of my car, the work to be done on it, and details about the state in which I handed over my car. These details include things such as the number of car mats I have, whether or not my car has puncture repair tools, and even the level of my gas gauge. When did you last take your car for repair or service and not worry about how much gas you left in the tank? This procedure is not unique to Stantech Motors, but Stantech is one of the few places where I don't have to inquire further about any of the items that I expect to find in my car, nor do I need to chase them to ensure that all the work listed is in fact attended to.

When I pick up my car from Stantech Motors, an attendant describes to me in detail the work performed on my car, showing me both new and old pieces for any parts that were replaced. Not only are these shown to me, but also to another staff member whose full time job is quality assurance.
Before I leave the garage, whether for a road test or for my final exit, my car is thoroughly checked to ensure that I am not smuggling out any spare parts. Also, I must present a gate pass to the guard at the gate showing that I have clearance to take the car out of the garage. Although this procedure is sometimes a drag, it comforts me to know how much care the garage takes to ensure that my car is not inappropriately used during its stay at Stantech Motors. Also, I'm keen to see that, generally, Stantech Motors is vigilant about the trafficking that can take place with auto spare parts. What's more, in the five years that I have been taking my car to Stantech Motors for servicing and repair, not once have I seen these procedures ignored.
Some may argue that the cost of maintenance service at Stantech Motors is more than necessary – I usually pay between 5,000 KSh and 10,000 KSh depending on whether it is a minor, medium, or major service – but in my experience, it has always been well worth it. I service my car every 5000km as recommended, but still, almost every time before I service my car I swear that this is the last year I will be driving it, and when it comes back, I reconsider my position. 🙂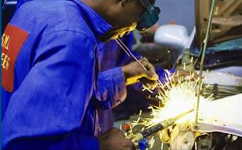 Judging from my earlier disclaimer about being the quintessential girly-girl and not generally being a motor enthusiast, I might not be the best person to give you advice about where to take your car for repair. Nonetheless, I just wanted to let you know about how happy Stantech Motors makes me…every time! Although I don't always take my car there for minor (and not so minor) repairs, I would never think of taking my car elsewhere for service.
If you are shopping around for a place to service your car or to do some auto body work, try it out. You just might be as ecstatic about the service you get there as I always am.
If you do, let me know what you think.
Cheers,
Biche
P.S. To be sure not to miss future posts on ChickAboutTown, sign up to receive posts directly by email.
Photo Credit: educationcareerarticles.com