This post is about three different establishments with similar names:
Click the links above to jump to the relevant sections of this post.
Shammah Hotel Milimani, Kisumu
Shammah Hotel is a basic, inexpensive hotel in Milimani, Kisumu, a fairly quiet part of the city.
The staff at Shammah Hotel are very friendly and willing to do their utmost to accommodate their guests.
Shammahs Bed Breakfast
Shammah's Bed & Breakfast is located in Diego Martin, a town in northwestern Trinidad.
It is located a little out of town, and the hosts are very friendly.
To find out more about Shammah's Bed & Breakfast, click here.
Parkview Safari Hotel Kisumu Contacts
Parkview Safari Hotel is located on Harambee Road (off Impala Way) in Kisumu.
You can reach the establishment on +254-742-336202 or by email at the following address: [email protected]
Hotels in Milimani Kisumu
If you are interested in others hotels in Milimani, Kisumu other than Shammah Hotel, here are a few for you to consider:
Milimani Hotel Kisumu
Milimani Holiday Resort is a hotel located in Milimani, Kisumu, less than a kilometer away from West End Shopping Mall. The hotel has an outdoor pool, barbecue facilities, a children's playground, and an on-site restaurant.
The rooms at Milimani Holiday Resort each have a flat-screen TV with cable channels, as well as a computer.
There is free WiFi at the hotel as well as free parking.
Milimani Holiday Resort has a 24-hour front desk, and car hire is available at the hotel.
Kisumu International Airport is 7.6 kilometers from the hotel.
To find out more about Milimani Holiday Resort, click here.
Shammah Hotel, Bujumbura
Shammah Hotel
30 Bd. De L'UPRONA
Bujumbura, Burundi
Tel: +257-22275760/22223659/29551846
Email: [email protected]
When I first started this blog, my goal was to provide information about living & lifestyle for the whole of East Africa.
At the time, the East African Community was made up of three countries—Kenya, Tanzania, and Uganda—all of which I felt I knew relatively well.
Then, Rwanda and Burundi became a part of the East African Community.
Although I had been to Rwanda before, I had never set foot in Burundi.
Still, I really wanted to deal with East Africa as a whole.
I realized: I would have to visit Burundi soon!
The Chance to Visit Burundi
Coincidentally, a couple of months later, an opportunity to do some work in Burundi came up (can anyone say The Secret?).
Without hesitation, I accepted the offer.
This is how I found myself, in Burundi, on a clear Tuesday in September, headed towards Shammah Hotel.
This would be my home-away-from-home during my week-long sojourn in Bujumbura.
To give you a little background on accommodation in Bujumbura, I'd heard from so many people that finding good (and affordable) accommodation is quite a challenging task.
A number of my friends, who travel there often, frequently complain about Hotel Source du Nil, one of the most prominent hotels in Bujumbura, primarily on the basis of its lack of hygiene.
They tell me that they often find the sheets dirty (suspecting previous use).
Some even say that they've seen vermin creeping through the hotel.
I do not know for sure how true these stories are. When it came to choosing where to stay in Bujumbura, though, I trusted these friends to recommend a suitable place.
This is how I ended up at Shammah Hotel.
Arriving at Shammah Hotel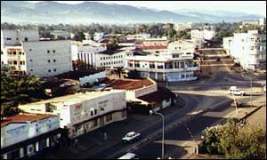 My first impression of Shammah was that it was a small bed-and-breakfast type establishment, which I think is an apt description (though it's not that small).
The staff were friendly and welcoming and greeted my hosts by name.
After a quick check-in, the receptionist showed me to a single room on the ground floor, complete with en-suite bathroom.
The bedroom had all the usual amenities, such as telephone and TV.
As I mentioned previously, I spent a week at Shammah Hotel.
The cost of the single room I was staying in was US$35 a night, inclusive of breakfast.
To sum up my experience there, it was the perfect homely room away from home.
Shammah was extremely clean. The impeccable white sheets were changed daily.
To date, I can still clearly remember the clean sparkle of their white tiles.
The en-suite bathroom seemed more like a residential bathroom than one you'd expect to find in a hotel.
I was particularly touched by the detail that went into creating such an atmosphere, details as small but as thoughtful as a small packet of cotton ear buds in the bathroom.
The Food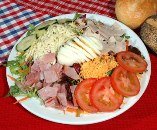 Meals at Shammah Hotel, including the breakfast that comes with the room, are served at Cafétariat Snack, a restaurant located on the front facade of the hotel.
Although I didn't eat there often (I am not a big fan of breakfast), I particularly enjoyed the Salade de Shammah (a sort of Chef's Salad) that I ate there once or twice.
The staff at Shammah Hotel mentioned to me that the hotel's owners are devout Christians.
For this reason, the establishment does not allow unmarried couples to share a room, nor guests to entertain visitors of the opposite sex in their bedrooms (a rule that staff is not hesitant to enforce).
Although this may seem unduly strict, this rule may contribute greatly to why such an inexpensive hotel located so close to the center of town manages to maintain a feeling of wholesomeness, with no suggestion of sleaze, at all!
READ ALSO: Durex Play: Usage Instructions & Info on Durex Play 2-in-1 Massage Gel
As you can tell, I much enjoyed my stay at Shammah Hotel.
I recommend it highly to anyone looking for good basic accommodation in Bujumbura.
It was extremely clean, and I found the price very reasonable.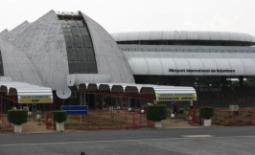 If you will be visiting Burundi soon and are wondering where in Bujumbura to stay (especially if you are not looking for luxury accommodation) then Shammah Hotel might be just what you are looking for.
You can find Shammah Hotel's contact information at the top of this post. Please contact them to find out more.
If you ever do visit Shammah Hotel, remember to let me know what you think.
I look forward to hearing what you have to say.
Until the next time,
Biche
Photo Credits: Booking.com, www.bujumbura-hotels.com, Burundi Safari & Souvenirs