Did you come to this post looking for information about Ryans Bay Hotel Mwanza or recommendations for other places to stay in Mwanza, Tanzania? If so, you are in the right place. Let's get right to it.
When you think of the Tanzanian city of Mwanza, what comes to mind?
Do you think of the fact that Mwanza is Tanzania's second largest city? Or, perhaps, do you think of fishing and fisheries, the economic sector that Mwanza is known for?
Personally, I think of a peaceful, scenic, lovely city on the shores of Lake Victoria with wonderful rock formations because that's what it feels like to actually be in Mwanza.
Mwanza is a city that I enjoy a lot and get to do so often because it's a regular stop on the journey between Dar es Salaam and my Tanzanian hometown Bukoba.
If you are thinking of visiting Mwanza soon and are wondering where to stay when you do, I've got a few recommendations for you today.
Here goes…
1. Ryans Bay Hotel Mwanza
Ryans Bay Hotel Mwanza is a pleasant modern hotel on the shores of Lake Victoria.
It has 50 rooms and 4 serviced apartments. Each guest room and suite at Ryans Bay Hotel Mwanza offers a magnificent view of the bay.
The hotel's beds are large and comfortable. It has beautiful grounds with a large swimming pool. The service is friendly, and the hotel has great views of the lake.
Ryans Bay Hotel Mwanza is located very close to Mwanza's city centre.

Two Other Hotels in Mwanza Town
2. Hotel Tilapia
When I am in Mwanza, even for a few hours, I make it a point to drop by Hotel Tilapia, which is my favorite place in Mwanza.
Why? Because the terrace bar/restaurant with its sensational view of Lake Victoria and the rocks that earn Mwanza its nickname Rock City is so worth it!
The rooms are not as impeccable as at Malaika Beach Resort, but win-some—lose-some…I guess. 😉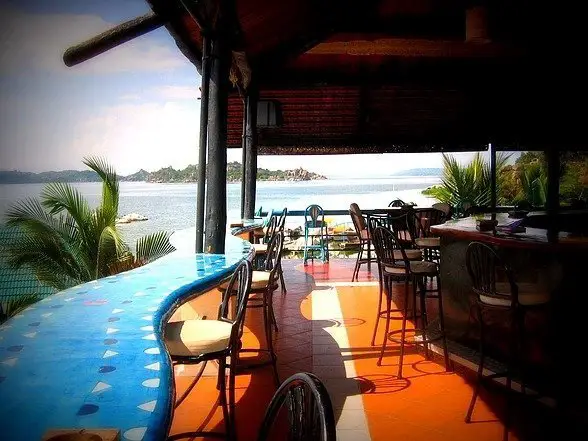 3. Adden Palace Hotel
If it's not important for you to stay on the shores of Lake Victoria when you are in Mwanza, or if budget is a big consideration, then the place you want to stay is Adden Palace Hotel.
Located near Mwanza airport, Adden Palace Hotel is very neat and clean.
The rooms are particularly comfortable—not only the beds but also the good air-conditioning and thick curtains that make the room very dark.
The service is very attentive, the food is notably good, and the lively outdoor bar is a nice place to hang out.

4. Hotels in Mwanza City Tanzania: Malaika Beach Resort (About 20 Minutes from Mwanza City Centre)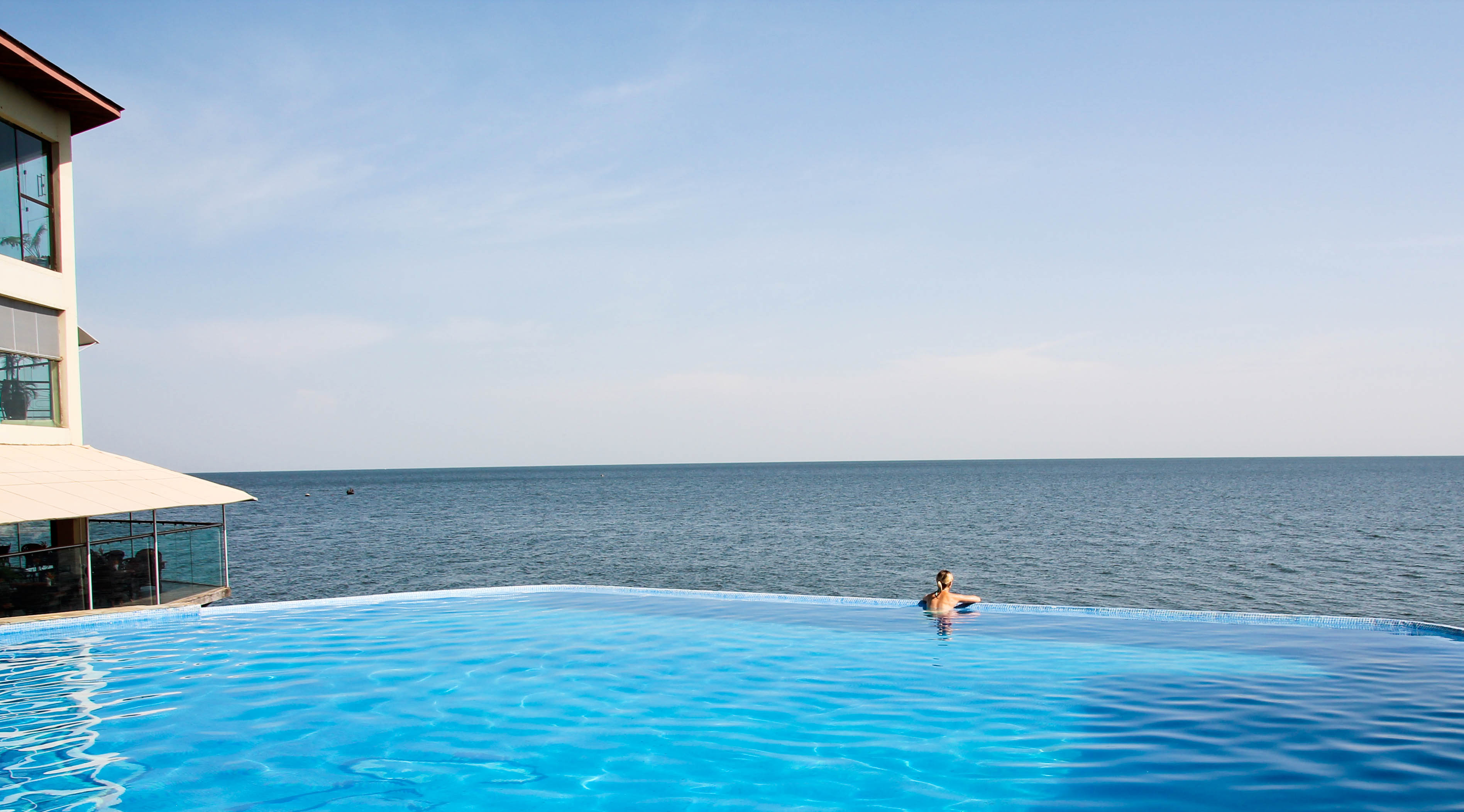 If you will be in Mwanza and want a beautiful place from which to enjoy the best of Lake Victoria's beauty, then Malaika Beach Resort might be just the place for you.
Malaika has plush well-maintained grounds, with gorgeous views of the lake.
The rooms are beautiful and neat, and even the swimming pool has a great view of the lake (as you can see above).
Malaika Beach Resort is only a 10-minute drive from Mwanza airport and the resort offers complimentary airport transfers.

So there you've got it, folks: another short one from me today, hopefully giving you some ideas about where to stay if ever you are in Mwanza.
In case you are wondering what there is to do in and around Mwanza, I wrote all about it a while back here: A Guide to Mwanza, Tanzania. Enjoy!
Sticking to the subject of where to stay when you are visiting Mwanza, let's discuss it in the comment section.
Let me know what you think about my Mwanza hotel suggestions, and tell me, too, if there are other places in Mwanza that you would like to recommend to me and others.
As always, I look forward to hearing what you have to stay.
Until the next time,
Biche
Photo Credits: VisitMode.Com, The Pink Backpack, Hotel Tilapia, Hansueli Krapf