Did you come across this post looking for the Mediterraneo Restaurant menu? If so, you are in the right place. Let's get right to it!
Table of Contents
Mediterraneo Hotel Dar es Salaam Menu / Mediterraneo Restaurant Menu/Mediterraneo Hotel Menu
If you are looking for the Mediterraneo Dar es Salaam menu, you can easily get it on your smartphone.
To do so, download an app called "eZee eMenu" from your usual app store, i.e., Google Play Store or the Apple Store.
Once the app is downloaded, open it.
You will then be prompted for a restaurant code. The restaurant code for Mediterraneo is 54.
Once you enter the restaurant code, the most up-to-date menu for Mediterraneo will load in-app.
READ ALSO: Ramada Encore Dar es Salaam Menu & Restaurants in Dar es Salaam
Mediterraneo Menu for Takeaway
Due to the difference in dining habits brought on by the COVID-19 pandemic, Mediterraneo now has a special takeaway menu.
Delivery to Mikocheni and Kawe areas is free.
The number to call to place an order is +255-777-009300. Orders can be made everyday between 12 p.m. and 10 p.m.
Ramada Hotel Mbezi Beach Menu/Ramada Hotel Dar es Salaam Menu
If instead you are looking for the menu at the Ramada Resort by Wyndham Dar es Salaam in Mbezi Beach, here are several menus for the main dining areas there.
Menu for The Market (The Main Restaurant at Ramada Resort)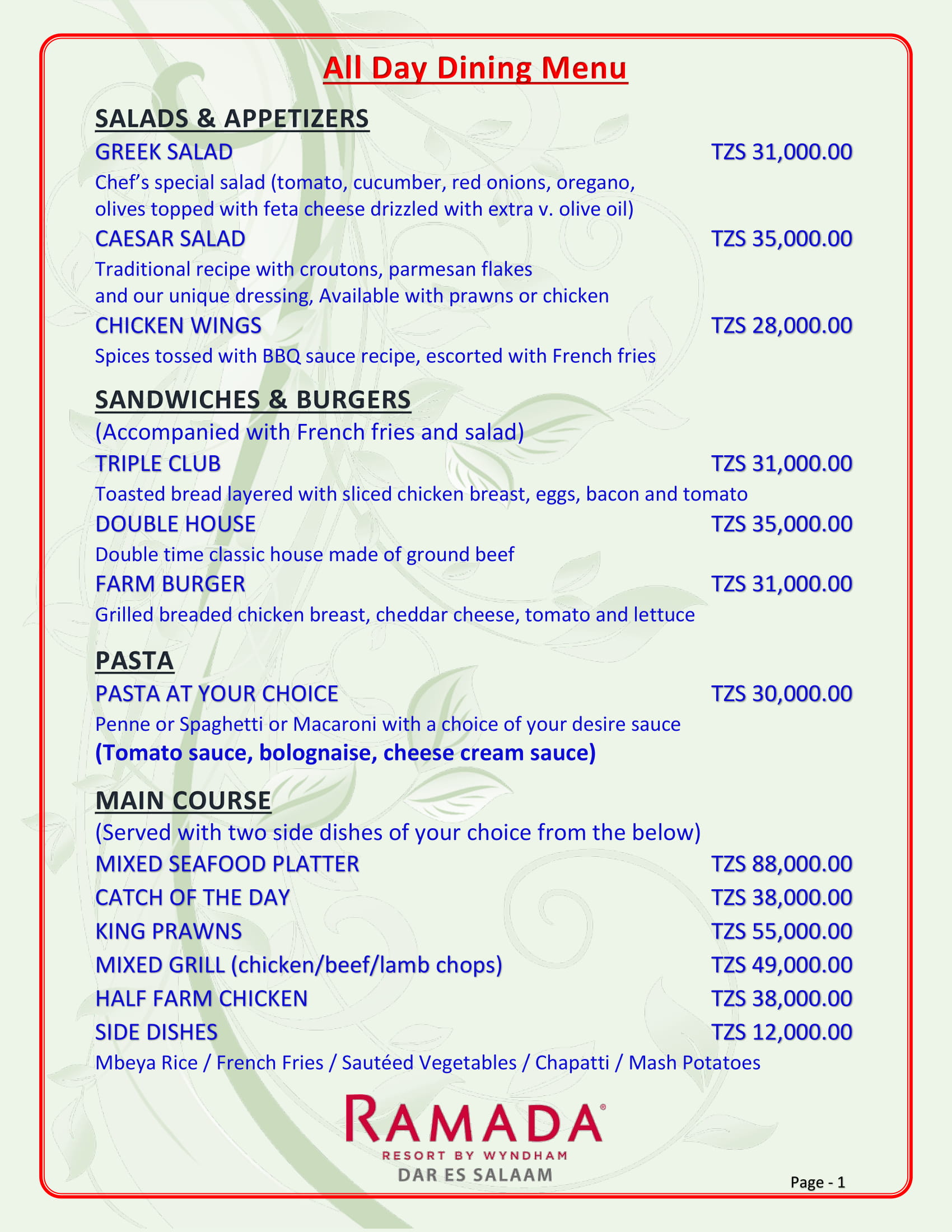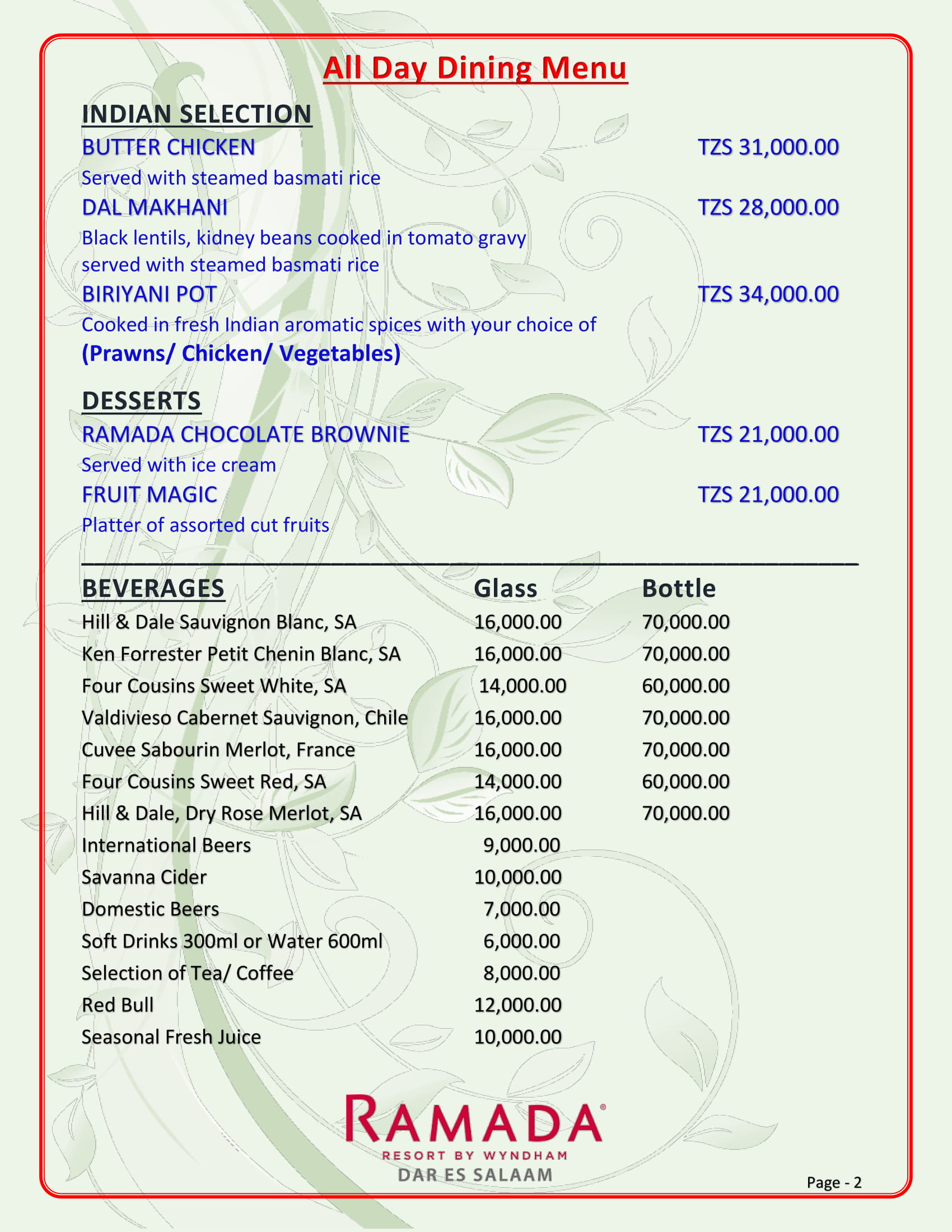 Poolside BBQ Menu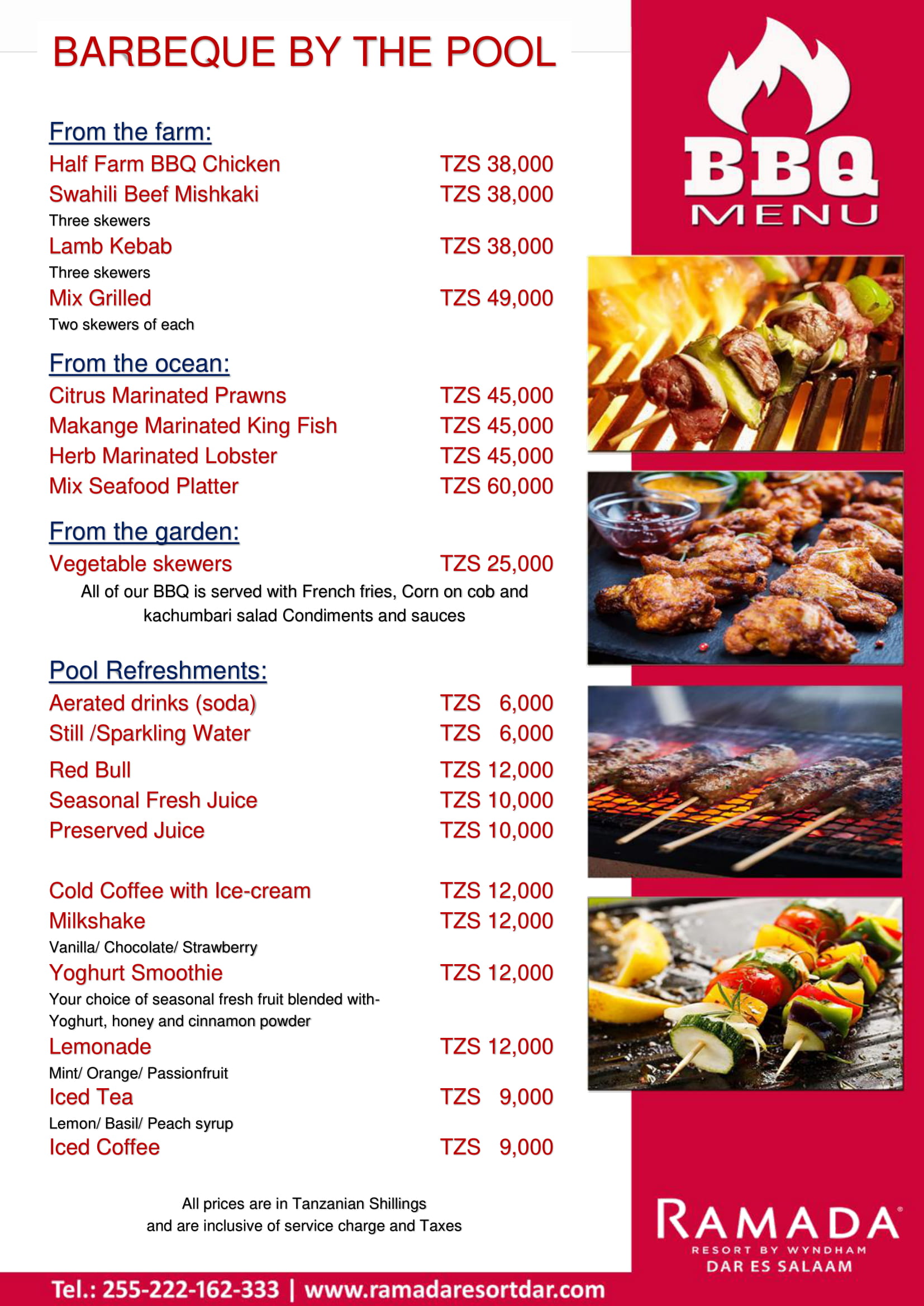 Mediterraneo Ristorante Delivery Nairobi
For takeaway from Mediterraneo Nairobi, you can place an order through Jumia Food, Uber Eats, or Bolt Food.
You can also call the restaurant directly on 0728855100 or 0734845077 to place an order, which can be delivered anywhere in Nairobi at an extra cost.
Takeaway orders can be made from one of two menus: the new Family Pack Takeaway menu or the regular à la carte restaurant menu. See those below.
Mediterraneo Junction Menu
Mediterraneo Restaurant Nairobi Family Pack Takeaway Menu
Click anywhere on the menus to expand them in a new window.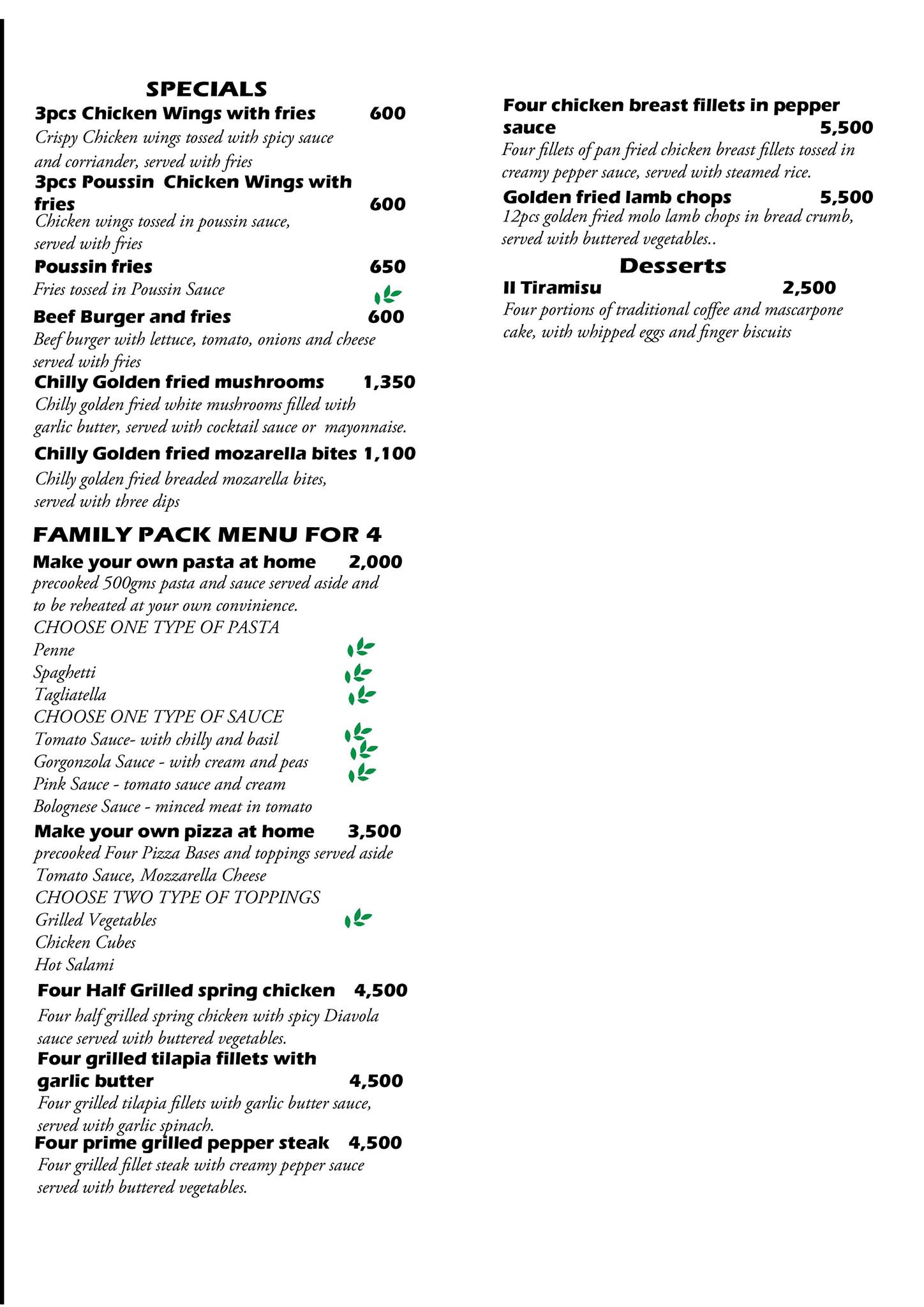 Mediterraneo Restaurant Nairobi Regular Menu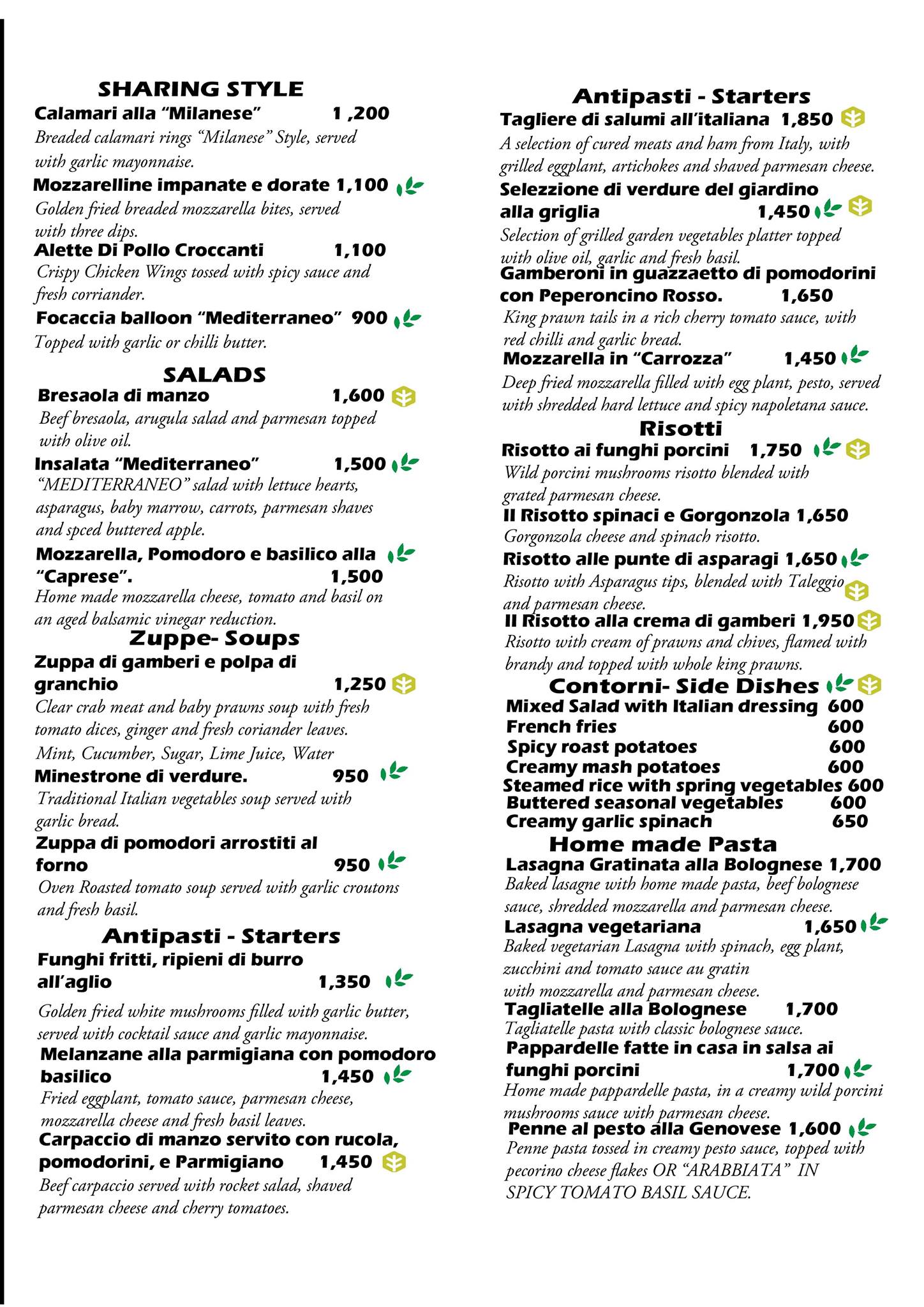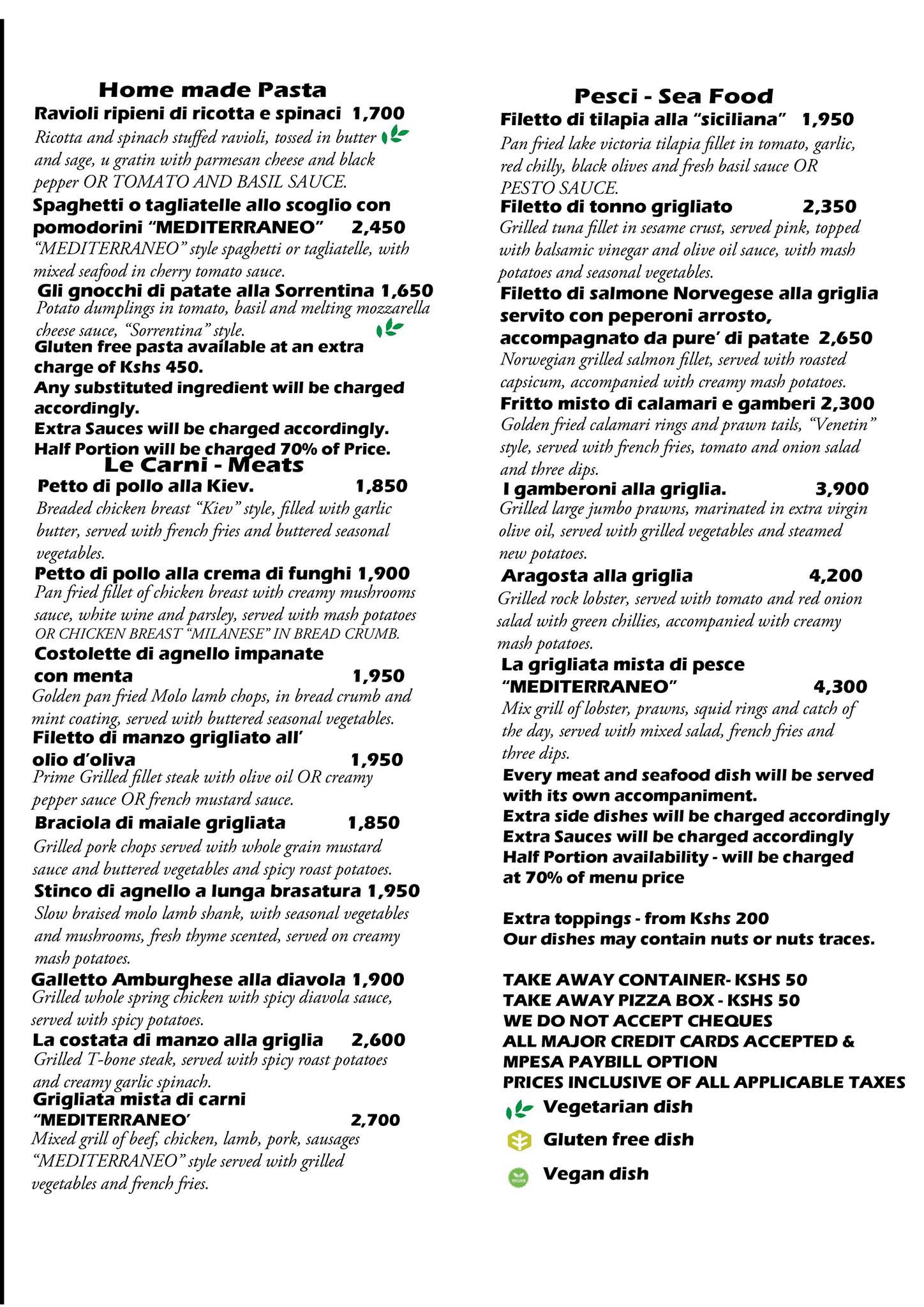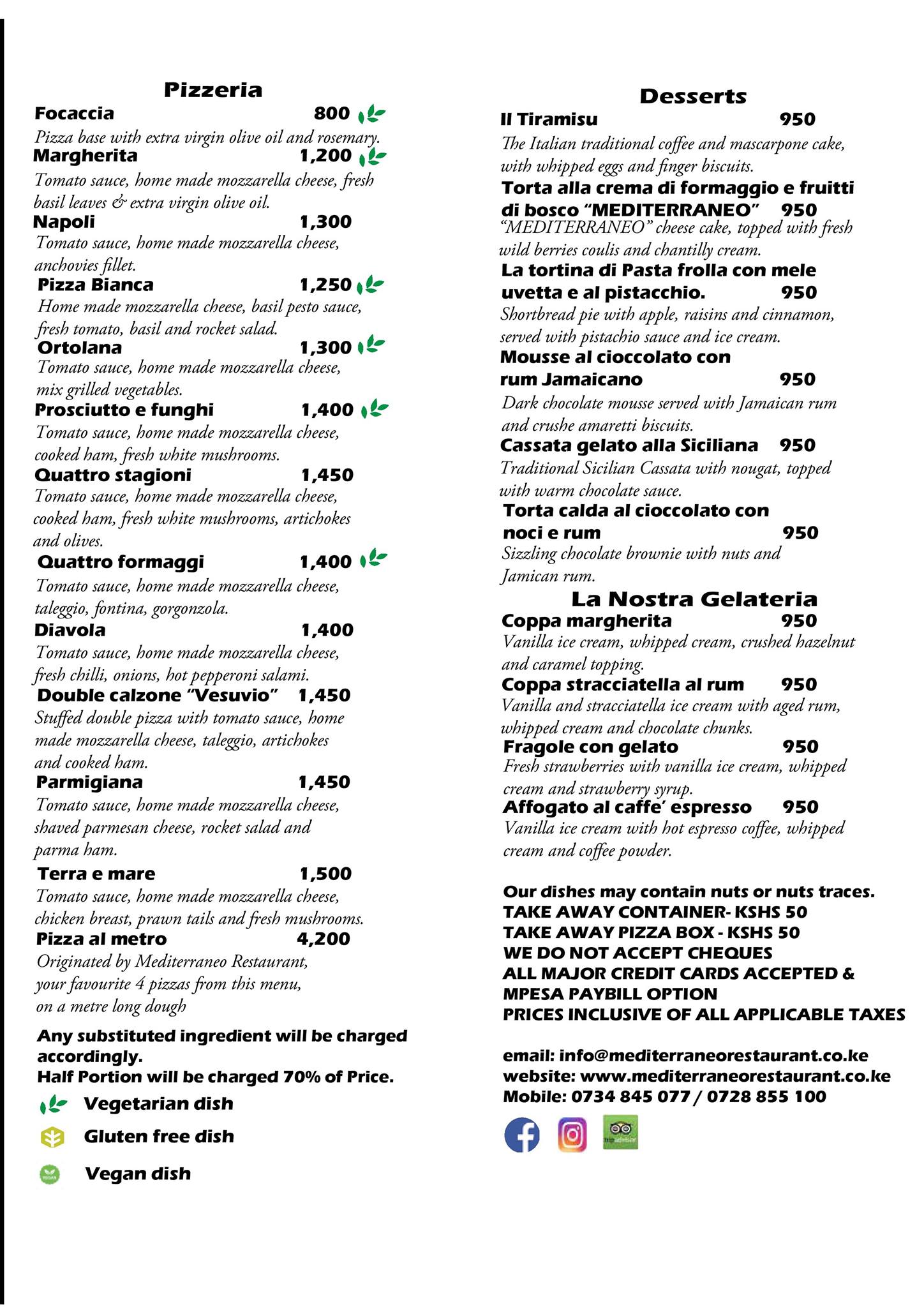 Darsalam Menu
If you are looking for the menu of DarSalam Restaurant in Portland Oregan, you can find it here.
Mediterraneo Hotel Dar es Salaam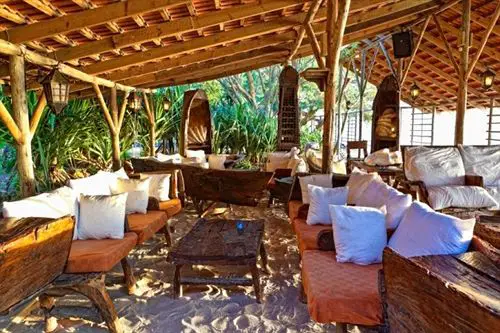 On the shores of the Dar es Salaam residential neighborhood of Kawe (between Mikocheni and Mbezi Beach), is a charming boutique hotel called Mediterraneo.
With beautiful gardens that are a delight both during the day and at night, artistically decorated Mediterraneo is also home to one of Dar es Salaam's most popular Italian restaurants of the same name.
The experience of the Indian Ocean and the views across it, at Mediterraneo, are simply stunning!
Before I moved to Dar es Salaam, this is one of the places that first made me fall in love with the city.
Mediterraneo is a small one-level boutique hotel with tastefully decorated rooms and well-fitted modern bathrooms.
It has a swimming pool near the ocean and beach access.

Kawe Beach, where Mediterraneo is located, is about a 45-minute drive from downtown Dar es Salaam (longer during rush hour). Beware of this if you need to commute to other parts of the city, especially at that time.
Mediterraneo Hotel & Restaurant
Kawe Beach, Dar es Salaam
Tel: +255-22-2618359
It seems to me as though there might be a restaurant called Mediterraneo in each of East Africa's largest commercial cities.
In Nairobi, there is the wonderful Mediterraneo at The Junction.
In Dar es Salaam, there is the beautiful Mediterraneo in Kawe, which will be the subject of today's post.
In Kampala, there is the Mediterraneo in Kololo.
The one thing that all these Mediterraneos share in common, other than their name, is that each of them is an outstanding restaurant with good food and great ambiance. Might it be true then that a name bewitches its owner, as is often said in my mother tongue?
Mediterraneo Hotel Restaurant Tanzania
I first visited Mediterraneo in Dar es Salaam on a day when my mind was fraught with anxious thoughts.
I was going through a trying period in my life and needed some time out to recoup and clear my mind.
Mediterraneo did this wonderfully.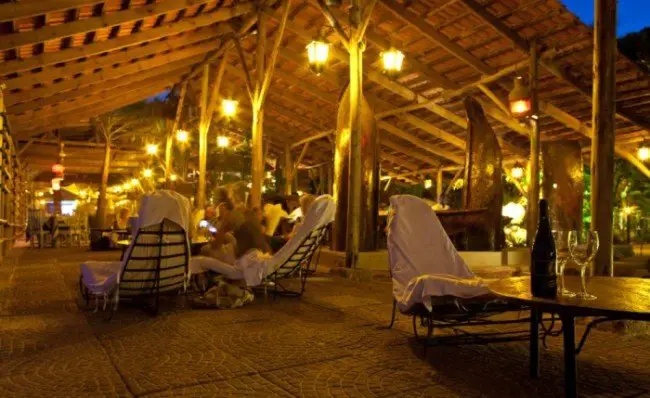 The Lounge
I remember arriving at Mediterraneo and being mesmerized by the beauty of the lounge area.
The chairs were made of canoes, and there was sand on the ground.
The ocean was only a short distance away and it seemed to be blowing wind in my direction with the intention of blowing all my worries away.
The Restaurant
Upon arrival, my party and I were quickly attended to by a warm and friendly waiter.
As soon as he knew that we had come for lunch, he led us to the dining area where he seated us, served us drinks, and left us to peruse the menu.
If I was wowed by the lounge at Mediterraneo, then I can only say that I was left speechless by the dining area itself.
Although the interior decor of Mediterraneo Restaurant is quite simple, the glass wall that separates the restaurant from the ocean is what gives Mediterraneo that truly special feel.
This glass wall allows you to gaze out and see the ocean (which laps Mediterraneo's foundation walls during high tide) while blocking ocean spray and heavy wind, which would be very uncomfortable while dining.
The Food

The food at Mediterraneo is, for me, the only part of the restaurant that leaves something to be desired.
Although the food is good—Mediterraneo serves an extensive Italian menu—it is never quite perfect.
I remember once having a seafood platter, at Mediterraneo, which had me asking for all sorts of condiments—lemon, olive oil, and chili—to add flavor to my meal.
At yet another time, I remember being served food that was not hot but just lukewarm.
This did not in any way add pleasure to my meal.
The one type of food that I will never complain about at Mediterraneo, though, is the desert.
Mediterraneo serves deliciously perfect desert!
Maybe the problem with the food at Mediterraneo is specific only to me. Mediterraneo has, in the past, been voted Best Restaurant in Dar es Salaam during the Quest for the Best Awards. Might it be that something changed at Mediterraneo after these awards that affected the quality of the food there?
Whatever the case, I can still confidently recommend a visit to Mediterraneo Restaurant in Dar es Salaam because whatever its shortcomings with regard to food, it abundantly makes up for with great ambiance, good service, and inspiring decor.
When you do visit Mediterraneo, please come back here and tell me what you thought. Particularly, I would like to know what you thought about the food.
Was it outstanding? Am I just being picky?
I look forward to hearing what you have to say.
Until the next time,
Biche
ALSO READ: Quick Facts About Zanzibar
Photo Credits: HotelBoard