I am always amazed when I discover new places that I have never been to in Nairobi because I have lived here for so long and do my fair share of going out.
The place I am going to tell you about today, Maxland Grill, is one such place—a place that I had never heard of before but that was such a nice and unexpected discovery.
It all began one Friday, when out of the blue, an ex-colleague called to invite me to hang out with him and his ex-workmates at Olepolos the following day.
Never one to decline an invitation to Olepolos, I canceled all my plans for the next day and began to look forward to a beautiful day in the hills with good company – eating meat and enjoying a drink.
My friend told me that he would call me early on Saturday to concretize plans and logistics for our trip to Olepolos.
On Saturday, I began my day by running errands that I wanted out of the way before I headed out to have some fun.
I had many errands to run but figured I would attend to as many of those as possible while I waited for my friend to call.
As the day progressed, I got a lot done but began to notice that my friend's call was late in coming.
My friend called me early in the afternoon with some bad news: something had come up and we weren't going to Olepolos after all. Instead, the group had decided to meet at Maxland in Westlands.
I had never heard of Maxland before and almost considered canceling on my friend, but in the end decided to go to Maxland with the group as planned.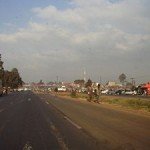 Discovering Maxland Grill
Maxland, as I came to find out, is located in Westlands, off Waiyaki Way (across the road from Safaricom House). The turn off to Maxland is located immediately after the Shell gas station (and Shell Shop) and is hard to miss when you are looking for it.
I found my way to Maxland easily, parked my car, and got set to do my best to enjoy a second-rate afternoon.
A second-rate afternoon is not at all what I got that afternoon at Maxland.
Maxland turned out to be a wonderful place that did not have me overly regretting that I had not spent the day at Olepolos.
Please, be clear: I am not in any way comparing Maxland to Olepolos, but despite it being located in very busy Westlands, Maxland's environment and relaxing atmosphere managed to give me a refreshed feeling similar to the one I get after spending time at Olepolos.
The first thing that struck me when I entered Maxland was the size of the establishment and how well it was built.
Despite being a nyama choma joint, Maxland is not makeshift in the least with paved walkways and sturdy bandas.
The meat I ate there that day was extremely good.
Because I was with a big group, I got the chance to taste meat cooked in different ways.
The fry, roast, and boil were all very, very good.
Although we didn't eat mutura that day, I hear that Maxland also makes a mean mutura!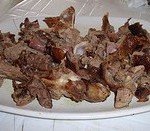 It's been about a year since I first went to Maxland, with many promises to myself that I would return again soon.
Although I still haven't been back yet, it's something I intend to do.
If you have never been to Maxland before and are looking for a new nyama choma joint to visit (or a nyama choma joint in Westlands specifically), this might be a place that you would enjoy trying out.
Maxland recently came up in conversation with my next door neighbor who has impeccable taste when it comes to restaurants, bars, and such. She told me that this is one of her favorite places to have nyama choma. As you can see, I am not the only one who thinks highly of Maxland.
If ever you do try it out, I would love to hear what you think.
Until the next time,
Biche
Photo Credit: blog.yum.co.ke