The Talisman (Nairobi)
320 Ngong Road,
Karen, Nairobi
Tel: + 254-(20)-883213
Fax: + 254-(20)-883213
Mobile: +254-(733)-553083
www.thetalismanrestaurant.com
Tucked away, in the heart of Karen, in Nairobi, is a beautiful heart-warming restaurant that provides both a feast for the palate as well as one for the eyes.
The Talisman (Nairobi), located a little after Karen Shopping Center, is a well-kept Nairobi secret that deserves to be shared with the world.
I first heard of The Talisman from friends who knew that I used to live in Karen and assumed that I would already be familiar with it.
When they discovered that I wasn't, they simply sent me off with precise directions knowing that, eventually, my curiosity and love for fine things would get the better of me and incite me to visit it for myself.
These are the directions they gave me: Approach Karen using Ngong Road. At Karen Shopping Center roundabout, continue onto Ngong Road as though headed towards Ngong town. The road will begin to slope upwards. At this point, you should see a sign on your right in the shape of a Gothic cross. This marks the turn off to The Talisman. Turn right at the cross.
I thought I would never find the Talisman using the instructions my friends gave me.
I thought the instructions were too vague.
A few months later, though, when a friend invited me to join her and some of her friends at The Talisman (Nairobi) for Sunday dinner, these directions led me directly there with no need for further clarification.
My First Visit to The Talisman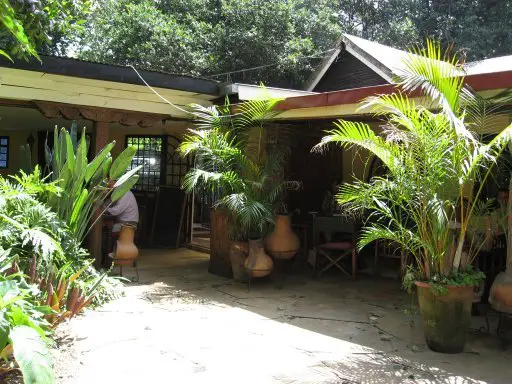 The Talisman is, to put it simply, a pleasure.
On the first night that I went there, there was an exhibition of Middle Eastern wares and tapestries in the garden, under a tent.
Art is big at The Talisman.
I am told this is because the establishment is owned by a couple, of which one party is an art dealer.
The restaurant, therefore, serves as an avenue to sell this art.
Whenever I am at The Talisman, I thoroughly enjoy my food.
Once that is taken care of :-), I make it a point to then walk around and enjoy the art.
There is always something to see.
Sometimes it's paintings, at other times tapestries, and yet at other times it's Middle Eastern wares.
Not only are these pieces of art on display for the pleasure of the eyes but also for sale.
Whatever the case, the art is always beautiful in an 'ethnic' way.
The Food at The Talisman (Nairobi)
Enough about the art at The Talisman, let's now discuss its virtues as a restaurant.
The food at the Talisman is exquisite to say the least.
Like most Karen restaurants, The Talisman is pricey though affordable when not done too often (in my opinion!).
The first night I ate there, I wasn't really hungry and simply had desert: a most scrumptious chocolate and nut cake.
Since then, I have been several times and tend to have seafood.
The Talisman serves very good seafood.
I am yet to taste food there (seafood or otherwise) that is less than delightful.
I like to start my evenings at The Talisman with drinks and starters in the area in front of the fireplace.
Here, wide cushioned built-in bench seats invite you to curl up and enjoy a warm fire that is a good contrast to the unforgiving Karen cold.
As much as I love to start my evenings here though, this is not a place where you can easily remain all evening.
Due to the depth of the seats and the distance between the seats and the table, it's preferable to move to one of the many dining tables when having a meal at The Talisman.
There are dining tables both indoors and outdoors.
The mention of the word 'outdoor', with regards to any location in Karen, can cause much fear and trepidation because of Karen's biting cold (which is at its worst at night).
This is not a problem at The Talisman.
The Talisman deals with Karen cold very well and has ceramic coal ovens interspersed in its outdoor dining area.
These ovens make a big difference temperature-wise and do ensure that diners at The Talisman are comfortable regardless of the temperature outside.
So Should You Bother to Try the Talisman?
If you haven't figured it out yet, allow me to reiterate: The Talisman is one of Nairobi's best kept secrets.
Despite its distance from downtown Nairobi, The Talisman is a wonderful place to visit and at which to eat.
I will say no more and allow you to experience it for yourself.
Let me know what you think when you have been there.
Until the next time,
Biche
P.S. To be sure not to miss future posts on ChickAboutTown, sign up to receive posts directly by email.
Photo Credit: TravelStart.co.ke