Lemon Spa (Dar es Salaam)
Haile Selassie Rd. (adjacent to George & Dragon)
Masaki, Dar es Salaam
Tel: +255-(754)-814 531/+255-(752)-220 120
Email: [email protected]
Jump to Lemon Spa's menu.
Good place to go if you are looking for a good massage in Dar es Salaam
In the third post of my "Be My Guide to Your East African City" series, I asked about your favorite local spa. I also mentioned that it dawned on me that I had never been to a spa before, having always received my beauty and body treatments in beauty salons or fitness facilities.
I also realized that although I used to go for massages all the time when I lived in Nairobi, I had never had a massage in Dar es Salaam ever since I moved here.
Shortly after publishing that post, I was graciously invited by Ramona Kashmiri, the owner of Lemon Spa in Masaki, Dar es Salaam, to visit Lemon Spa for the first time and sample some of the treatments offered there.
Where Is Lemon Spa Located?
I had often seen Lemon Spa before because it's located next to George & Dragon, an English-style pub that I like a lot.
At the appointed time and date, I easily made my way there, where upon arrival I was greeted warmly by a friendly and professional receptionist.
Although I am a big fan of massages and was keen to have my first massage in Dar es Salaam, I asked Ramona to recommend some beauty treatments to try.
I was scheduled for a Vanilla–Almond Pedicure and a Singo Scrub, a traditional Zanzibari treatment. After confirming the details of my appointment, the receptionist recommended that I begin with my pedicure.
READ ALSO: Are All Pedicures Equal?
She led me to the nail treatment area, separated from the rest of the day spa by wrought-iron-and-cloth screens. There, she offered me a seat, introduced me to my esthetician for the day, gave me some reading material, and offered me a drink.
Within no time, my feet were soaking in a wooden bucket of warm water, and my pedicure was under way.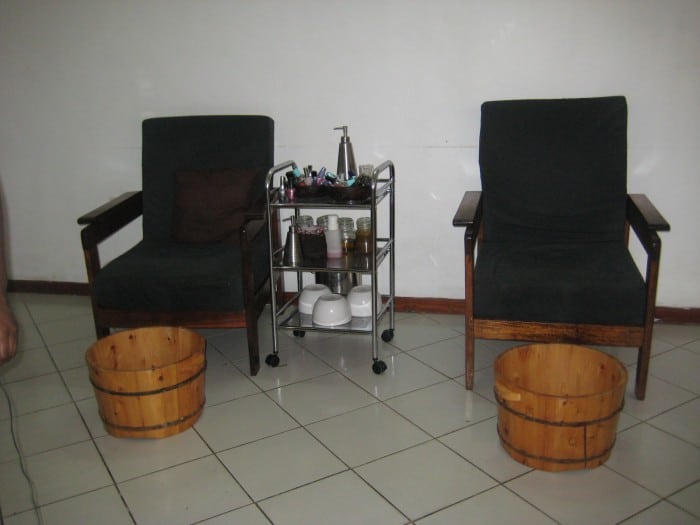 Pedicures at Lemon Spa
A pedicure is a pedicure is a pedicure (or is it?), but unlike many pedicures I have received at other beauty establishments in Dar es Salaam, where beauticians think nothing of yelling across the room, conversing with fellow beauticians and customers, the ambiance at Lemon Spa was one of quiet calm, serenity and pampering.
Phones were to be switched off or put on silent, and it was clear that the focus of the spa was its customers having a relaxing and rejuvenating experience.
READ ALSO: Eating & Travelling Across East Africa
On to My Massage-Like Body Treatment
With my pedicure complete, it was time for my scrub.
Although I had given myself body scrubs at home before, I wasn't quite sure what to expect from a professional one.
Soon to find out, the esthetician led me to a pink-hued (much to my feminine delight!) room with a pink-kanga–covered massage table at its center.
She handed me another pink kanga, with the instruction to undress, as she left the room to give me privacy.
Knowing the drill, I stepped out of my clothes, lay on the massage table, and covered myself with the kanga as I waited for the body scrub to begin.
A body scrub is a treatment in which a lightly abrasive substance is rubbed on the body to exfoliate and hydrate the skin, leaving it soft and smooth.
READ ALSO: How to Keep Your Sensitive Skin Safe This Summer
In the case of the Singo Scrub, the abrasive substance is a blend of Jasmine, Rose, Ylang Ylang, Mpatchori (a sweet-smelling herb that grows in Zanzibar–not patchouli), Geranium, Sweet Basil, Sandalwood, and Rose water—hardly what comes to mind when you think of the word 'abrasive'.
For about half an hour, the esthetician rubbed this delicious mixture onto every inch of my body (well…almost 🙂 ).
Although a scrub is not meant to be a massage, it definitely felt a lot like one! 🙂
READ ALSO: Verde Hotels & Tanzania's Bakhresa Group to Build Zanzibar's Greenest Hotel
Wrapping up My Visit to Lemon Spa
When she was done, and I was feeling completely pampered, she directed me to the shower area where I had a long hot shower to wash the scrub off.
My skin was soft and super-hydrated, and I smelled d-e-l-i-c-i-o-u-s (much to the delight of the first person I hugged hello after leaving Lemon Spa)!
Done with my treatments for the day, I tipped the esthetician, as is the norm after receiving beauty treatments, and went on my merry way—relaxed, rejuvenated, with baby-smooth skin and very cute toe nails. 😉
READ ALSO: Uber Launches in Dar es Salaam, Tanzania.
Massage in Dar es Salaam and Arusha & Other Treatments Available at Lemon Spa
I've been back to Lemon Spa several times since that first day and have tried other treatments they offer: I've had my eyebrows threaded (and loved the results!), had a massage (I finally got my first massage in Dar es Salaam!) and a facial (the Calming Green Tea Facial is H-E-A-V-E-N-L-Y!), and had body hair removed through waxing.
READ ALSO: 6 Tips for Taking Care of Your Natural Hair
The one thing that has been consistent across all my visits to Lemon Spa—other than the pleasure and pampering I've received from their treatments—has been the friendly and professional manner in which these treatments were carried out.
READ ALSO: 5 Fun Ways to Rock Maroon Hair
If you are in Dar es Salaam or Arusha and need beauty or body treatments done (or are simply in the mood for some much-needed pampering and relaxation), then I wholeheartedly recommend that you pay Lemon Spa a visit.
Lemon Spa Branches: Lemon Spa Dar es Salaam & Lemon Spa Arusha (Massage Available at Both)
Lemon Spa caters to both men and women, and has branches in both Dar es Salaam and Arusha. Scroll down to see their full menu of services, or simply click here to jump right to it.
In case you are not interested in visiting Lemon Spa yourself but would love to give someone else the gift of pampering and relaxation, then you'll be pleased to know that Lemon Spa offers gift vouchers too.
Massage Gift Vouchers
To offer the gift of massage in Dar es Salaam or Arusha, click here to see what massages Lemon Spa offers.
READ ALSO: How to Retwist Locs & More on Growing Them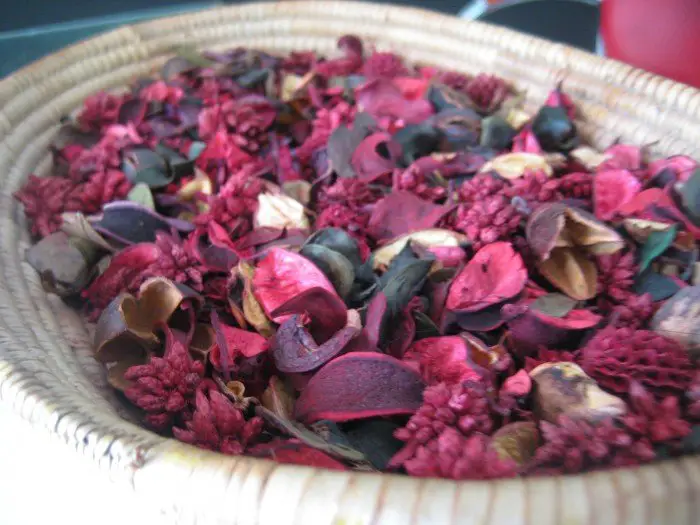 Lemon Spa Contacts
To schedule an appointment (e.g., for a massage in Dar es Salaam), or for more information, call +255-754-814531 (for Lemon Spa Dar es Salaam) or +255-762-320120 (for Lemon Spa Arusha).
Once you've experienced the pleasure of Lemon Spa for yourself, come back and leave me a comment telling me all about it.
As always, I look forward to hearing what you have to say!
Until the next time,
Biche
P.S. This post was sponsored by Lemon Spa. If you'd like to let others know about your East African product, service, establishment, or event through Chick About Town, send me an email ([email protected]) to find out more.
P.P.S. Have you subscribed to Chick About Town yet? If not, subscribe by email to know as soon as a new post is published. You can also join the conversation on Twitter or on Facebook for daily musings on living & lifestyle in East Africa. Signing up is free and easy!
P.P.P.S. Are you a blogger who is frustrated about not earning enough from display ads on your blog? If so take a look at this free service from a Google Certified Publishing Partner that helps you do just that.
---
Lemon Spa Menu (Includes Massage)
Wherever possible indigenous products are used which helps to support local markets (with the exception of certain essential oils and facial products). Otherwise all products are 100% natural; containing no preservatives or added ingredients/colouring. If you are specifically looking for a massage in Dar es Salaam or Arusha, click here to skip to that part of our menu.
All prices are in Tanzanian shillings.
Massages
Looking for a wonderful massage in Dar es Salaam or Arusha? Here's what we've got to offer to you.
De-stress Xpress
Intensive approach for concentrating on the back, shoulders & head to ease tensions in muscles
40 minutes | 40,000
Relaxing Swedish Massage
A blend of essential oils which helps soothe away muscular & nervous tension & assists lymphatic drainage.
60 minutes 50,000 | 90 minutes 70,000
Stimulating Deep Tissue
Focused & intensive, this massage is true to its name, going deep into the layers of soft tissue to provide relief to sore, tired & tense muscles.
60 minutes 55,000 | 90 minutes 75,000
Vital Leg Massage
Designed to address heaviness, fluid retention & general discomfort. Improves circulation & swelling, particularly useful after a long flight.
30 minutes | 30,000
Warm Scalp Massage
Relax & enjoy a warmed blend of Aromatherapy oils to stimulate the scalp. This treatment helps to invigorate the hair follicles promoting healthy hair. Harmonises your chakras!
25 minutes | 25,000
If you are interested in having a massage in Dar es Salaam or Arusha? Be sure to give us a call!
Body Scrubs
Kilimanjaro Coffee
Indulge in this delectable mix of coffee & cinnamon. Coffee is rich in antioxidants, natural fruit acids & caffeine. Stimulates circulation & reduces cellulite. Cinnamon contains exceptionally high antioxidant properties, helping to dispel free radicals & protect against future damage, it contains mild astringent properties & is abundant in antibacterial & antimicrobial benefits.
40 minutes | 45,000
READ ALSO: 24 Sunset-, Lake- and Mount Kilimanjaro Pictures
Lemon Grass
Lemon Grass has analgesic, antiseptic, anti-fungal and astringent properties to name a few. Also helps keep the mosquitoes at bay!
40 minutes | 45,000
"Singo" Traditional Zanzibar Scrub
A natural scrub traditionally used when one is preparing for marriage. "Singo" is prepared from fresh jasmine, ylang ylang flowers, rose petals, mpatchori (not patchouli) mpompia (geranium), mrehani (sweet basil) & liwa (sandalwood) ground together in a "kinu" (pestle & mortar) with a little rosewater. Exfoliates the skin, leaving it fragrant & as soft as silk.
40 minutes | 45,000
Facials
(Body Shop products used)
For a satisfactory outcome we recommend a facial treatment every 4 to 6 weeks depending on the skin's condition.
Vitamin E
Vitamin E treatment. The main element is important food for the skin. It is an antioxidant & helps protect the skin with its anti-aging properties.
With Steam (1 Hour) 45,000 | Without Steam (40 mins) 40,000
Tea Tree
Tea tree oil comes from Australia, where Aborigines have been using it as an antiseptic to treat cuts & burns for thousands of years. By using a steam process, the oil is distilled from the leaves of a tree called Melaleuca alternifolia, which was given the name "tea tree". It has the potential to improve your skin by treating acne, psoriasis, eczema & many other conditions.
With Steam (1 Hour) 45,000 | Without Steam (40 mins) 40,000
Seaweed
Seaweed nourishes, protects & increases circulation making it vital to maintaining a healthy skin. It is packed with vitamins A1, B1, B2, B6, B12, C, E, & K, minerals, trace elements, & amino acids. Rich in antioxidants such as beta-carotene. Seaweed also contains fatty acids to combat skin irritation & inflammation.
With Steam (1 Hour) 45,000 | Without Steam (40 mins) 40,000
Manicures & Pedicures
Vanilla & Almond (1hr 30mins)
Includes a vanilla–sugar scrub for exfoliation & a relaxing foot massage. Excellent for dry, rough skin.
Manicure 20,000 | Pedicure 30,000
Coffee & Cinnamon (1hr 30mins)
Coffee is rich in antioxidants, fruit acids & caffeine. Cinnamon contains exceptionally high antioxidant properties. It is a natural antiseptic & anti-fungal agent.
Manicure 20,000 | Pedicure 30,000
Lime & Lemon Grass (1hr 30mins)
Super exfoliating! Includes a lime foot soak, lemon Grass scrub & a lemon grass oil foot massage. Also helps keep the mosquitoes at bay!
Manicure 20,000 | Pedicure 30,000
Ginger, Tanga Sweet Orange & Lime (1hr 30mins)
Great for arthritis, aching muscles & poor circulation.
Manicure 20,000 | Pedicure 30,000
French (1hr 40mins)
Manicure 20,000 | Pedicure 30,000
Nail Varnish Application (Includes foot/hand wash, nail shaping & buffing)
French
Hands (10 mins) 10,000
Feet (10 mins) 10,000
Regular
Hands (10 mins) 10,000
Feet (10 mins) 10,000
Waxing for Her
Brow Tidy 5,000
Brow Shape 10,000
Upper Lip 5,000
Chin 5,000
Sides of face 5,000
Full Face (excluding brows) 10,000
Full Face threading (excluding brows) 15,000
Under Arm 10,000
1/2 Arm 10,000
1/2 Arm & Under Arm 15,000
Full Arm 15,000
Full Arm & Under Arm 20,000
1/2 Lower Leg 15,000
1/2 Upper Leg 15,000
Full Leg 20,000
Full Leg & Bikini line 25,000
Full Leg & Full Bikini 50,000
Full Bikini (Hollywood) 35,000
Brazilian 30,000
G-string 10,000
Bikini line 10,000
Chest 10,000
Stomach 10,000
Full Back 15,000
Lower Back 10,000
Waxing for Him
Brows 10,000
Nose 10,000
Ears 10,000
Neck & Shoulder 15,000
Chest 30,000
Back 30,000
Lower back 15,000
Stomach 15,000
1/2 Arm 15,000
Full Arm 20,000
Full leg 25,000
* Disposable wax strips Used
Eye Care
(Tweezing | Waxing | Threading)
EyeBrow Shape 10,000
EyeBrow Tidy 5,000
Brow & Lash Tints
(Refectocil in black, blue black, light & dark brown)
EyeBrow Tinting 10,000
Eyelash Tinting 15,000
Brow & Lash Tint 22,000
Packages
Want a massage in Dar es Salaam or Arusha and a little more? Come & spend the morning or afternoon with us enjoying the following treatments:
Sheer Bliss 75,000
Lemon Facial (with steam) & Orange, Ginger & Lime Pedicure
Balance & Harmony 90,000
"Singo" Traditional Zanzibar Body Scrub & 60 mins Swedish massage
Tranquility 95,000
Vanilla–Almond Manicure & Pedicure & 60 mins Swedish Massage
Mchaichai 110,000
Lemongrass Body Scrub + Lime & Lemongrass Pedicure & De-Stress-Xpress Massage
Indulgence 140,000
One hour Deep Tissue Massage & Lemon Facial (with steam) & Coffee & Cinnamon Manicure & Pedicure.