If you follow me on Twitter, then you probably already know that I spent the last week of November visiting Kenyan marine parks courtesy of Kenya Wildlife Service (KWS).
KWS is a bona fide 21st century East African parastatal that fully embraces the power of social media.
Apparently, KWS's 4 marine parks—Kisite Mpunguti Marine Park, Malindi Marine Park, Mombasa Marine Park, and  Watamu Marine Park—are among the least visited of KWS's 35 national parks and reserves. So, KWS sought to resolve this by inviting bloggers to visit and experience these parks and spread the word about them through social media.
Yours truly was among the bloggers invited for this trip.
READ ALSO: The Hidden Gem That Is Tarangire National Park
The marine park tour began on a cold Tuesday morning at the KWS Headquarters in Lang'ata, Nairobi. The other female bloggers on the tour have done a fabulous job of writing about our arrival in Lang'ata and their impressions of the bloggers on the trip, so I won't do the same. Rather, if you are curious to know which other bloggers participated in the tour and what they were like, I encourage you to read the following posts: Meet The Gang…Introduction to the coastal tour… & The Travelling Canary… Part 1 .
Once we'd all gotten to the meeting place, we left Nairobi around 10:30 a.m. after a quick stop at Uchumi Mombasa Road (at Capital Centre) to stock up on snacks and drinks for the long ride ahead. To be honest, I had never heard of Kisite or Mpunguti before this trip, so I wasn't exactly clear on where we were headed. To give you a better picture than I had, here's a map of the route we traveled that day.
Driving to Kisite/Mpunguti Marine Park & Reserve

View "Nairobi to Kisite-Mpunguti Marine Park" in a larger map
As you can see, the general direction of our trip was towards Mombasa. Kisite Mpunguti Marine Park is located off the southern coast of Kenya, near the town of Shimoni, only 8 km north of Kenya's border with Tanzania.
As we traveled along the Nairobi-Mombasa highway, we made all the usual stops on the way to Mombasa: first, we stopped to have lunch at Mtito Andei (marked in green on the map above), a small town on the western edge of Tsavo National Park, then we stopped again at the market town of Voi (marked in yellow above).
We reached Mombasa nine hours after we'd left Nairobi. There, we stopped to buy groceries at Nakumatt Likoni—we had been forewarned that this was going to be a camping trip—and then crossed the Likoni Ferry for the 82 km journey south to Shimoni.
Arriving at Kisite/Mpunguti
We finally arrived at the KWS Kisite Marine Park Office at a quarter to midnight. Having bussed the previous day from Dar es Salaam to Nairobi, I was exhausted and had only one thing on my mind: to find a bed and crash! My travel companions, on the other hand, found it in them to shower, cook dinner, and have a meal. I didn't stay up long enough to see that happen.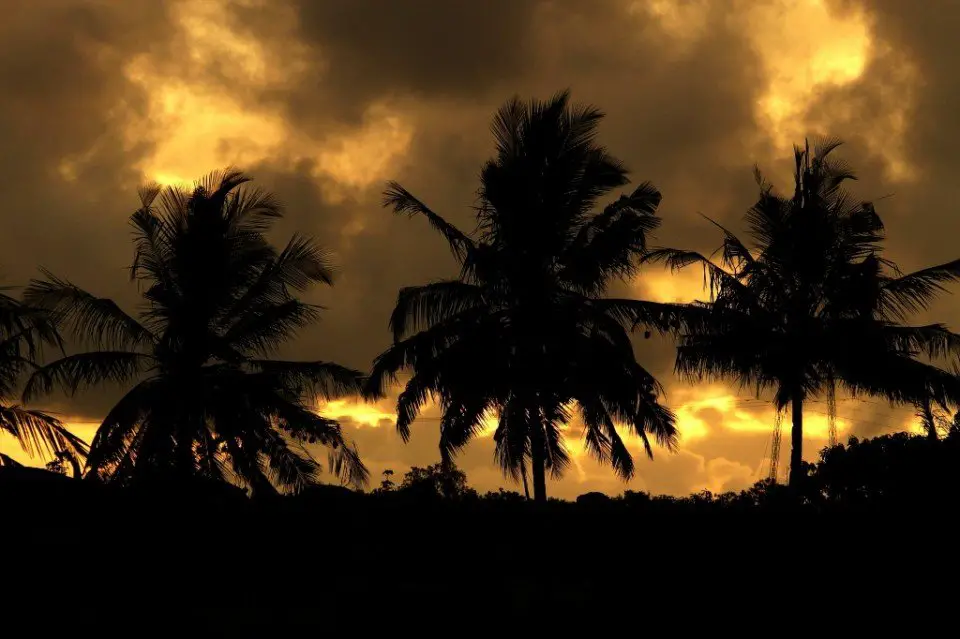 As soon as I found out where I was sleeping for the night, I got into bed and was out like a light. As I slept that night, I had no clue of the beauty that surrounded me—beauty that I would only become aware of the following morning. But…that's a story for another day that you can now read here: KWS Marine Park Tour Day 2: Exploring Kisite Mpunguti Marine Park & Reserve.
Until the next time,
Biche
Have you ever been to Gaborone, Botswana? Wonder what there is to do there? Read: Botswana: A Guide to Gaborone, the Capital of Botswana.
Photo credits:  safarikenya101.wordpress.com; njambimungai.wordpress.com