This post is about City Sightseeing Joburg, a Johannesburg hop-on/hop- off tour.
In my last post, I wrote about flying from Dar es Salaam to Johannesburg with Fastjet, Africa's new low-cost airline.
In that post, I promised to one day tell you more about what I saw and did while I was in Johannesburg.
Today, I'll tell you about a great way I found to go sightseeing and to explore Johannesburg. Furthermore, this way enables you to do so time effectively and at a good price
Watch the video below for a brief introduction.
READ ALSO: The The Top 5 Wine Farms in Cape Town, South Africa
I fell in love with Johannesburg almost instantly.
I loved its clean streets, cute homes, flashy cars, and organized public transit system.
The Johannesburg I saw during the first days I was there had nothing to do with the dangerous, crime-filled city of Johannesburg that I had heard so much about before I got there.
Granted I was staying in Sandton (as a taxi driver rudely pointed out one day), but could there really be another part of Johannesburg so different from what I saw?
The best way to find out, I thought, was to go on a tour of the city.
Comparing a few options, I settled on City Sightseeing Joburg because it seemed to offer good value for money.
From what I learned online, I knew I could join the tour at one of two places: Gold Reef City (which I had no clue how to get to) or the Gautrain Park Station (more like it).
Joining the Johannesburg Hop-On/Hop-Off Tour
On the appointed day, I made my way to the Gautrain Park Station.
There, I easily found the City Sightseeing Joburg bus stop. The bus stop was manned by a brightly-clad-in-red uniformed attendant just like the website promised.
I also knew from the website that I would be able to buy my ticket on the bus. This would have to be by debit or credit card though.
I was glad to get on the bus and find that I could also pay for my ticket with cash. This is usually my preference.
As there was so much to see on the bus's itinerary (and my schedule could allow it), I decided to buy a 2-day bus & Soweto combo ticket, which cost me only R520 (or approximately US$50).
City Sightseeing
City Sightseeing Joburg is a franchise of the global City Sightseeing brand. The City Sightseeing brand has tours in almost 100 locations across 6 continents. It is famous for its red double-decker, open-top bus, hop-on/hop-off tours.
I paid for my ticket and got a pair of earphones and some brochures. I then quickly made my way to the top of the bus.
What Is a Hop-on/Hop-off Tour?
Don't know what a hop-on/hop-off tour is? It simply means that you can get off at any of the stops on the tour, explore nearby attractions, and get back on a subsequent bus to continue the rest of the tour.
The City Sightseeing Joburg Red City Tour has 12 stops with buses arriving at each stop every 30 minutes.
As the Johannesburg hop-on/hop-off tour began, we passed train tracks leading to Johannesburg's Park Station.
Park Station is the largest railway station in Africa.
In sharp contrast to what I'd seen in Sandton the previous days, this part of town looked grimy and gray.
Johannesburg's Central Business District (CBD)
We then proceeded to Johannesburg's CBD, which felt much like an abandoned city.
It had boarded-up decrepit buildings that hinted at days of former glory.
As we proceeded further into downtown Johannesburg, it started to look more like the commercial districts of other African cities I am more familiar with.
The population was predominantly black in this area; there seemed to be a lot less racial intermingling in the CBD.
Downtown Johannesburg was a hive of activity. People bustled about shopping at stores that sold all manner of stuff.
Gandhi Square
The bus's first stop was Gandhi Square, named after Mahatma Gandhi, who in the early part of his career practiced law in Johannesburg.
It's as a result of the racial segregation that he experienced in South Africa, that Gandhi began the social activism for which he is best known.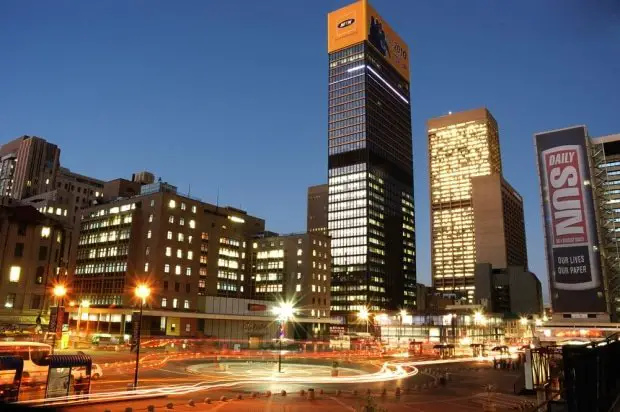 In hindsight, there was so much to see on the tour that though I would have loved to hop off at every stop, it simply wasn't possible.
Furthermore, I joined the tour around noon each day which just made it worse. Do not do this: start earlier!
It soon became clear to me that I would have to carefully pick and choose which stops to explore because some of them, such as visiting the Apartheid Museum, could take up to three hours to visit.
The Carlton Centre
The second stop of the Johannesburg hop-on/hop-off tour was the Carlton Centre, Africa's tallest building for more than 40 years. Here, I decided to get off and explore.
At the Carlton Centre, I visited the Top of Africa, an observatory on the 50th floor, i.e., the top floor.
At the Top of Africa, you can see a 360° view of Johannesburg.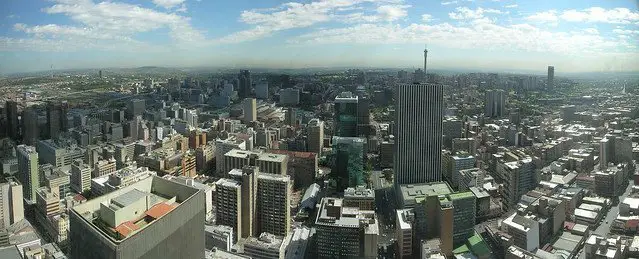 I am glad I chose to stop at the Carlton Centre on my second day of the tour. The first day of the tour gave me a general idea of Johannesburg's layout. By the second, I could actually make sense of what I was seeing.
Back on the bus, the next stop was the James Hall Transport Museum, a museum dedicated to the history of transportation in South Africa, from horse-drawn carriages to modern vehicles.
I didn't hop off again until Gold Reef City, where I caught the van for the Soweto portion of the tour.
The tour of Soweto, which departs from Gold Reef City five times a day, takes about two hours to complete.
Done with that, I was back at Gold Reef City ready to continue with the rest of the Red City Tour.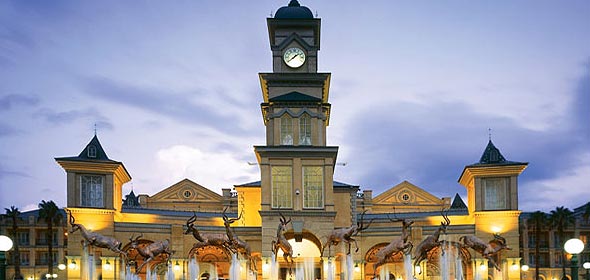 The Apartheid Museum
When I was researching things to do in Johannesburg, people kept telling me that if I were to do only one thing, it should be to visit the Apartheid Museum.
That was the next stop after Gold Reef City.
I cannot do justice to what I saw at the museum without going into great detail. All I will say for now is: if you ever get a chance to visit it, please do!
A word of caution though, the museum can easily take three hours to visit, so please make sure you schedule enough time to do so at a leisurely pace.
The Apartheid Museum left me feeling somber and thoughtful. Thankfully, the rest of the tour was a little more lighthearted.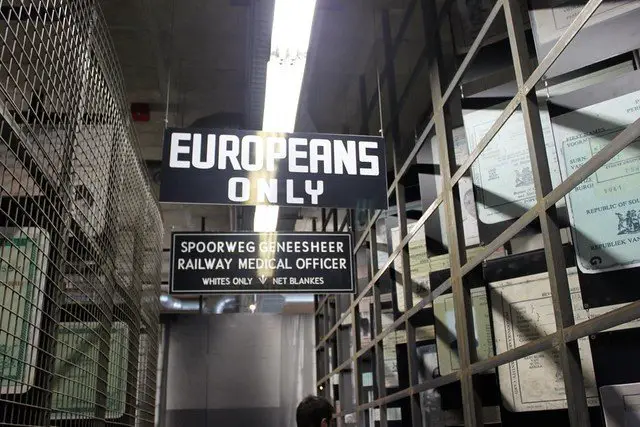 The next stop was the mining district, where one could get a sense of the history and legacy of mining in South Africa (after all, the city of Johannesburg was built on the back of gold mining) followed by Newton, the art and culture district of Johannesburg, where you can also find SAB World of Beer, a museum dedicated to the beverage.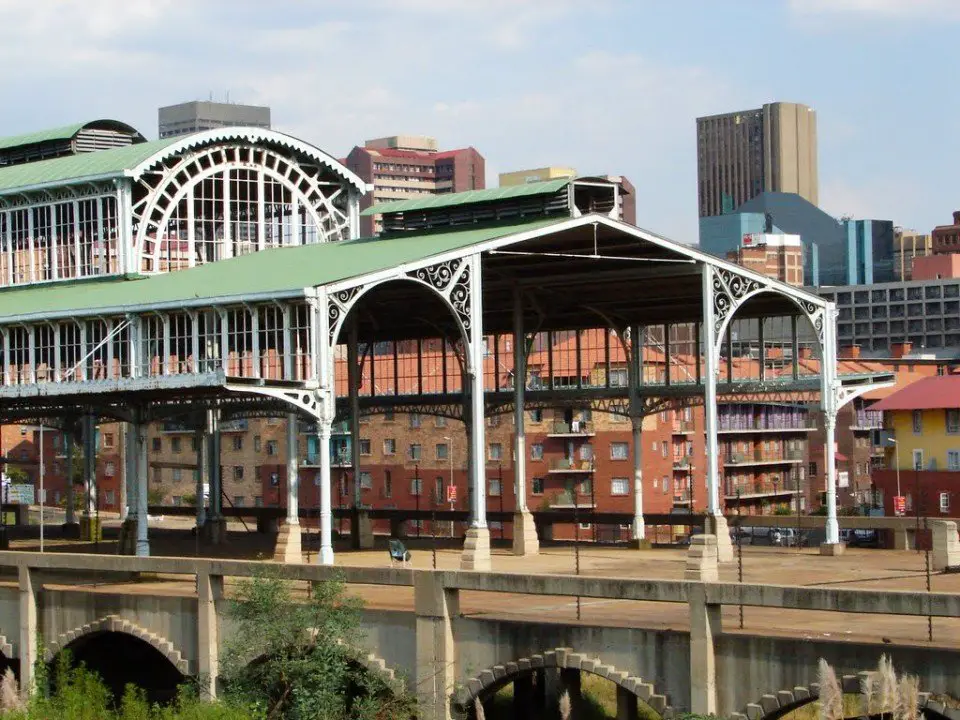 Next up was the famous University of Witwatersrand. Then came my favorite part of Johannesburg: the hip and trendy neighborhood of Braamfontein.
Constitution Hill
Before making full circle and returning to the Gautrain Park Station, the last stop was Constitution Hill, where one can find the Constitutional Court of South Africa (the highest court of the land), as well as the remains of the Old Fort prison complex where, among others, Mahtma Gandhi and Nelson Mandela were incarcerated.
With that done, we were back at the Gautrain Park station and the tour was complete.
The Commentary on the Johannesburg Hop-on/Hop-off Tour
I've told you a lot about the stops made by the City Sightseeing Joburg bus, but to end there without telling you about the wonderful commentary would be to tell you only part of the story.
Offered in 15 languages, along with a dedicated kids' channel, the commentary on the bus is half the fun.
As you drive from stop to stop where you can hop on and hop off as you wish, you get to hear fun facts and stories about Johannesburg's geography, history, and culture.
For instance, I greatly enjoyed learning about Daisy de Melker, a female South African serial killer, as we drove through a part of town that didn't have very much to see.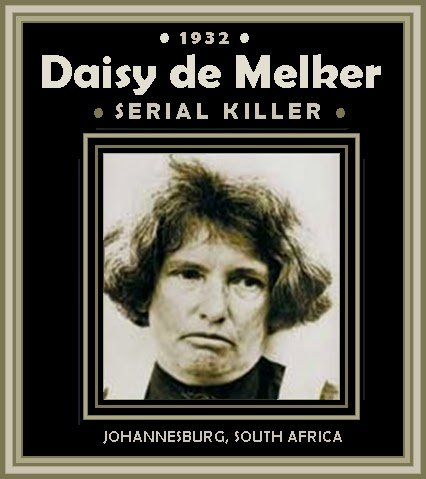 Nowadays, when anyone tells me they will be visiting Johannesburg, I am sure to tell them about City Sightseeing Joburg.
If you would like a fast and efficient way to get a comprehensive view of Johannesburg, then I highly recommend it to you too.
If you take me up on my recommendation, take it from me: start your tour early because there is so much to see!
When you do, come back and leave me a comment below–I'd love to hear what you have to say.
Until the next time,
Biche
P. S. If you enjoyed this post, please share it on Reddit, Twitter, and other social networks. You can also subscribe to this blog to know whenever I publish something new. Connect with me on Facebook here or Twitter here. See you there!
Photo Credits: regiondo.com; exotravels.com; Bob Adams, SkyscraperCity.com. Ithemba, Gauteng Tourism Authority, Chris Eason, JasonWhat, Elaine Young; unknownmisandry.blogspot.com.