Are you looking for a hotel in Arusha, the Tanzanian city that is both a major international diplomatic hub and Tanzania's safari capital? If so, then you are in the right place.
Here are 12 places to consider staying at the next time you visit Arusha with 2 bonus recommendations in Usa River, which is a 40 minutes drive from Arusha.
Top 12 Hotel Picks for Arusha, Tanzania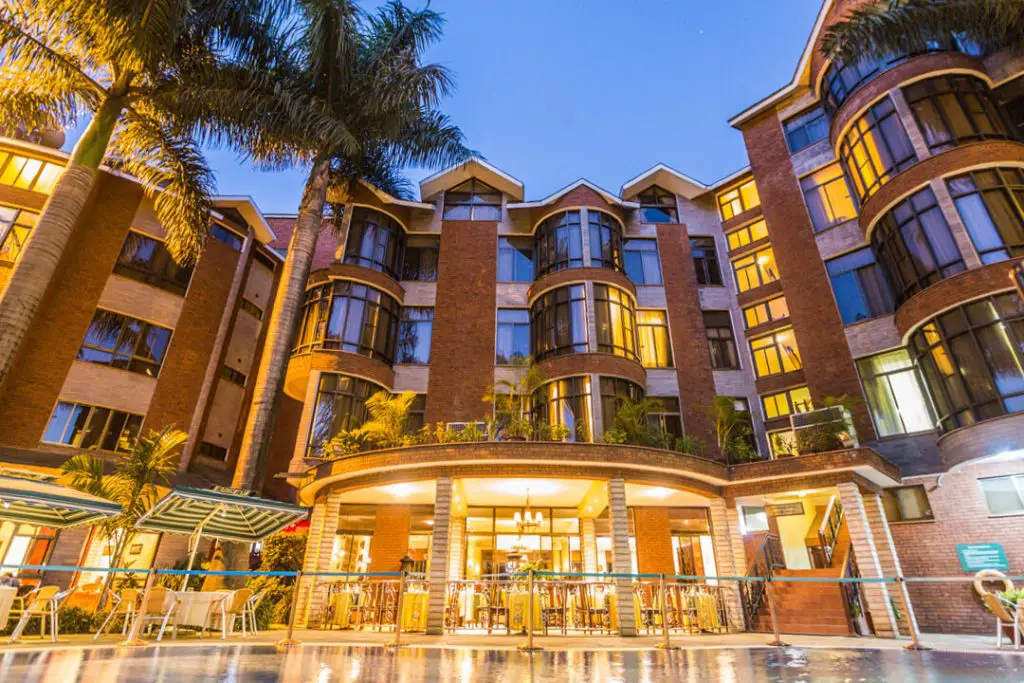 1. Kibo Palace Hotel
In the heart of Arusha, an easy walking distance from many points of interest, lies Kibo Palace Hotel, which offers amenities that you can expect from most urban hotels.
Spacious, well-decorated rooms with very comfortable beds, beautiful views of Mount Meru, a wide selection of delicious food to choose from—these are just some of the things you will find at Kibo Palace Hotel.
Professional service and good meeting rooms too.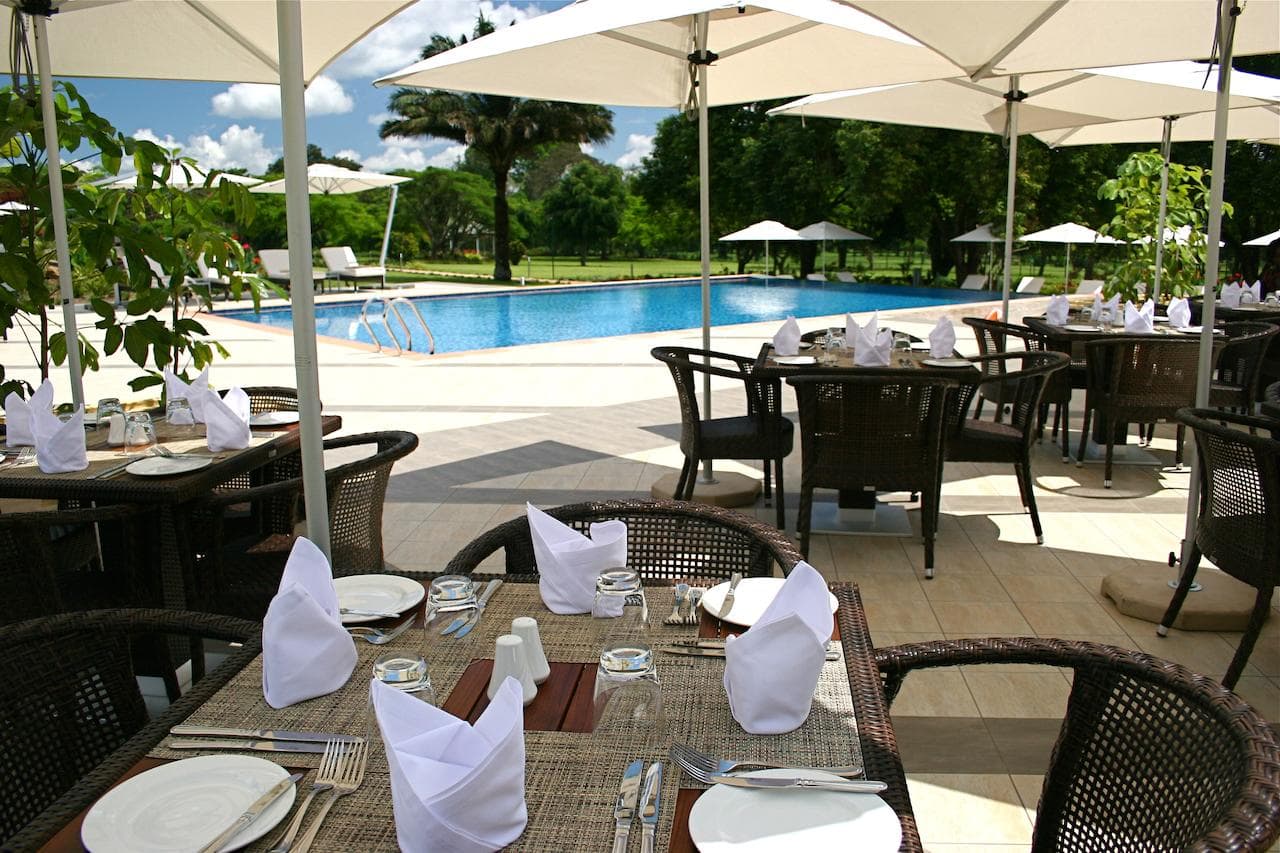 2. Mount Meru Hotel, Arusha
Mount Meru Hotel is a modern luxury hotel in Arusha with great views of Mount Meru.
It has beautiful lush gardens and a relaxing swimming pool area. The service is very professional and the food good. Mount Meru Hotel is my favourite hotel in Arusha!
Mount Meru Hotel blends stylishly elegant African architecture with supremely luxurious accommodation, sparkling water gardens with beautifully landscaped gardens, and a wide choice of international restaurants.
Situated at the foothills of Mount Meru, Mount Meru Hotel lies on 15 acres of serene, lush landscape.
The hotel is surrounded by some of Africa's most breathtaking vistas, rich with a diverse array of wildlife, etched against the fertile slopes of Mount Meru, the fifth highest peak in Africa.

3. Arusha Giraffe Lodge
When you are budget travelling, there's nothing better than finding accommodation at a steal that is safe and that provides everything you are looking for in terms of a place to stay.
Arusha Giraffe Lodge is one such place. Housed in a residential property that has been converted into a lodge, Arusha Giraffe Lodge is small and efficient.
The space is a little cramped to maximize the services provided, but that said: the beds are unforgettably comfortable, the water from the shower is nice and hot, the food is good, it has a well-stocked bar complete with a bar seating area, and the service is very friendly.
The lodge has a safe parking (useful if you are driving your own car), and free transportation is provided to and from both Arusha town and Arusha airport.
If budget is your primary consideration when travelling to Arusha, then I recommend Arusha Giraffe Lodge wholeheartedly!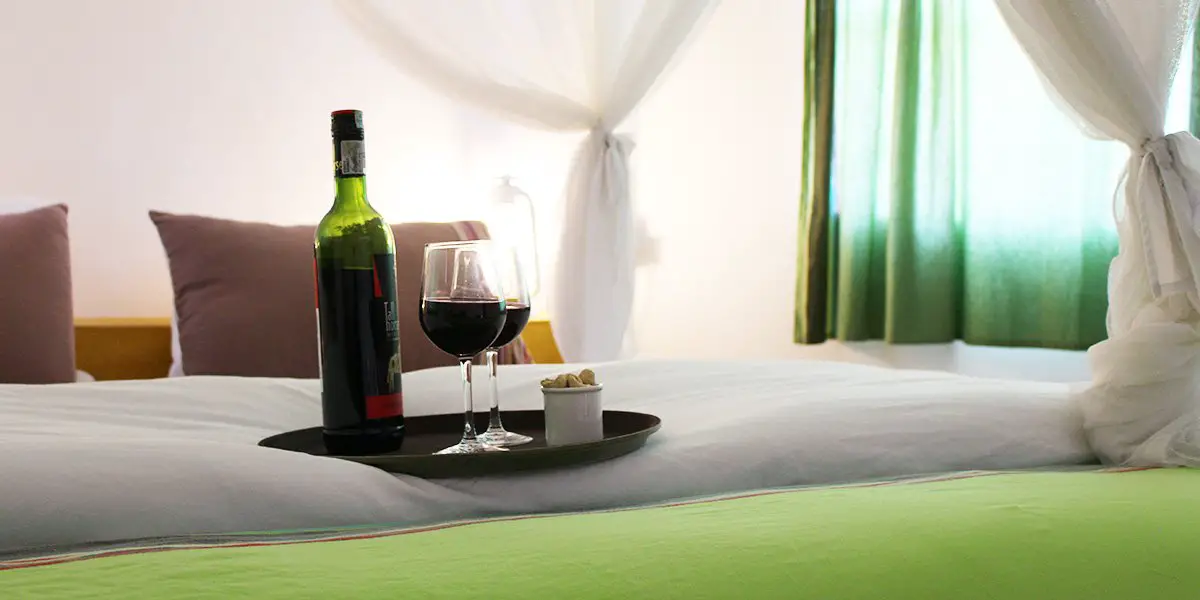 4. Dan Stam Hotel, Arusha
Located 9.7 km from Sakina supermarket, Dan Stam Hotel offers accommodation with a restaurant, free private parking, a bar and a shared lounge.
With a garden, the property is located within 11.3 km of Sables Square Shopping Village Arusha.
Dan Stam Hotel has a 24-hour front desk, airport transportation, room service and free Wi-Fi throughout the property.
The rooms have a private bathroom equipped with a bidet and free toiletries. Some rooms at Dan Stam Hotel also have a garden view.
The hotels serves a continental breakfast every morning. Dan Stam Hotel also has a playground.
The Uhuru Monument is 11.3 km from the hotel, while Arusha Central Market is 12.9 km from the property.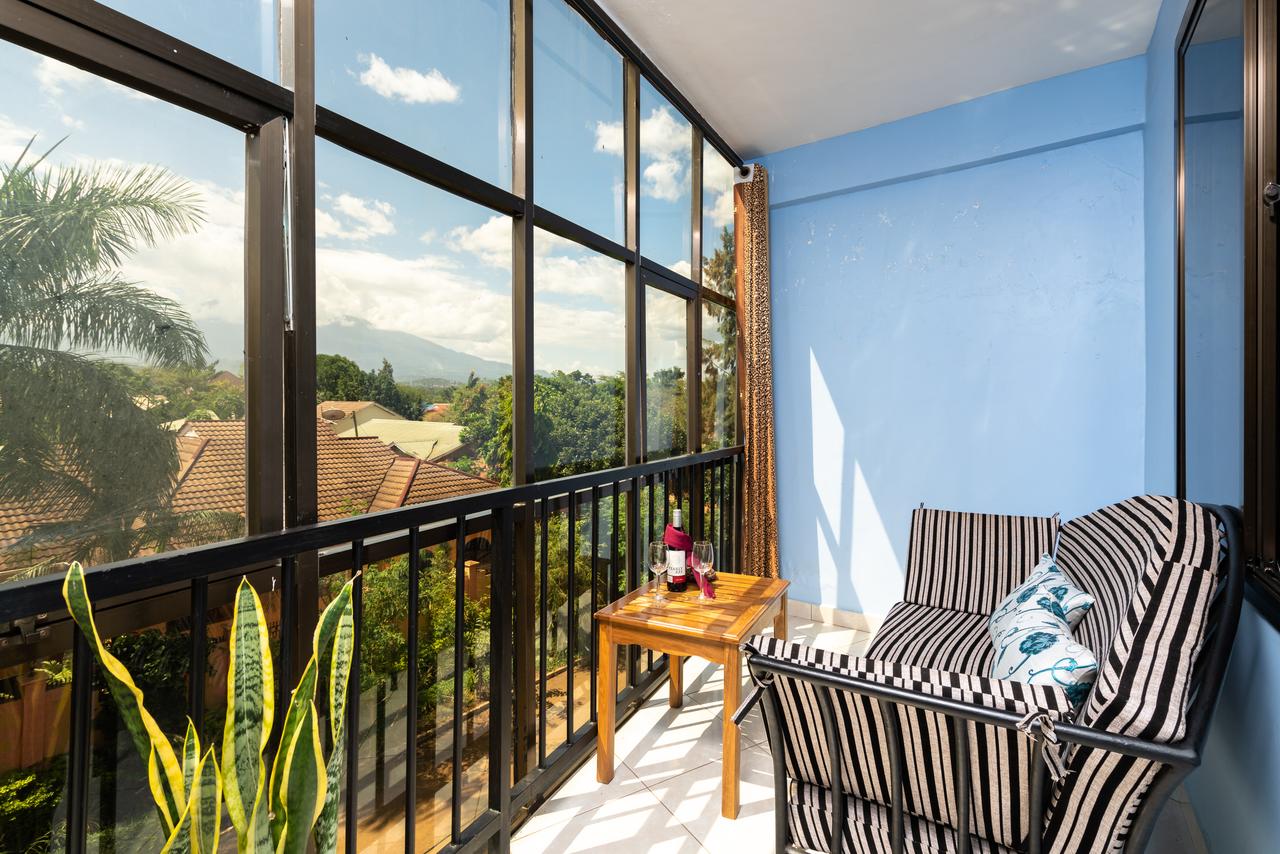 5. Mrimba Palm Hotel, Arusha
Mrimba Palm Hotel is a place where you can relax in serenity and take in fresh air.
Located in the heart of Arusha, it is a 50-minute drive from Kilimanjaro International Airport (KIA) and a 10-minute drive from Arusha's city center and the Arusha International Conference Center.
Mrimba Palm Hotel has spectacular views of nearby Mt. Meru and towering Mt. Kilimanjaro off in the distance. The hotel has everything necessary to unwind on a trip.
Mrimba Palm Hotel is well placed in peaceful and natural surroundings, offering breathtaking views of raw nature at its best.
6. Boulevard Inn Mt. Meru
Boulevard Inn Mt Meru is located on Themi Hills and also offers a great view of Mt. Meru.
The property is only a short distance from popular Arusha attractions such as the Old German Boma and Arusha Central Market.
The property's front desk operates 24 hours a day.
Free Wi-Fi is available to all guests, and some rooms have a balcony.
Breakfast in the morning at Boulevard Inn Mt. Meru can be continental or a buffet breakfast.
The hotel has a sun terrace. Couples in particular like the location of this hotel.
7. Sinzia Villas
Sinzia Villas, a large quiet private villa outside Arusha's city center that has been converted into a B&B, is as its name suggests—'sinzia' means 'to fall asleep' in Swahili—a great place to lay your head for a good night's rest when you are in Arusha.
Its room rates are very pocket friendly, the establishment is extremely clean, and its staff is particularly friendly. Amenities at Sinzia Villas include a restaurant that serves delicious food, a 24-hour front desk, and free Wi-Fi.
Sinzia Villas can also help arrange your transportation to and from the airport or for daytrips during your stay. Be sure to ask!
8. Venus Premier Hotel, Arusha
Venus Premier Hotel is a boutique business hotel.
Located 200 m from Arusha Central Market, Venus Premier Hotel offers accommodation with a restaurant, free private parking and a bar.
At this facility, you will find a concierge service and ticket service, along with free Wi-Fi throughout the property.
Venus Premier Hotel offers a 24-hour front desk, room service and currency exchange for guests.
9. Green Mountain Hotel, Arusha
Green Mountain Hotel has both an outdoor pool and a restaurant. The hotel also offers free Wi-Fi.
Each room, at Green Mountain Hotel, has a TV, a seating area, and satellite channels. The rooms have private bathrooms with showers, a hair dryer, and free toiletries. Rooms have a view of Mount Meru.
At Green Mountain Hotel you will find a 24-hour front desk and free parking.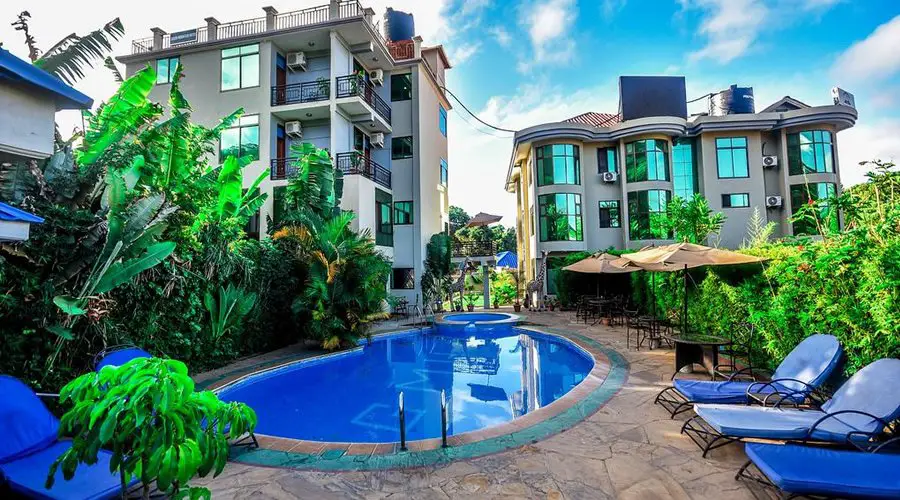 Kilimanjaro International Airport is 41 km from the hotel.
10. Tulia Boutique Hotel & Spa
The heart of Tulia Hotel's philosophy—tulia means 'relax' in Swahili— is to create unique experiences around individual guests and to provide them with a tranquil hideaway.
With only 23 rooms, Tulia Hotel is the perfect oasis for guests looking for a private and peaceful retreat.
From its African-ized architecture, to its cosy and aesthetically pleasing interior, Tulia Hotel is a "highly individualised property".
Tulia Hotel also has a spa designed to rejuvenate and renew the mind and body.
11. Gran Melia Arusha
An oasis within Arusha set on 18 acres of beautiful landscaped coffee and tea plantations. Experience pure tranquility with spectacular views of Mount Meru at Gran Melia Arusha.
A river runs through the property and there are several natural springs. A herb and vegetable garden hides between the plantations.
Gran Meliá Arusha offers a unique experience combining the most exciting once-in-a-lifetime safari destination with state-of-the-art conference facilities.
The hotel also boasts a beautiful spa and a heated outdoor pool.
12. Masailand Safari & Lodge
Masailand Safari & Lodge is located in Arusha and offers remarkable views of Mt. Meru. It lies 45 minutes away from Kilimanjaro International Airport and is a convenient 3 hours away from Nairobi.
Masailand Safari Lodge lies on a hill top where 9 cottages sit surrounded by magnificent nature and beautiful gardens and plants.
The rooms at Masailand Safari & Lodge have balconies from which you can enjoy breathtaking views of both Mount Meru and Kisongo Valley.
All rooms are equipped with air conditioning, spacious bathrooms, tea & coffee makers, flat televisions, a Wi-Fi connection, and a minibar.
The windows of the rooms are double glassed to ensure a quiet, relaxing environment.
Masailand also has conference facilities, a gym, a sauna, and a swimming pool which is free for residents.
BONUS 1: Kilimanjaro Eco Lodge, Usa River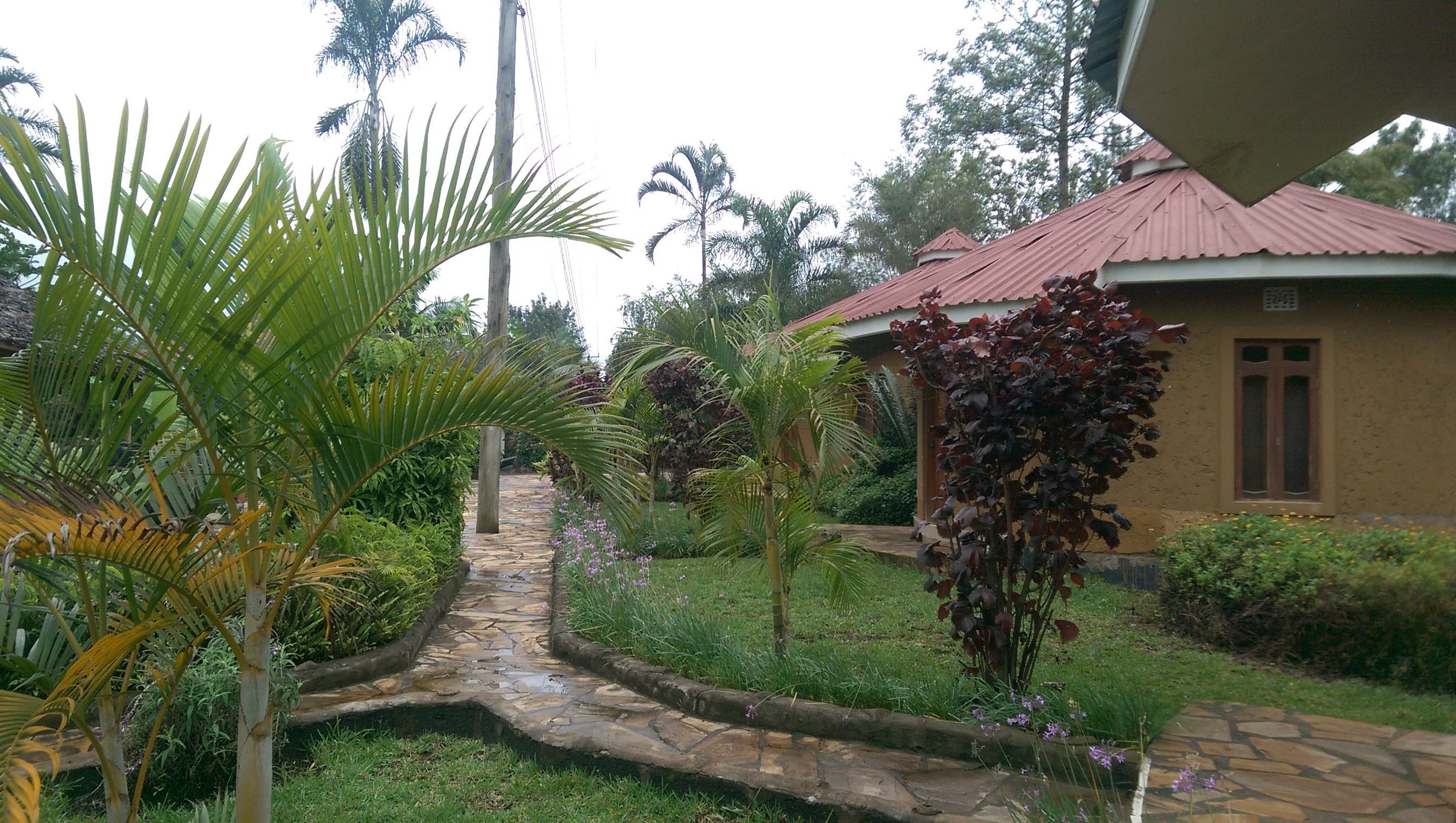 About 40 minutes outside Arusha, in Usa River, lies Kilimanjaro Eco Lodge. Clean, comfortable accommodation housed on grounds with lots of foliage and verdant nature. Beautiful views of Mount Meru.

BONUS 2: Rivertrees Country Inn, Usa River
Rivertrees Country Inn is a charming upmarket establishment in Usa River, about 40 minutes outside Arusha.
It counts among its former guests: two German presidents, the Prince of Wales & Duchess of Cornwall, and Jane Goodall, to name a few.
Set on lovely grounds with lots of trees and a river running through the premises, Rivertrees Country Inn is a haven of peace and tranquility.
The cottages are very spacious with lots of privacy. The service is very friendly, and the atmosphere relaxing.

---
This post was originally about the Swahili version of Yemi Alade's song Na Gode. Keep reading to find out more.
Yemi Alade Na Gode Swahili Lyrics
Ee oo oo o o
Papa asante, kweli we ni mungu
Yemi Alade!
Ai! Papa asante, kweli we ni mungu
Kama una-hustle lazima utulie
Ujivunie, ubangaize ee
Baada ya kazi lazima utakite
Uburudike, jiachilie ee e
Ila usisahau oo o, si kwa nguvu zako
Sema asante, kweli ye ni mungu
Tena si ya hatia oo o, spending your money
Sema asante, kweli ye ni mungu
Hata ukikosa, ukikosa, ukikosa ee ee
Sema asante, kweli we ni mungu
Na ukipata, ukipata, ukipata ee ee
Sema asante, kweli we ni mungu
Person wey drive he suppose to park, he no suppose to lack (at all, at all)
He suppose to pack money ebelebe
Imana onye Na-Agba mbo suppose to hammer, he suppose to hammer o
He suppose to make am o ebelebe iya eh
Ila usisahau oo o, si kwa nguvu zako
Sema asante, kweli ye ni mungu
Tena si ya hatia oo o, spending your money
Sema asante, kweli ye ni mungu
Hata ukikosa, ukikosa, ukikosa, ee ee
Sema asante, kweli we ni mungu
Na ukipata, ukipata, ukipata ee ee
Sema asante, kweli we ni mungu
Pop rosé, no more enemy ye e e e
Pop champagne, no more complaining
If you de livin for Kenya o, or anywhere in Africa o
Make you dey pop anything, cos all na popping a
We driving Ferrari o, cruising Bugatti o
We rocking Versace oh, forever and ever e
We going higher oh, no go retire oh
Si we getting paper o, this is my desire
Hata ukikosa, ukikosa, ukikosa ee ee
Sema asante, kweli we ni mungu
Na ukipata, ukipata, ukipata ee ee
Sema asante, kweli we ni mungu x2
We ni mungu e
T Piano on the mix
Yemi Alade
Efizi pepe
Ololoolo…
Merci beaucoup bien!
---
Yemi Alade Sings in Swahili
It's a new day in Africa, and I love it!
What makes me say that?
I say that because we now have the likes of award-winning Nigerian recording artist Yemi Alade remaking her songs in Swahili for African fans on the other side of the continent (she specifically mentions Kenya).
Why does that matter?
It matters to me because finally, I am seeing the fruit of much-spoken-about Pan-African ideals not only in the usual rhetoric of our political leaders (sorry I don't have much faith in that) but also in the everyday lives of regular Africans and in pop culture, which usually reflects the zeitgeist of the times.
I find this exciting!
Have you heard Yemi Alade 'Na Gode' Swahili Version yet?
Let me take a step back and tell you a little more.
First and foremost, who is Yemi Alade?
Yemi Alade is a Nigerian singer best known for her hit song 'Johnny', which rocked Africa in 2014-2015 (honestly, it still gets quite a bit of airplay in Dar es Salaam where I live).
If you haven't heard the song before, check out the video below—chances are, you'll recognize it.
Not only did 'Johnny' do very well in Ms. Alade's home country Nigeria, but it was also well received in Kenya, Tanzania, Ghana, South Africa, Liberia, Uganda (that's where I first heard it), Zimbabwe, and the U.K.
In an unexpected move, Ms. Alade also released a French version of 'Johnny' for her Francophone fans.
Yemi Alade's success with 'Johnny' and her maiden album, King of Queens, earned her the Best Female Artist Award at the MTV Africa Music Awards in 2015.
READ ALSO: Coller La Petite Lyrics, Meaning of 'Sanga La Petite' & More
Na Gode
Mid-last year, Yemi Alade released the first single off her second album, Mama Africa, set to be in stores in March 2016.
The single, 'Na Gode' (which means 'thank you' in Hausa), is a beautiful song about thanking God no matter what your circumstances in life are.
Here's the GORGEOUS video she released for the song.
The success of her music in East Africa was not lost on Ms. Alade and right before the end of the year, she mentioned on social media that she had a special Christmas present for her East African fans: a Swahili Version of 'Na Gode'.
Yemi Alade – 'Na Gode' Swahili Version
I first heard it when a friend shared it with me on Whatsapp (can you tell I am on Whatsapp a lot? ;-)), and my first thought was that a Tanzanian singer had jumped on the bandwagon of Nigerian music being popular and decided to release a song in the same style.
Boy, was I wrong!…But that tells you somewhat how good of a job Ms. Alade did of singing in Swahili.
Unlike the French remake of 'Johnny', for which Ms. Alade did not release a video, she has gone all out with the Swahili version of 'Na Gode' and released a video earlier this year.
Watch 'Yemi Alade – Na Gode (Swahili Version Official Video)' below.
Where else other than Kenya is Swahili spoken?
Swahili is spoken in 8 countries in Eastern and Central Africa: Kenya, Tanzania, Uganda, Rwanda, Burundi, Mozambique, and the Democratic Republic of the Congo though very similar languages are also spoken in Comoro Islands and Mayotte.
As a native Swahili speaker, I am absolutely pleased by Yemi Alade's hat tip to her fans in the Swahili-speaking world.
As an African, it delights me even more because of what it means in terms of cross-cultural collaboration and sharing between vastly different African countries and regions.
What do you think about Yemi Alade 'Na Gode' Swahili version ? Let me know in the comment section below.
Biche
P.S. Enjoyed this post? If so, sign up for email updates using the form below. Also, please share this post with your friends and followers on social media. I'd greatly appreciate it.
Photo Credits: R Boed, Imvelo Tanzania Safaris, Gosheni Safaris, Kayak, Masailand Safari & Lodge, Kilimanjaro Ecolodge, Yemi Alade's Facebook page