Now that we're two weeks into the month of January, I think it's safe to say that the holiday season has (finally) come to an end.
How was your festive season? Was it a pleasant one? Did you have lots of fun, with many opportunities to merry-make?
I hope so.
I definitely did.
But…there's nothing quite as capable of spoiling fun times like the difficult morning after having one-drink-too-many during one of those merry-making opportunities.
I am sure you know just what I am talking about … that nasty little thing called … a hangover.
Anyone who has ever drank any alcohol surely knows what I am talking about.
For those who don't, lucky you!
In that case, you're not missing out.
For all my readers who have had hangovers before, what do you do when alcohol gets the better of you and leaves you feeling fuzzy-headed and suffering from a number of horrible hangover symptoms, each worse than the next?
(If you want to make sure your breath doesn't give you away, read Fisherman's Friend: The Ultimate Breath Mint. Also, while we are on the topic of mouth care, you might enjoy Oral-B Toothbrush Review: Advantage Artica.)
What I Normally Do to "Cure" a Hangover
For me, I usually flush my system with loads and loads of water in hope that the alcohol passes through my body as quickly as possible.
Sometimes, when my hangover occurs on a day when I have nothing pressing to do, and when I am in the mood to hang out, I follow my system flush with a light alcoholic beverage (after midday, of course 😉 ) in true "hair of the dog" style.
Still, a hangover is never a pleasant thing by any stretch of the imagination.
Wouldn't it be wonderful if there existed a pill which would allow you to skip the hangover?
Well, apparently, a pill now exists that claims to do just that!
(Are you picky about what gin you drink? If you were asked if you preferred one brand of gin over another, could you clearly state a preference? Here's my answer to the question Gilbey's Gin or Gordon's Gin?.)
What Is RU-21?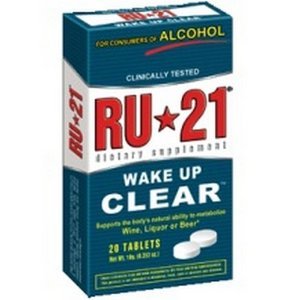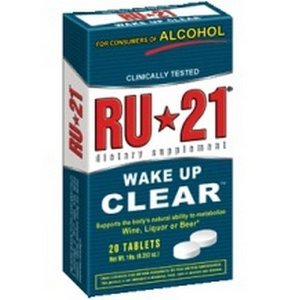 The miracle pill, RU-21, is an all-natural supplement made up of monosodium glutamate, a couple of acids, vitamin C and glucose that is to be taken while drinking—one pill per drink.
RU-21 does not affect levels of inebriation at all—so this pill will not help you feel less drunk—rather, RU-21 helps the body to process alcohol better, preventing the build-up of the toxic byproducts of alcohol metabolism, which is what causes you a hangover.
Does RU-21 work?
Well, I can't say for sure—I have never tried it myself—but here are some reviews I found on the net (here and here) written by people who have tried the supplement.
The consensus is that RU-21 is effective in the case of moderate drinking but not as effective for heavy drinking (for that, I guess you still have to pay the price 🙂 ).
(Konyagi, proudly termed "The Spirit of the Nation" in Tanzania, and Uganda Waragi, equally proudly called "The Spirit of Uganda", are both East African spirits much adored by the citizens of each of these East African countries and others who get a chance to taste them. But…how do they compare? Learn more about each of these spirits and weigh in on the debate at Konyagi vs. Waragi.)
Can RU-21 be found in Nairobi?
I first heard of RU-21 from a poster at The Hood, ages ago!
Somehow, I never thought the product was locally available and figured that the poster was up just for decoration (sort of like what happens at sports bars).
It wasn't until I found myself at Fifi's, a bar at USIU where RU-21 is actually sold, that I understood that the product was for real and could be purchased locally.
Could it be that RU-21 is also sold at The Hood, hence the poster?
(Have you ever wondered what makes Bacardi Black different from regular white Bacardi or Bacardi Gold? If so, learn more at Bacardi Black Rum & Bacardi Gold.)
I'll have to find out.
For now, all I wanted to do was to share with you that there might be a miracle pill, locally available, that can help circumvent hangovers when alcohol gets the better of you.
Might any of you, my readers, have had any experience with this pill? If so, how did you first hear about it? Did it work for you? Where did you purchase your supply of RU-21? Tell all, tell all.
I look forward to hearing what you have to say.
Until the next time,
Biche
(Do you plan on using Uber to ferry you around this holiday season? If so, do you worry that you may not be able to get an Uber when you most need it because of increased demand? Uber has already thought about this. Read more about their solution to the problem in Uber, the Holiday Season, and Dynamic Pricing.)
Photo Credits: jp.iherb.com