Table of Contents
Best Restaurants in Dar es Salaam
Dar es Salaam is a bustling city located in Tanzania, East Africa, known for its vibrant culture and delicious cuisine.
The city boasts a diverse range of restaurants, offering a variety of cuisines and dining experiences.
One of the most popular restaurants in Dar es Salaam is The Alcove. With two branches in the city—one in Haidery Plaza in the city center and another at Seacliff Hotel in Masaki—The Alcove is known for its exceptional Indian cuisine and warm and inviting atmosphere.
The restaurant offers a variety of dishes, including seafood, lamb, vegetarian options, and Chinese cuisine dishes, as well as an extensive wine list.
The Alcove is perfect for those looking for a more upscale dining experience, with a sophisticated ambiance and impeccable service.
Affordable Restaurants in Dar es Salaam: Mamboz
For a taste of traditional Tanzanian cuisine, head to Mamboz Restaurant.
With three branches in the city–one in the city center, another in Upanga, and a third in Masaki—the restaurant is famous for its delicious local dishes, such as grilled meats, fish in various forms, and biriyani.
The restaurant's casual atmosphere and affordable prices make it a favorite among locals and tourists alike.
If you're looking for a fine dining experience, The Palm Brasserie is an excellent choice.
Located at the Hyatt Regency Dar es Salaam, The Kilimanjaro, the restaurant offers a sophisticated ambiance and a diverse menu featuring international cuisine.
Diners can enjoy dishes such as Baked Kingfish, Braised Lamb Shank, and a variety of both Indian and Tanzanian specialties.
For fish lovers, Samaki-Samaki is a must-visit. With two branches—one at Mlimani City in Survey and another on Haile Selassie Road in Masaki—Samaki-Samaki offers a variety of fresh fish dishes, as well as seafood such as prawns, calamari, and octopus.
For seafood beyond fish, my personal favorite in Dar es Salaam is Karambezi Café at the Seacliff Hotel. To read a whole post I wrote about it, click here.
Restaurants in Tanzania: Local Restaurants in Dar es Salaam
BBQ Village
Off Kimweri Avenue (Msasani)
Tel: +255-22-266-7927
Sunpower Pub
On a dirt road parallel to Chole Road, behind The Spot Beauty Salon
Ya Salaam BBQ House
Nkomo Street (not far from Alliance Française, Upanga)
Tel: +255-784-517 333
READ ALSO: Experiences at Mediterraneo Restaurant in Dar es Salaam
Mexican Restaurants Dar es Salaam
Taste of Mexico
Slipway Road (Msasani)
Tel: +255-656-612601
Dar es Salaam Restaurants – Seafood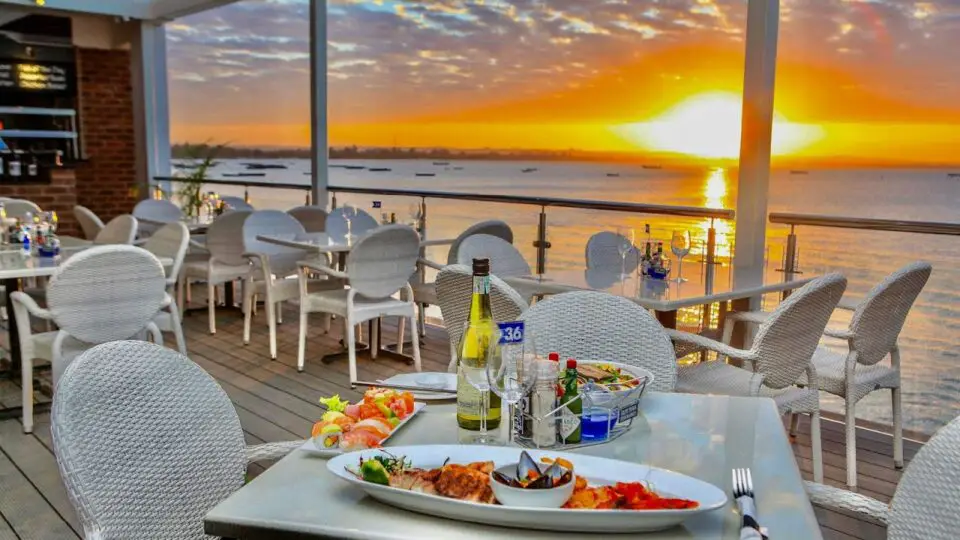 Cape Town Fish Market
180 Msasani Bay (off Kimweri Avenue, Msasani)
Tel: +255-758-888 994, +255-758-555 366
The Fishmonger
Opposite Double Tree Hotel in the new cube building (Msasani)
Tel: +255-762-419059
Samaki-Samaki        
Haile Selassie Rd. (Masaki)/Mlimani City Mall (Survey)
Tel: +255-758-812 223, +255 785 415 415
READ ALSO: Mediterraneo Hotel Restaurant Tanzania
Good Restaurants in Dar es Salaam – Steakhouse
Coral Ridge Spur
Sea Cliff Village, Toure Drive (Masaki)
Tel: +255-22-260-0380
Blue Rock Spur
IT Plaza, Ohio Street (downtown)
Tel: +255-22-550-0067
Shooters Grill
6th floor Oyster Plaza, 1196 Haile Selassie Road (Oysterbay)
Tel: +255-754-880 160
READ ALSO: Visiting Congo Street Again
Best Restaurants in Masaki – Tapas
Veranda Tapas Bar
Kahama Road (Masaki)
Tel: +255-763-491212/+255-754-266273
READ ALSO: Hyatt Regency Dar es Salaam, the Kilimanjaro (Formerly the Kilimanjaro Hotel Kempinski)
Thai
Sala Thai
Oysterbay Shopping Centre
Tel: +255-787-244 997, +255-715-244 997
Thai Kani
The Slipway
Tel:+255-715-486014
Grill House Masaki
Grill House in Masaki has permanently closed down.
Photo Credits: Swahili Nation