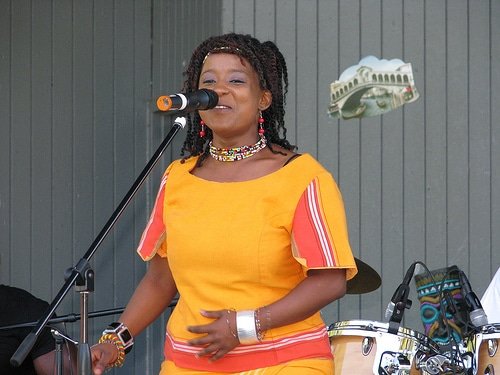 Like many other things I learned from my parents, I learned to enjoy listening to live bands from them too.
Listening to Live Music at The Hôtel Ivoire, Abidjan
As a child, my parents, my siblings, and I would head out to the Hotel Ivoire Abidjan (find out more about Abidjan's Hôtel Ivoire and/or book your stay there here) every Friday and/or Saturday night to listen to L'Orchestre Le Best (which I recently found out Lokua Kanza used to sing for! 😯 ) and have a fantastic time.
Because we did this so often, in no time,  I could sing along to every song the band played, and when the music got really hot, I would run up to the area in front of the band and dance away–hoping against hope that I wouldn't get in trouble with my parents for being too showy (a pet peeve of theirs!).
As a teenager, live music did not form a big part of my social life.
Excuse me, but local live music just wasn't cool!
At that age, what my friends and I were more concerned with was keeping track of the latest hits released across the ocean, in Europe and America.
Moving to East Africa as a young adult, though, live bands once again began to feature in my life.
The Rough Guide to Tanzania calls Dar es Salaam "the best place in East Africa for catching live music".
After living here for two and a half years, I can see why.
READ ALSO: New Music from Tanzania: 'Mpokee' by Ericomsongz ft. Kellah
On most nights of the week, many great bands play at a variety of venues across the city.
These bands range from those of legendary musicians such as King Kiki, to those of more modern recording artists such as Lady Jaydee and Banana Zorro, to Congolese-sounding dance-inducing bands like FM Academia, and everything in between. So I can now confidently answer for myself the question I have for you today, which is…
Question #12: In your East African city/town, what's your favorite local band?
To know my answer, check out the first comment to this post. To give me yours, leave me a comment below in the following format:
City/Town, Country:
Favorite Local Band:
Website(s):
Why do you like this band?
As always, I look forward to hearing what you have to say.
Until the next time,
Biche
Photo Credit: Beachwood Photography