Utalii Hotel
Nairobi-Thika Highway
Check price, or book your stay at, Utalii Hotel here!
A while back, when I was staying with my hospitable friend from USIU, I happened to have family members visit from out of town.
Usually, these family members would have stayed with me – I make it a point to always have enough room for visitors in any of my homes – but this time, surely I couldn't take further advantage of my friend's hospitality.
My family would have to stay elsewhere – and it was up to me to arrange that.
I called a couple of hotels downtown, but the exorbitant prices had me thinking of other alternatives (is it just me, or has anyone else noticed how crazy hotel prices have gotten nowadays – particularly in Nairobi?).
I called a number of other hotels that I expected to be less expensive but was not lucky with room availability.
Finally, at the end of my tether, I turned to my trusted resource, The Rough Guide to Kenya.
The Rough Guide to Kenya led me to Utalii Hotel, a hotel that I had never heard of before but that was conveniently located not far from my friend's place.
READ ALSO: 5 Places to Stay in Nairobi for $50 or Less a Night
Affiliated to the famous school of hospitality, Kenya Utalii College, a double room at Utalii Hotel cost 7,500 KSh per night, which was a far cry from what the other hotels were charging.
Judging from what I read in the Rough Guide, as well as what I knew about Utalii College, I took the risk and booked my family at the Utalii Hotel.
I was pleasantly surprised by what I found at Utalii Hotel.
Utalii Hotel Location
First and foremost, Utalii Hotel is a 4-star hotel located on the Nairobi-Thika highway, 8 km from downtown Nairobi.
Although I had been on this highway, many, many times over the years, I had never heard of nor seen the hotel before.
This was surprising to me because, now that I know where it is, it's really hard to miss.
Utalii Hotel is not a small hotel by any stretch of the imagination.
It's actually quite big, containing more than 50 rooms.

When I arrived at Utalii Hotel, I was amazed to see the number of international guests that were checking in to the hotel.
I wondered where these guests were from and why they had decided to stay at this particular hotel.
I later found out that a number of these guests were customers of Kenya Airways that were being taken care of by the airline for the night.
I was amazed. To be affiliated to Kenya Airways,  I realized that Utalii Hotel was a well-enough regarded Nairobi hotel.
READ ALSO: 24 Sunset-, Lake- and Mount Kilimanjaro Pictures
When my relatives were checked-in and allocated a room, I was impressed with what I found there too.
Their room was spacious and well decorated, with attention paid to detail that made it quite homely.
For instance, the room was equipped with everything necessary to make a cup of tea or coffee.
That's the first thing my guests did upon settling down in their room (my visitors were female folk from my mother's side of the family :-)).
Then, a little later in the evening, an attendant came into the room to switch on an anti-mosquito device which was both odorless and smokeless.
We thought that was pretty cool and very considerate of hotel guests.
I ended up spending the night at Utalii Hotel with my womenfolk because the double room consisted not only of a double bed but had a single bed too (presumably for a couple with a young child).
I am glad I did, otherwise I might have missed out on what I consider one of the best parts of staying at Utalii Hotel: the morning view from the rooms.
In the morning, we drew our curtains to have our room bathed in beautiful sunlight.
Outside our room was a most refreshing, soothing view of manicured gardens. I am glad I didn't miss out on that!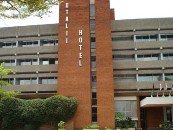 In its description of Utalii Hotel, The Rough Guide to Kenya mentioned outstanding food.
The gourmet in me was definitely looking forward to experiencing that.
Unfortunately, although I found the food good, I didn't think it was anything to write home about.
Was it just an off day? I guess I will have to eat there a couple of times before I can draw a valid conclusion.
Overall, I was very impressed with Utalii Hotel.
I guess what shocked me most was that I had never heard of it, and yet it was a pretty good hotel.
Hopefully, now I've shared the good find.
If ever you happen to be on that side of town and are in need of accommodation or food and drink, then stop by Utalii Hotel and check it out. I'd love to know what you think when you do.
I hope you found this information useful.
Until the next time,
Biche