Happy New Year, dear reader!
May this year be one that brings you the desires of your heart!
May it also grant me the desires of my heart too.
When it comes to cars, the desire of my heart used to be extremely clear to me.
I longed for a Peugeot 307 hatchback.
For a number of years, I waited for the perfect combination of factors to come together so I could buy myself one.
In the meantime, I would pass by the Peugeot showroom at Sarit, just to gaze at the car and…dream.
Sadly, the perfect combination of factors is yet to come together.
Tired of longing for the same thing for so long, other culprits have begun to steal my heart.
One of these is a small Toyota hatchback known as the Toyota Vitz in our market or as the Toyota Echo and Toyota Yaris elsewhere in the world. (Is this where I stop to mention that both the Peugeot 307 and the Toyota Yaris were voted European Car of the Year earlier in this millennium? Hmmm…does this say anything about my taste in cars? 😉 )
First Sighting of the Toyota Vitz
The Toyota Vitz first caught my eye when a car dealer neighbor of mine imported a cute purple Toyota Vitz that he used to park outside the gate of our apartment complex.
The car was a beauty!
I had never seen anything like it and stopped one day to find out the exact make and model of the car.
After that, I subconsciously kept an eye out for Toyota Vitzs in Nairobi, but noted that there were very few.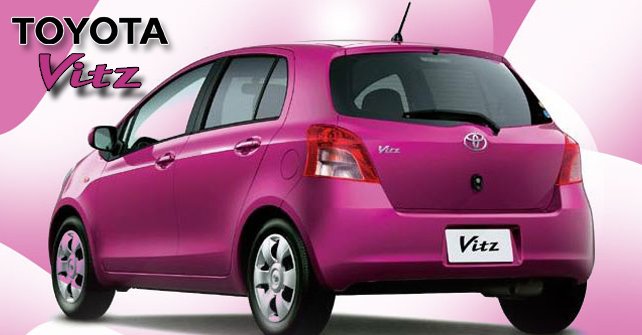 A couple of months later, I got to experience the Toyota Vitz up close and personal when a good friend purchased one for herself…in gold.
This color suited the Toyota Vitz even better than the purple I had seen previously!
A Very Spacious Car
On closer inspection, what surprised me most about the Toyota Vitz, was how spacious the interior was.
Although very compact on the outside, the Toyota Vitz seemed to have as much space on the inside as a regular salon car. (This review seem to concur about the Toyota Vitz's unexpected spaciousness.)
A couple of months after she purchased it, my friend and I put the spaciousness of the Toyota Vitz to the test during my friend's next house move.
We packed both our cars to the full, and within 2 trips, were done moving most of her stuff.
Her car, especially with the back seats folded down, had great capacity.
I was impressed!
Fuel Consumption
Another thing my friend often mentions about her car is how well it consumes fuel.
She says that, on seemingly small amounts of fuel, her car just keeps going and going and going.
Apparently, this is something the Toyota Vitz is popularly known for, as you can tell from the following articles: here and here.
Although I will take her word for it, these write-ups, which include statistics on the fuel consumption that you can expect from a typical Toyota Vitz, might spell it out better for you.
Last but definitely not least, what I like most about the Toyota Vitz is the fact that its, pardon my expression, perrr-tty (pretty)!
Although I can't firmly say that the Toyota Vitz is currently the desire of my heart when it comes to cars (my head turns too often when I see certain other makes and models pass by), it definitely has a spot on my car wish-list.
What car do you favor?
Biche
Photo Credit: de.wikipedia.org; newcars.com.pk