Have you ever heard of the East African cocktail 'Dawa'? In this post, I tell you just how to make one.
Read on to make the perfect Dawa from the comfort of your home. Ready, steady, go!
I'm feeling thirsty.
No, not that kind of thirst—water can do nothing for me right now. I mean THIR-STY thirsty.
Catch my drift? (It's Friday, don't think too hard! 😉 )
READ ALSO: Waragi vs. Konyagi: 2 Great East African Spirits Go Head-To-Head
This evening, I'm going to take inspiration from all the honey and lemon I have been handling for my hair and make a Dawa.
What? You don't know what a Dawa is?
Hmmm…let me tell you a little more then.
READ ALSO: Celebrating the Life & Music of Uganda's Mowzey Radio
What Is a Dawa?
A Dawa (Swahili for 'medicine') is a popular Kenyan cocktail that was made famous by Carnivore (the famous meat eater's restaurant) and other restaurants owned by The Tamarind Group.
READ ALSO: 100 Most Influential Young Kenyans 2018
It's a simple cocktail that's easy to make (and quite potent :-)), and most of the ingredients needed to make this cocktail you probably already have in your kitchen.
How about we make a Dawa together?
Ready?
Dawa Recipe
Dawa Cocktail Ingredients
Vodka
Fresh Lime
Ice Cubes
Directions
Pour two tots of vodka into a tumbler glass like this (or any other glass that is roomy).
Add a tablespoon of honey. (I like my Dawa sweet!)
Add one lime, cut up in wedges.
Add ice cubes.
And drink.
Wait (you might say)! That doesn't sound like a drink!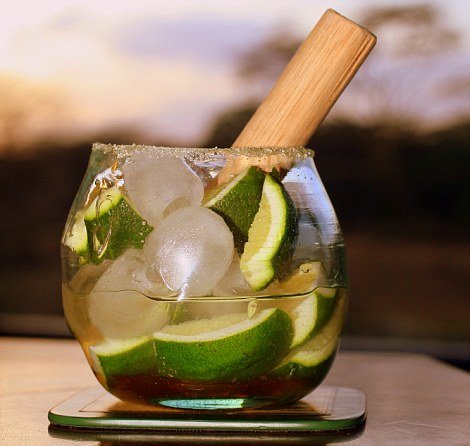 Well, the secret to making and drinking a Dawa is in pressing the wedges of lime (in order to bring out the juice) while stirring the contents of your glass as the ice melts.
It's when all the ingredients come together that you get yourself a delicious Dawa.
At Carnivore, this pressing and mixing is done with a Dawa stick , a small cocktail muddler that resembles a yellow and green candy cane (but that doesn't taste of anything), but in your own home, you can replace the Dawa stick with a popsicle stick or spoon (I am not sure where you can find dawa sticks for sale).
Whatever the case, the result remains the same.
There you've got it.
That's all you need to know to make a Dawa (though I will admit my Dawas never taste quite the same as those made by Carnivore's Dr. Dawa—I don't know what his secret is!)
But that's enough talking!
It's time for me to go drink my Dawa now.
Happy Furahi-day (coincidentally, "furahi" means "be happy" in Swahili)!
Biche
Photo Credit: Eater.com, DailyMail.co.uk