Sunset Hotel
Kisumu, Kenya
Tel: +254-(0)723-686483 / +254-(0)733-411001
Email: info@sunsethotel.co.ke
After leaving Merica Hotel, we continued our journey to Kisumu (Kenya's third largest city) over very bad road.
Our accommodation for the night was going to be Sunset Hotel (Kisumu) based on an acquaintance's recommendation.
A Kisumu local, our acquaintance told us that Sunset Hotel was one of the two best hotels in Kisumu the other being Imperial Hotel.
We were not sure what to expect, but decided to trust our informant.
READ ALSO: 5 Places to Stay in Nairobi for $50 or Less a Night
Arriving in Kisumu
Sunset Hotel is located 2.5 km outside downtown Kisumu. The drive to Sunset Hotel takes you into the pleasant, flowery, residential parts of the city. As we headed there, I remember thinking that I had never known anything other than the hustle and bustle of downtown Kisumu. It seemed to me that Kisumu would be a very pleasant place to live.
Sunset Hotel (Kisumu)
Sunset Hotel is a grand hotel. It spreads wide and is 5 floors high. I've since come to learn that the reason it stretches so wide is so that every room in the hotel can have a view of Lake Victoria. The hotel gets its name from the magnificent sunsets that can be seen from each room.
(Interested in seeing pictures of beautiful sunsets across East Africa, then check out 19 Sky, Water, & Sunset Photos and More Taken in Dar es Salaam, Kampala, Kigali and Elsewhere.)
Sunset Hotel opened in 1977 and must have been impressive accommodation in its day. Some of its past glory can still be glimpsed at in small details such as the artful water fountain, designed in the shape of African pots, at the entrance of the hotel. For the most part though, to quote another writer, Sunset Hotel is a bit worn at the edges.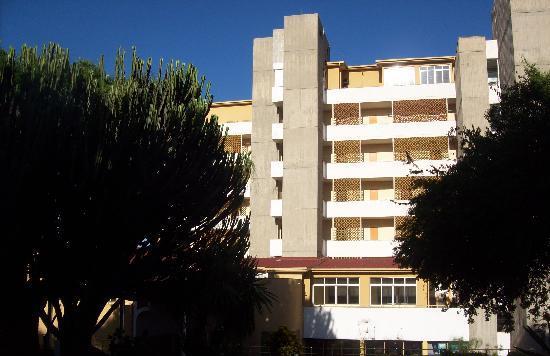 You might ask me why I bother to write about it then. I write about Sunset Hotel because I think it still has many positives that you would not expect from an upcountry hotel. For instance, the rooms are very tastefully decorated. As soon as you enter the rooms at Sunset Hotel, it is obvious that a lot of thought went into making the accommodation as pleasant as possible. Well-decorated and well-maintained, the soft furnishings match and are in good condition. The rooms have glass windows on the facade of the building with a great view of the Lake.
Viewing Lake Victoria from Kenya
I did not pay attention to the view when I first got into my room, since we arrived at night, but the next morning, I was amazed by what I saw. This was the first time I was seeing Lake Victoria from Kenya (having seen its Tanzanian and Ugandan shores many times). The true expanse of the lake finally dawned on me.
READ ALSO: Water, Hotels, and Sunset: 39 East African Photos
Other strengths that I noted at the Sunset Hotel were the mean breakfast they serve—complete with bacon, eggs, sausages, baked beans, and cereal—and beautifully manicured gardens, full of flowers, which were a pleasure to walk through.
Sunset Hotel is a 3-star hotel, so this gives you an idea of the general feel you can expect there. Still, I think it's a nice 3-star hotel. If I were to go back to Kisumu, I would not hesitate to stay there again.
Many of the people that I tell about Sunset Hotel seem to already know about it. If you had never heard of the hotel until now, or have never stayed there before, I hope this post gives you an inkling of what to expect.
If you do stay there, or have more to add to this review, please drop me a comment.
For now, I wish you a good rest of the week.
Biche
You can find more posts on hotels & accommodation in East Africa here.
Photo Credits: bizextras.wordpress.com