Table of Contents
Rooftop Bars and Restaurants in Nairobi Kenya
There is something special about sitting and whiling away an evening or afternoon at a rooftop bar or restaurant.
If this is an experience you are seeking in Nairobi, here are a few rooftop bars and restaurants in Nairobi for you to explore.
READ ALSO: Eating & Drinking in Kilimani, Nairobi
Rooftop Restaurants Westlands #1: Sarabi Rooftop Restaurant at Sankara in Westlands (Sankara Rooftop Bar Nairobi)
With sweeping views over the Nairobi skyline, Sarabi Rooftop is one of the city's premier places to meet, eat and enjoy.
By day, the open-air pool deck provides a great escape from the buzz of the city with healthy juices and light revitalizing cuisine.
With an emphasis on tapas-style shared plates, the al fresco lounge creates an unforgettable social experience.
Catch up and unwind with friends or colleagues at Sarabi Rooftop and treat yourself to one of their signature cocktails handcrafted by award-winning mixologists.
As night falls over Nairobi, Sarabi assumes an ambiance of chic relaxation, where hotel guests and other patrons alike can revel in live music and guest DJs several times a week.
READ ALSO: Sarova Stanley Menu & More About the Hotel
Sarabi Rooftop Restaurant Photos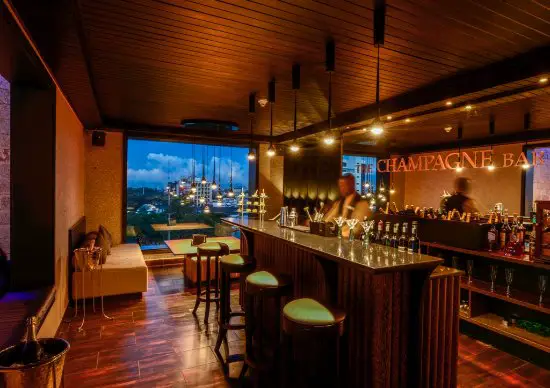 READ ALSO: Tamasha Karen & More
Rooftop Restaurants in Westlands #2: Tambourin at Villa Rosa Kempinski Nairobi
Tambourin is a rooftop lounge and restaurant designed to offer a unique dining experience to its guests.
Chef Rami, a Syrian-Greek culinary specialist and his team at Tambourin, focus on a dining experience which offers Lebanese, Iranian and Indian delicacies.
Guests at Tambourin can relax to the sounds of ambient music, and enjoy shared Mezze platters in the comforts of Majilis-style cabanas.
Tambourin is a great place for sundowners, to watch a beautiful Kenyan sunset as you sip on a cocktail and wind down after a busy day.
On Thursdays to Fridays, there is live belly dancing at Tambourin from 6 p.m. to 9.pm.
The hotel's resident belly dancer performs for 15 minutes during each hour of that time.
The last belly dancing performance occurs between 8:45 p.m. and 9 p.m.
READ ALSO: The Food at Thorn Tree Cafe, Nairobi & More
Best Rooftop Restaurants in Nairobi #3: Cloud 9 at Clarence House in Westlands
Cloud 9 is a modern rooftop bar & restaurant located on top of Clarence House Hotel Apartments. It has a well-stocked bar as well as a heated swimming pool.
READ ALSO: Victoria Mongeon & Erica Mongeon, The Ikki Twins
Roof Top Restaurants in Nairobi #4: La Terrace Tapas Fashion Bar at La Maison Royale, Westlands
La Maison Royale is a business hotel in Westlands that has a rooftop bar with breathtaking views of the city.
The bar is a great entertainment venue and a cool spot to hang out with friends and family or to host small parties.
Unlike many other rooftop bars in Nairobi, this one can be used even when it rains since there are canopies.
The restaurant at La Maison Royale serves African, French and Mediterranean cuisine so food is in plenty and the selection of drinks is decent.
READ ALSO: The Bar at Cedars Lebanese Restaurant in Nairobi
Rooftop Restaurants Nairobi #5: Altitude Lounge & Restaurant, Cloud Hotel & Suites, Diamond Plaza, Parklands
Altitude Lounge & Restaurant is situated on the roof top of the busy Diamond Plaza 1, offering a magnificent view over Parklands, Westlands, Karura Forest and Nairobi city.
On top of its views, Altitude offers delectable food, pleasant music and casual al fresco dining.
Whether you are celebrating your stay in Nairobi, or looking to unwind with a drink after a busy day, Altitude is a place to remember and experience time and time again.
With a large and varied menu for both lunch and dinner, Altitude features fresh natural ingredients infused in simple cooking.
Their modern comfort foods have rustic home-cooked flavours from around the world made with fresh, local and seasonal ingredients.
Nairobi's diverse population with roots from around the world has shaped the city, and that has inspired the creation of several of Altitude's dishes.
Altitude is all about fresh home-made comfort food with international flare. The comfort food at Altitude offers you a way to relax and eat something that makes you feel happier.
Private events can be held at Altitude and its Atlantic Pool Deck has a capacity of up to 250 people.
READ ALSO: Ngong Town Escorts & More
Fitnessruimte Van Clarence House Nairobi
Clarence House Nairobi beschikt over een goed uitgeruste sportschool die ook toegankelijk is voor niet-gasten van het hotel. Je kunt hier meer informatie vinden over wat ze aanbieden.
Sarabi Rooftop Restaurant Menu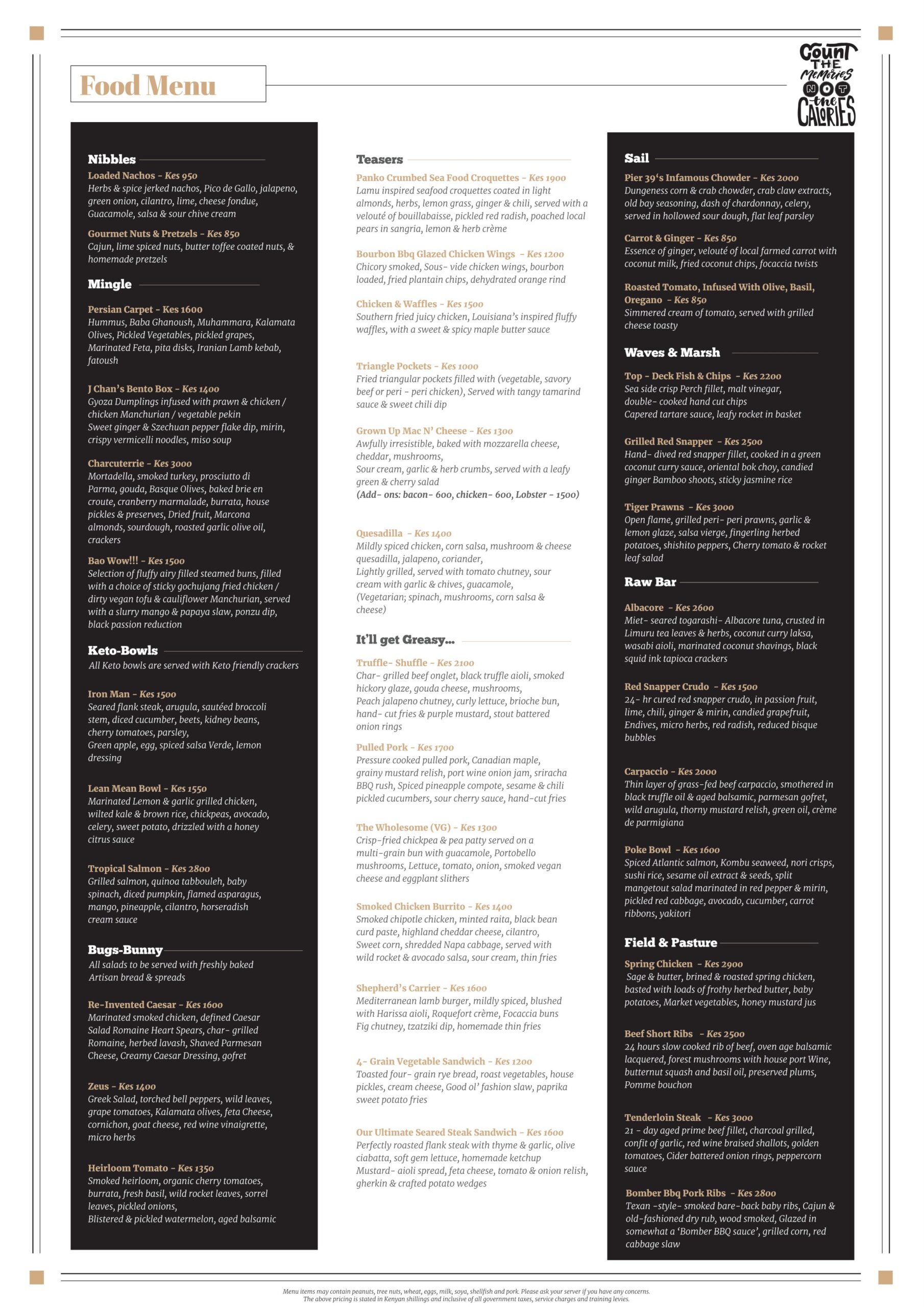 Meeting Rooms in Nairobi Kenya (Meeting Room Nairobi)
As a regional hub, Nairobi has its share of good professional meeting halls and conference rooms/centers. You can find one at most hotels in the city.
Here is a list of good hotels in Nairobi, where all but one have noteworthy meeting halls.
Photo Credits: Sankara Nairobi, Tripadvisor, VictorMatara.com, TravelStart Blog, Capital Lifestyle, BookNBook, Krishna Unni