Table of Contents
Sankara Pan-African Library Photos (Sankara Bugolobi)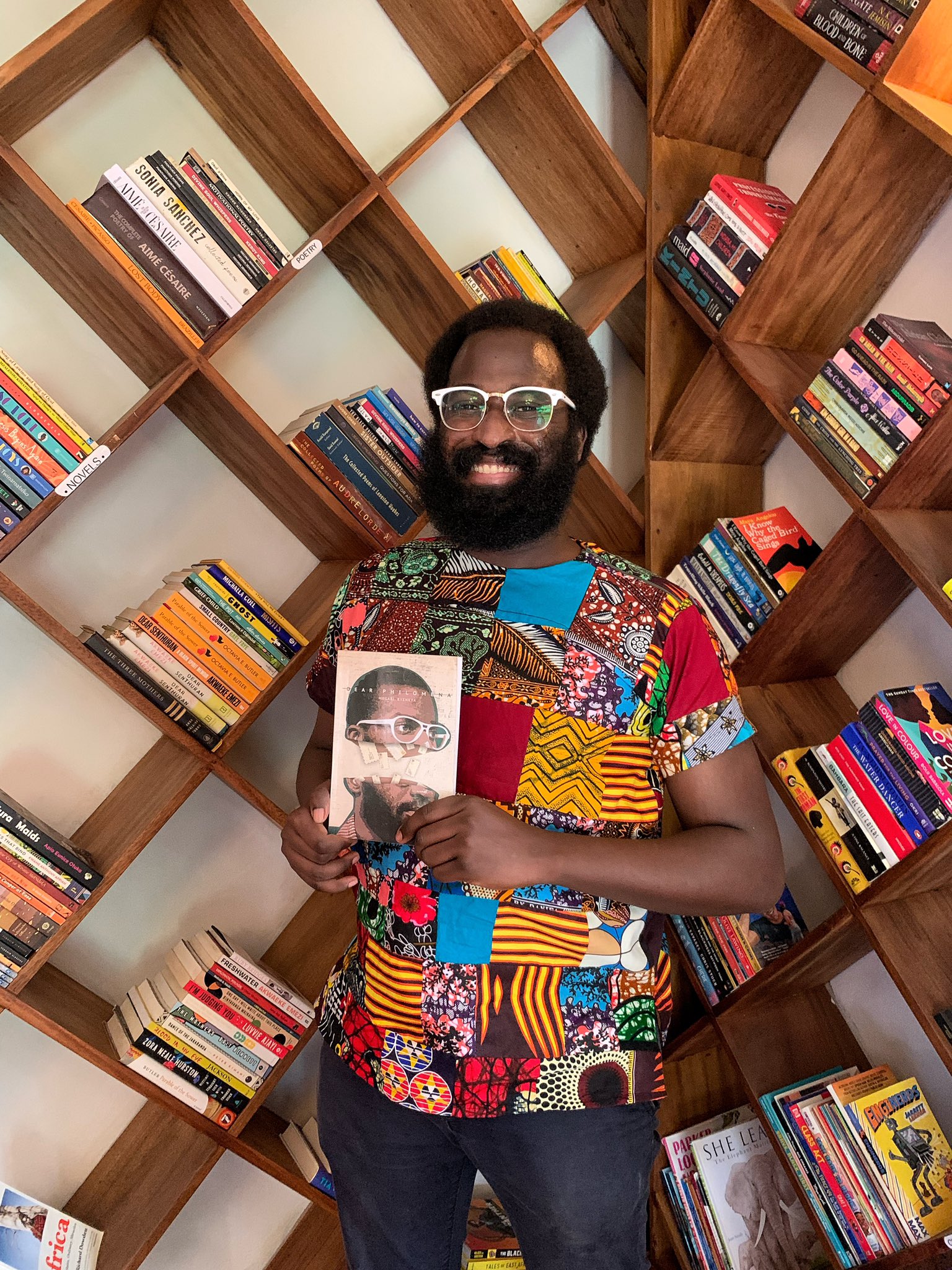 READ ALSO: Pictures of Western Uganda & More
Sankara Pan African Library (Sankara Library)
The Sankara Pan African Library is a beautiful space in Bugolobi, Kampala that I had the pleasure of visiting for the first time last month.
I won't say much more about it; instead, here is a video that can show and tell you about it a lot better than I can.
READ ALSO: Old Nairobi Photos & 5 Other East African Photos
Fuego Lounge Dar es Salaam
Fuego Lounge is a new lounge/party bar located in Mbezi Beach not far from Kidimbwi. It opened on October 15, 2022.
To find out more about what you can expect to find at Fuego Lounge, check out their Instagram page at @Fuego_TZ.
READ ALSO: Hotels in Queen Elizabeth National Park & More
Uganda Pictures
Uganda Pictures #1: No. 49 Cheese & Wine, Kampala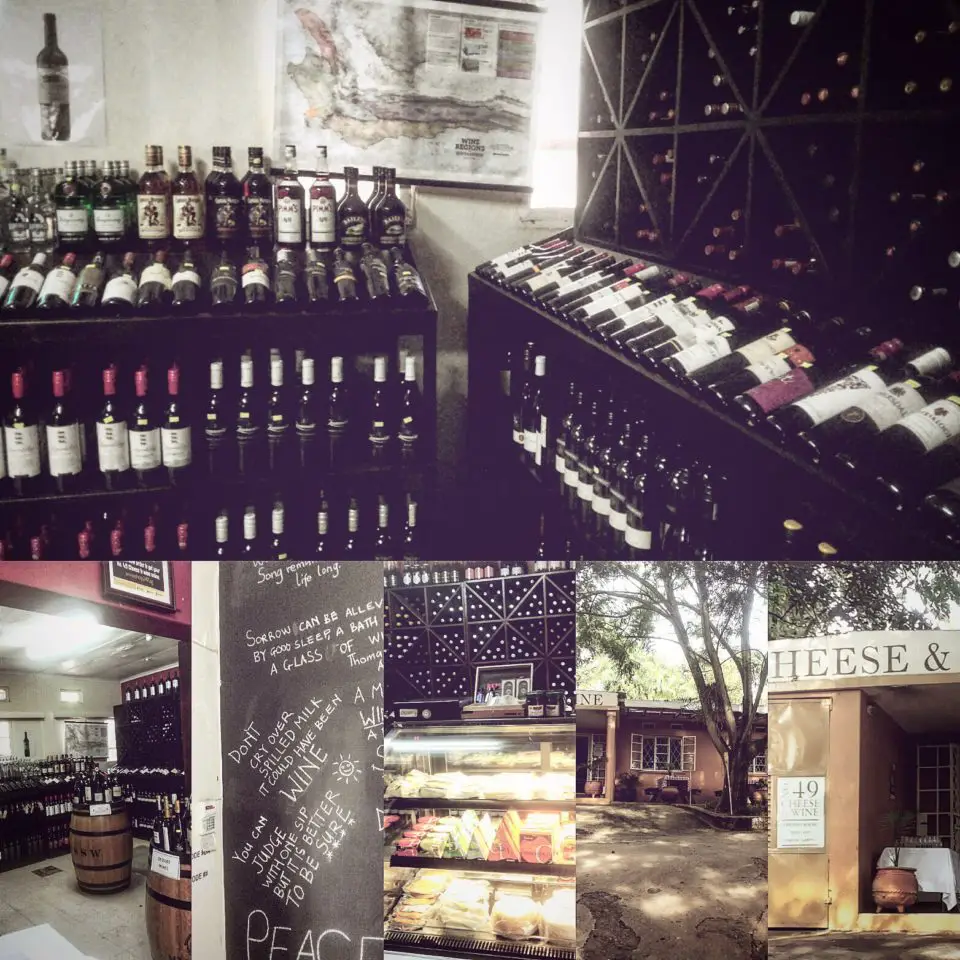 I am still bemoaning the closure of No. 49 Cheese & Wine on Luthuli Avenue in Kampala, Uganda. It was a seriously cute and well-stocked wine and cheese store.
READ ALSO: 22 East African Pictures
Uganda Pictures #2: Barbecuing in Kampala, Uganda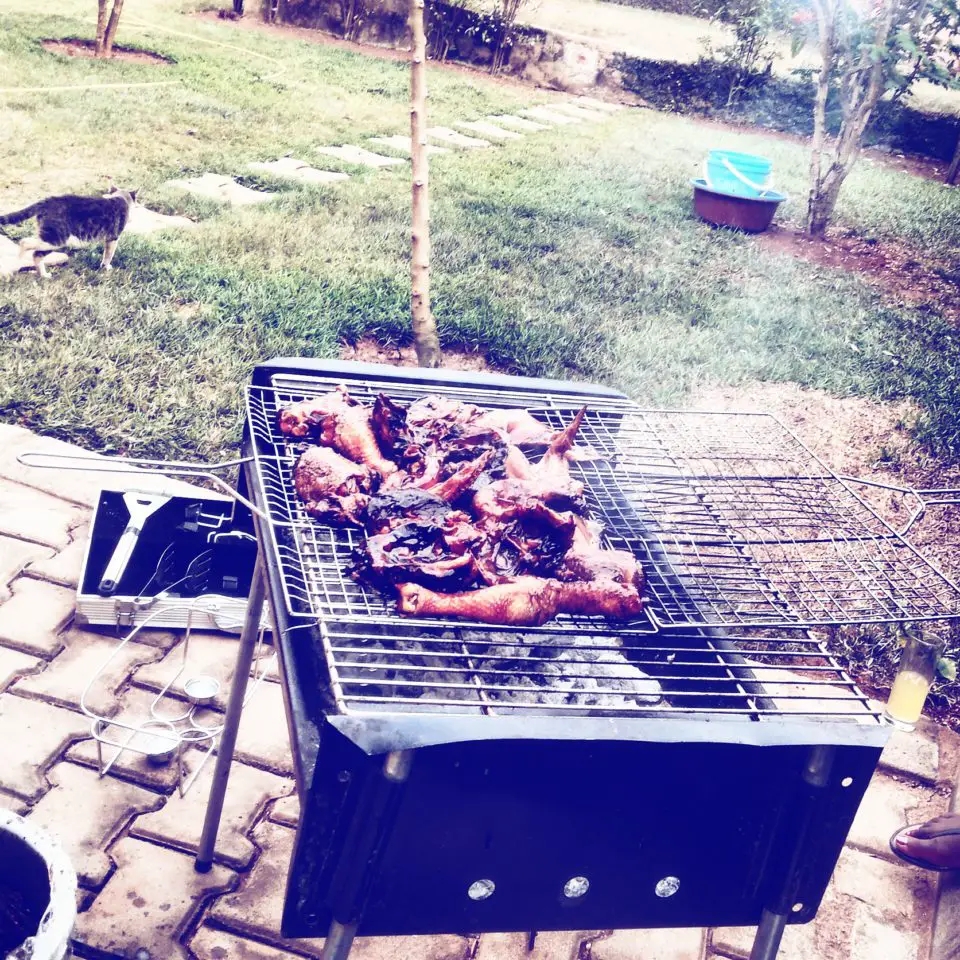 Kampala, Uganda to me is a city filled with simple pleasures. Hanging out in Kampala is not so much about where you go but who you hang out with.
In Kampala, gathering around a crate of beer (or some Uganda Waragi) in someone's backyard can be more fun than being at the most stellar cocktail lounge in another city. Kampalans themselves are all the fun you need!
This picture comes from just one such hang in my uncle and aunt's backyard. I can still taste this delicious chicken that was marinated in honey and soy sauce. The pork we made that same day was offfffff the hook! #GoodTimes
READ ALSO: High Spirit Lounge, Dar es Salaam & 18 Other Cool Photos from Tanzania and East Africa
Uganda Pictures #3: I Survived the Nile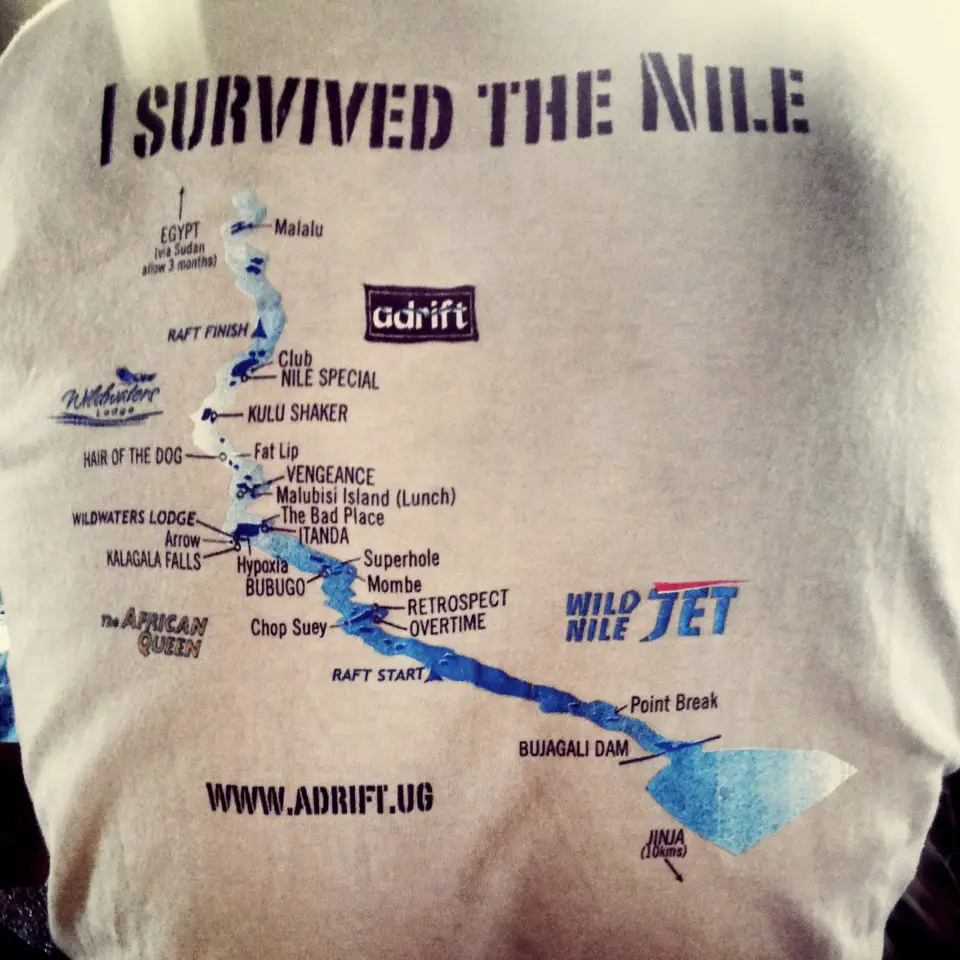 As though bungee jumping was not terrifying enough, the next day, I decided to go white water rafting for the first time. It was a lot of fun until about midway through the excursion I fell into a Grade 5 rapid called "The Bad Place" where I stayed under for a lot longer than was comfortable. When I saw someone wearing this shirt, I had to take a picture of it because it expressed exactly how I felt: I survived the Nile!
READ ALSO: Rwanda set to host "Africa Rising Stars Contest 2022"
Uganda Pictures #4: The Female Sempaya Hot Spring, Semuliki National Park, Western Uganda
The female Sempaya hot spring at Semuliki National Park, Uganda. Water temperature: 103°C. See more pictures taken at the Sempaya hot springs here.
READ ALSO: Bridal & Baby Shower Gifts in Kenya and South Africa

Uganda Pictures #5: The Bay, Kampala, Uganda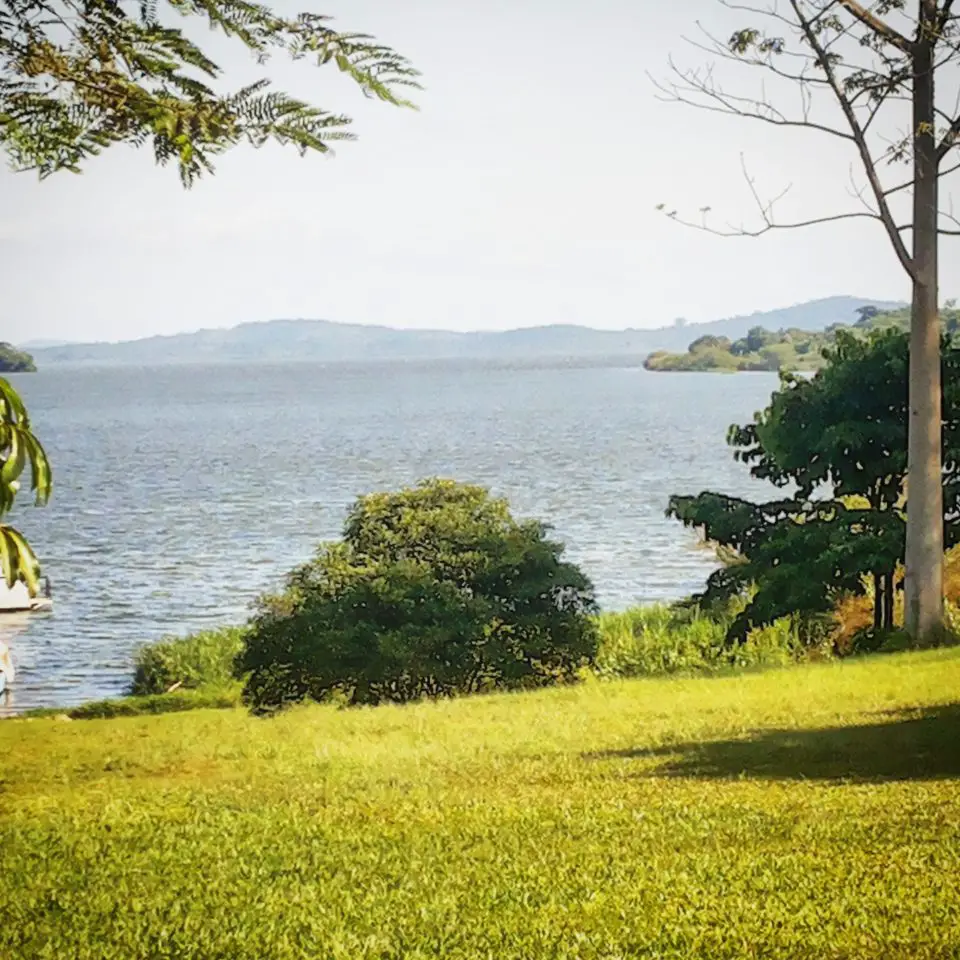 This view is so typical of Kampala, Uganda.
Originally known as the City of 7 Hills, Kampala has now expanded to include many more.
This means, therefore, that wherever you get a view of Lake Victoria (the world's second largest freshwater lake by area) in Kampala, you'll also invariably see hills off in the distance.
I love it! (This photo, like my last one, was taken at The Bay in Munyonyo.)
READ ALSO: Photos from Around East Africa
Uganda Pictures #6: Tex-Mex at The Little Donkey, Kampala, Uganda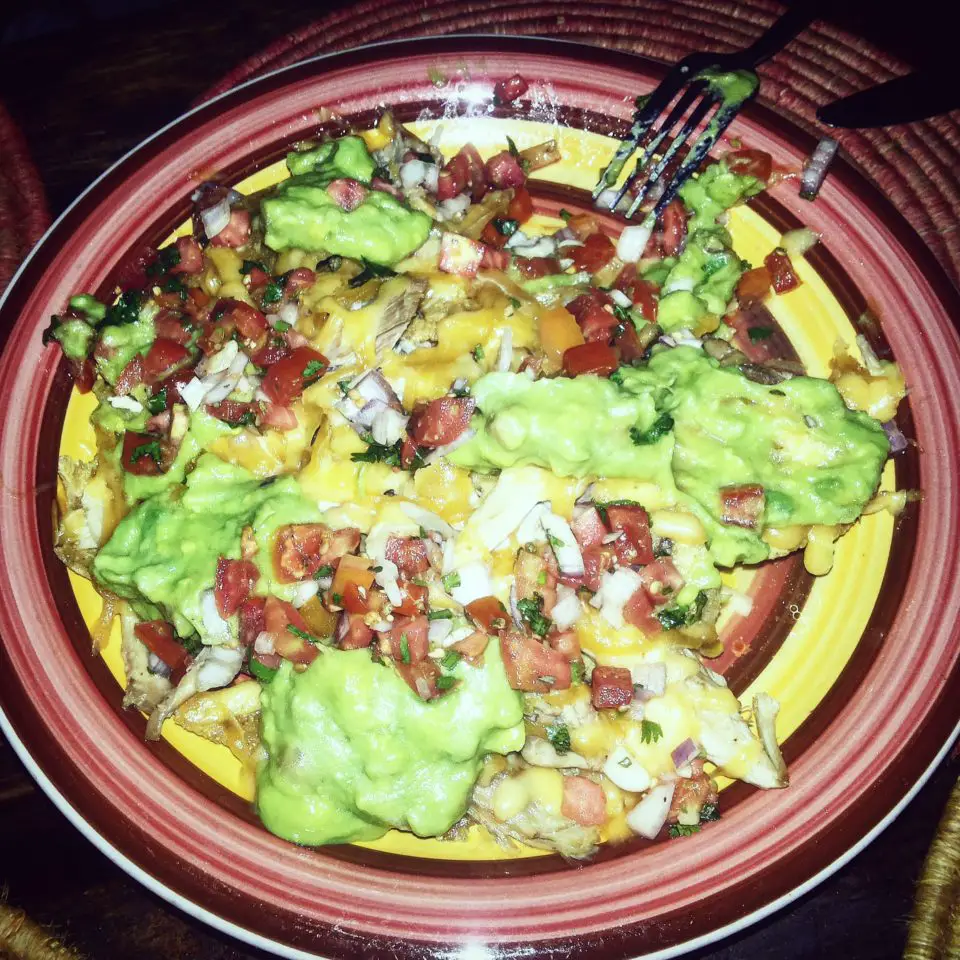 The nachos slathered in melted gouda, salsa, and guacamole at The Little Donkey in Kampala, Uganda are pretty hot too!
READ ALSO: Meat Point Zanzibar & Other Points of Interest in Tanzania
Uganda Pictures #7: Fuego Cocktails & Restaurant, Muyenga, Kampala, Uganda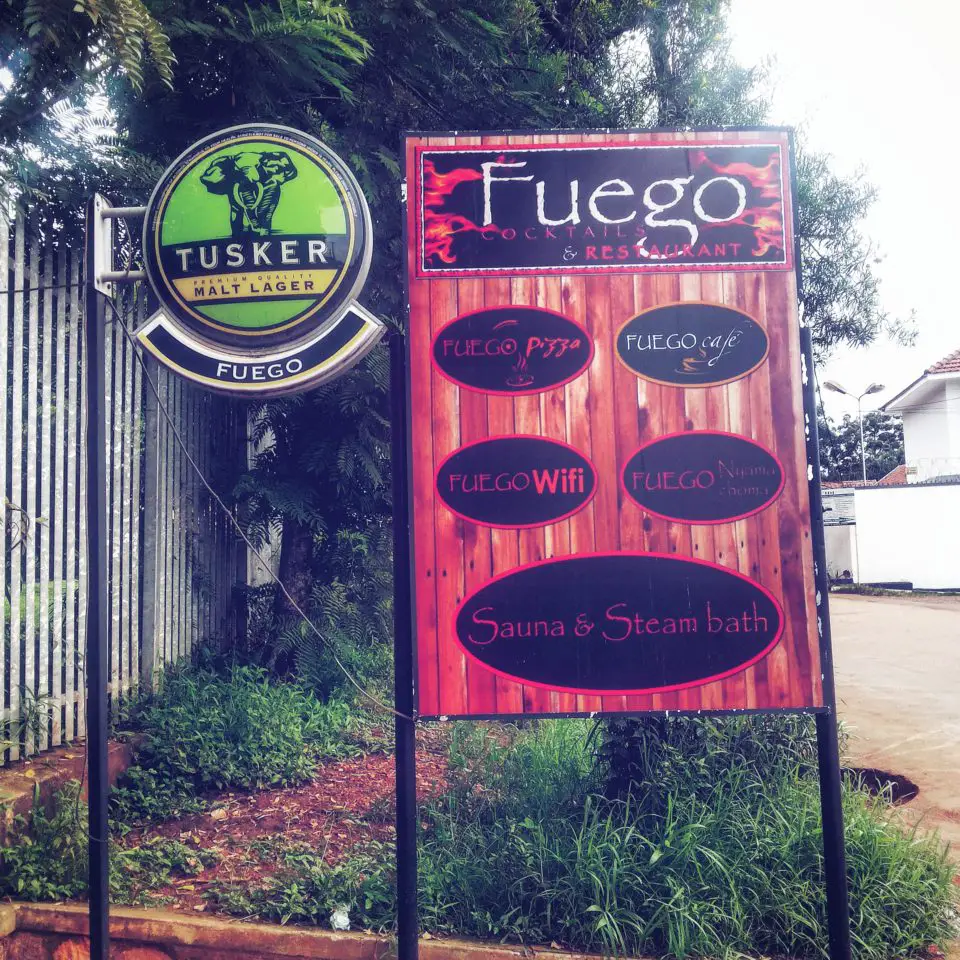 Fuego Cocktails & Restaurant in Muyenga, Kampala offers a whole lot as you can see from this board outside the establishment. What's not listed on this board that I LOVE there is their Ethiopian/Eritrean food. My favourite cuisine, Ethiopian/Eritrean food at Fuego is the real deal! (The cocktails are pretty hot too.)
READ ALSO: 21 Photos from Around East Africa
Images of Uganda #8: Nile High Bungee, Jinja, Uganda (Bungee Jumping Uganda/Bungee Jumping in Uganda)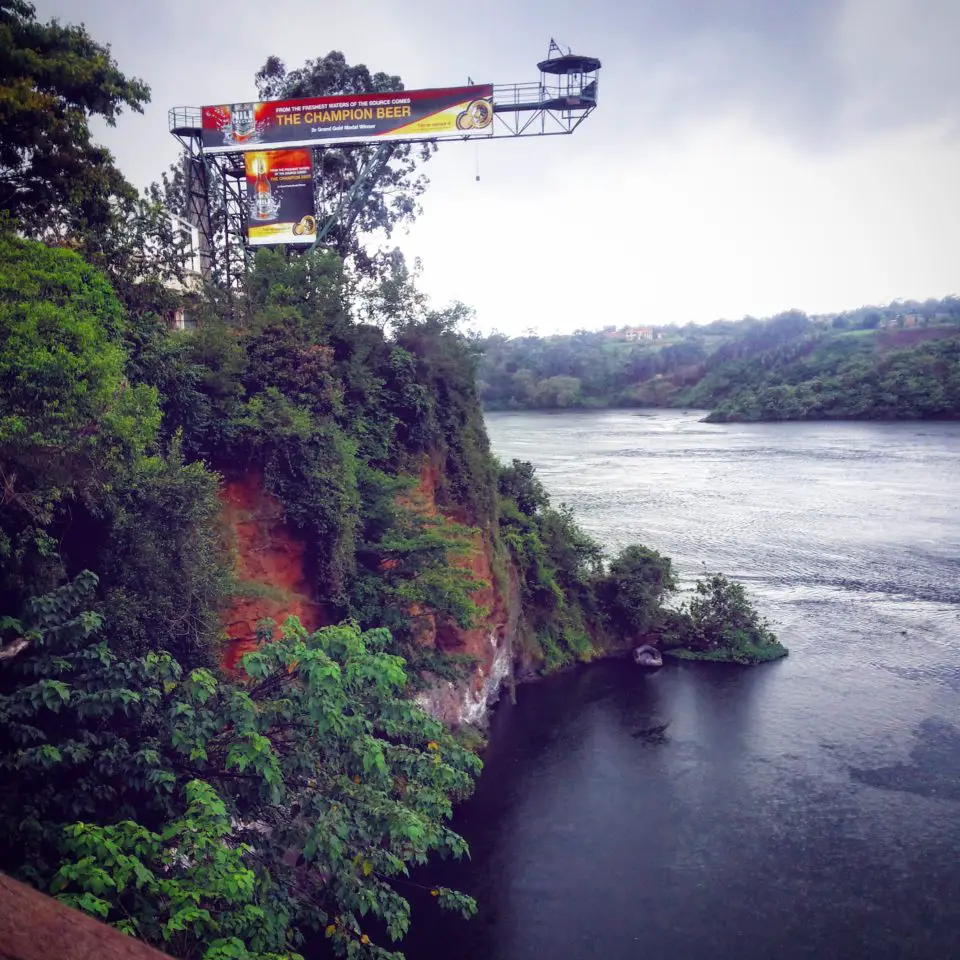 As I sat at the bar waiting for the rain to subside and the bungee equipment to be assembled, the 44-m Nile High Bungee platform did not look daunting at all. But the horror of jumping off it!
READ ALSO: Beaches in Rwanda & Burundi
Uganda Images/Uganda Photos #9: Red Chilli Hideaway, Kampala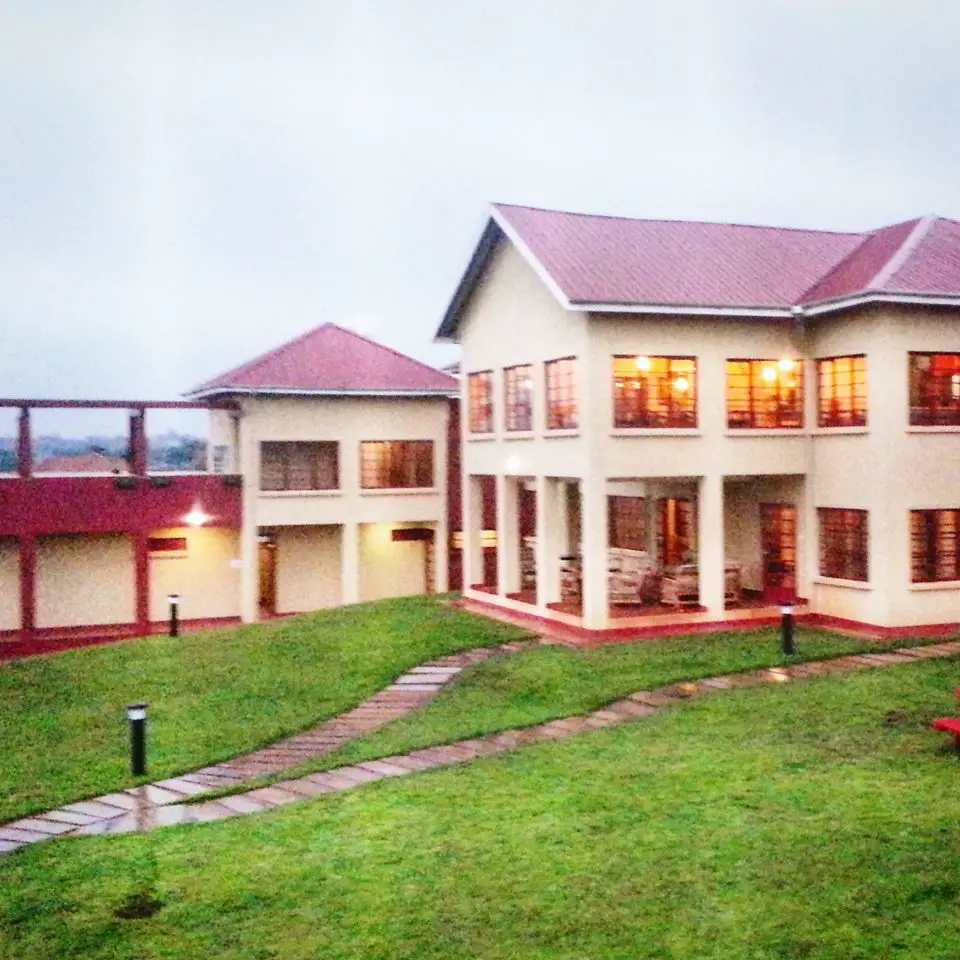 If ever you are in Kampala, Uganda and are looking for budget accommodation, then I couldn't recommend more highly the Red Chilli Hideaway with its new purpose-built location in Butabika.
Although it's a bit out of town, Red Chilli offers a complimentary shuttle service, 3 times a day, to and from downtown Kampala.
Good food, a well-stocked bar, 4G internet, a swimming pool, and very convivial atmosphere. What more could you ask for at those prices (as low as US$7 for campers and US$40 for a double room en-suite)?
READ ALSO: Rock Garden in Morogoro & Kampala
Pictures of Uganda Africa #10: Kampala Hotels – Red Chilli Hideaway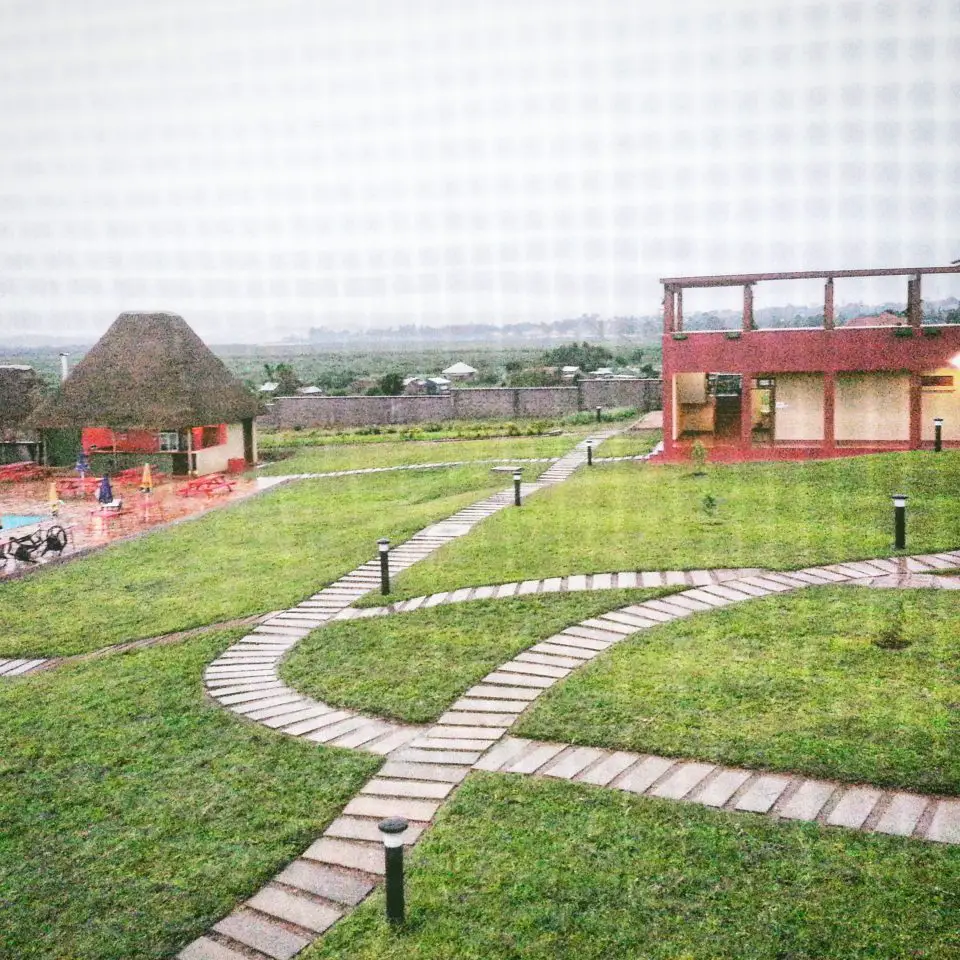 The beautiful grounds at the new purpose-built premises of Red Chilli Hideaway in Butabika, Kampala, Uganda (you can see the edge of the pool in this photo). It's such a great deal for budget accommodation. You get very good value for your money!
READ ALSO: 35 Pictures of East Africa & More
Sense of Africa
Sense of Africa is an African tour operator with offices in Namibia, South Africa, Kenya, Tanzania, Botswana, and Uganda. They specialize in private guided, self-drive, free independent traveler (FIT) and group travel services.
You can find out more about Sense of Africa on their website: SenseOfAfrica.com.
READ ALSO: Pictures of East Africa & More
Bungee Jumping Uganda Prices/Bungee Jumping Prices in Uganda
It currently costs US$115 per person to bungee jump over the Nile. It is an exhilarating experience, and I highly recommend it.
READ ALSO: 22 Photos of East & Southern Africa
Mark Zuckerberg and an East African Honey (Instagram)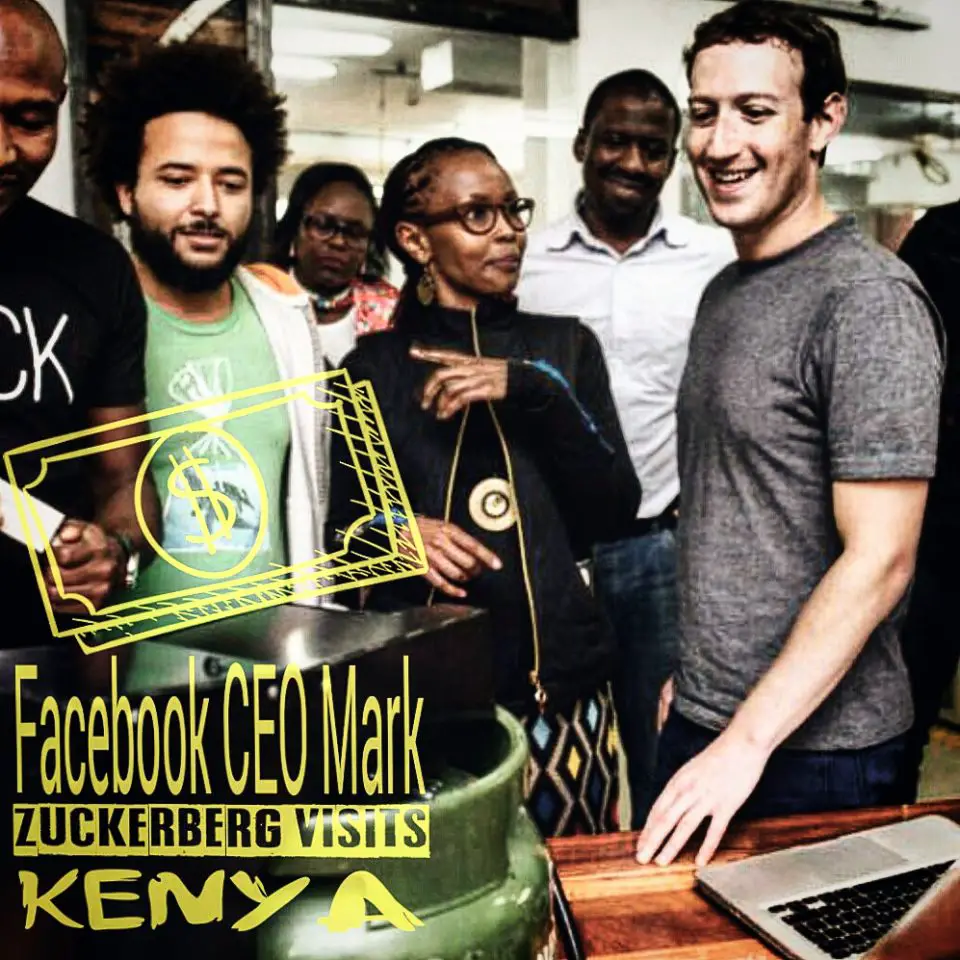 In the midst of travelling and attending one of the most elegant weddings I have ever been to, I completely forgot to share my latest post with you. Check it out on the blog. It's about Mark Zuckerberg visiting Kenya.
READ ALSO: 9 Pictures of Africa: Good Eats, Cityscapes & Water Environments

Photo Credits: Sankara Pan African Library & Cafe, Sankara Pan-African Library & Café