Table of Contents
READ ALSO: The Correct Innovative 7 Original Saturday Night Live Cast Members
Cast of Roots (2016 Miniseries)/Roots Series 2016 Cast/Roots Cast 2016/Roots 2016 Cast/Roots Movie 2016 Cast
The cast of Roots (2016 Miniseries) stars a host of award-winning actors including Laurence Fishburne as Alex Haley; Forest Whitaker; Jonathan Rhys Meyers; Anna Paquin and Anika Noni Rose.
The series also introduces Malachi Kirby as Kunta Kinte.
Kunta Kinte is a name that has become ingrained in American culture as the slave who fought back.
If you can't quite put faces to those names, take a look at the new Roots (2016 miniseries) trailer below.
READ ALSO: Roots 1977 Trailer & More
Roots Movie Cast
Find the full cast of Roots (2016 Miniseries) below:
Malachi Kirby as Kunta Kinte
Nokuthula Ledwaba as Binta Kinte
Emayatzy Corinealdi as Belle
Forest Whitaker as Henry (Fiddler)
Babs Olusanmokun as Omoro Kinte
Anika Noni Rose as Kizzy
Emyri Crutchfield as Young Kizzy
Saniyya Sidney as Kizzy aged 6
Regé-Jean Page as Chicken George
Erica Tazel as Matilda
James Purefoy as John Waller
Katie McGuinness as Elizabeth Waller
Matthew Goode as Dr. William Waller
Jonathan Rhys Meyers as Tom Lea
Shannon Lucio as Patricia Lea
Chad Coleman as Mingo
Tony Curran as Connelly
Adam Fergus as Sir Eric Russell
Anna Paquin as Nancy Holt
T.I. as Cyrus
Derek Luke as Silla Ba Dibba
G Hannelius as Missy Waller
Carlacia Grant as Irene
Mekhi Phifer as Jerusalem
Sam Malone as Ashford
Denise Milfort as Ms. Ellen
Mandela Van Peebles as Noah
Terence Rosemore as Orly
Lane Garrison as Frederick Murray
Sedale Threatt Jr. as Tom
Brett Rice as William Byrd
Simona Brown as Jinna
Chris Obi as Kintango
Laurence Fishburne as Alex Haley (voiceover narration)
What Is the Roots Television Show About?
This dramatic, historical portrait of American slavery, recounting the journey of one family and their will to survive and ultimately carry on their legacy, is based on the 1976 Pulitzer Prize-winning book written by Alex Hayley, Roots: The Saga of an American Family.
The Roots (2016 miniseries) is a remake of the original 1977 Roots TV series. The original series still remains the most-watched TV drama in U.S. television history today.
Roots 2016 Miniseries Trailer
READ ALSO: Roots Showing in Africa
The epic family saga also has four award-winning directors each directing one of the two-hour episodes—Philip Noyce (Patriot Games, The Quiet American), Bruce Beresford (Breaker Morant, Driving Miss Daisy), Thomas Carter (Coach Carter) and Mario Van Peebles (Empire).
The 26-year-old British actor Malachi Kirby is best known for his roles in EastEnders and Doctor Who. He is likely to find global fame after his compelling performance in Roots.
He admits that the role has been life-changing.
"It has made me decide to look into my own roots. I was born in London, I am second generation Jamaican and I don't know where I came from. I don't know my history past my grandparents so I feel like there is a lack of identity that, in some ways, has disempowered me. So being part of ( the new Roots miniseries) has made me want to find out where I come from."
Which Parts of the New Roots TV-Program Were Filmed in Africa?
South Africa's Umlalazi River and the Dlinza Forest in the province of KwaZulu Natal served as replacements for scripted areas in The Gambia and along the Kambay Bolongo River.
In the scenes filmed there, slave traders capture Kunta Kinte, transport him down the river, and put him on a ship set for America.
LeVar Burton, who played the lead role of Kunta Kinte in the original 1977 version, is back as a co-executive producer this time around: "Nearly 40 years ago I had the privilege to be a part of an epic television event that started an important conversation in America. I am incredibly proud to be a part of this new retelling and start the dialogue again, at a time when it is needed more than ever."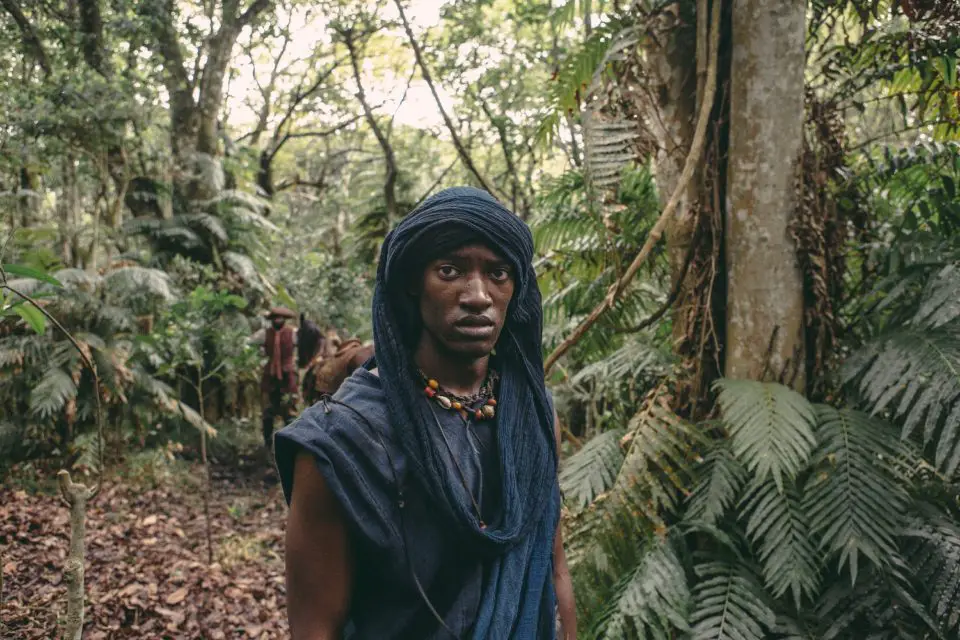 Burton said the show served an important purpose in telling the young generation about a somber chapter in history. "Those who forget history are condemned to repeat it. There's slavery going on today on this planet as we speak. Unless someone stands up and tells these stories, history will keep repeating itself," he said.
Roots 1977 Cast
LeVar Burton – Young Kunta Kinte
Olivia Cole – Matilda
Louis Gossett Jr. – Fiddler
Ben Vereen – Chicken George Moore
Vic Morrow – Ames
John Amos – Older Kunta Kinte
Ji-Tu Cumbuka – Wrestler
Edward Asner – Capt. Davies
Lynda Day George – Mrs. Reynolds
Robert Reed – Dr. William Reynolds
Madge Sinclair – Bell Reynolds
Chuck Connors – Tom Moore
Sandy Duncan – Missy Anne Reynolds
Leslie Uggams – Kizzy Reynolds
Carolyn Jones – Mrs. Moore
Lloyd Bridges – Evan Brent
Georg Stanford Brown – Tom Harvey
Brad Davis – Ol' George Johnson
Lane Binkley – Martha Johnson
Hilly Hicks – Lewis
Lynne Moody – Irene Harvey
Austin Stoker – Virgil
Ralph Waite – Third mate Slater
Cicely Tyson – Binta
Thalmus Rasulala – Omoro
Moses Gunn – Kintango
Hari Rhodes – Brima Cesay
Ren Woods – Fanta
Ernest Lee Thomas – Kailuba
Lorne Greene – John Reynolds
Scatman Crothers – Mingo
George Hamilton – Stephen Bennett
Lillian Randolph – Sister Sara
Roxie Roker – Malizy
Richard Roundtree – Sam Bennett
Thayer David – Harlan
Tanya Boyd – Genelva
John Quade – Sheriff Biggs
Maya Angelou – Nyo Boto
O.J. Simpson – Kadi Touray
Beverly Todd – Older Fanta
Paul Shenar – John Carrington
Gary Collins – Grill
Richard Farnsworth – Trumbull
Raymond St. Jacques – Drummer
Lawrence Hilton-Jacobs – Noah
John Schuck – Ordell
Macdonald Carey – Squire James
Ian McShane – Sir Eric Russell
Doug McClure – Jemmy Brent
Burl Ives – Sen. Arthur Justin
Richard McKenzie – Sam Harvey
Sally Kemp – Lila Harvey
William C. Watson – Gardner
Charles Cyphers – Drake
Macon McCalman – Poston
Brion James – Slaver
Tracey Gold – Young Missy Reynolds
Todd Bridges – Bud
Ross Chapman – Sergeant Williams
Grand L. Bush – Captured runaway slave