Mlimani City (Cinema, stores, and more)
Sam Nujoma Rd.
Dar es Salaam, Tanzania
Some information on Mlimani City Cinema:
The ticketing office opens at 11 a.m every day.
Hotline numbers (through which you can book tickets) are 0746-898-002 and 0746-898-003. These operate from 12:30 p.m. to 9 p.m. on weekdays, and 12:00 p.m to 9 p.m on weekends and holidays.
Booked tickets should be collected at least half an hour before movie begins, to avoid cancellations.
Lunch time movies (12 p.m/12:30 p.m) are only shown on weekends and public holidays.
The Mlimani City cinema has 3 screens (including East Africa's largest), all with Dolby Digital surround sound.
Mlimani city movies: new movies arrive weekly.
Mlimani City cinema on the web: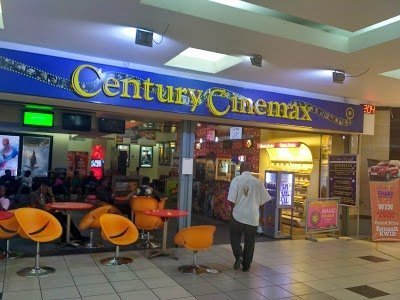 Mlimani City Cinema specials include:
Wacky Wednesday where you get a free Pepsi per ticket.
Various food combos (ask about those at the box office)
You can buy 3D glasses for 3D movies at the box office for Tsh. 5,000. These are reusable. You can also bring your own.
---
According to the plaque at its main entrance, Dar es Salaam's Mlimani City Mall turned 3 years old last Saturday.
Happy Belated Birthday, Mlimani City—this one is for you!
Mlimani City was Dar es Salaam's first real mall.
Housed all on one floor, Mlimani City Mall is smaller than many other malls found in neighboring countries, such as The Village Market in Kenya or Garden City in Uganda, but still, this mall packs a punch!
Let me give you an idea of what you can find at Mlimani City.
First, I'll start with banks.
Although it's not the most noticeable thing about Mlimani City, the mall houses not one, not two, but 6 banks: CRDB, Exim Bank, KCB, NBC, NMB, and Twiga Bancorp.
If you bank in Tanzania, then there is a great likelihood that your bank has a branch at Mlimani City.
Beyond banks (which I listed first because a number of them straddle the main entrance to the mall), Mlimani City is built around three South African retail chain megastores: Shoprite (now Nakumatt), Game, and Mr Price.
As you would expect, Mlimani City also has smaller stores.
Among these are many electronics stores (BMTL, Fone Shack, Hitachi, Phone One Limited, and Samsung), eateries (Chicken Hut Restaurant, Coffee Bar, Delightful Bakes Cafe & Restaurant, Fairy Delights Ltd., The Juice Parlour, Marrybrown, Samaki-Samaki, Silver Spoon Fast Food, etc.), and telecom companies (Tigo, Vodacom, and Airtel).
Oh, and of course, let's not forget clothing stores.
Mlimani City has its share of those too.
Among them are AK's, Giordano, Holliewood Fashions, Identity, Modern Day Boutique, Mummy's, and Tausi Fashions.
All these sell apparel not only for ladies and gents but also for infants.
One of my favorite reasons to visit Mlimani City Mall is to buy cosmetics and toiletries.
For this, I always head first to Shear Illusions.
If I don't find what I am looking for there, then I make sure to visit J.D. Pharmacy and Lolita Parfyumerie too, both of which also stock a broad range of similar products.
(Interested in finding out what you can to do make your relaxed hair healthy and strong? Find out more at 7 Tips for Relaxed Hair.)
If you are interested in home and interiors, then Mlimani City has something for you too.
For this, check out stores such as Frame World, Gerry Super Furniture, Interior Solutions, and Mr Price.
And yet, Mlimani City offers even more than I've mentioned so far.
While you are visiting this mall, you can also process and print your photos at Photo Point, buy shoes at Footprint, or buy jewelry at Yakub Jewellers.
If travel is what's on your mind, then you can buy luggage at Samsonite, change money at Coast Bureau de Change One, or book a trip with Alesy Travel & Tours Ltd.
For book lovers like me, a stop at Scholastic book store is a must!
If your clothes need laundering, then Alpha Dry Cleaners will be able to handle that for you.
If you are in the mood to buy African artifacts, then search no further than African Art.
And if at the end of it all something you purchased at the mall is very valuable to you, then maybe you might want to stop over at Real Insurance and check up on insurance policies.
Mlimani City Cinema
At the end of the day, when you're finally done with all the errands that brought you to Mlimani City Mall, take the opportunity to relax and unwind with a movie at Century Cinemax's Mlimani City cinema.
What can I say?
I told you Mlimani City packs a real punch.
So once more, from me to you, Mlimani City, Happy belated birthday!
Until the next time,
Biche
Photo Credits: Kiabakari Snippets, placesmap.net, tiketi.co.tz