Kunduchi Beach Hotel & Resort
1 Mtongani
Kunduchi, Dar es Salaam
When people talk about going to the beach in Dar es Salaam, very often they mean heading out to Mbezi.
I like hanging out in Mbezi, I really do, but sometimes I am in the mood for something a little more serene, far from the crowded, noisy beaches that are the norm in Mbezi, especially over the weekend.
When I am in this mood, I head out a little further north to Kunduchi beach, more specifically, I head out to Kunduchi Beach Hotel.
There, especially if it is low tide, I walk down a particular patch of sand that seems like a road leading deep into the ocean.
At the end of this road is a point where sand meets ocean meets sky (with the hotel itself far, far behind me). I've recently decided that this is my spot.
You know that place where you go to clear your mind and get an instant mood lift? Yes, it's definitely my spot.
I could try to describe my spot more to you but probably wouldn't be able to do it justice.
Instead, since a picture is worth a thousand words, here are a few pictures from the last evening walk I took there.
You'll understand.
Sorry, Slide.com shut down recently so this slideshow no longer exists.
But…enough about my spot. Let's talk a bit about the hotel itself.
I first (re)discovered Kunduchi Beach Hotel on a random Monday in December 2007, when a girlfriend invited me to spend the day at the beach playing hooky with her and her sister.
I say rediscovered because I've always known of Kunduchi Beach Hotel; the original hotel was first opened in 1971 and was a regular haunt of my parents during my earliest years.
Sometime in the '90s (or thereabouts), Kunduchi Beach Hotel faced serious beach erosion that was so severe that it even affected the hotel's foundation.
Eventually, the hotel closed down, was sold off to private investors, and didn't reopen again until March 2005, after having undergone extensive renovation and land being reclaimed back from the ocean.
That Monday was my first visit to the hotel since 1991.
I loved what I saw.
The first thing that struck me was the visual appeal of the hotel. From the stone-finished parking lot to the grandiose front façade, the new Kunduchi Beach Hotel was a lot nicer than anything I'd expected it to be.
I liked the reception area with its fountain and Swahili-style colorful seats.
The Louis XIV furniture in the lounge area, which might seem over the top to some, worked well in my opinion, especially in contrast to the pristine beach which can be seen from as far as the hotel's entrance.
As you can tell, I  still  vividly remember that first visit today: it was a visual barrage that had me smiling inside.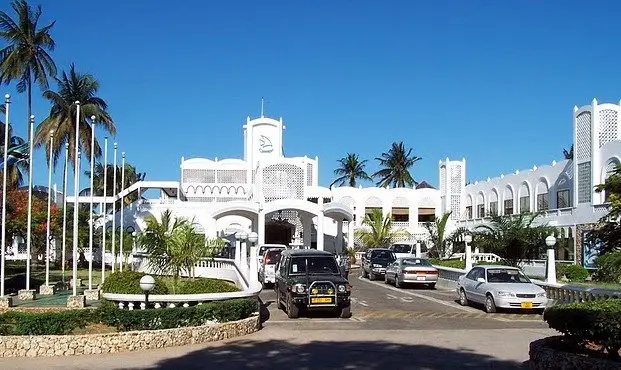 My friends and I decided to settle down at a table in the sandy area closest to the ocean.
Big mistake!
We were a distance away from the main bar and restaurant and it took us forever to get service.
Once we were finally attended to (despite the fact that there was almost no one else there) the service was horrible.
I hate to break it to you, but service is not one of Kunduchi Beach Hotel's strong points!
Anyhow, we had a good day at the beach that day, despite the bad service and bad food.
Oops, need I break another one to you?
The food at Kunduchi Beach Hotel is nothing to write home about. It's passable at best!
Still, I've found myself going back to the hotel again and again, especially since the renovation of the boat-inspired S.S. Mawimbi Bar (which I love).
Why?
Because I enjoy the decor of the hotel and appreciate the fact that it's never crowded. Oh, and did I mention my spot? 🙂
READ ALSO: Sun, Sea, Sand—East Africa's Best Beaches
Notice I've said nothing about the hotel's rooms.
That's because I haven't stayed at Kunduchi Beach Hotel since its reopening.
Still, I once got a chance to look at some of the rooms when I accompanied someone who was planning a surprise Valentine's Day getaway for her and her husband.
Frankly, I can do a room with a Jacuzzi (complete with in-built radio) on a balcony overlooking the Indian Ocean any day!!!
READ ALSO: Celebrating the Life & Music of Uganda's Mowzey Radio
I don't know about you, but for this reason alone, I look forward to one day staying at Kunduchi Beach Hotel (despite the many negative online reviews I've read about accommodation there).
All in all, I enjoy hanging out at Kunduchi Beach Hotel.
If you've never been, I recommend that you check it out.
If you have, what are you thoughts on the hotel? Like it? Don't?
As always, I look forward to hearing what you have to say.
Until the next time,
Biche
READ ALSO: Uber Launches in Dar es Salaam, Tanzania
Photo Credit: TripAdvisor