This post was originally about Tanzania Konyagi and Uganda Waragi, and how I pit these two East African spirits head-to-head in a taste test.
Since many of you come to this post looking for information about Konyagi, though, I've updated this post with lots of information about that as well as information about other sprits produced in Tanzania, e.g., Double Kick and K Vant. (If you would like to buy Konyagi, you can find it online here.)
READ ALSO: Tanqueray vs Bombay Sapphire & Other Gin Comparisons
Table of Contents
F.A.Q. About Konyagi & Other Spirits Produced in Tanzania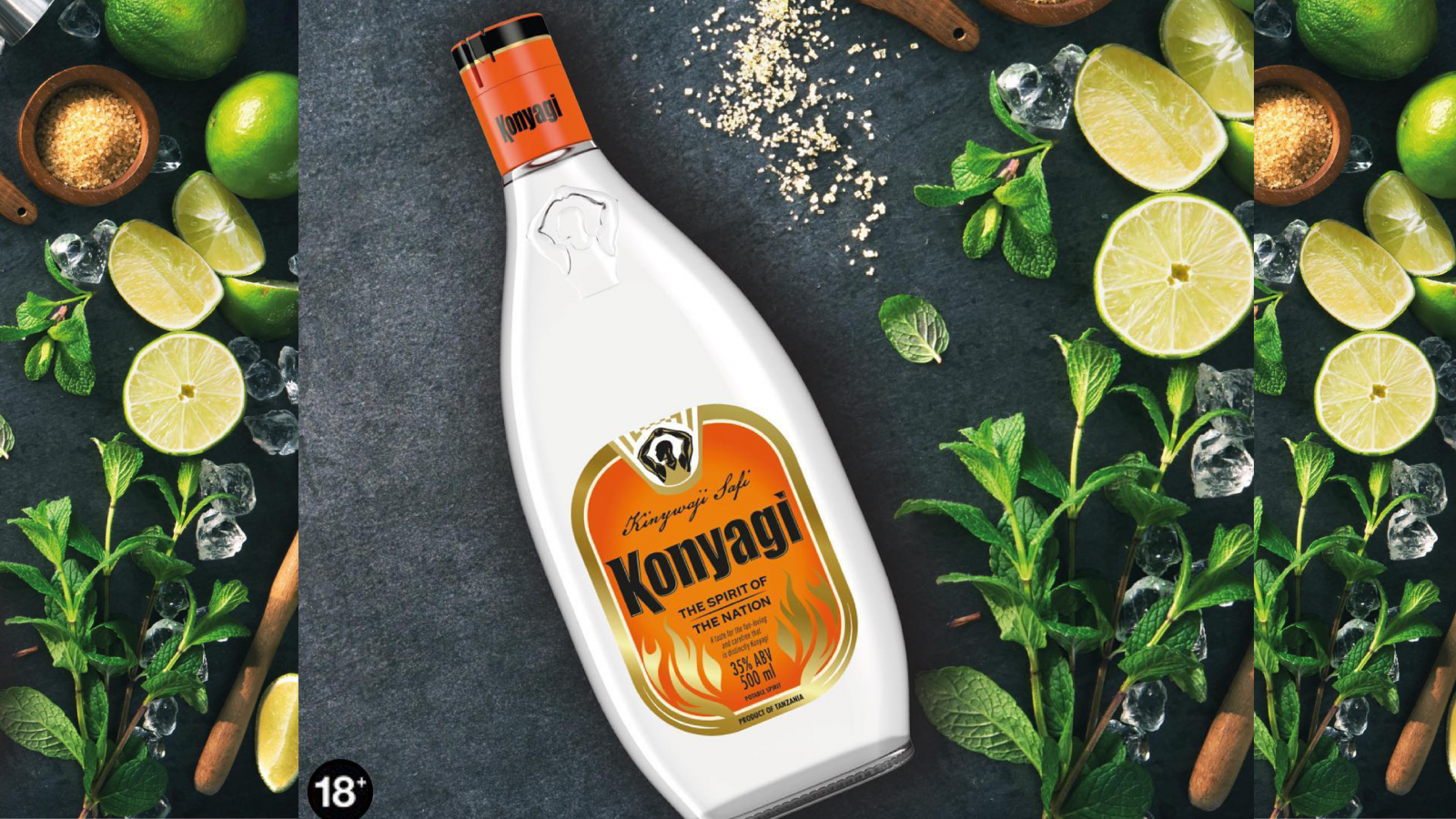 Q1. What Is Konyagi?
A. Konyagi, produced by Tanzania Distilleries Limited (a subsidiary of Tanzania Breweries Limited), is a white (clear) spirit made from molasses (sugarcane).
Q2. Konyagi Alcohol Percentage: How Strong Is Konyagi?
A. Konyagi is 35% alcohol by volume.
READ ALSO: Experiences at Lemon Spa & Lemon Spa Menu
Q3. Konyagi Price: How Much Does Konyagi Cost in Tanzania? (TZS 468 ln 0129 Konyagi)
A. Konyagi comes in bottles of three different sizes: 200 ml (commonly known as kasichana, or 'little girl'), 500 ml (known commonly as bapa, or 'blade'), and 750 ml (known commonly as Faru John, or 'John the Rhino').
In supermarkets, you can buy the 200 ml bottle for as little as Tsh. 2,800. At local bars, it is more likely to cost around Tsh. 5,000.
At my local neighborhood kiosk, the 200 ml bottle sells for Tsh. 3,500, the 500 ml bottle sells at Tsh. 7,500, and the 750 ml for Tsh. 10,000.
READ ALSO: Medication for the Flu
Q4. K Vant Alcohol Percentage: How Strong Is K Vant?
A. Like Konyagi, K Vant is 35% alchol by volume.
READ ALSO: Visiting Kilwa, Tanzania Today
Q5.  What Is Kvant Tanzania?
A. K-Vant is a white sprit (I think a gin) made by Mega Beverages Company Limited, a wines & spirits company headquartered in Arusha.
I am not sure when I first saw K-Vant—it's been around for years.
I do know when I began to notice it, though: sometime in 2018 after it underwent a very successful rebranding.
Now, K-Vant seems to be everywhere, and everyone seems to be drinking K-Vant.
What's for sure is that it's giving Konyagi–the more well-established Tanzanian spirit–a run for its money.
READ ALSO: What Are Sauvignon Blanc & Pinot Grigio Wines?
Q6. What Are the Side Effects of Tanzania Konyagi?
A. I don't know that Konyagi has particular side effects separate from the general side effects of alcohol and hard liquor in particular. Many Tanzanians believe that long-term drinking of Konyagi causes memory loss.
As a regular Konyagi drinker, I don't believe this is true.
What I think causes the forgetfulness associated with Konyagi is not so much inherent to the Konyagi itself but rather how much alcohol the average Konyagi drinker consumes.
As I mention in my answer to Q3., the smallest quantity that you can buy Konyagi in is the 200 ml bottle or kasichana, which contains seven standard units of alcohol. 
Many regular Konyagi drinkers drink more than one kasichana per sitting.
Is it hard to see, therefore, why hardcore Konyagi drinkers tend to suffer the harsher long-term effects of alcohol such as memory loss?
READ ALSO: What Is Bacardi Gold Rum? & More on Rum
Q7. What Is Double Kick Alcohol?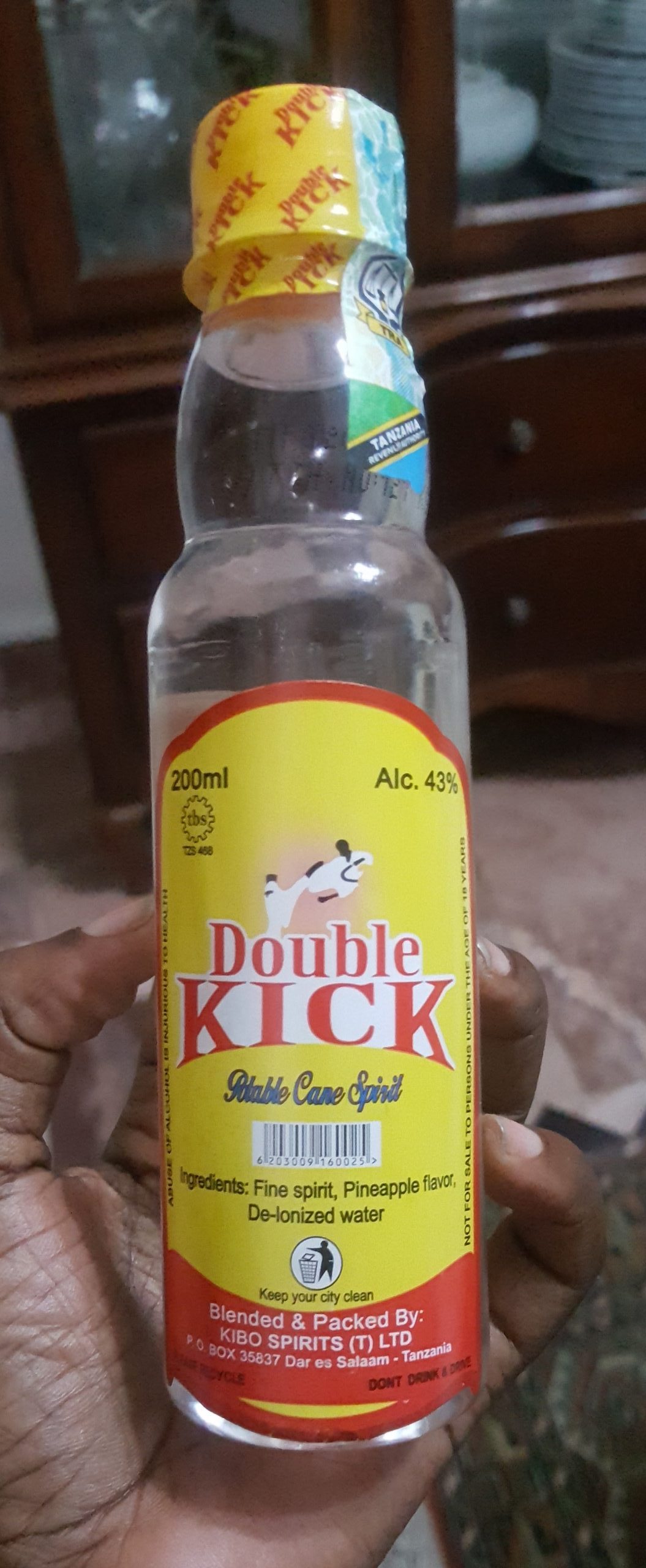 A. Double Kick is a potable cane spirit blended and packed by Kibo Spirits Tanzania Ltd.
The label on the Double Kick bottle says that it contains fine spirit, pineapple flavor, and de-ionized water.
Double Kick is famous for being the first spirit in Tanzania to be packaged in plastic bottles after the ban on alcohol sold in plastic sachets occurred in 2017. 
A 200 ml bottle of Double Kick costs only Tsh. 2,000, which is less than US$1!  
READ ALSO: Beefeater Gin
Q8. How Strong Is Double Kick in Terms of Alcohol Percentage?
A. Double Kick is 43% alcohol by volume.
Q9. What Is the Official Website for Tanzania Konyagi?
A. There is no official website for Tanzania Konyagi, but the official Instagram handle for the beverage is @KonyagiOfficial. If you have a question about this spirit, ask it in the comment section below and I'll try my best to give you a correct answer! 🙂
READ ALSO: Black by Bacardi & A Cocktail Recipe
Q10. What Is the K Vant Price in Tanzania?
K Vant is competitively priced relative to Konyagi. At bars close to where I live (in Mikocheni, Dar es Salaam), a 250 ml bottle of K Vant costs the same as a 200 ml bottle of Konyagi, both which sell for about Tsh. 5,000/-.
At Bennie Liquor Store, a well-priced liquor store in the same area, the 250 ml bottle sells for Tsh. 4,000/- while the 750 ml bottle goes for Tsh. 9,500/-.
At Triple Seven, a mid-range bar in Kawe, the 250 ml bottle retails at Tsh. 7,000 and the big 750 ml bottle retails for Tsh. 25,000. 
Q11. Is Konyagi Tanzania a Gin?
A. No. Because Konyagi is made from molasses (a sugarcane derivative), it is a rum not a gin.
Q12. What Is Konyangi?
A. Konyangi is simply a misspelling of Konyagi.
Q13. What Is the Meaning of the Name Konyagi?
A. To the best of my knowledge, bottled Konyagi was named after, enkonyagi, a delicious(!) banana gin made by the Haya people of northwestern Tanzania. (In case you don't know, I am Haya…woot woot!!)
Enkonyagi is derived from the word "Cognac".
My father tells me that in the late sixties (or at least when he was at university and he graduated in 1970), Tanzania Distilleries held a competition to name a new spirit that they'd soon be launching.
The late Mr. Leonidas Muhanika (R.I.P.), our neighbour from across the street in Kamachumu Village in Kagera, submitted the entry Konyagi—the Swahili version of enkonyagi—and won.
And, as they say, the rest is history.
READ ALSO: 40 "Summer" Photos Taken in Tanzania
Q14. Is Konyagi Available in Zanzibar?
A. Yes. Just as it's available elsewhere in Tanzania, Konyagi is available in Zanzibar too.
Q15. What Type of Alcohol Is Konyagi?
A. Because Konyagi is made of molasses, it is technically a rum.
---
The Inspiration Behind This Post
Not too long ago, I met up for the first time with a reader of this blog who recently relocated to Dar es Salaam from Kampala.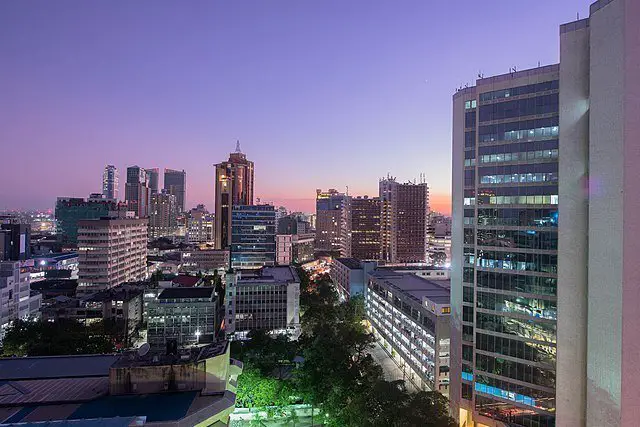 Although we had never met before, we found that we had a lot in common including that our parents had completed their graduate studies at the same university in the U.S. (at the same time and even knew each other) and that we shared a common friend.
Our first encounter was an interesting one where we shared our life stories and spoke about things we could both relate to, such as the differences and similarities between life in Uganda and Tanzania.
This we discussed at length.
Our discussion went as far as to include the spirits produced in each country.
My new acquaintance and I were both familiar with Uganda Waragi, the Ugandan spirit. She had never tasted Konyagi, Uganda Waragi's Tanzanian counterpart.
She asked me how I thought the two compared.
That question was the inspiration for this post.
READ ALSO: East African Honey Instagram Pictures & Lots More!
My First Experiences with Tanzania Konyagi and Uganda Waragi
When I think about these two spirits and the role they've played in my life, I begin to chuckle.
The first time I ever got tipsy (at a cousin's wedding function where we, the bridesmaids, were trying to pass for older than we really were), I was drinking Konyagi.
The first time I ever got drunk (forgive the unladylike admission 😉 ) was the summer before I started university after an evening spent sipping Uganda Waragi and Krest Bitter Lemon at 'Half London' in Kampala.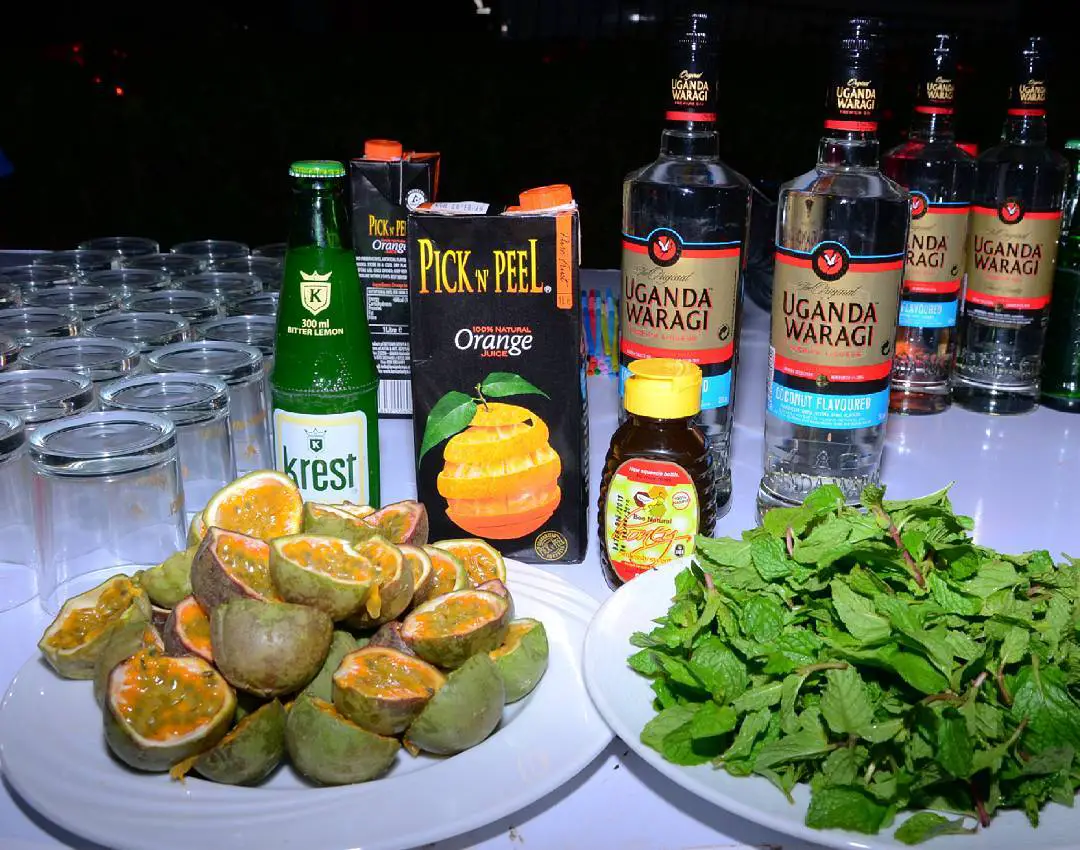 Suffice it to say, these drinks and I go way back!
READ ALSO: Instagram Recap: 20 Photos from Uganda & Tanzania
Konyagi & Waragi: The Facts
In case you are not familiar with either of these spirits, let's start by taking a look at some facts.
What is Konyagi?
Konyagi, produced by Tanzania Distilleries Limited (a subsidiary of Tanzania Breweries Limited), is a white spirit made from molasses (sugarcane) that has an alcohol content of 35% by volume.
Uganda Waragi Alcohol Percentage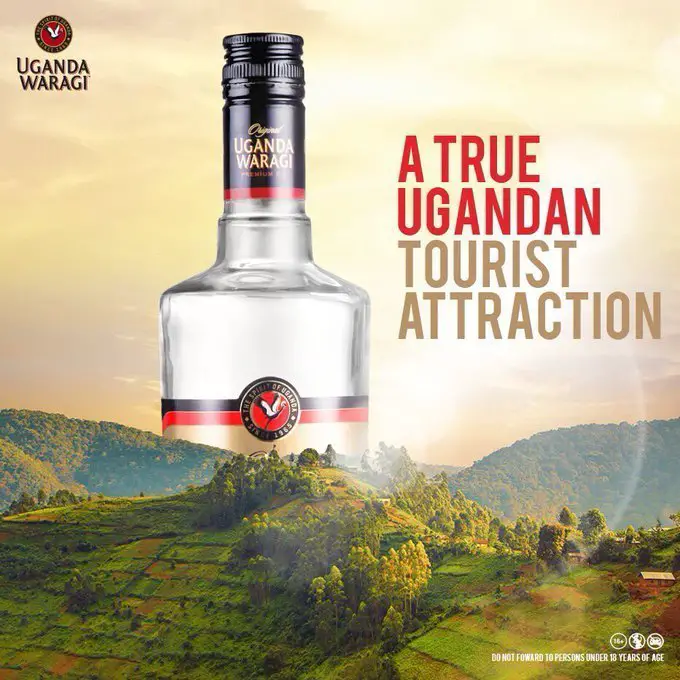 Uganda Waragi, on the other hand, produced by East African Breweries Limited, is a triple distilled white spirit made from millet with an alcohol content of 40% by volume.
Based on the products they are made from, Konyagi is a rum while Uganda Waragi is a gin.
The Taste Test: Tanzania Konyagi vs. Uganda Waragi
To describe the taste of these two spirits to you, I could rely on memory.
For a more objective analysis, though, I decided to set up a taste test where I could pit these drinks against each other in a more direct way.
To do this, I mixed a cocktail of each spirit and tonic water in a two-to-five ratio (with no lime and no ice cubes), put them in two different glasses, conscripted a volunteer taster who would sample these beverages in a blind taste test, and set out to see how these two spirits truly compared.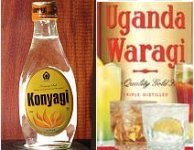 As I laid out the cocktails for the taste test, the first thing that my volunteer taster commented on was that the cocktails looked identical (which was to be expected since Uganda Waragi and Konyagi are both clear spirits).
We then began our test by smelling each cocktail.
Glass A, in my opinion had a stronger smell than Glass B, but my volunteer taster did not agree.
Oh well, we agreed to disagree and proceeded to taste each cocktail.
First Impressions: Tanzania Konyagi  vs. Uganda Waragi
My volunteer taster picked up Glass A and took a sip.
Immediately, he correctly recognized it as the cocktail containing Uganda Waragi. (I was a bit surprised by this because I was not aware that my volunteer had ever even tasted Uganda Waragi.)
What can I say? Uganda Waragi has a very distinct flavor.
READ ALSO: Gold Rum vs. Dark Rum vs. White Rum (Bacardi Rum & More)
After cleansing his palate, he then took a sip from Glass B, the cocktail made with Konyagi.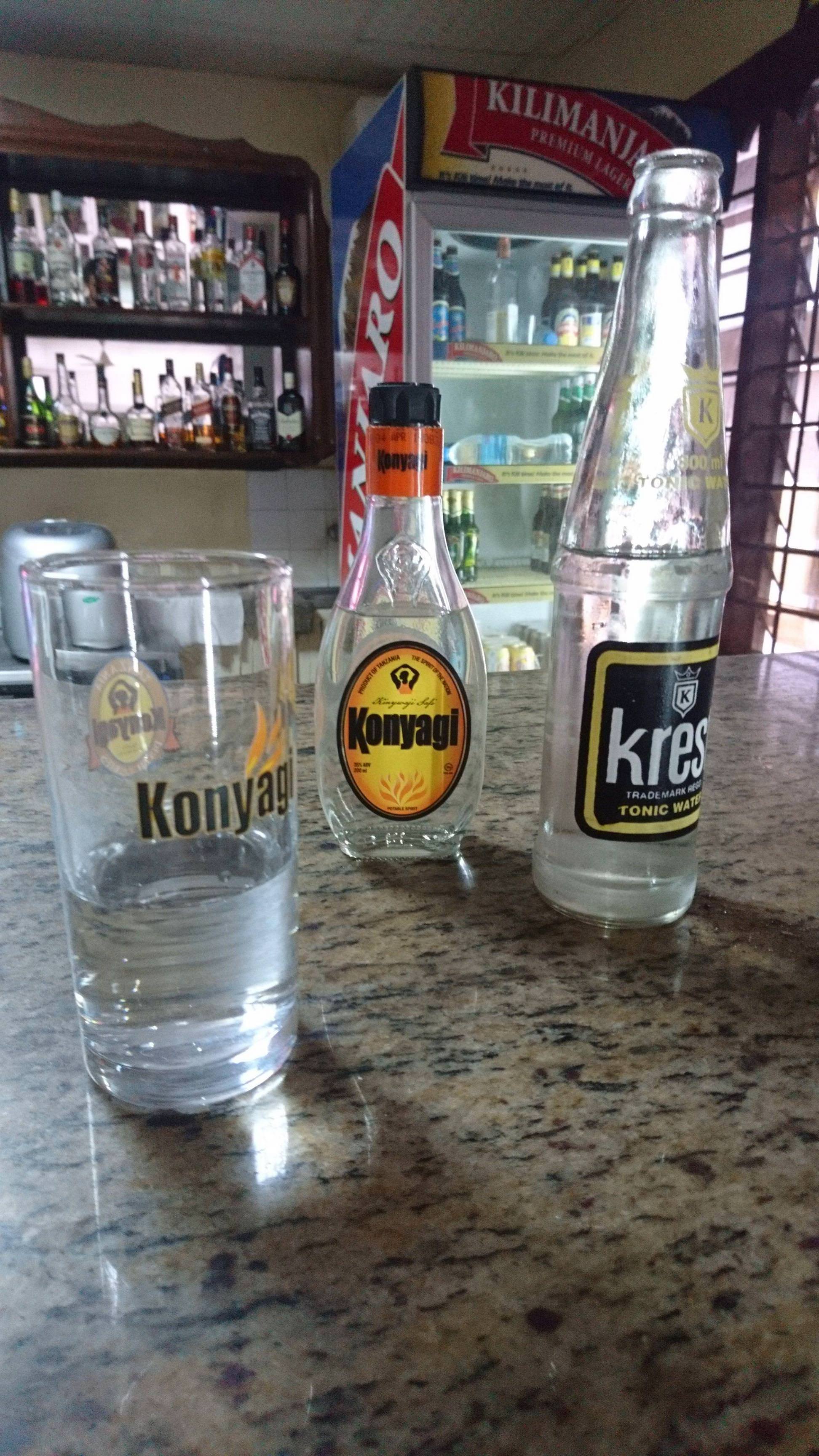 He instantly started to accuse me of having made a mistake in my proportions. He was sure that I had put less tonic water in the Waragi cocktail than I had in the Konyagi cocktail. I had not.
The fact is that Uganda Waragi has a higher alcohol content than Konyagi and apparently the volunteer taster could taste this (I had never noticed this before).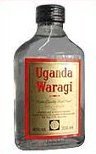 I then tasted both cocktails.
When I tasted the Waragi cocktail, I muttered something under my breath about how wonderful Uganda Waragi is (not kidding!).
I then cleansed my palate and tasted the Konyagi cocktail. Involuntarily, I winced.
Now, let's be clear: I drink Konyagi regularly and I don't normally wince when I do. But, somehow, after the Uganda Waragi, the Konyagi tasted unpleasant.
Further Analysis
In discussing the two drinks that we had sampled, the volunteer taster and I both concurred that the Konyagi cocktail was sourer (for lack of a better word).
Although he didn't think that this was a bad thing, for me, this is the thing about Konyagi that I do not like and often try to mask by punching it with strongly flavored sodas such as Coke.
In my opinion, the word 'sour' sort of describes this disturbing quality, though not completely.
This quality, to me, is not just about taste, it also has to do with odor.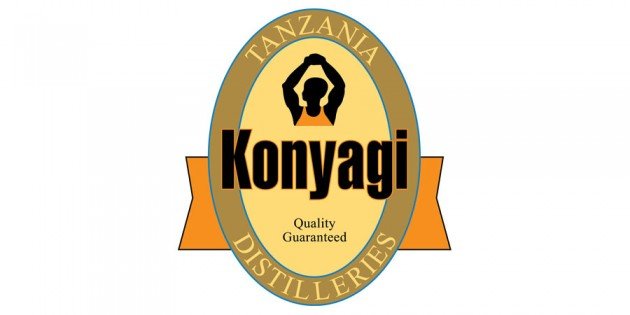 The odor of Konyagi reminds me somewhat of rubbing alcohol.
The volunteer taster did not concur. He found the Konyagi cocktail a mellower, less alcoholic beverage and though not as exciting as the Waragi cocktail, he found it pleasant enough.
Something that surprised me during the taste test is that, after a short while, the Konyagi cocktail seemed less bubbly than the Uganda Waragi cocktail.
The volunteer taster agreed with this observation.
I can offer no explanation for why this occurred, but it's something that I had experienced previously while drinking Konyagi.
Konyagi cocktails often seemed flatter to me than expected.
I'm glad that this showed up in the taste test so now I know that whatever the cause, it's not just my mind playing tricks on me.
The Results
Finally, I pressed my volunteer taster to summarize what he thought of the two drinks that we had just drunk.
He said, above all, that he liked both drinks despite their difference.
He found the Konyagi cocktail mellow and less strong, while the Waragi cocktail he found a true delight.
His exact words were that the Waragi cocktail was "exciting"!
Still, he said he would recommend either drink for different moods and situations.
I, on the other hand, greatly preferred the Uganda Waragi cocktail. I preferred the flavor as well as the kick!
But that's just us.
Maybe you'd like to try each of these drinks and make your mind up for yourself, in case you haven't already. If so, let me share with you some of the ways that you can drink each of these beverages.
How to Drink Konyagi and Uganda Waragi
From the label on the Konyagi bottle, it is recommended that Konyagi be drunk neat with a wedge of lime and ice cubes (if desired).
Personally, I like my Konyagi in a traditional Cuba Libre.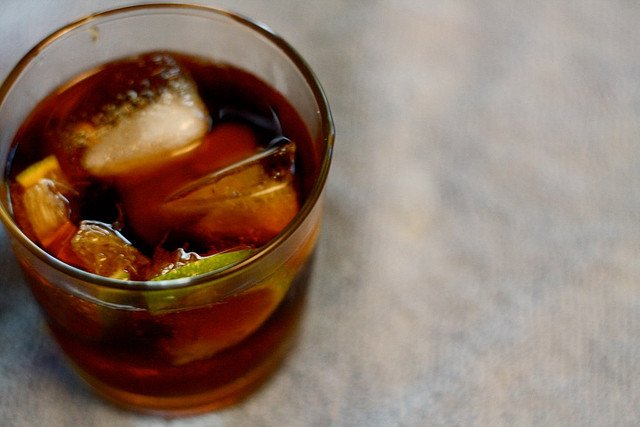 The producers of Uganda Waragi recommend five ways of drinking their product: on ice, in cola, with lime, with ginger ale, or with tonic.
Many of the Ugandans I know like to mix Uganda Waragi with Krest Bitter Lemon, which is a very tasty combination.
Personally, my current preferred way of drinking Uganda Waragi is with apple juice—not just any apple juice, however, but perfectly chilled Apple Splash. It's a little strange I know, but I love it!
And now I think I've said enough.
It's time to hear from you.
If you've ever had either of these spirits, what is your preferred way of drinking Konyagi and/or Uganda Waragi?
If you've had both, which of these spirits do you prefer?
Please let me know by leaving a comment below.
As always, I look forward to hearing what you have to say.
Until the next time,
Biche
P. S. Did you enjoy this post? If so, subscribe to ChickAboutTown today and be sure to get new posts as soon as I publish them. You can also follow me on Twitter or on Facebook for daily musings on living & lifestyle in East Africa. Signing up is free and easy!
Photo Credit: ginellerforsvinn, FoodBusinessAfrica.com, Youtube.com;  ODILRAK91, SamuelKattaPhotography, Uganda Waragi, Reddit User Xiwoyok,
DanAlbrecht.com; konyagiblog.wordpress.com;  SpiritsReview.com/EABL.com; directory.co.tz, Jon B