Merica Hotel
Kenyatta Ave, Nakuru (Kenya)
Tel: +254 (0)51 221-4232
Email: [email protected]
Merica Group owns three hotels: in Nakuru, at Crater Lake, and in Athi River/Kitengela.
Three months ago, my parents were traveling from Dar es Salaam to Kampala and stopped to visit me in Nairobi, for a couple of days. On the following Sunday, they set off to continue on the rest of their journey, WITH me in tow. Not one to be left behind, I decided that I would accompany them halfway until Kisumu.
My parents are cool travelers, you see. They never let travel ruffle their feathers, nor accept to travel at a pace that is beyond their comfort. For this reason, taking a road trip with my parents is a real pleasure. They stop during the journey often, to take breaks and see interesting sights along the way.
First Stop: Nakuru, Kenya
On this trip to Kisumu, our first stop was Nakuru. After a grueling journey due to the extremely rough road, my parents decided it was time to stop, relax, and have lunch. I couldn't have agreed more.
Ever the prepared tourist, I had my Rough Guide to Kenya in hand and quickly spewed off a list of places that I thought would be interesting to eat at. As a group, we decided to try a restaurant called The Courtyard. Using the map in the guidebook, we made our way to The Courtyard, only to find out that it was no longer open. A pedestrian, who we stopped to ask for information, recommended that we have lunch at Merica Hotel instead.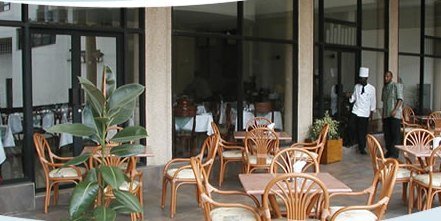 A short distance from where The Courtyard should have stood, we found Merica Hotel, a fully-fledged 4-star hotel, in the heart of Nakuru town. We were hesitant to eat there because hotel food is rarely good, and we didn't expect that hotels in Nakuru would be any different. We also thought that we might encounter bad service or find the prices unnecessarily exorbitant. This was not the case, at all!
READ ALSO: Where to Stay in Stone Town, Zanzibar For Every Budget
Hotels in Nakuru Give Us a Pleasant Surprise
As we entered Merica, we were surprised by what we saw. There, in the middle of Nakuru, was a hotel of international caliber that could rival many worldwide. In the main dining room that day, a buffet was being served for Ksh. 750 (~ US$ 10). Because we were on a journey, we decided not to have the buffet, but instead to sit at the poolside and order food à la carte.
The poolside area was bustling with activity. The clear blue water of the pool provided a beautiful cool contrast to the hot sun shining that day. The clientele seemed both locally from Nakuru and from elsewhere. There were families, obviously on a Sunday family outing, as well as tourists soaking up the Nakuru sun.
We sat in a corner of the pool area, where we were promptly served. On the menu that day, we sampled a mixed meat platter, a pizza, a grilled fish fillet, and chicken ya kupaka (chicken "dry fry"). We all enjoyed our meal tremendously. I tasted the meat platter, as well as the pizza. The pizza was better than anything I would expect outside an Italian restaurant. The meat was very tasty.
We stayed at Merica hotel for a little over an hour that day, but the hotel still stands out in my mind. The service was excellent, the food good, and the environment invigorating. I look forward to one day going back and seeing what else the hotel has to offer.
I wish I could tell you more, but alas, that is all I experienced of Merica Hotel. For more information, about its rooms, rates, and other services, go to www.merica.co.ke.
I hope you get a chance to visit Merica Hotel soon. It's really beyond what I imagine you expect of Nakuru.
When you do, please let me know what you think.
Are you familiar with hotels in Nakuru? Do you have any hotels to recommend there? If so, please leave me a comment below to let me know all about it.
Until the next time,
Biche
Photo Credits: Merica Hotel; Xiaojun Deng