Are you looking for a hotel in Arusha, the Tanzanian city that is both a major international diplomatic hub and Tanzania's safari capital? If so, then you are in the right place.
Here are 12 places to consider staying at the next time you visit Arusha with 2 bonus recommendations in Usa River, which is a 40 minutes drive from Arusha.
Top 12 Hotel Picks for Arusha, Tanzania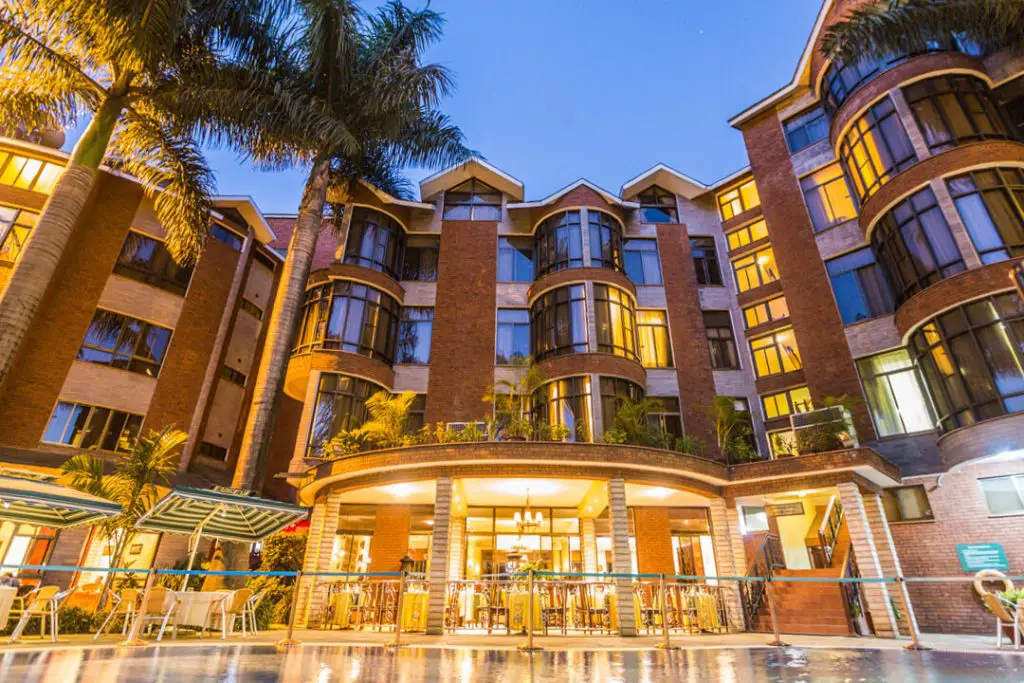 1. Kibo Palace Hotel
In the heart of Arusha, an easy walking distance from many points of interest, lies Kibo Palace Hotel, which offers amenities that you can expect from most urban hotels.
Spacious, well-decorated rooms with very comfortable beds, beautiful views of Mount Meru, a wide selection of delicious food to choose from—these are just some of the things you will find at Kibo Palace Hotel.
Professional service and good meeting rooms too.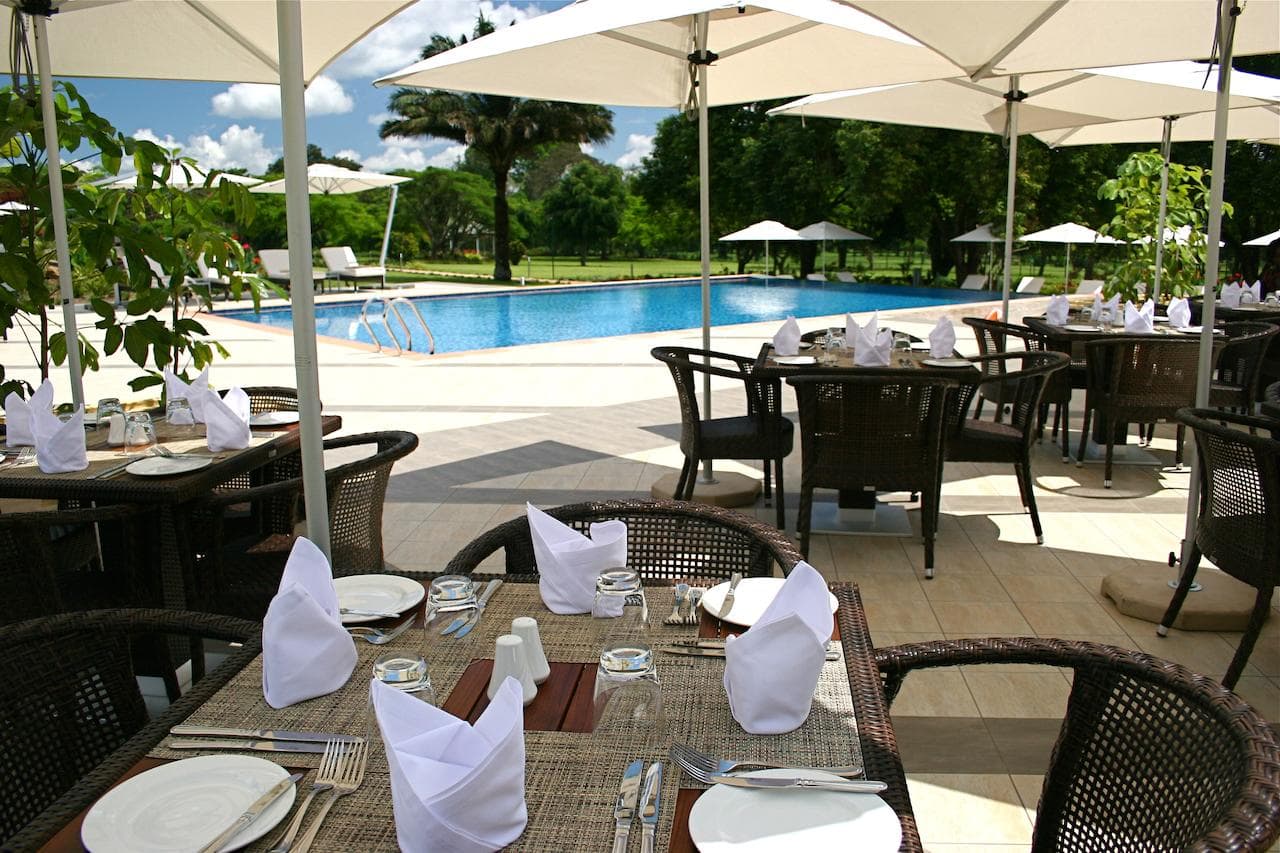 2. Mount Meru Hotel, Arusha
Mount Meru Hotel is a modern luxury hotel in Arusha with great views of Mount Meru.
It has beautiful lush gardens and a relaxing swimming pool area. The service is very professional and the food good. Mount Meru Hotel is my favourite hotel in Arusha!
Mount Meru Hotel blends stylishly elegant African architecture with supremely luxurious accommodation, sparkling water gardens with beautifully landscaped gardens, and a wide choice of international restaurants.
Situated at the foothills of Mount Meru, Mount Meru Hotel lies on 15 acres of serene, lush landscape.
The hotel is surrounded by some of Africa's most breathtaking vistas, rich with a diverse array of wildlife, etched against the fertile slopes of Mount Meru, the fifth highest peak in Africa.

3. Arusha Giraffe Lodge
When you are budget travelling, there's nothing better than finding accommodation at a steal that is safe and that provides everything you are looking for in terms of a place to stay.
Arusha Giraffe Lodge is one such place. Housed in a residential property that has been converted into a lodge, Arusha Giraffe Lodge is small and efficient.
The space is a little cramped to maximize the services provided, but that said: the beds are unforgettably comfortable, the water from the shower is nice and hot, the food is good, it has a well-stocked bar complete with a bar seating area, and the service is very friendly.
The lodge has a safe parking (useful if you are driving your own car), and free transportation is provided to and from both Arusha town and Arusha airport.
If budget is your primary consideration when travelling to Arusha, then I recommend Arusha Giraffe Lodge wholeheartedly!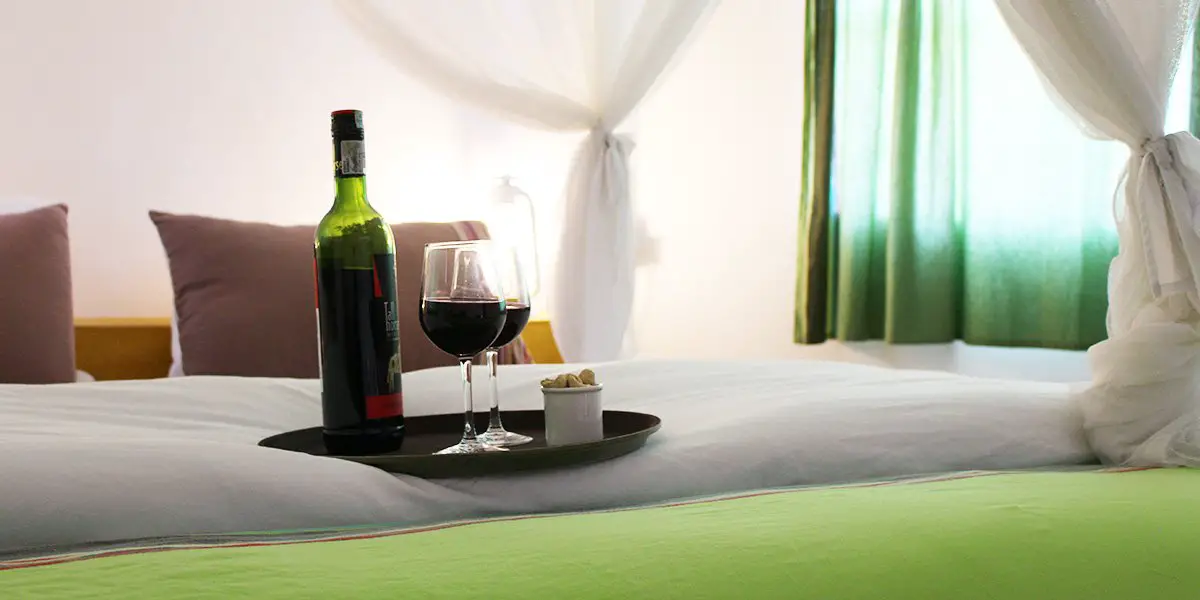 4. Dan Stam Hotel, Arusha
Located 9.7 km from Sakina supermarket, Dan Stam Hotel offers accommodation with a restaurant, free private parking, a bar and a shared lounge.
With a garden, the property is located within 11.3 km of Sables Square Shopping Village Arusha.
Dan Stam Hotel has a 24-hour front desk, airport transportation, room service and free Wi-Fi throughout the property.
The rooms have a private bathroom equipped with a bidet and free toiletries. Some rooms at Dan Stam Hotel also have a garden view.
The hotels serves a continental breakfast every morning. Dan Stam Hotel also has a playground.
The Uhuru Monument is 11.3 km from the hotel, while Arusha Central Market is 12.9 km from the property.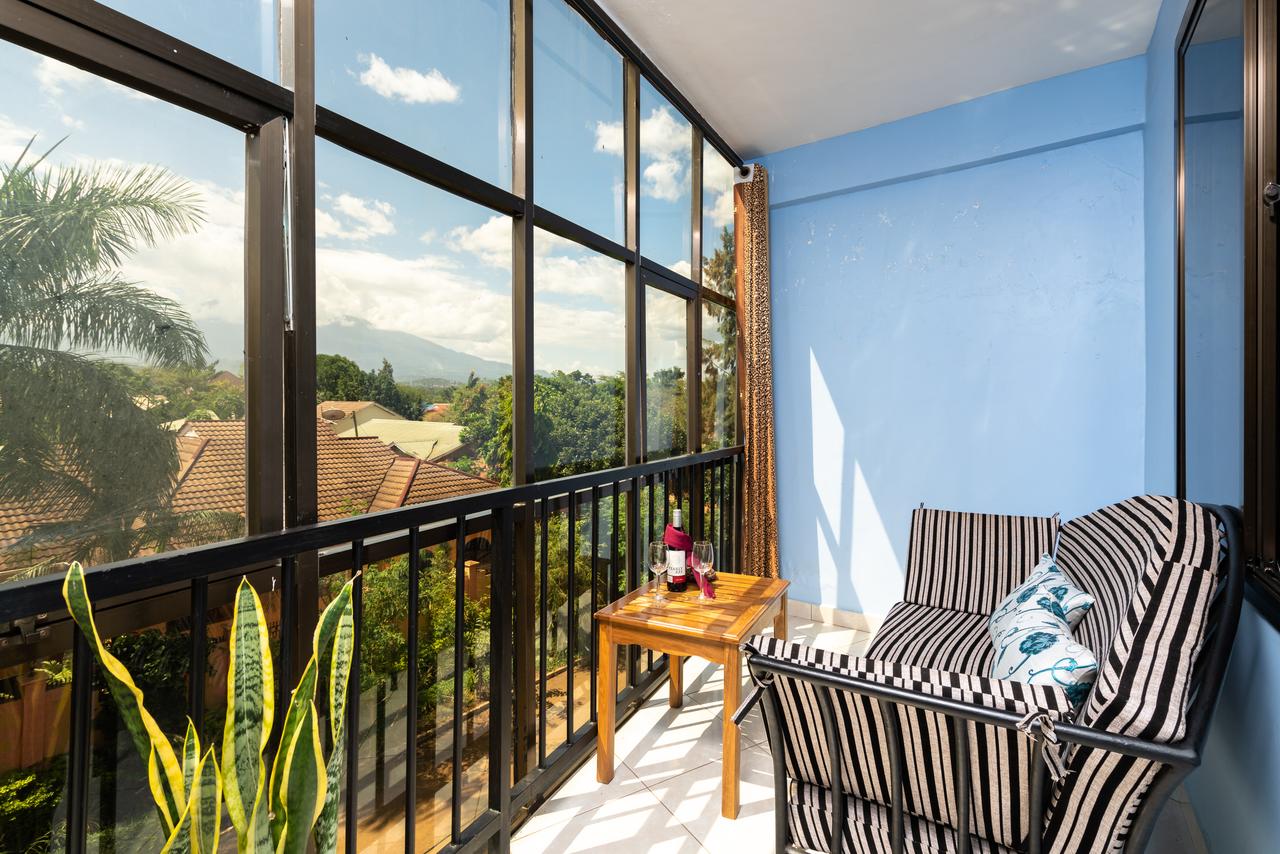 5. Mrimba Palm Hotel, Arusha
Mrimba Palm Hotel is a place where you can relax in serenity and take in fresh air.
Located in the heart of Arusha, it is a 50-minute drive from Kilimanjaro International Airport (KIA) and a 10-minute drive from Arusha's city center and the Arusha International Conference Center.
Mrimba Palm Hotel has spectacular views of nearby Mt. Meru and towering Mt. Kilimanjaro off in the distance. The hotel has everything necessary to unwind on a trip.
Mrimba Palm Hotel is well placed in peaceful and natural surroundings, offering breathtaking views of raw nature at its best.
6. Boulevard Inn Mt. Meru
Boulevard Inn Mt Meru is located on Themi Hills and also offers a great view of Mt. Meru.
The property is only a short distance from popular Arusha attractions such as the Old German Boma and Arusha Central Market.
The property's front desk operates 24 hours a day.
Free Wi-Fi is available to all guests, and some rooms have a balcony.
Breakfast in the morning at Boulevard Inn Mt. Meru can be continental or a buffet breakfast.
The hotel has a sun terrace. Couples in particular like the location of this hotel.
7. Sinzia Villas
Sinzia Villas, a large quiet private villa outside Arusha's city center that has been converted into a B&B, is as its name suggests—'sinzia' means 'to fall asleep' in Swahili—a great place to lay your head for a good night's rest when you are in Arusha.
Its room rates are very pocket friendly, the establishment is extremely clean, and its staff is particularly friendly. Amenities at Sinzia Villas include a restaurant that serves delicious food, a 24-hour front desk, and free Wi-Fi.
Sinzia Villas can also help arrange your transportation to and from the airport or for daytrips during your stay. Be sure to ask!
8. Venus Premier Hotel, Arusha
Venus Premier Hotel is a boutique business hotel.
Located 200 m from Arusha Central Market, Venus Premier Hotel offers accommodation with a restaurant, free private parking and a bar.
At this facility, you will find a concierge service and ticket service, along with free Wi-Fi throughout the property.
Venus Premier Hotel offers a 24-hour front desk, room service and currency exchange for guests.
9. Green Mountain Hotel, Arusha
Green Mountain Hotel has both an outdoor pool and a restaurant. The hotel also offers free Wi-Fi.
Each room, at Green Mountain Hotel, has a TV, a seating area, and satellite channels. The rooms have private bathrooms with showers, a hair dryer, and free toiletries. Rooms have a view of Mount Meru.
At Green Mountain Hotel you will find a 24-hour front desk and free parking.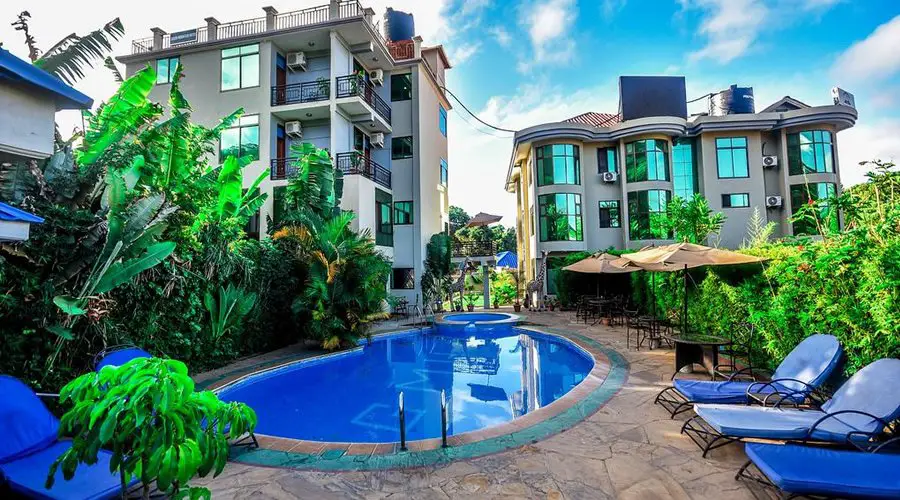 Kilimanjaro International Airport is 41 km from the hotel.
10. Tulia Boutique Hotel & Spa
The heart of Tulia Hotel's philosophy—tulia means 'relax' in Swahili— is to create unique experiences around individual guests and to provide them with a tranquil hideaway.
With only 23 rooms, Tulia Hotel is the perfect oasis for guests looking for a private and peaceful retreat.
From its African-ized architecture, to its cosy and aesthetically pleasing interior, Tulia Hotel is a "highly individualised property".
Tulia Hotel also has a spa designed to rejuvenate and renew the mind and body.
11. Gran Melia Arusha
An oasis within Arusha set on 18 acres of beautiful landscaped coffee and tea plantations. Experience pure tranquility with spectacular views of Mount Meru at Gran Melia Arusha.
A river runs through the property and there are several natural springs. A herb and vegetable garden hides between the plantations.
Gran Meliá Arusha offers a unique experience combining the most exciting once-in-a-lifetime safari destination with state-of-the-art conference facilities.
The hotel also boasts a beautiful spa and a heated outdoor pool.
12. Masailand Safari & Lodge
Masailand Safari & Lodge is located in Arusha and offers remarkable views of Mt. Meru. It lies 45 minutes away from Kilimanjaro International Airport and is a convenient 3 hours away from Nairobi.
Masailand Safari Lodge lies on a hill top where 9 cottages sit surrounded by magnificent nature and beautiful gardens and plants.
The rooms at Masailand Safari & Lodge have balconies from which you can enjoy breathtaking views of both Mount Meru and Kisongo Valley.
All rooms are equipped with air conditioning, spacious bathrooms, tea & coffee makers, flat televisions, a Wi-Fi connection, and a minibar.
The windows of the rooms are double glassed to ensure a quiet, relaxing environment.
Masailand also has conference facilities, a gym, a sauna, and a swimming pool which is free for residents.
BONUS 1: Kilimanjaro Eco Lodge, Usa River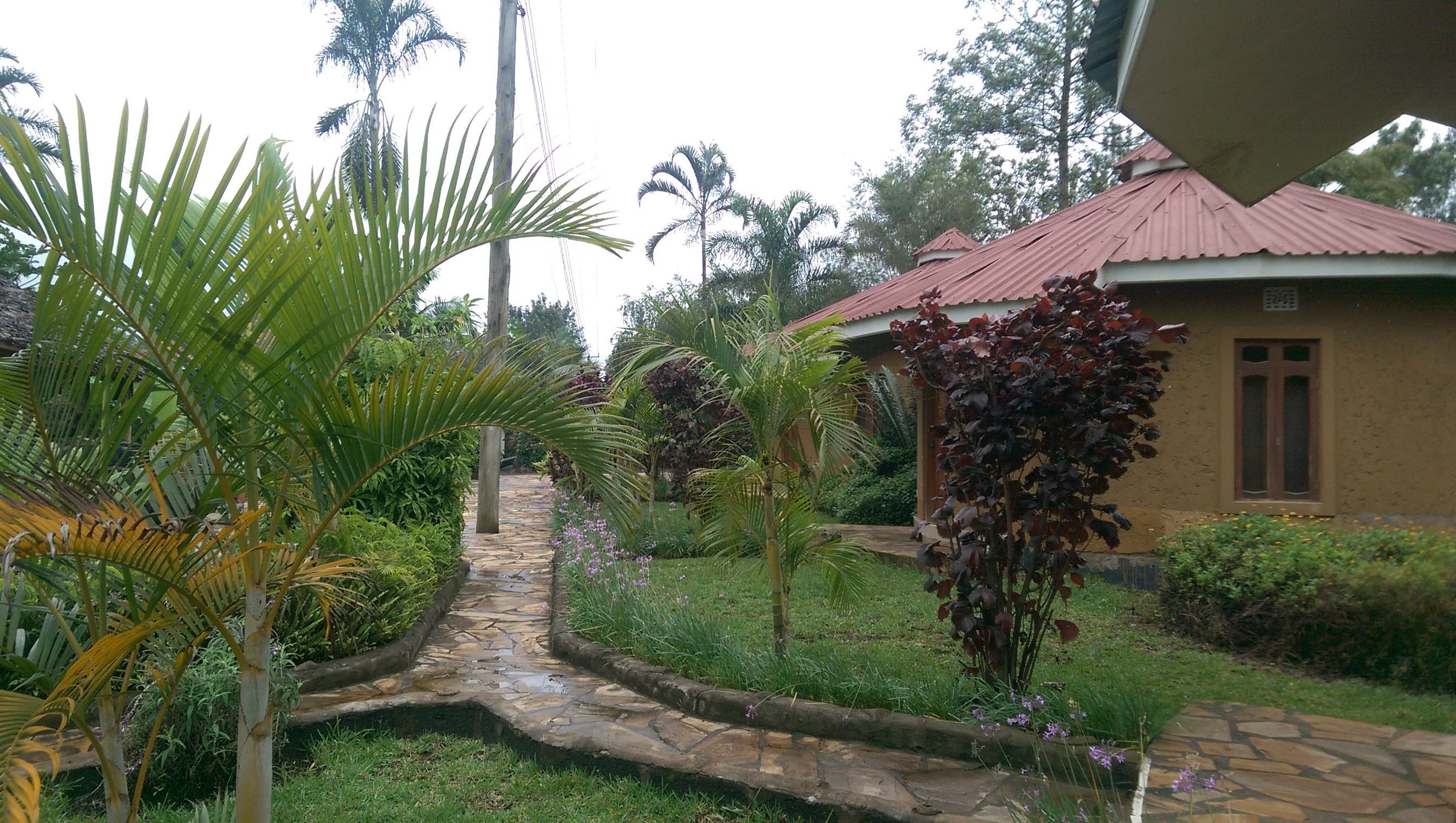 About 40 minutes outside Arusha, in Usa River, lies Kilimanjaro Eco Lodge. Clean, comfortable accommodation housed on grounds with lots of foliage and verdant nature. Beautiful views of Mount Meru.

BONUS 2: Rivertrees Country Inn, Usa River
Rivertrees Country Inn is a charming upmarket establishment in Usa River, about 40 minutes outside Arusha.
It counts among its former guests: two German presidents, the Prince of Wales & Duchess of Cornwall, and Jane Goodall, to name a few.
Set on lovely grounds with lots of trees and a river running through the premises, Rivertrees Country Inn is a haven of peace and tranquility.
The cottages are very spacious with lots of privacy. The service is very friendly, and the atmosphere relaxing.

---
And now on to my original post:
Tweets from a Mwanza Tourism Board Familiarization Trip
As those of you who follow me on Facebook and Twitter might know, I spent the end of last week visiting Northern Tanzania—Mwanza, Mara (including Butiama), the Serengeti National Park, the Ngorongoro Conservation Area, and Arusha.
Because of the busy itinerary planned, I didn't attempt to blog about the trip while on it but, rather, shared what I could on Twitter, saving the blogging for when I got back to Dar es Salaam.
For those of you who don't follow me on Twitter (or for those of you who do but somehow missed my tweets), this first post is a consolidation of the main tweets I wrote while traveling, with links to websites where you can see pictures or find more information.
I hope you find this interesting and useful.
READ ALSO: 52 East African Pictures: Good Eats, Cityscapes, Water Environments & More
If you'd like to ask me a question or make a comment on something I shared in one of my tweets, please feel free to do so in the comment section below.
As always, I look forward to hearing from you.
Until the next time,
Biche
Day 1: Dar es Salaam-to-Mwanza, Mwanza Hotels, and Bujora Museum
And so the journey begins…heading to JNIA now. First stop: Mwanza. I hope Precision is not delayed this time.
Just flew Precision Air Business Class (Dar-Mwz) for the first time. Spacious. And breakfast was delicious! 🙂
Just had lunch at Malaika Beach Resort, Mwanza. Food was so-so. The rooms? Very, very nice!
Very nice rooms at Malaika Beach Resort, Mwanza/$150 double room B&B/Free Wi-Fi/Comp. shuttle to airport.
Did you know Mwanza had only 1 set of traffic lights and Arusha had 2? Hehehe…now you know. 🙂
Apparently, Sukuma kings would cut their hair only once a year, and it'd be such an event that royal drums would be sounded. Interesting!
Had dinner @ Gold Crest Hotel, downtown Mwanza. Nice decor, professional service, good food & coffee bar. Can't wait 2 sleep there tomorrow.
Day 2: Rubondo Island National Park, Wag Hill, Sailing on Lake Victoria
And the touring continues. First stop: Rubondo Island National Park, the only park on Lake Victoria.
Rubondo Island National Park was a li'l slow. Little wildlife, but the thick forest was nice & lake shore interesting in its different-ness.
The best thing on the Island for me was Rubondo Island Camp. Would be perfect for a getaway with that special someone. 😉
@whthome Apparently, they're only at the Northern- and Southern-most tip of the island. We didn't see them.

(Talking about chimps at

Rubondo Island National Park.

)
In Kenya, I developed a taste for rustic lodges. Wag Hill, Mwanza is right down that alley. Pricey, yes, but so so nice!
Wow! If u came 2 Mwanza just 4 the sunset boat ride from Tilapia Hotel, it'd b worth it. $100 for 1 hour on the boat total up to 20 people!
@Andre_Muhozya Didn't go 2 Saa Nane Island but sailed around it. Was great 2 sit/stand on-deck, feel the wind & waves, & experience sunset.
READ ALSO: 10 Things to Do in Gaborone, Botswana
Day 3: Mwanza-to-Mugumu; Bunda, Mara; and President Nyerere's Home & Museum at Butiama
The rooms at Gold Crest Hill were as good as I expected. Great executive hotel in downtown Mwanza. Incredibly low introductory rates!
Oops…I meant Gold Crest Hotel not Gold Crest Hill. 🙂
"Serenity on the Lake", a lodge 20 mins from Serengeti's Ndabaka gate, opening soon, featuring lake views from your bed. Imagine that!

(Owned by the same group that owns

Hotel Tilapia

&

Mbalageti Serengeti

)
Live in Dar es Salaam long enough & one forgets that it gets cold elsewhere. This morning, I woke up in Mugumu, Mara & it's COLD! *Brrrrr*
In Dar, we get watered-down traditional dances. I just saw Kuria dancing at the Serengeti Cultural Centre in Mugumu. Now we're talking!
Entering the Serengeti for the first time, through the Ikoma gate. Did you know it costs only 1,500 Tsh for East African residents?
…and only 10,000 Tsh for East African registered vehicles? #Serengeti
So far, I've seen giraffes…and hippos just chilling in the mud. 🙂 #Serengeti
…and now I've seen a HUGE herd of elephants! #Serengeti
…I've seen Hartebeest (sp?)…and guinea fowl. #Serengeti
…and a Leopard so unafraid of people that it walked up to a convoy of 6 cars and crossed the road in front of us. #Serengeti
And the scenery, plains with a backdrop of hills, is amazing! #Serengeti
I saw the wildebeest/zebra migration in person–woohoo! Animals in single file and grazing around, in other places. #Serengeti
I've seen Thomson's & Grant's gazelles, bachelor herds of Impala, ostriches & a cheetah on a water tank preventing a truck from drawing H2O.
Now entered Ngorongoro Conservation Area through the gate at Naabi Hill (I didn't know the Serengeti and Ngorongoro shared borders).
In Ngorongoro, so far, I've seen sheep (because Maasai are allowed to live and graze here) and camels. (Camels???!!!) #Ngorongoro
@MulkiAhmed reminded me to share that we saw a baboon too. In fact, we saw it break into a tourist's car & steal food. Hehehe…#Ngorongoro
Businesses that act suspicious of their customers irk me. #AfricafeArusha #Shoprite
Day 5: Arusha & Back to Dar
Of the last 4 #Precision Air flights I've taken, 1/2 have required that I wait 4 hrs for the next flight (no fault of my own). Not cool!
Wow, that was one long road trip from Mugumu, Mara to Arusha–8 hours–but driving through the Serengeti & Ngorongoro was well worth it! 🙂
It was great to be in Arusha again after so long. It's still as fresh and clean as I remember it–just bigger and better! 🙂
The Njiro Shopping Complex is quite impressive and more than I expected to find in Arusha!
A Visit to The Arusha Hotel, Arusha
…and no trip 2 Arusha is complete 4 me without a visit 2 The Arusha Hotel (@arushahotel) which is even more beautiful than @ my last visit
Need 2 get from Arusha 2 KIA/JRO cheaply? Try the Precision Air shuttle. Leaves 2.5 hrs b4 all local flights, from town office. 10,000Tsh
#Precision Air is a MESS!
Photo Credits: Dan Stam Hotel, Mrimba Palm Hotel, Trip.com, Venus Premier Hotel, VogaBongo,Tripadvisor, Trip.com, Stefan Swanepoel, Benny Geypens; limpinglemur; rubondoislandcampproject.com; Biche; Ferdi's – World; africatravelresource.com; Maradentro; thewildernessociety.com; Tanzan