While I was shopping recently, I noticed something new at Nakumatt Prestige. In a corner near the fresh foods area and the butchery, I saw a stall advertising 'Fresh 'n' Juici' juices.
More out of curiosity than anything else, I stopped by to taste some of the juice samples offered. I tasted mango juice, passion juice, pineapple juice, tree tomato juice, and a number of juice cocktails.
Each juice I tasted was fantastic.
The juices were truly fresh as though they were made from only the sweetest, ripest fruit!
The choice of juices was wide and the cocktails served were well combined.
The first day I tasted 'Fresh 'n' Juici' juices, I bought two flavors to take home with me—a juice cocktail containing tree tomato juice (for a friend who I was having over for dinner and who loves tree tomato juice) and a juice cocktail without tree tomato juice for myself.
Since then, I have bought a number of 'Fresh 'n' Juici' juices to take home, the last being a pineapple juice that I bought to mix with vodka.
Never have I been disappointed!
To tell you more about these juices, a liter of 'Fresh 'n' Juici' juice costs Ksh. 179.
The juices can be stored refrigerated for 2 days, at which point they must be consumed or thrown away.
I am told that they can be kept in the freezer for longer, but I have never tried to do this, so I will not vouch for it.
Some would say this is a downside of the product, but to me, this is simply a true mark of the freshness of the juices.
After two days, or if left unrefrigerated, the juices become tangy just as freshly squeezed homemade juice would.
Not to worry, if you feel you cannot or do not wish to consume a liter of fresh juice in this amount of time, 'Fresh 'n' Juici' juices also come in half-liter packaging.
If you enjoy fresh juices and somehow do not have the time to make your own, this is definitely something you ought to look out for.
If you just generally like juice and always buy packet juice, how about putting something more nutritious in your body to get the full health benefits of fruit juice?
(Did you know that what you eat can effect how beautiful and strong your hair is? Learn more about that in 6 Tips for Taking Care of Your Natural Hair.)
I am in no way affiliated to the makers of this juice, but if they continue to make juice with the same consistency that I have experienced with them so far, these juices will definitely not let you down.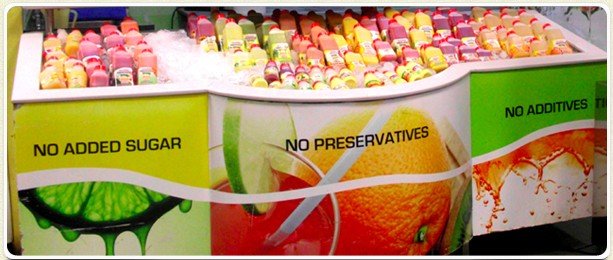 (Want to know about another product I am completely in love with? Read more about it at Fisherman's Friend: The Ultimate Breath Mint.)
Where Can You Find Fresh 'n' Juici Fruit Juices?
To try 'Fresh 'n' Juici' juice, make your way to Nakumatt Prestige, to the corner near the fresh foods section and the butchery.
I have never seen a 'Fresh 'n' Juici' stand at any other Nakumatt, but maybe I just wasn't paying attention (Fresh 'n' Juici juices are also available in Kampala).
For other locations, please enquire at a Nakumatt near you.
Please let me know what you think if/when you try this product.
I wish you a great week.
Biche
Photo Credits: Wikipedia; freshanjuici.co.ke