Last week, my phone was blowing up with pictures and videos from Business Class on one of Emirates' A380 flights.
I was GREEN with envy!
The culprit was my youngest brother, who on a trip to Mauritius, not only flew on an Emirates A380 aircraft, which happens to be the largest passenger airliner in the world, but also got bumped up to Business Class on one of the flights there.
Upon his return to Dar es Salaam, as you can only imagine, I could not hear the end of it!
He kept using words like "spaceship-like", "smooth", "gigantic", and "breathtaking" to describe the experience.
Truth be told, it did look kind of amazing.
This morning, coincidentally, I woke up to an email announcing that Emirates is having an 11-day sale to mark the delivery of its 100th Airbus A380 aircraft. (Emirates has the largest fleet of A380 aircrafts in the world, by the way).
The email I received spoke specifically of reduced prices on return flights departing from Tanzania, but a quick internet search made me realize that this sale is happening worldwide and includes offers for many destinations where Emirates flies.
I thought I'd share this news with you in case you plan to travel with Emirates in the next six months or are planning to fly to a destination served by Emirates but hadn't intended on using the airline.
In case it's helpful, here you go! (Remember: Although the information below mostly mentions flights departing from Dar es Salaam, visit Emirates' website to discover offers relating to the destinations you are most interested in.)
Emirates Welcomes its 100th A380 Aircraft with Special Fare Offers
Emirates, the world's best airline according to TripAdvisor 2017, will celebrate a milestone in aviation history when it welcomes the delivery of its 100th A380 aircraft later this year.
To celebrate the occasion, Emirates is offering Tanzanian travelers special fares on return Economy Class and Business Class tickets to select destinations across its network, including Amsterdam, Birmingham, London, Paris and Rome.
Economy Class fares to Amsterdam, London, Paris and Rome are USD 499, USD 849, USD 699, USD 599 and USD 599, respectively.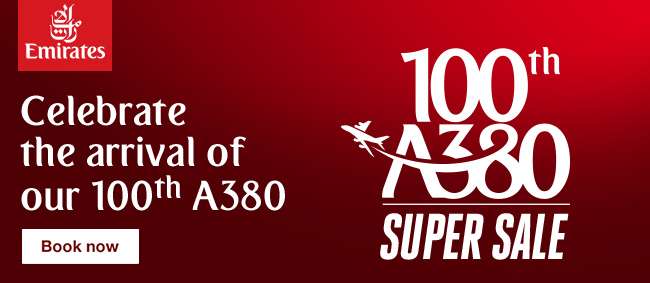 Business Class fares to the destinations are USD 1,899, USD 3,049, USD 2,399, USD 2,199 and USD 1,999, respectively.
The special fares are available for a limited time only.
The flights must be booked between 25 September and 5 October 2017.
Travel itself can take place between 25 September 2017 and 22 March 2018. (Blackout dates and further terms and conditions apply.)
About Emirates A380
The Emirates A380 has been in service for over nine years.
Emirates remains the world's largest operator of the aircraft.
The award-winning airline now operates A380 flights to 48 destinations across six continents, almost a third of its global network.
This year Emirates introduced the A380 on routes to Sao Paulo, Casablanca and Nice.
The airline also operates an A380 on one of its four daily flights between Johannesburg and Dubai.
On the Emirates A380, First Class passengers can relax in one of 14 flat-bed, massage-equipped private suites.
The cabin also has two exquisitely designed on-board shower spas, ensuring a revitalized and refreshed arrival.
Business Class passengers can relax in seats that convert to flat beds up to 87 inches (two meters) long, while those travelling in Economy Class can stretch out in seats with a pitch of up to 33 inches.
Across all classes, travelers can enjoy a vast selection of over 2,500 channels on its award winning inflight entertainment system, ice.
The newest version of the Emirates A380 features the widest individual in-seat Economy Class screens in the industry. These measure in at 13.3 inches.
Emirates Flights Between Dar es Salaam and Dubai
Emirates flies daily between Dar es Salaam and Dubai.
Flight EK 0725 departs from Dubai at 10:25 and arrives in Dar es Salaam at 14:50.
The return flight, EK 0726, departs Dar es Salaam at 16:45 and arrives in Dubai at 23:20.
For more information on other destinations available under this offer, including how to book flights and a complete list of terms and conditions, visit the Emirates website.
There you've have it, guys and gals.
If you plan to travel to a destination where Emirates flies, be sure to check out this special 11-day sale in case it might save you some money.
I wish you pleasant (less costly) flying…as I go figure out how I can use this sale to one-up my brother ;-)!
Until the next time,
Biche
P.S. Do you have an establishment, service, event, or product that you would like to spread the news about online? If so, find out how I can help you do that here.
P.P.S. Are you a website owner who is interested in increasing the revenue you make from display ads on your site? If so, check out this free Google Certified Publishing Partner service that helps you to do just that.
P.P.P.S. Enjoyed this post? If so, why not subscribe to my blog to know whenever I publish a new post? Also, if you think this sale is something other people might enjoy knowing about, please share this post with your friends and followers on social media and elsewhere. I'd greatly appreciate it. Last but not least, if you would like to reference this post on your own website, feel free to do so but kindly remember to link back here. Thank you! 🙂
Photo Credits: urlaubspiraten.de, bq.sg