Have you ever heard of a Dawa cocktail from East Africa? In this post, I tell you just how to make one.
Not only do I tell you what ingredients to put together, but also how a 'Dawa stick' is the secret to making the cocktail come together.
Read on to make the perfect Dawa from the comfort of your home. Ready? Steady? Go! 
Table of Contents
I'm feeling thirsty.
No, not that kind of thirst—water can do nothing for me right now. I mean THIR-STY thirsty.
Catch my drift? (It's Friday, don't think too hard! 😉 )
READ ALSO: Konyagi & 3 Other East African Spirits That Pack a Punch
This evening, I'm going to take inspiration from all the honey and lemon I have been handling for my hair and make a Dawa.
What? You don't know what a Dawa is?
Hmmm…let me tell you a little more then.
READ ALSO: Goodlyfe Crew Bread & Butter and The Best of Mowzey Radio
Dawa Cocktail Carnivore
A Dawa (Swahili for 'medicine') is a popular Kenyan cocktail made famous by Carnivore (the famous meat eater's restaurant) and other restaurants owned by The Tamarind Group.
READ ALSO: 100 Most Influential Young Kenyans
It's a simple cocktail that's easy to make (and quite potent 🙂 ), and most of the ingredients needed to make this cocktail you probably already have  in your kitchen.
How about we make a Dawa together?
Ready?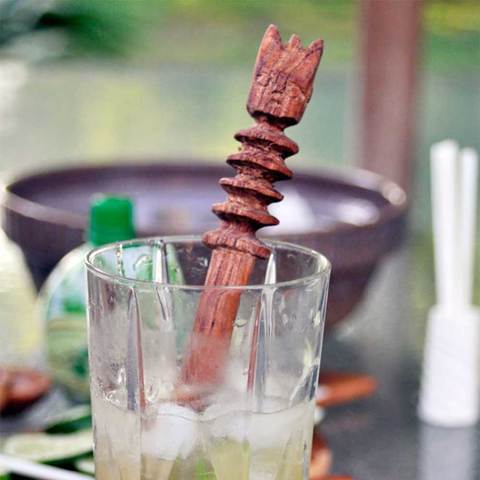 Dawa Drink Recipe (Kenya)
Dawa Cocktail Ingredients
Vodka
Fresh Lime
Ice Cubes
How to Make Dawa Cocktail
Pour two tots of vodka into a tumbler glass like this (or any other glass that is roomy).
Add a tablespoon of honey. (I like my Dawa sweet!)
Add one lime, cut up in wedges.
Add ice cubes.
And drink.
Wait (you might say)! That doesn't sound like a drink!
Bringing It All Together With a Dawa Stick
Well, the secret to making and drinking a Dawa is in pressing the wedges of lime (in order to bring out the juice) while stirring the contents of your glass as the ice melts.
It's when all the ingredients come together that you get yourself a delicious Dawa.
What Are Dawa Sticks?
At Carnivore, this pressing and mixing is done with a Dawa stick, a small cocktail muddler that resembles a yellow and green candy cane (but that doesn't taste of anything), but in your own home, you can replace the Dawa stick with a popsicle stick or spoon (you can also buy Dawa sticks online from Banana Box).
Whatever the case, you get the same results.
READ ALSO: Medication for the Flu
Dawa Cocktail Tanzania / Zanzibar Dawa Cocktail
In Tanzania, a Dawa cocktail is made a little differently. Most importantly, the spirit used to make a Dawa in Tanzania is a local white rum called Konyagi.
Here's a video showing you one way to make a Tanzanian Dawa.
There you've got it.
That's all you need to know to make a Dawa (though I will admit my Dawas never taste quite the same as those made by Carnivore's Dr. Dawa—I don't know what his secret is!)
But that's enough talking!
It's time for me to go drink my Dawa now.
Happy Furahi-day (coincidentally, "furahi" means "be happy" in Swahili)!
Biche
How The Dawa Drink Kenya Came to Be
The Dawa cocktail, invented at Carnivore restaurant in Lang'ata, Nairobi, was inspired by the Brazilian caipirinha, a cocktail made with the cane-sugar spirit cachaça. 
Bartenders complained of morning-after headaches from the cachaça and started substituting vodka for it. (Some Brazilians also prefer vodka with their muddled limes and sugar; the resulting drink is a caipivodka.)
Carnivore's bartenders began testing their new drink on guests; and one of them, who happened to be their landlord, was a fan.
He asked for another, referring to it as his dawa (medicine).
The name stuck and so did the cocktail, which is now found across the whole of East Africa.
Photo Credit: Eater.com, Swahili African Modern,  DailyMail.co.uk