Hello, Dear Reader!
Last week, I had the pleasure of being nominated for CouponCode.Ng's African Travel Blogs Award 2018.
If you've never heard of it before, CouponCode.Ng is a website that operates in 9 countries and aims to save online shoppers money by bringing them the best deals and coupons for all their favourite web shops, in one place.
I had never heard of CouponCode.Ng before this, but needless to say, I was very honored.
Today, I would like to tell you a bit about the award and, hopefully, enlist your help in winning the competition.
This is how it works:
CouponCode.Ng has set aside a sum of money to give to bloggers who they say are some of their favorite as well as some of the best African travel blogs online.
Eleven bloggers, me included, have been nominated for the award, though I believe it's possible for more to join the list.
Once bloggers are nominated, the choice is then put to the public for voting.
The prize money will be paid out to the bloggers in the same porportion as the percentage of total votes received by each blogger.
This is where you come in.
Would you do me the honor of voting for me?
If so, I would greatly appreciate it.
To vote, simply go to CouponCode.Ng's voting page, and find my picture among the list of nominees.
It should look like this: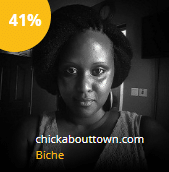 Once you've found my picture, hover over it (in other words, put your mouse cursor over it), then a 'vote' button will appear.
Click that button, and you're good to go.
Thank you for your vote!
If it's not too much to ask, would you kindly share this post with your friends and followers on social media so that I can get their vote too? Hahaha…give me your hand and I'll take the whole arm… 😆
Thanks for your support,
Biche