It took me many years of living in Kenya to finally venture out to Aberdare National Park. And oh, what a delight it was when I finally did!
Nyeri and Aberdare National Park were possibly the most beautiful part of Kenya that I have ever visited to date!
If ever you decide to venture there yourself, here are some hotel recommendations for you.
1. The Ark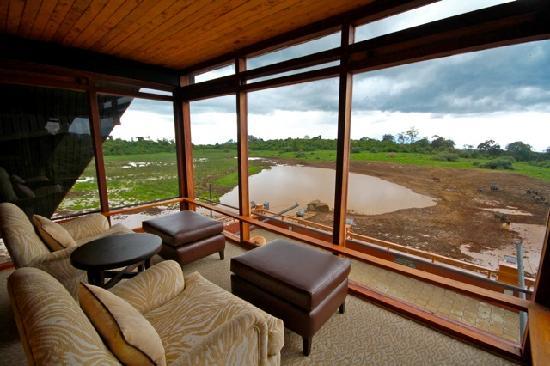 The Ark is a once in a lifetime experience.
This lodge, modeled on Noah's Ark from the Bible, overlooks a floodlit waterhole and salt lick inside the Aberdare National Park.
Once you get to The Ark, doors are locked at 6 p.m. and, for your safety, not unlocked again until six o'clock in the morning.
In that time, you get to be holed up in The Ark as animals come to drink at the nearby brightly lit waterhole.
From there, you get to watch them up close and personal as they remain completely oblivious to you.
The best way I can sum up the experience is that it feels like coming eye-to-eye with an elephant…all that while you dine, have drinks, and connect with fellow guests in a cozy cabin-like interior, complete with a fire burning in the fireplace.
The Ark offers a completely magical experience that I recommend highly.

2. The Aberdare Country Club

To get to The Ark, you first have to check in at its sister establishment, the Aberdare Country Club, which is an amazing place to be in and of itself.
Why?
Because set in a 1300-acre wildlife sanctuary in the Aberdare Highlands—which are part of The Great Rift Valley—the Aberdare Country Club offers views that had me proclaiming this area the most beautiful part of Kenya I had ever seen.
The views, consisting of the Solio Game Sanctuary (famous for its rhinos) to the north, the Aberdare Mountains to the west, and Mount Kenya to the east, are simply stunning!
All this you get to enjoy from an establishment steeped in Kenyan settler charm and from cottages lined up Kamatongu Hill: the higher up the hill, the better the view.
The food at the Aberdare Country Club is plentiful and amazing, and the nature walks are not to be missed (the Aberdare Country Club Game Sanctuary is home to zebra, giraffe, impala, warthog, duikers, leopards, and many species of birds)!

There you've got it! That's all I have for you today.
If you have ever been to either of these two establishments, or would like to recommend other places to stay around Nyeri or the Aberdare National Park, please let me know in a comment below.
Until the next time,
Biche
Photo Credits: Nina R, TripAdvisor, The Ark