This post is about Kumekucha, a great political Kenyan blog. Since many of you come to this post looking for more information about Kumekucha Chris, the blogger behind the blog, though, I've updated this post to start with that. 
Chris Kumekucha
The popular Kenyan blog, Kumekucha, is written by someone commonly known as Chris Kumekucha. You can find him on YouTube (simply search his name) and on Twitter as @KumekuchaChris.
Kumekucha Chris Real Name
What is Chris Kumekucha's real name? Well, that's the million dollar question behind the Kumekucha brand.
Although, I can't answer that question, Chris Kumekucha shares quite a bit about his real identity in some of his YouTube videos. Although he doesn't explicitly share his name, he does say that he is an investigative journalist and that the content he produces for Kumekucha is self funded.
In case you are wondering what tribe he is, again, I don't have the answer to that question for sure. He does essentially mention in one of his videos, though, that his mother is Luhya.
Chris Kumekucha Latest Videos/Chris Kumekucha Today
If you would like to know what the latest from Kumekucha is, check out the YouTube channel mentioned above or Chris Kumekucha's Twitter account (also mentioned above) where he shares all of his latest content.
Chris Kumekucha Wife
I do not know whether or not Chris Kumekucha is married, and if he is, I don't believe the identity of his wife is public knowledge.
What I do know, though, is that Chris is a reader and subscriber of this blog (much appreciated, Chris), so if you want to let us know whether or not your are married, please let me know in a comment below so we can satisfy the public's curiosity. 🙂 
Kumekucha in English
Kumekucha in English is, quite simply,  morning has broken, i.e., daybreak has occurred.
Kumekucha is used both literally and figuratively to mean 'it's a new day'.
Examples of Kumekucha Used in Swahili Phrases & Sentences
kumekucha na kunanyesha (the day has begun and it is raining)
Mana Neyastani hakuacha kupiga siasa kwa kutumia katuni kuhusiana na uchafuzi huu: "Babu" anasema "Kumekucha tena, na ninapaswa kuamka… habari mbaya hizi…adhabu, jela…" (Mana Neyastani did not forget politics in his cartoon on pollution: "Grandfather" says "It's another day, and I should wake up… all this bad news…executions, prison…")
amkeni kumekucha (wake up, the sun has come up)
Kumekucha in Organization/Project Names
The word kumekucha is often used in NGO project and organization names on the Swahili coast because of the figurative sense of the word.
Because it means morning has broken, it is a word that connotes change. 
Kumekucha in the Arts
Kumekucha is also a 1987 Tanzanian documentary produced and directed by Flora M'mbugu-Schelling. It won a gold medal at the New York International Film Festival.
In the English translation of this documentary's title, kumekucha in English was translated as 'From Sun Up'.
Examples of Kumekucha Used in English Sentences
Kumekucha is a very popular blog judging by the number of comments left on its posts.

Kumekucha is a wedge being used by the Politicians to fan Tribal animosity and possibly Plant a seed of violence in Kenya.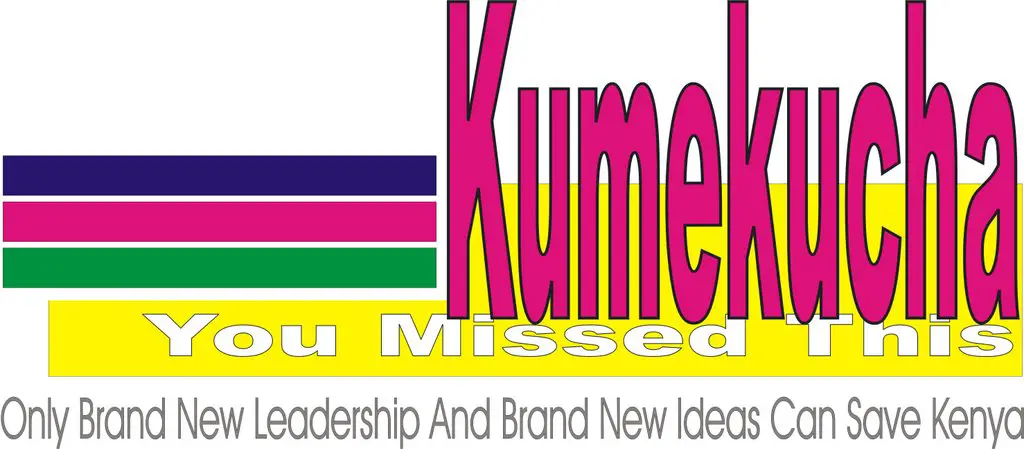 These examples were found in Kenya: Do bloggers hold the key to the future of investigative journalism?.
In both sentences, Kumekucha  refers to the popular Kenyan blog.
Read more about the blog below.
---
As much as I blog, I am not an avid reader of blogs.
It's not that what others have to say doesn't interest me.
Rather, in this fast-paced world of having so many things to do, I am not too keen to add tasks to my regular to-do list.
Still, there are a couple of blogs that I enjoy reading whenever I do get the chance to do some leisurely internet surfing.
One such blog is "You Missed This – Kumekucha" (which I will simply call Kumekucha from this point on).
READ ALSO: African Travel Blogs Award 2018: Please Vote for Me
Kumekucha Meaning
I first stumbled upon Kumekucha (which means "dawn has broken" in Swahili) following a link that my niece had sent me in a forward.
The link led to a post on Kumekucha that talked about a then-recent event that had just occurred in Kenya that was as unimaginable as they come.
I found the incident (and the post) hilarious, so decided to spend more time on Kumekucha reading other blog posts.
After three hours, I was still reading.
Along with posts about funny/incredible situations that had taken place in Kenya, there were countless posts about social and political scandals along with incredible never-heard-elsewhere details that seemed plausible if not necessarily entirely factual (I am not doubting the veracity of the facts published on Kumekucha, but neither am I vouching for them – you'll have to decide for yourself).
I had a ball reading Kumekucha that first day, as I do whenever I read the blog now.
READ ALSO: Mattress Toppers: How to Make Your Sleeping Mattress Both Firm & Fluffy
Kumekucha Blog URL
Well, I'll stop telling you about it and let you check it out for yourself. The URL for the blog is simply www.kumekucha.blogspot.com.
Visit it and let me know what you think.
I look forward to hearing what you have to say.
Biche
Photo Credit: keyword-suggestions.com, African Press International