Did you come here looking for information on the Nakumatt Prestige sale 2019? If so, check out some offers below.
Nakumatt Prestige Sale 2019 Offer 1:
Nakumatt Prestige Sale 2019 Offer 2:
Here is a list of 24-hour Nakumatt supermarket stores across East Africa. (Nakumatt Prestige which was one of Nakumatt's first 24-hour stores is no longer open around the clock. See Nakumatt Prestige's new opening hours below.)
READ ALSO: Community Shopping Guide: Menswear, Electronics, and More
Nakumatt Supermarket 24-Hour Branches
Nakumatt Prestige Sale 2019: You can also get great offers on Jumia!
---
Nakumatt Ukay Becomes East Africa's First 24-Hour Supermarket
It's been over 10 years since Nakumatt Ukay became Nairobi and East Africa's first 24-hour supermarket.
24-hour shopping is now an everyday thing with several Nakumatt supermarket stores across the region open all day and all night.
How has the phenomenon of the 24-hour supermarket affected you?
READ ALSO: Breastfeeding: Give Breast Milk to Newborns in the First Hour of Life for Full Benefits of Breastfeeding
For me, let me just come right out and say it: I love being able to shop whenever I want to as the need arises.
Being a very nocturnal person, you can often find me at Nakumatt Prestige or Nakumatt Ukay doing seemingly weird things at seemingly odd hours.
Yes, I think there is no better time to check out shoes or shop for laptop bags than when you are done with absolutely everything else you need to do for the day but aren't feeling sleepy yet (understand: around midnight).
I definitely feel that this round-the-clock availability has helped me be a lot more productive than I would be if all I could do late at night was hang out or flip through television channels (I don't really like to watch TV).
READ ALSO: HISTORY® (Dstv 186) To Air Black Sails Season 2 & Other New Programs in May and Barbarians Rising: HISTORY® Soon to Air a Series About the Fall of the Roman Empire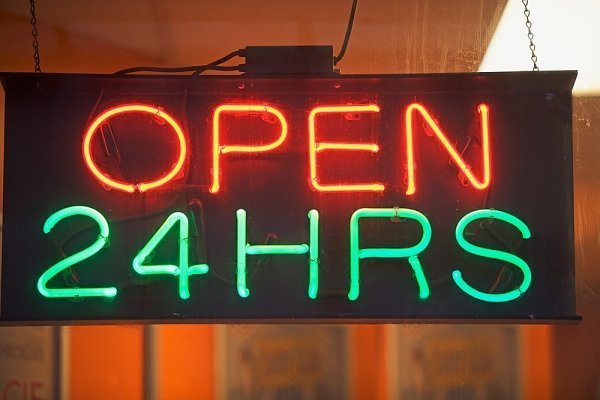 My Reaction to Nakumatt Prestige and Nakumatt Ukay Becoming 24-Hour Stores
When Nakumatt Prestige and Nakumatt Ukay first started opening 24 hours a day, of course this was big news.
I took advantage of these longer hours as often as possible—just because I could.
After a while, though, it became normal and I didn't really give it much thought.
When I stopped by Fone Xpress at Nakumatt Prestige, past midnight one night, to help a friend buy a phone a few hours before he flew out of the country, it hit me all over again: Nakumatt supermarket having several stores across the region that open 24 hours a day (which encourages other stores housed in the same shopping complexes to do the same) is bound to have made a real difference in the lives of East Africans.
We may take it for granted, but I don't think society can remain same old, same old despite this phenomenon.
Question: More than a decade down the line, how has your life been affected by the phenomenon of the 24-hr supermarket? Has your life changed at all? If so, has the change been positive or has it been negative? Did Nakumatt supermarket do a good thing by giving us the possibility of being able to shop whenever we want?
The Cons of Opening 24 Hours a Day
When I was younger, while studying at a North American University, I remember coming home for the summer and, along with my friends, commenting about a business that we found closed in the middle of the day.
Our first reaction was to bash the business and work ethic of Africans in general, but further reflection led me to conclude that not having businesses open all the time was a price I was willing to pay, as a customer, to live in a world that moved at a more leisurely pace—a pace that I think allows for people's emotional and spiritual well-being as well as one that has many opportunities for rich, warm social interactions.
READ ALSO: Red7 (with Card Game Rules): A Card Game Engaging Enough Even for Adults
As much as I love that I can keep running errands until late into the night nowadays, I wonder if, in the long run, this won't eat away at the social fabric of our society because, now, instead of sitting together and bonding over our experiences, we might be working late to provide these late-night services or feel obliged to take advantage of them since, after all, aren't we slowly (but surely) becoming a society obsessed with maximizing productivity?
Trust me, I am not in any way saying that such thoughts detract from the pleasure I experience by being able to shop whenever I want, but I just couldn't help but consider the possible future consequences of this seeming Godsend.
READ ALSO: Uber, the Holiday Season, and Dynamic Pricing
What Do You Think?
I'd love to hear what you have to say: How has the phenomenon of the 24-hour supermarket affected your life? Do you think this phenomenon is a move in the right direction for society? Or rather, one in the wrong direction?
Let me know in the comments section below.
Until the next time,
Biche
READ ALSO: What's Everyone Buying? Cologne, White Noise Machines, Lingerie & More
Photo Credits: Nakumatt Holdings Facebook Page, NaiBuzz, NairobiNews, #TheCloset, Financial Times, Chris Chan, Bizna